1xbet mobile app for Android & iOS
Visit 1xbet Mobile
Introduction
1xbet is a fast-growing company with over 400,000 online users betting with 1xbet.com. Users can make live bets on popular sports such as football, tennis, basketball, ice hockey, golf, etc. 1xbet is designed to be played anywhere and wherever you go. So, it makes sense why 1xbet has gathered so many users to join and participate in the online betting program.
Live streaming is accessible which makes the application even more popular among the public who are fond of betting. It is not just because of the live streaming itself but also because of the High Definition (HD) quality of the live stream. This is said to be the best feature of this bookmaker. Bettors can simultaneously watch up to four different matches at the same time.
And guess what? This online betting program is full of surprises! The 1xbet is also fond of giving bonuses and promotions available anytime to the active and lucky users.
The 1xbet is available for mobile devices, Android, iOS and even Windows. And it offers many useful and convenient features on placing bets using your mobile device.
---
1xbet APP for ANDROID:
If you are fond of placing bets in 1xbet, you may consider installing your mobile application. It is a high-quality application that enables users, and particularly android users to use the 1xbet platform from their handy devices from any place they want without having an actual transaction via their Personal Computers. 1xbet enables users to access their program on all kinds of android devices including smart phones, tablets, as well as their TV boxes.
The application supports portrait view, and can also be viewed in landscape and full screen mode, which is very efficient to use whenever you want to place your bets through your handy devices.
How to install 1xbet on your Android Device?
If you are experiencing troubles with downloading and installing 1xbet application on your android devices, you are in the right place. Below is the step-by-step guide for installing 1xbet:
First Step: First and foremost, the downloadable file of 1xbet apk can be found at the 1xbet's official website.
Second Step: Once you have downloaded it, tap the file and allow the installation to proceed.
When an error occurs saying that you do not have permission to install the application, proceed to third step.
Third Step: When you are prompted, go to "Settings" → "Security", under "Device Administration", tick the "Unknown Sources" to allow the installation from external sources.
Now, the application will be successfully installed!
---
1xbet app for iOS
Just like android, 1xbet is also available for iOS devices. It is very easy and understandable for beginners. Now, it will also be convenient for iOS users to place bets on their favorite team sports.
The interface of the iOS version of application is divided into two major parts – the first displays the upcoming events while the other displays the live ongoing events. Even sports are separated but are accessible and may display at the same time.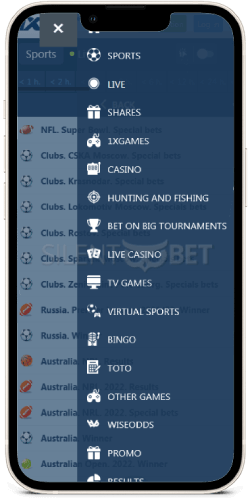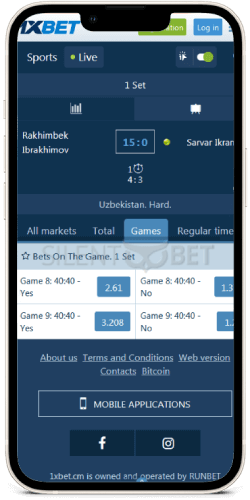 The mobile application offers different types of sporting events such as virtual events, electronic sports, softballs, sailing, cricket, etc. Users can also play different casino games handled by live dealers through Wheel of Fortune, 21, Russian Roulette and many others.
How to Install 1xbet on your iOS Devices?
If you are planning to install 1xbet application on one of your iOS devices, you might need these step-by-step guides to go through.
First Step: Go to "Settings". (Refer to the image at the left side).
Second Step: Go to iTunes and App Stores.
Third Step: Click on your "Apple ID".
Fourth Step: Go to Country/Region. Change the country or region, and choose country on the list.
Fifth Step: Read the terms and conditions and Apple Privacy Policy. Click on "Accord" (it means Accept)
Sixth Step: Confirm your changes by clicking on "Accord".
Seventh Step: If you do not have an Apple ID yet, make sure to fill-in all empty fields.
Eight Step: Now you are set! Find 1xbet in App Store and then click "Download". Or you can visit the website and download the .apk file from here:
---
1xbet APP for Windows:
The application on this device is called "1xWIN". It can be easily downloaded through Windows' Application Store.  The application is a little bit different in comparison to that available for iOS and android users and is available for download not requiring users to pay any money. It is absolutely FREE of charge.
This application will make pre-match and in-play betting faster and will save mobile data. It is designed for betting on Sports, LIVE, TOTO, 1xZone, and TV-games.
This is also available to both existing customers and new users.
How to Install 1xbet on your Windows Devices?
First Step: Download the executable file by visiting this link;
Second Step: After downloading, launch the application and hit "Run" button.
Third Step: When the installation process is completed, the application will launch automatically.
Fourth Step: Provide your login details to proceed to the mobile application.
---
Mobile Site Version REVIEW
On behalf of the 1xbet's official website and mobile application, 1xbet also offers their audience a mobile-friendly website to facilitate those who do not have any access to official website and mobile application. The mobile version is pretty much like the official website that offers the same interface and features, only that the mobile version has been created to be light and accessible to everybody. The registration process is simple and easy to follow for new customers.
---
1xbet mobile Casino app review
Betting is made easy and convenient in mobile application as it allows users to place their bets in plays and even before the matches. Payment methods are quick and easy to make. Finally, the betting history is also accessible. However, some mobile casino games can be inconvenient when placing live bets and accumulators. Mobile slots are also included in this section.
Mobile Vegas
1xbet's Vegas, also known as Live Casino. It allows users to play various games with actual Vegas based casinos providing the user a unique experience in betting. Live dealers and hosts are there to accommodate the users.
Mobile bingo
In this mode, 1xbet provides two different kinds of games, known as Bingo 37 and Bingo Boo. This application allows users to experience actual Bingo atmosphere just like what other users feel in a real casino. The User interface of this section will help the user understand the flow easier.
Mobile Poker
1xbet provides both poker and video poker that are accessible to and be played with number generators or actual players. Rakes are calculated as 1% of the player's winnings and are payable once the player leaves the table. With 1xbet Mobile, you can experience a real poker game on the go or in the comfort of your own home.
---
What features are incorporated in the apps and the mobile version?
One of the popular features incorporated in the apps and the mobile version of 1xbet is the live streaming option. This feature will let the user place their bets on the games of their choice while watching and enjoying High Definition streaming of the event at the same time. Tournaments and sporting events are also accessible in a mobile based site as well as in the mobile application.
Finally, a variety of different casino games is also available in both, the mobile-based site and the mobile application. Both platforms allow users to contact the support services as well.
---
Mobile bonuses
To claim bonuses, user must first sign up to 1xbet. Make sure to verify your account. For new users, 1xbet offers a welcome bonus that may go as high as 100 pounds. The lifetime bonuses offered by the company are listed below for your convenience:
Name of Bonus
Bonus Description
Rafiki Bonus
20% of earnings is given to a specific user for every friend he or she has referred to join the online betting. You earn for a lifelong, if your friend keeps on playing.
Accumulator of the Day
You choose an accumulator of the day that fits your taste. Place a bet and wait to win. If your Accumulator of the Day wins, the company will increase odds by 10%.
Bonus for a Series of Losing Bets
1xBet offers support to their players during tough times by giving them a bonus for a series of losing bets!
Birthday with 1xBET
1xbet betting company is offering a special bonus for their most active users – a free bet for your birthday.
Multi-Plus Bonus
A Player will get a 50% bonus on a winning multi bet of more than 10 games. Also, a Player will get a 25% bonus on a winning multi bet of 7 games, 8 games, 9 games and 10 games.
Bet Refund Bonus
If you lose only one match in your selection you will get 50% of your stake back in cash.
Each game bet on, must have minimum odds of 1.50.
Star Jackpot
This bonus/jackpot is open for bettors who want big winnings. A user is required to log in to his or her account. He or she needs to place a bet and must complete the task of the day and will get a chance to win the big prize.
Advance Bet
This bonus offers players who have 2 unsettled bets and have insufficient funds to place another bet. You can get this bonus, so you can place another bet. However, to get your winnings from Advance bet, you must also win the 2 unsettled bets.
Bet Slip Battle
This bonus offers players a chance to win big earnings for up to €1000. The risks are quite big as you should place odds between 30.00 to 501.00. This certain bonus will spread out your bets on selected odds and gives players who bet on the biggest odds a chance to get 10%, 5% and 2.5% of the overall bonus. Bet slip battle can be recommended to those who want elevated risk but good payout.
1xRace
This is a bonus which can be got by the players after placing the minimum qualified bets at the minimum qualified events per day for 5 consecutive days; then you will get your bonus. The free bets will be automatically given if you play 5 days in a row. It can be as high as €37, depending on how many days in a row you have been playing.
---
System Requirements and Compatibility
ANDROID:
1xbet is compatible to any android devices with android version 4.4 or higher. The application requires an internet connection and a minimum screen resolution of 320 X 480. The 1xbet is supported in Android 4.1. However, live streaming will not be available.
IOS:
1xbet is compatible and accessible for IPhone 5 and newer versions. Make sure to have enough storage space for a new application.
1xbet is accessible for some of the following brands: Sony, Huawei, Lenovo, LG, and Samsung phones with android version 4.4 or higher. Meanwhile, IOS version of the program is only compatible with IPhone version 5 or newer. Basically, 1xbet is also available in Windows devices.
---
Mobile Payment Method
A few details regarding 1xbet's offered mobile payment methods are listed below for your convenience:
Minimum of 50.00 RUB, $1.5 USD, €1.00 EUR, 3.00 TRY (instant)
Minimum of 50.00 RUB, $1.5 USD, €1.00 EUR, 3.00 TRY (instant, 8.5% service charge)
Minimum of 50 000 VND (20%, instant)
Minimum of 1000.00 UGX (instant)
---
Frequently asked questions (FAQs)
1. What is the minimum and maximum stake for a bet in Sports?
1xbet's minimum stake protocol is KSH 22 per bet. While, the maximum stake is KSH 500000.
2. What is the maximum payout?
The maximum payout in 1xbet is KSH 60000000.
3. What is KSH?
KSH is 1xbet's currency used in the program.
4. How can I receive a mobile bonus?
1xbet gives users a 100% mobile bonus to the maximum of 10,000 KSH on the first deposit. To do this, you must register on the 1xbet. Fill in all the personal information fields to complete your account. Top up your account up to 10,000 KSH. The bonus will be automatically credited to your account after the deposit is made.
5. Where can I access my mobile bets in Sports?
You must go to "My Account" and click on "Bet History". You will find a list of all bets you have placed. You can filter the list by time and status.
6. Can I earn extra bonuses from inviting a friend?
Yes! In RAFIKI BONUS, earn up to 20% for each friend you refer to use 1xbet. Make sure that your friend uses your referral link. You can make a profit by building your own affiliate network!
7. Does 1xbet allow registration to mobile users younger than 18 years old?
To join 1xbet, you must be in the legal age to access the program. If you are below the age required, you are not allowed to participate.
8. Is the application available on Android 4.1?
1xbet is supported and can be downloaded in Android 4.1. However, live streaming will not be available.
9. When can I contact the customer service? When is their available time?
Customer Service is available 24/7. Support channels are through Account Message, Callback, Email, Live Chat, Skype, Telephone and Twitter. They can support you through different languages such as English, French, Portuguese, Russian and Turkish.
10. Can I register in my country location?
1xbet is available to everyone except for those who are residing in the USA, Switzerland and Cyprus.
---
Conclusion and App Rating
To sum up everything that was stated and discussed above, the odd is high for the 1xbet's mobile application to improve in any ways. It is obviously stated above that the application provides superb features including large sports betting range, bonuses and promotional offers, casino games, etc. They support live streaming which is good, because most of the users anticipate the event and not just betting on the event.
The payment methods are easy to follow and efficient to transact online. The application also provides quick cash withdrawal facilities for users' convenience.
Download 1xbet App
Personally, the user Interface of the application is good but it could be improved. The bookmaker has a potential to improve it soon with the help of IT specialists and as well as the users' reviews to the application which will narrow the company's upgrade.
All in all, the 1xbet deserves a rating of 9.5/10 at the very least.