Morocco is known for its blend of Arabian, Saharan and European culture and for bordering the Mediterranean and Atlantic oceans. This is our next stop on the list of bookmakers by country we have compiled here, at Silentbet. A historically dominant country in Africa, its official languages are Arabic, French and Berber. Legally, Moroccans can punt at one of seven land-based casinos or opt to put with online Moroccan bookmakers. Resultantly, it is important to know which Moroccan bookies are most popular for variety and higher betting odds.
---
Best Moroccan Bookmakers Ranked

Even though online bookmakers are legal in Morocco, some are inherently better than others. Knowing this, we have ranked, reviewed and provided a list of the top 5 Moroccan bookmakers below. They include Betfinal, Betway, 1xBet, Melbet, and 888sport.
Best Betting Sites in Morocco Listed
---
Morocco's TOP 5 Betting Sites Reviewed

Let's now take a closer look at the leading Moroccan betting sites for 2022.
Betfinal
The first of our best betting sites in Morocco, Betfinal is an excellent choice for Moroccans who favour betting on sports. Sporting a superior design interface, the list of features Betfinal delivers is almost endless. Starting with their sports platform, bettors will find over 28 sports for live and pre-match sporting events. These are enriched by the opportunity to stream matches live to bettors desktop or mobile devices. Further enhancements include over 200 betting markets, a Bet Builder and cash out option, plus an online casino.
The casino is the perfect alternative to sports betting, even more so if virtual and esports are high on the list. Each comes with a generous number of games, ten for virtuals, eight for eSports and over 1500 for the casino.
28 sports markets
Superb platform for eSports
Mobile-friendly website
---
Betway
Second on our list of the best betting sites in Morocco is Betway. An established bookie with a proven history of offering above-average odds, it offers 25 sports, live betting and streaming. Part of its designation as a top betting site is the features they provide bettors. The first of those is the selections offered under its live betting and the ability to stream events live. Along with Betway's streaming opportunities, the bookie enhances its portfolio with virtual sports betting, esports and a free bet club.
It includes an entire suite of casino categories such as must win jackpots, slots, exclusive Betway games, table games and more. While these help Betway stand out, their casino and live casino all lend a hand to the bookmakers' creditability. Best of all, the games come packaged with an easy to navigate to make the punting experience even more enjoyable.
Nice range of sports markets
Multiple navigational tools
Hundreds of weekly fixtures
Limited promotional availability
---
1xbet
After opening in 2007, 1xbet proved itself to be a hidden gem that was waiting to challenge the status quo. They have since invested 14 years of operational excellence into building the brand into one of the best on the market. Known mostly for sports, 1xbet offers action on over 28 sports and includes both pre-match and live coverage. The sportsbook is appropriately equipped with features such as live streaming, mobile apps, multiple languages, currencies and toto betting.
Moreover, punters will find 1xbet delivers the goods with above-average odds on more than 1,400 markets. 1xbet also shores up the options they offer bettors with an in-depth catalogue of other gaming categories. Starting with an online casino that has thousands of games, there is bingo, poker, lottery, and a live casino.
Excellent betting market availability
Compatible with iOS and Android devices
Superb navigation and usability
Competitive pricing
Website can be overwhelming
---
Melbet
This bookie joined the ranks of highly south-after betting sites in 2012, and since establishing their brand, they haven't looked back. Melbet has embraced its reputation for sports betting and enhanced it with the features it offers. As a top betting site in Morocco, the features include pre-match and live events, streaming and esports.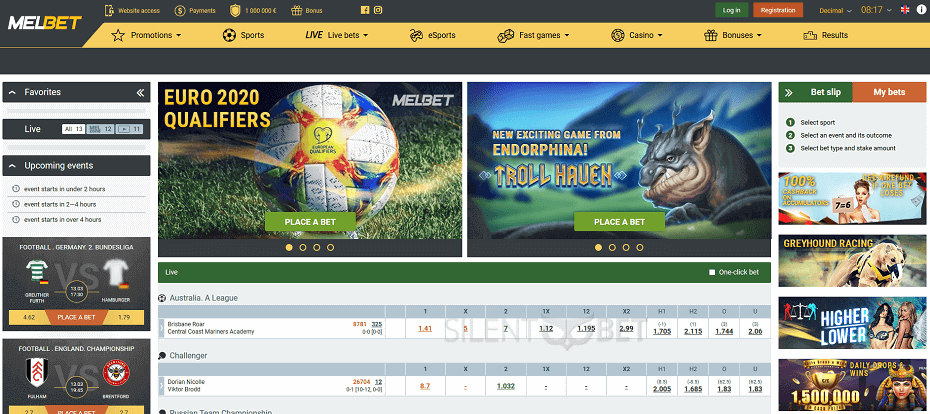 Moreover, the bookie is committed to reliability, above-average odds, frequent promotional opportunities and includes several options for mobile punters. Another feature that is inherently part of the Melbet brands is their casino. As this is the perfect alternative to punting on sports, it includes live casino gaming, slots, bingo, Toto. Fast games and TV games.
Superb reliability
Excellent live betting options
iOS and Android friendly
Limited selection of betting resources
---
888sport
Known throughout sports betting circles for being a trusted brand, 888sport is a favourite bookie at Silentbet. With decades of experience in the business, the bookie has regularly been rated high for usability and overall punter satisfaction. Part of their higher than average rating comes from the variety of sports markets they cover. Along with football, basketball and boxing, they cover 22 other markets. More importantly, the bookie ensures it features an extensive selection of markets for each sport type and includes live betting and streaming.
888sport also includes a poker and casino platform to boost the entertainment value it offers its Moroccan bettors. For poker enthusiasts, they can choose between Omaha, or Texas Hold'em, and for casino players, the list is endless. They can opt for slots, jackpot games, card games, or it wanting more, live dealer games.
Coverage for 25 sports markets
Competitive betting odds
Player-friendly promotions
Does not offer Arabic language options
Picking the Top Moroccan Bookies

Picking the top Moroccan bookies is a detailed process that requires bettors to evaluate a site's features. The features a bookie makes available often determine a betting sites ability to retain their business long-term. Here are several features the best betting sites in Morocco frequently provide their customers:
Markets – The wider the variety of markets a bookmaker is able to provide, the more likely they will be seen favourably. Markets define a punters ability to effectively strategize, and therefore, they directly impact short and long-term profits.
Odds – This is another feature bookies largely depend on to attract interest in their sportsbook. As odds go hand-in-hand with potential profits, the better the odds offered, the better the potential to turn a profit.
Cash Out – The cash out lets punters withdraw a bet before an event has ended. This is most suitable if a bettor believes the likelihood of a bet losing is greater than previously predicted. Most bookie sites will allow the choice between a partial cashout or a complete withdrawal of their betslip.
Live Betting – With most forms of traditional gambling, bets are submitted prior to the start of an event. In live betting, bets are registered while an event is live, and unlike traditional odds, odds are based in real-time. This can translate into substantial improvements to their bottom line for successful punters.
Live Streaming – While this option is not always available for most sporting events, it is more commonly reserved for major events. Live streaming lets punters watch events as they play out and use the information for betting on the event. This feature is valuable when punting on international events not locally televised.
Gambling in Morocco at a Glance

An Islamic nation that follows the teachings of the Quran, Morocco is one of the few where gambling is legal. Currently, there are eight casinos that have been issued gaming licenses by the Moroccan Prime Minister. These are mostly located in tourist areas due to the large population of Moroccans who do not visit gaming establishments.

However, the Moroccan gaming industry is largely unregulated, and there are no guidelines that stipulate the legality of online gambling. This is beneficial to Moroccans who enjoy this form of entertainment in many respects. Even moreso, it provides privacy from the social implications prevalent in Moroccan society.
Currency: Moroccan dirham
Population: 36.91 million
Active Players: 2.21 million
Designated Authority: La Marocaine des Jeux et des Sports
Regulated Gambling Products: Sports, games of chance, poker, bingo, fantasy betting, lotteries
Types of Operators: Land-based casinos, offshore operators
Did you know that?
Moroccans wagered an estimated 9.4 billion MAD on gambling activities in 2016. This represented an increase of 6.65% or MAD 8.8 billion wagered in 2015
Next to the lottery, the most popular sport amongst bettors in Morocco is horse racing. It represents a combined market share of 90%.
While land-based casinos are legal in Morocco, the advertising of gambling services is banned from radio, television, and other media platforms.
The average age of Moroccans placing wagers online in 2019 was between 15 and 35.
Step-By-Step Guide to Placing Bets in Morocco
To help Moroccans choose a bookie we recommend in this article, we have provided a step-by-step guide to placing bets in Morocco. While these steps relate to sports betting, the steps for betting at an online casino are similar.
Chose one of the bookmakers in our list of top 6 betting sites in Morocco.
Register an account, and when prompted, verify your account via SMS or email.
Login, navigate to the cashier and required.
Select a sporting event and review the odds.
Enter the amount you wish to punt.
Submit your betslip.
Betting in Morocco – Main Points


With the Moroccan gambling environment being unregulated, bettors will often have questions surrounding its validity. These often can leave bettors with questions relating to taxation, restrictions and whether betting is legal. To provide clarity about betting in Morocco, the answers to those questions are provided below.
Online Betting in Morocco – Legal or Not?

Online betting in Morocco is not regulated or prohibited under Moroccan law. However, while online betting is not prohibited, gambling laws do not specifically permit it either. This has led to an open door policy whereby offshore operators are free to offer their services to Moroccan players.
Are Moroccan players restricted?

Moroccan players may experience some restrictions, although they are limited and mostly apply to software licensing restrictions. In this respect, restrictions will apply to specific game types or software developer content.
---
Are winnings from betting taxed?

As mentioned, the Moroccan gambling industry is unregulated, leaving taxation of winnings a mute subject. However, gambling operators are subject to taxation on casino, lottery, and sports betting revenue.
---
Best Betting Specials & Bonuses

Many betting specials and bonuses can be gained from punting with Moroccan bookmakers. Mainly, these are offered when punters register with a betting site and proceed to make a deposit. While enticing, they are not without terms and conditions that often stipulate how the bonuses may be used. These will apply to all offers, regardless if they are deposit-based or awarded free bets, free spins or promotions that boost payouts.

By no means is this limited to the best betting sites in Morocco. On the contrary, most betting sites include bonuses as part of their marketing strategies. As such, bettors will have a diversifying variety of bonuses at their disposal. Since bonuses change regularly, punters should regularly review promotions frequently to ensure opportunities are not missed.
---
Is Sports Betting Popular in Morocco?

Sports betting is a popular pastime for many bettors in Morocco, both online and offline. Based on research results, the most popular sports for betting in Morocco include the following:
Football – The most popular sport in Morocco and the world, football generates the greatest interest from Moroccan bettors. Although the Moroccan national team has struggled to compete on the world stage, it retains considerable support.
Horse Racing – Morocco has long been associated with the training and breeding of horses. This has led to horse racing being the second most popular sport in Morocco. The country has over six horse racing courses and is home to over 650 annual horse racing competitions.
Motor Racing – Motor Racing is a relative newcomer in terms of popularity in Morocco compared to football and horse racing. The number of bets increases dramatically during the Formula One season, with the Monaco Grand Prix generating the most activity by Moroccan bettors.
Basketball – Basketball is widely seen as a popular sport in Morocco, resultant in its national team competing in FIBA AfroBasket. Internationally, Morocco has won the AfroBasket in 1965 and have had fifteen top 10 finishes.
---
How Common Are Online Casinos?

With 36.91 million people living in Morocco, the number of land-based casinos is minimal in proportion to its overall population. That has led to online casinos being a common fixture many in Morocco rely on for their extra-circular activities. Today, they represent the lions share of casino betting in Morocco and generate interest due to their excessive game libraries.

The welcoming environment has resulted in a surge of online casinos offering a vast selection of casino games. These include live casino content to slots, instant win, card games, and any number of other frequent game variants. Fortunately, the laws do not limit availability, leaving bettors with an endless number of choices. Due to the fact offshore bookies are prevalent, Moroccans should only use the services of those in receipt of a license.
---
Convenient Payment Options

Several payment methods are available to Moroccans, so they can conveniently add funds in a manner they find most comfortable. Most top bookmakers in Morocco will include e-wallets as their preferred funding methods. These require the uploading of funds to the e-wallet and the subsequent transferring of funds to the casino. Convenient and safe, the most frequently offered ewallets include Neteller, ecoPayz and Skrill.

However, the availability of other payment solutions such as prepaid cards and cryptocurrencies has gained momentum. Mainly, cryptos add the flexibility of not having to share personal transactional information during the funding process. In a country where gambling is often frowned on, this is a viable option Moroccans seem to favour.

The only inconvenience for Moroccans is most transactions will be converted into another currency. More often than not, online casinos will not use the Moroccan dirham as a currency within the casino. Therefore, Moroccans should be prepared to budget for the added cost of converting their deposits into another currency.
---
Mobile Wagering

The best sites for betting in Morocco all appreciate the value mobile sector traffic provides to their business. Mobile traffic represents more than 70% of their traffic and has become a substantial source of revenue for most bookies To ensure they meet the mobility needs of punters, bettors have the choice between two mobile platforms.

Like any other technology-driven business, this includes mobile websites and mobile apps. The good news for Moroccans is the lack of regulation ensures they are not restricted from with of the platforms mentioned. As such, they are free to download apps to tablets or smartphones or opt for the convenience of a mobile website.
---
Most Reliable Moroccan Betting Site

The most reliable Moroccan betting site for 2022, according to experts at Silentbet is Betfinal. As a duly licensed betting site, it has continually been regarded as one of the best online bookies in Morocco. In part, our experts found its sports platform to offer a highly usable interface that effortlessly lets users navigate freely. The added options to view live events, upcoming and popular events enhance and simplify the user experience.

While less friendly when it comes to mobile options, this is a bookie that deserves consideration. This is resultant on other variables such as its casino and live casino. Both are value-added services for punters, as are the bookies promotions and crypto-friendly payment methods.
Big list of sport betting options
Great casino section
Mobile-friendly website design
Live Betting
Casino
Live Streaming
Cashout
Live Casino
E-Sports
Virtual Sports
---
Final Thoughts

Although online gambling is accepted in Morocco, it operates on a thin line between being legal and illegal. The truth is, nothing prevents Moroccans from accessing offshore casinos via Moroccan ISP providers. Nor will they face any punishment as a result, but the environment in Morocco is unregulated. That essentially leaves them unprotected unless betting with an offshore operator who is licensed by a respected regulatory gaming control board.

On the plus side, the top 5 betting sites recommended in this article are licensed and follow regulatory guidelines. While the change could see Morocco becoming a regulated market, the odds are unlikely this will happen anytime soon. Until then, the best option is to punt online with the best betting sites in Morocco.
---
FAQs
Is online betting in Morocco legal?
Yes, online betting is considered legal in Morocco as the countries gambling laws do not state otherwise.
Must Moroccans pay taxes on their winnings?
No, Moroccans are not required to pay taxes on their winnings.
Do Moroccan sportsbooks accept the Moroccan dirham?
Yes, Moroccans may deposit using the Moroccan dirham, which will then be converted into euros.
Which is the best bookmaker site in Morocco?
The best bookmaker site in Morocco in our opinion is Betfinal.
Will I face any criminal proceedings in Morocco if I gamble online?
No, those betting online will not face any criminal proceedings as online gambling is not an illegal activity.
---