18+ | #Advertisement | T&Cs apply | Play Responsibly
As an existing player at bet365, I know there are not many things more frustrating than logging into my account and getting a notification that Bet365 has restricted my account. Unfortunately, even experienced bettors like myself can experience restrictions from time to time, and that makes us question the reasons for having our profile blocked and whether to continue playing at Bet365.
However, it is important to realize that Bet365 is not in business to cause its customers grief. If your account was suspended, the odds are it was for a specific reason. Sadly, for inexperienced or new players at Bet365, this can cause many to wonder if the bookie wants their business.
Therefore, I felt it worthwhile to explain why was my bet365 account restricted. I also felt it necessary to include the type of restrictions that can be applied and what you can do to prevent any such blockings from occurring.
---
Why Do I Have Restrictions on My Bet365 Account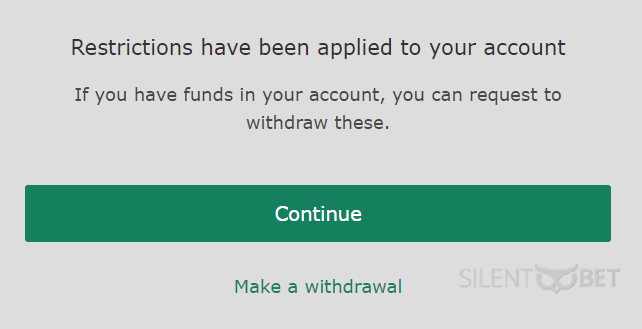 You will get notified of limitations on your account as soon as it happens. This warning message may leave you questioning why is my new bet365 account restricted. When you opened your Bet365 account, you may recall agreeing to the terms and conditions. These cover a wide range of topics such as betting procedures, wagering, withdrawals and promotions, to name a few. Any breach of these T&Cs may cause account suspencion.
While you would need to contact support to find out why do I have restrictions on my bet365 account, here are some of the most common reasons.
Reason #1: You have multiple accounts
One thing I can tell you is one of the most common reasons for new player restrictions is the opening of multiple accounts. As you are only allowed one account at Bet365, if you create a second account, it will be immediately restricted. The reasons for the one account rule relate to the prevention of fraud and money laundering and the responsibility of Bet365 to verify the identities of their customers.
Reason #2: You abused bonuses
As someone who has gambled online for some time, I know the rules behind bonuses can be quite strict. Like most betting sites, Bet365 provides a variety of bonuses as incentives and as a way to increase the entertainment value. While they do not limit how many bonuses I can receive, they do look for anyone who they feel may be abusing the privilege.
Reason #3: You withdrew too much
It is always nice to score, and I never discourage anyone from withdrawing their winnings from Bet365. However, while Bet365 knows its customers will withdraw money, making too many withdrawals means increased payment processing costs for Bet365. If hit with a cashout restriction, you may be limited to how many daily or weekly withdrawals you may make in a given month.
Reason #4: You are a professional player
Naturally, Bet365 has no desire to turn away customers, especially considering they are a customer service-based business. However, if Bet365 detects your a professional bettor or they even suspect it, your account will get restricted. What degree of restrictions I have no clue, but they will relate to bet sizes, or they may change the maximum you may withdrawal.
Reason #5: You use arbitrage betting
Of course, arbitrage betting is not only frowned upon at bet365. It is forbidden. Any player not wanting to have its account suspended or blocked should not resort to match betting tactics.
---
What Restrictions Can Bet365 Apply to My Account
As I mentioned, there are a variety of reasons Bet365 may restrict a player's account, and of course, there are various restrictions they may apply. Most of these relate to the terms and conditions agreed upon when signing up, so I always recommend you set aside time to read the T&C's.

As for what restrictions can Bet365 apply to my account, here are a few:
Restrict the amount you may bet
When I place bets on my fav sports, I always like to keep within a set budget. Generally, this never falters as it helps to gamble responsibly. However, I have some friends who tend to bet big, and that can impact payouts. Be mindful that betting big could see bet size limits being applied, but this depends on the discretion of Bet365.
Restrict you from punting on certain markets
For the most part, I like to punt on football, ice hockey and rugby as they are the sports I am most knowledgeable about. I also like to bet on those as I know my odds are improved, so it makes sense to punt on football, ice hockey and rugby. However, if the majority of my betslips payout, they I could be restricted from punting on some games or from one sport altogether, although this is highly unlikely.
Place max win restrictions
Another of the restrictions that high rollers can face is the maximum amount they can get in returns for any match they punt. While a bit unfair, it is done in the interest of fair play, but with Bet365, the amounts are still pretty favourable.
Close your account
Make no mistake, if you abuse your account privileges at Bet365, you could see your account being permanently closed. While this would be a last resort by the bookmaker, it can happen, so act responsibility, follow the T&Cs, and you'll be fine.
---
Is it Against the Law for Bet365 to Suspend My Account?
On occasion, I have been asked if it is against the law for Bet365 to restrict my account, and the simple answer is, it is NOT against the law. As a privately owned company, Bet365 is within their rights to restrict any person or persons whose business they wish to restrict or decline.

Essentially, it is at their discretion if they believe or find you in breach of their terms and conditions. Moreover, Bet365 isn't under any obligation to explain its decision or reverse it for any reason. While I realize this may put off some players, it's important to appreciate that if you use your account properly, as I do, you will not have to worry about any account restrictions.
---
What Steps can I Take to Prevent Bet365 from Restricting my Profile?
One of the steps I take to prevent Bet365 from restricting my account is paying attention to and adhering to the terms and conditions. Now, this may sound intimidating to some, but the terms and conditions are straightforward, and as long as you are betting in good faith and not doing anything underhanded, you'll be fine. That said, here are several steps I always do to ensure I never run into any problems at Bet365:
Step 1: I never abuse any bonus that I am qualified to claim, and when after claiming a bonus, I always make sure to deposit several times before claiming another bonus. This is super important as it shows I am participating in the promotional opportunities at Bet365 in good faith.
Step 2: I stay consistent with my bets. I mean that I do not suddenly bet big, then small, then big – I keep my bet amounts roughly the same for match. This prevents any unwanted attention if I bet on a long shot and collect a nice boost to my bankroll.
Step 3: I don't request too many withdrawals, or at least not making more than one or two on the same day. While there is nothing preventing me from making as many withdrawals as I want, it means the cost to Bet365 to process those withdrawals is more, and that could result in my potentially being limited on how many withdrawals I can make per month.
---
What Should I Do If Bet365 Blocked My Account?
To be totally honest, there isn't much you can do about it other than contact Bet365 customer support and ask the reason why and request they be removed. Bear in mind, it is up to Bet365 and their policies whether they provide an explanation or recent the restrictions. Ultimately, it will depend largely on why they were put in place and whether support is able to reverse that decision.
In the meantime, if you rather speak live to a Bet365 support agent, you can do so by either of the following support channels:
*All data here is based on a snapshot of the bookie in September 2022. For always up-to-date info, please visit the official website of bet365.
Another solution is to make an official complaint. However, this is a last resort and something I wouldn't recommend. In most cased, the problem will get resolved without falling back to such drastic measures.
How long do bet365 restrictions last?
That will depend on the restriction and Bet365's policies in relation to account restrictions and whether they can be reversed. Someone will be charged with looking at your account suspension case and review it. The process may take anywhere between a few days to a few weeks. Be patient.
---
FAQs
When will bet365 lift my account restrictions?
The problem with your blocked account may be solved within days or weeks depending on the case.
If Bet365 closes my account, can I appeal their decision?
You are welcome to contact Bet365 and request they reopen your account. However, the final decision is up to them and usually it will not be reopened.
If my Bet365 account is closed, what happens to any money I have left in my account?
Any monies you have remaining in your account at the time your account is closed by Bet365 will be paid to the originally funding payment method. This usually takes 24-48 to be processed and up to five days to be received.