18+ | #Advertisement | T&Cs apply | Play Responsibly
If you have recently opened an account at bet365 and are relatively new to gambling online, you are likely accustomed how to use Bet365. First, let me say betting on sports or casino games at Bet365 is not at all difficult. In fact, throughout my time at Bet365, I have found betting to be a breeze as everything is nicely laid out and easy to follow.
However, for someone new to Bet365, I felt it would be beneficial to explain a few things. Namely, I have included how to register at Bet365, how to verify your account, how to deposit funds at Bet365 and how to place wagers at Bet365. All are worth understanding, especially if you are new or considering signing up.
---
How to Register an Account at Bet365
The one thing that was required of me before I could place a bet at Bet365 was I had to register an account. This was easy enough once I navigated to Bet365 and located the "Join" button in the top right-hand corner of the home page. To register, I was required to enter my country of residence and supply Bet365 with the following information:
First/Last name
Date of birth
Email address
Mobile number
Residential address
After providing the above information, I was also required to create a login name, password and set deposit and loss limits. This is required of anyone opening an account at Bet365, so you should expect the same.
---
How to Verify Your Account at Bet365
After I registered my account at Bet365 I had to verify my account via the email address I used when opening my account. To verify my account, I logged into my registered email address and opened the verification email I received from Bet365. I then clicked the link within the body of the verification email, and I was all set.
---
How to Make a Deposit at Bet365
Once I verified my account via the link sent by email, it was time for me to deposit. As Bet365 operates in many countries, they offer a large number of different payment methods. Depending on your country of residence, they include options like e-wallets, bank transfers, vouchers and more.
To deposit to your Bet365 account, you will need to:
Log into your Bet365 account
Click "Deposit" in the top right corner
Choose one of the payment methods
Enter an amount to deposit
Click "Deposit"
---
How to Wager on Sports at Bet365
When wanting to learn how to wager on sports at Bet365, it is quite simple as I have noticed Bet365 has multiple options you can avail. However, choosing the type of bet you want to make is a little more involved as the options include:
Single Bet
Quick Bet
Parlay
Each Way
Bet Builder
Based on the betting options I mentioned above, let's explain a little about each of the options and how to wager via those options.
---
Single Bet
If new to sports betting, a single bet is the easiest to make as you are betting on a single sporting event. If the bet returns a positive outcome, meaning your bet won, then you win the amount payable based on the odds for that single bet.
Here is how to make a single bet at bet365:
Login to your Bet365 account.
Navigate to "Sports" or "In-Play".
Select a sporting event you want to place a wager on.
Choose a market and enter your wager.
Click "Place Bet".
---
Bet Builder
I love this way of wagering at Bet365 as it lets me build a custom bet for the same event. While it is similar to a parlay, the difference is, that you are betting on different markets for the same race. However, Bet Builder is only valid if punting on Basketball, Soccer, American Football, Tennis and Australian Rules Football. Likewise, similar to parlays, all bets must win, or the bet will be lost.
To make a Bet Builder bet at bet365, simply:
Log in to your account.
Select which sport and event you want to bet on.
Choose the "Bet Builder" option.
Choose up to 12 markets.
Wait for Bet365 to calculate the price
Enter the amount you want to stake.
Click "Place Bet".
---
Quick Bet
At times, I am in a hurry and just want to place my bet, and the Quick Bet option is perfect for doing exactly that. The Quick Bet option is available for in-play singles, and pre-match events and placing a quick bet is as easy as:
Making your selection.
Selecting your preferred market.
Entering the amount of your bet.
Clicking "Place Bet"
---
Parlay Bet
One of my favourites, Parlays are accumulator bets that let you select multiple events and combine them under the same betslip. The only drawback to this type of bet is every event must win, but the payouts can be substantial, making this type of bet a calculated risk.
To make a parlay bet at bet365, simply:
Login to Bet365.
Add two or more events to your bet slip.
Chose a proposition bet or a regular parlay bet.
Enter your stake.
Click "Place Bet".
---
Each Way Bet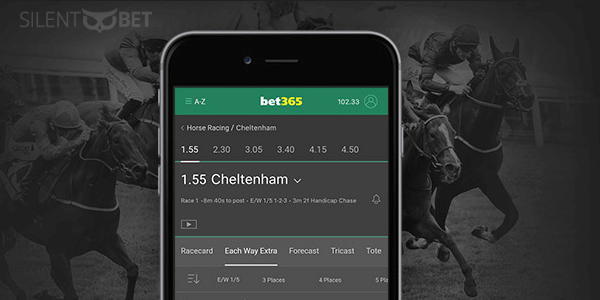 Each way bets is another of the bet types I like to dabble with whenever I am betting on horse races at Bet365. The reason I like this bet type is it comes with two parts, a win bet and a place bet and either can return a win.
In case you are unfamiliar with this bet type, a win bet is for the horse you think will win, and a place bet for the horse you think will place in the race.
To make an Each Way bet at bet365, simply:
Login and navigate to horse racing.
Select which race you want to bet on.
Choose Each Way Extra or Fixed Odds.
Pick which horse you want to bet on.
Choose the number of places (first two, first three, first four etc).
Click "Place Bet".
---
FAQs
How do I bet in Bet365 with my mobile?
The way you bet on Bet365 with your mobile is identical to how you bet at Bet365 via your desktop. Simply navigate to Bet365 via your mobile, log in and proceed to place your bets.
How do I bet at the Bet365 Casino?
You can place bets at the Bet365 casino by visiting the casino via the top navigational menu at Bet365.
What other betting products does Bet365 offer?
While my favs are sports and casino, Bet365 also offers bingo, poker, and live casino games.