18+ | #Advertisement | T&Cs apply | Play Responsibly
It is important to know how to delete your bet365 account if this is your final decision. Therefore, I will explain how to close your bet365 account and give some alternatives should you reconsider your decision. Here are the quick steps for account removal.
Pick how to deactivate your account – via profile, e-mail or live chat
Get in touch with bet365 and state your decision
Say why you want to close your account
Answer any additional questions
Wait for the bet365 team to remove your account from their database
---
Account Closure from My Profile
I can control my Gambling activities on bet365 site. There is an option to close my account indefinitely. Here's how to do it.
Go to My Profile and select Gambling Controls.
Pick Account Closure from the menu.
Select Indefinitely from the drop-down menu for the Closure Period.
Provide a reason for doing so. There's an option Prefer not to specify.
Deactivate your account by clicking Continue.
---
How to Delete Bet365 Account via Live Chat
For me personally, I have no interest in deleting my Bet365 account, but I did take the time to investigate the steps you will have to take. Therefore, if you have decided the timing is right to deactivate your Bet365 account, here is what you will need to do:
Step 1: Log into your Bet365 account.
Step 2: Click the "Help" button in the top right corner of the Bet365 homepage.
Step 3: Click Live Chat and ask the support representative to delete your account.
Screenshot taken on 28.07.2022 at 11:56 CET
I want to help you as much as possible. So here is a picture of my chat session with bet365. I asked for my account being removed. Here is a real-life example I hope will help you.
A real-life chat transcript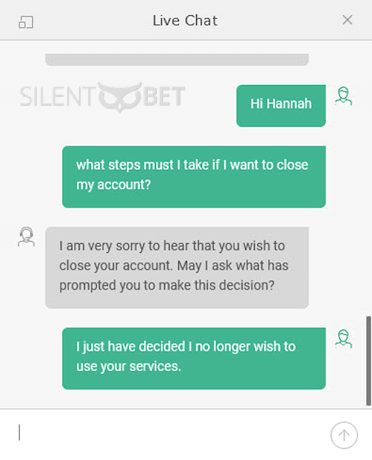 Agent: Hello, I am NAME from bet365. How may I help?
You: Hello, NAME. What steps must I take if I want to close my account?
Agent: I am very sorry to hear that you wish to close your account. May I ask what has prompted you to make this decision?
You: I just have decided I no longer wish to use your services.
*This is a transcript of a live chat I had with an agent on the 28th of July 2022. It is not a scenario that will repeat each time.
---
How to Close Account via Email
Prior to my discussing the steps you need to take to close your Bet365 account, it is worth mentioning there are alternatives. A few of those include using the self-limitation, or one of the temporary self-exclusion options. However, if you still want to close your account, you can send an email similar to the one I have included below to Bet365 support requesting they terminate you profile.
Email Template Draft
Before you compose your email, make sure to state in the subject line that you want to close your Bet365 account. Then, in the body of the email, include your Bet365 login details and the reasons you wish to close your account.
While sending an email to Bet365 support is easy, some of you might be unsure how best to word your request. Therefore, I have included an example of a draft you could use:
To: support-eng@customerservices365.com
Topic: Please close my Bet365 account
Dear Bet365,After much consideration, I would like to request that Bet365 close my account as I no longer wish to use your services. For your convenience, I have included my username and account details below:Username is (enter your username)
Registered email addressFull Name
: XXX
Kind regards
,
Use your real name
)
---
Alternatives to Account Deactivation
I cannot deny that gambling at Bet365 is entertaining, especially considering their responsible gaming procedures. However, I have always acted responsibly by setting limits on the amount I can spend on gambling activities. Personally, I have found this a great alternative to deleting my account as it allows me to govern myself within my financial boundaries.
As a licensed bookmaker, I noticed that Bet365 activily offers its customer a number of responsible gambling options. By no means am I suggesting you choose these over deleting your account, but they are great tools to help control spending.
Therefore, if you feel you need to curb your spending, consider one of these options:
Setting up reality checks
Setting loss limits
Limiting the amount you can deposit
Choosing a time-out option.
These are fantastic options, especially the time-out options as they range from 24 hours to 90 days, although I noticed you can set up a customized time-out period as well.
---
FAQs
If I delete my account, can I open another account at Bet365 at a later date?
Yes, depending on the reason you deleted your account, you can open another account. However, if you admitted to a gambling addiction, you will not be able to open another account at Bet365.
After I delete my account at Bet365, will my personal information be safe?
Yes, any information you shared with Bet365 at any time is safe, and upon deleting your account.
Does Bet365 offer a Budget Calculator I can use to control the amount I spend on gambling?
Yes, Bet365 does offer a monthly budget calculator you can use to calculate the amount of income you can afford to spend on recreational activities such as gambling. This can be found under the "Responsible Gambling" link on the Bet365 homepage.
---