BetConnect Review
It is rare that you find a platform solely dedicated to betting exchange. BetConnect is a notable exception. Unlike traditional bookmaker sites, this company promotes transparent matched betting. New customers have two very attractive options at their disposal. One is to sign up as a PRO and be in control of Bet Requests. The other is to register as a PUNTER and take advantage of the platform to the utmost of what it has to offer sports fans!
Claim £20 bonus
Deposit at least £10 to claim £20 free bet credit. Winnings from free bet credit paid into cash balance, minus the free bet credit amount. Match condition for the first three Bet Request received. Any losses from first three Bet Requests covered by free bet credit up to a maximum of £20 in total. | 18+T&C apply |
begambleaware.org
|
gamstop.co.uk
|
Excellent crowd betting platform
Low or no commission for Bet Requests
Licensed by the UK Gambling Commission
Top-notch apps for iOS and Android
---
How BetConnect Works?
The site under review is a full-fledged matched betting platform. Access it and get an account to make the most out of its unique features. First and foremost, you will have to decide what type of account you will open.
If you are a recreational bettor who enjoys placing bets as a hobby, then the Punter account is the right choice for you. Once you register, you will be free to follow/back bets or lay Bet Requests. This time, however, you will be against other players and not a bookmaker who controls the stakes. BetConnect serves as a medium to allow professional and inexperienced punters to interact and match their bets. As such the company is not a bookmaker per se.
Let's go back to the Punter account. Here are some of the reasons why you should sign up.
You can browse the selections Pros are trying to get on
It is up to you whether to reject the Pro bettors' selections
If you want you can either back/follow them or lay them
You are allowed to request personalised Bet Requests
Connect to Pros if you want some expert tips
All these options at BetConnect come with NO commission
Next, let's take a better look at the second option – getting a Pro account. If you consider yourself a professional sports bettor who doesn't depend on bookmakers to find the best sports markets, then this is the account for you. Of course, you still need to consult bookies to find the best odds for you. Thus, creating Bet Requests will be easy. And from this point onwards, it all depends on you and your skills in finding the right selections. Consult other punters who can either follow your bets or lay them.
What follows are the advantages that come with signing up as a Pro bettor.
Be in control of your Bet Request by creating them based on the best bookie odds
Wait to see how punters will match your bets – they can follow or lay them
Your own bets have no maximum stake limits and come with NO commission for the first 30 days
Overall, you can benefit from no restrictions on your account and guaranteed liquidity
Website Design, Structure, Layouts and User Experience
No visitor to Betconnect.com will be left unimpressed when landing on their site for the first time. Nothing about the platform can be categorised as an innovative breakthrough in website design. And yet almost all aspects of the site impress with their functionality, visual appeal, and intuitiveness!
The colour choices compliment the betting exchange core of the site. Different sections incorporate visual and text messages to get their message across. There are even videos and how-to step guides to facilitate UX even more. Simplistic and overabundant at the same time! That is what BetConnect has achieved.
Information is presented in an entertaining manner thanks to the excellent layout. One single menu located at the top of the page is all you need to navigate the sections. While any further details regarding the company behind BetConnect can be seen at the very bottom of the site, in the footer.
---
How to Register at BetConnect?
Hopefully, you are now sure of the many benefits that await members of BetConnect. Joining the betting exchange will most evidently turn out to be a winning decision! Here are some step-by-step guidelines to consider when entering the matched betting site.
Remember that there are two options – sign up as a PUNTER or a PRO. The best news, though, is that you can go for both BetConnect accounts. The only condition is to register with two different email addresses. They both must belong to you. Plus, you cannot change your personal details when registering your second account.
How to open a PRO account?
Step 1: Launch Betconnect.com and select the "Sign Up" button from the header.
Step 2: Now, it is time to select your account type. Click on PRO and then select "Next" to initiate your registration.
Step 3: The join-in form will require you to provide personal info, account details, plus your contacts.
Step 4: Set up a limit on your deposit if you want and select "Create Account" to complete the process.
How to open a PUNTER account?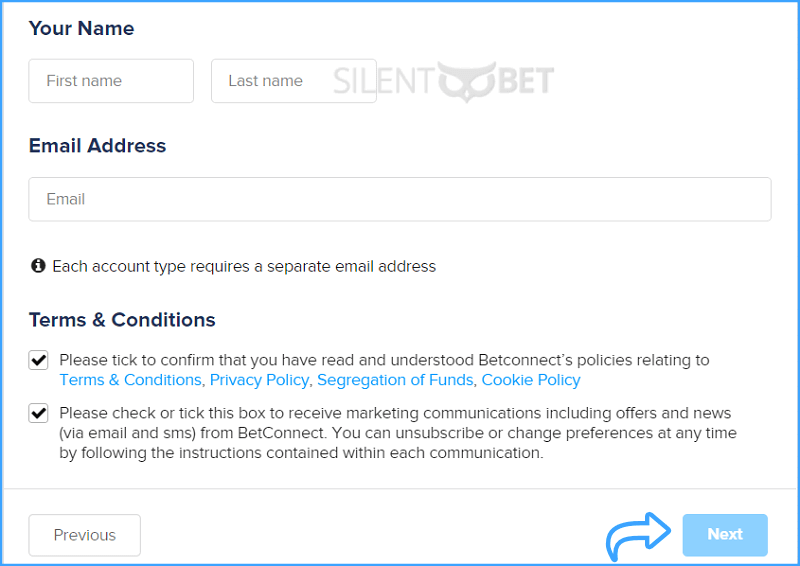 Step 1: Go to Betconnect.com and click on the "Sign Up" button visible at the top of the home page.
Step 2: Select PUNTER as your account and fill in the online registration form with all needed details, including name, DOB, address, and phone.
Step 3: If this is the second account for you in BetConnect, then make sure to provide another email address.
Step 4: Once you fill out all fields, click on "Create Account" to become part of the betting exchange.
---
Punter Signup Offer – Bonus Up to £20 in Free Bets

All new account holders who went for the PUNTER sign-up instead of the PRO account are eligible to claim this welcome bonus. The reward for registering comes in the form of Free Bet credits. As per the bonus terms and conditions, the maximum amount you can get is a £20 free bet. Here is what you need to do to redeem the bonus credit.
Deposit £10 or more in your new Punter account.
You don't need a bonus code. BetConnect will credit your £20 free bet automatically.
Use it to match the next three of the Bet Requests you receive.
If your bets incur losses, your credit will cover them up to the amount of £20.
If you have a winning bet, you can request cashout on your winnings minus the free bet.
Deposit at least £10 to claim £20 free bet credit. Winnings from free bet credit paid into cash balance, minus the free bet credit amount. Match condition for the first three Bet Request received. Any losses from first three Bet Requests covered by free bet credit up to a maximum of £20 in total. | 18+T&C apply |
begambleaware.org
|
gamstop.co.uk
| Play Responsibly
---
---
Matched Betting
At BetConnect betting exchange, it is all about connections! That is why the name of the brand is so suitable. To get a better understanding of matched betting, you need to see the connections between the Bet Requests. First, a Pro bettor creates a request by analysing the live prices/odds offered by bookmakers. They choose an amount to stake. It can be as high as they want. BetConnect promises no account restrictions for high-flyers, no matter how much they wish to stake.
Finally, Pros wait for Punters to connect and browse their selections. It is at that time that matched betting happens. Unless the other members of BetConnect choose to disregard this bet, they will have two options. In other words, matched betting will involve how the Punter will react to the Bet Request of the Pro. They can either follow it or lay it!
How to Back a Bet
Push for a Bet Request! Thus, you will receive a selection that is on par with your betting preference.
Unlock the request to see the full details. Be quick as BetConnect gives you 8 minutes to make up your mind.
If you trust the Pro responsible for this selection and like the odds, then back the bet by following the price with a bookmaker!
How to Lay a Bet
Get your Bet Request by email or directly on your phone (if you have the BetConnect app installed).
Study the selection and see if the Pro has got it right.
If you think that there is a slim chance that the Bet will end up winning, lay it.
By laying a bet, you actually stake against the prediction of the Pro.
How to Reject a Bet
If the Bet Requests you receive do not match your expectations, simply close them to reject the bet. In no way are you forced to take action any time you push for a request!
---
Available Sports
BetConnect betting exchange allows for the most popular sports in the UK to be matched. These include Football, Snooker and also Horse Racing. We have provided a full list of the sports you can currently back or lay on this platform..
American Football
Basketball
Boxing
Cricket
Darts
Football
Formula 1
Golf
Horse Racing
Rugby
Snooker
Tennis
Baseball
---
Betting Coverage
When Pros make their selections, they look at various sports markets. Don't imagine that they open twenty betting sites and start comparing the options. The truth is far from it. Since they have an account with BetConnect, they use the New Bet Request option available. Using it, they can select a sports type and see what major bookmakers have to offer on upcoming or live events.
If you are a Pro but cannot seem to find a market that you want, you can contact the BetConnect support team. They will assist you in any way possible. Some markets Pros usually select are Over/Under, 1X2, some handicaps and more. By rule, professional punters avoid more exotic sports markets as they will not attract as many followers of their bets.
What are the odds at BetConnect?
As you might have already guessed, it is not up to BetConnect to deliver markets with competitive odds. The job of finding long odds is left to Pros. They shop around for the best sports markets by comparing bookies live prices. Once they make their selection, they request a bet!
As far as the odds format goes, you can go to Account Settings and then Preferences to change the way you see them. Two types of odds are supported, namely Decimal & Fractional.
Why choose BetConnect for my matched betting?
Some people might be wary of betting exchanges. These types of platforms are comparatively new. And as with all innovations in the world of gambling, the question that arises is one. Is it legit? The simple answer is yes!
If you want to stick to the traditional form of betting with bookmakers, then go ahead. However, by joining BetConnect, you get the chance to experience an entirely different sports betting experience. Here are the advantages and disadvantages of matched betting on this platform.
Pros of BetConnect
You get genuine sports betting tips
Analyse the Pro's history to be in control of your bets
No need to bet blind as tools will help you get useful stats
No commission for Punters when they lay or back bets
No restrictions for Pros meaning no blocked or closed accounts
Dedicated Android and iOS apps allowing you to follow bets on the go
Cons of BetConnect
Pro accounts come with commission rates – 1% for football and 2% for other sports
---
BetConnect Blog
This betting exchange seems too good to be true. Actually, so many people testify about the beneficial aspects of the platform that we have been convinced. What you see is what you get with BetConnect. Another proof of the popularity of the brand is their blog.
Open the blog if you want to get access to expert betting advice for free. These tips will help you find value bets. On top of that, by reading the posted articles regularly, you will learn a lot about the leading sports to bet on. Thus, you can stay on top of your game.
---
BetConnect Mobile App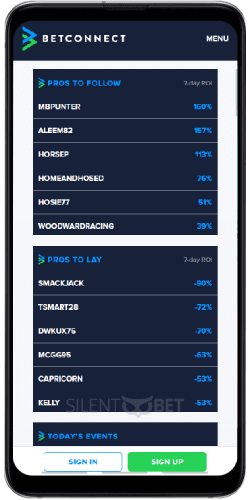 Two apps help deliver Bet Requests in the palms of thousands of bettors. Choose to download and install the Android or iOS BetConnect app for easier access to tips and bets on the go.
If you own a phone or tablet running on Android, go to the Google Play Store. The BetConnect APK file is available there because this isn't a bookmaker app. In its essence, this is a social betting exchange. So to follow or lay bets via your phone, download the app today. The size of the application is 6.7 MB and it requires Android 4.4 or later to run smoothly on your smartphone.
For those of you who have an iPhone or iPad, BetConnect has developed a stand-alone iOS app. Find it on the App Store for free download. The size of this application is 15.1 MB, and you have to update your device to iOS 11.0 or later to launch the app.
---
Payment Options
For the time being, BetConnect supports bank and card transfers as payment methods. All transactions come with no fees attached. It takes less than a minute for the processing of your card deposits, while withdrawal requests may take up to 5 working days.
You can find more details in the table below.
| Paymenth Method | Deposit Minimum | Deposit Maximum | Time for Deposit | Minimum Withdrawal | Withdrawal Maximum | Time for Withdrawal |
| --- | --- | --- | --- | --- | --- | --- |
| Visa | £10 | £10,000 | Instant | £1 | £2,000 | 3-5 Working Days |
| MasterCard | £10 | £10,000 | Instant | £1 | £2,000 | 3-5 Working Days |
| Bank Wire Transfer | £10 | £10,000 | Instant | £1 | £2,000 & more | 3-5 Working Days |
---
Security and Regulation

Regulated, licensed, and secure! This is what BetConnect stands for and how it manages to attract so many new customers each month. Bettors trust the platform for several reasons.
The website possesses an SSL certificate making it a safe platform
It uses a firewall to prevent the leak of any information shared by members
BetConnect employs KYC procedures to ensure their site stays legit and nothing illegal is going on
BetConnect Affiliate program

Be part of the best solution for your online business! If you join hands with BetConnect and sign up for their Affiliate Program, you will promote a betting exchange like no other. It is a social platform serving as a bridge between profi punters and more recreational bettors.

If you become an affiliate, you will enjoy financial and marketing perks such as customized commission plans, result-driven manager, marketing, and tracking tools. Send any further questions to inquire@incomeaccess.com if you want to learn more about the program and the terms for joining it.
---
FAQs
Do I need to pay a commission if I become a BetConnect member?
Punters enjoy commission-free plans while Pros pay 1% for bets on football and 2% for all other sports.
Is it possible to join BetConnect betting exchange if I don't live in the UK?
For now, only players residing in the UK can sign up. However, BetConnect is looking for ways to expand its jurisdiction to other countries. So keep checking their official site for updates. Alternatively, you can sign up for their promotional letter.
Can Pros take advantage of 0% commission offers?
Actually, yes! After registering as a Pro, you won't have to pay a commission for the first 30 days. From then on, we advise you to monitor the offers at BetConnect. Every month a sport is chosen that professional bettors can place bet requests with 0% commission. For instance, the sport of the month right now might be snooker or horse racing.
Can I follow and lay bet requests at BetConnect through my phone?
Yes, this is possible. Download and install the BetConnect mobile app for free.
How to use BetConnect for Matched Betting?
Push the button to request for bets. See what Pros have selected. All left for you to do is choose whether to follow or lay the bet.
Why can't I bet on Horse Race markets the night before the race kicks off?
This is due to the fact that Horse Racing appears as an option at 9 a.m. the day of the race. For now, only races taking place in Ireland and Great Britain are covered.
Will I make money as a punter at BetConnect?
It all depends on which bets you decide to follow or lay. Pick up the right Pros that know the ropes of online betting and trust their tips for a better chance of winning.
Can I join BetConnect as a pro?
It is up to you to decide whether to sign up as a Punter or a Pro. In fact, you can open both accounts provided you use two emails when registering.
I've forgotten my password and cannot access my BetConnect account. What do I do?
Go to the BetConnect login page and click on the provided hyperlink for further instructions.
---
BetConnect Company Details
The betting exchange came about in 2018, promoting social matched betting to counterpart the monopole of the online bookmakers. It all started with an idea. The man behind this idea is the man behind BetConnect. Daniel Schreiber is the founder and the CEO of the matched betting exchange platform. What inspired him to create the company is his disillusionment with online bookmakers that restrict profi punters for earning "too much" from bets.
Now, Pro bettors have a stage where to shine and assist other punters who need tips! At the same time, BetConnect does not limit the maximum stake or restrict Pros in any other way. Finally, they are fully regulated and licensed by the UK Gambling Commission.
Here are some interesting facts about BetConnect:
The platform is created so that punters can WIN. Actually, BetConnect wants you to win, which ultimately means they are doing their job correctly.
BetConnect is the fastest growing betting exchange recorded in the history of the UK.
In October 2019, the platform reached the record-breaking £2m in matched bets for the month.
---
Customer Support and Contacts
When finding a market for your bets seems tricky, or you need any other assistance, turn to the BetConnect support team. Here is how to get in touch with them.
If you would like to know more about all current offers and promo deals, make sure to follow the brand. Here are the social media outlets you can access.
---
Overall Rating
In conclusion, we have to admit that BetConnect UK is one of the best (if not the best) betting exchanges out there. With keen attention to detail, we are sure that the brand is here to stay. As a result, we are happy to award them with 9 out of 10. Our ranking is based on several factors. But by far the most important is how useful this betting product is for punters. In the case of BetConnect, we can safely say they deliver top-notch service to pro and recreational punters across the UK!!
---
Other reviews for BetConnect