Best UK Bookmakers – Top Betting Sites for 2023
Ad disclosure
SilentBet (SB) is proud to be the partner of numerous renowned casinos and bookmakers around the world. As such, we do use affiliate links to earn commissions (at NO cost to our readers whatsoever). These aff links help us stay a cut above our competitors, delivering top-notch content you can trust. Take a look at the
Ad Disclaimer
page for more information on our affiliate business practices.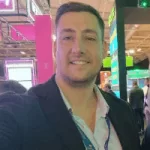 Atanas Tanev
Ad disclosure
SilentBet (SB) is proud to be the partner of numerous renowned casinos and bookmakers around the world. As such, we do use affiliate links to earn commissions (at NO cost to our readers whatsoever). These aff links help us stay a cut above our competitors, delivering top-notch content you can trust. Take a look at the
Ad Disclaimer
page for more information on our affiliate business practices.
Here at SilentBet, our dedicated team work tirelessly in search of the greatest online bookmakers available on the web. In doing so, we have been able to compile a list featuring the very best of the best, as you can see below.
Take a look at the top betting sites that are trusted by UK players who enjoy betting online. The ranking depends on the secure and trustworthy products they have to offer. Take your pick right away or continue reading for more info regarding each bookmaker. This is a list of online bookmakers UK for 2023.
It must be stressed just how exceptional an online bookmaker must be to make its way onto our prestigious list. We have carried out impartial reviews of hundreds and hundreds of different sites, and we continue to look at even more. So, trust us when we say that those names you see below are those that provide the best online sports betting experience around.
Best Bookies in the UK Listed
🥇 Bet365 – Best bookmaker in the UK for 2023
🥈 Betway – Great bonuses and specials
🥉 BoyleSports – Impeccable online reputation among punters
💎 WilliamHill – Best horse racing betting site for the UK
🏆 Bwin – Perfect for punting on football
🔥 LeoVegas – Top-notch mobile apps for betting
🏅 Ladbrokes – Best odds guaranteed UK bookie
---
UK's TOP 7 Bookmakers Reviewed
Being such a vibrant market, you are bound to come across dozens of betting and gaming sites if you reside in the UK. These include major brand with a global footprint to smaller firms that are just starting in the iGaming industry. In this section, we have highlighted some of the top betting sites in the UK that are worth trying out. Most of these UK bookmakers offer a mix of both sports betting and online casinos, giving you a one-stop-shop for everything online betting.
bet365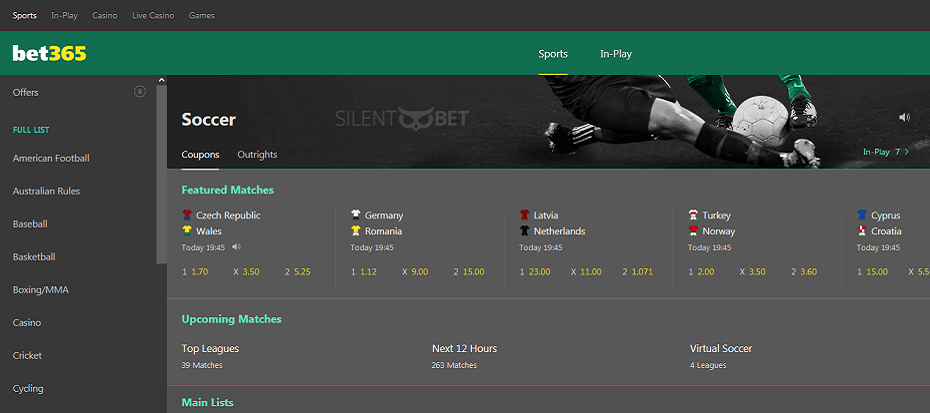 As far as brand power goes, Bet365 is a giant in not only the UK but actually globally. Their iconic green and yellow brand logo is visible across various jerseys and sporting arenas around the world. As of now, it was estimated that Bet365 was serving a client base of over 30 million customers globally. With their headquarters in England, this makes the brand even more trustworthy among the UK players. Their products include sports betting, online casino, virtual sports, and even live casino.
Pros
Offer free live streaming services
Has competitively priced odds
Deposits are processed instantly
Offers round the clock customer support
Available on mobile
Cons
There are relatively fewer promotions and bonuses for the casino section, with much attention being paid to sports betting
---
betway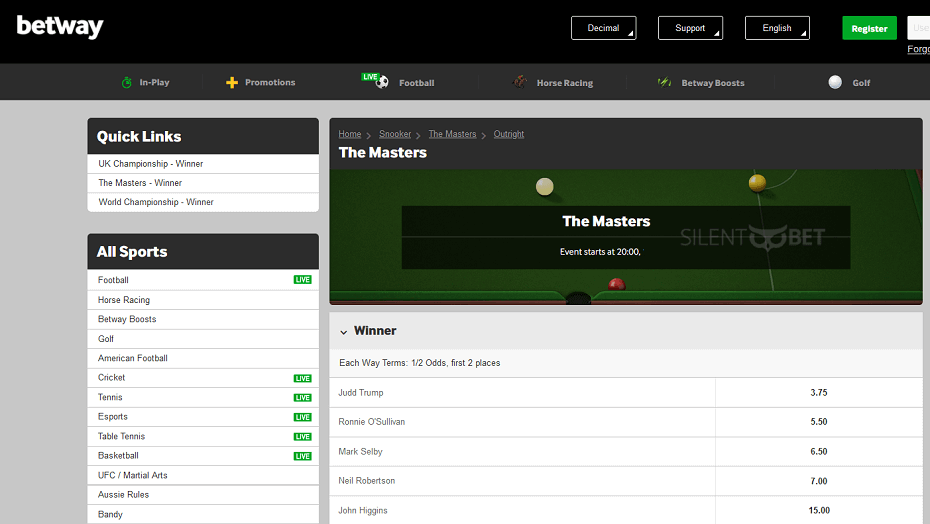 Here is another top betting site for the UK with a clear focus on Britain's favourite sports like snooker, horse racing, and football. Of course, betway has so much more to offer in terms of betting markets. You will find some niche sports here as well as special boosts and free bets for your wagers.
Pros
Lots of specials
Great for mobile bets
Lucrative promotions
Cons
Does not accept crypto currency
---
BoyleSports
One of the biggest fan bases in the UK belongs to no other than the bookmaker BoyleSports. You must have seen positive reviews about this betting brand online. It is a bookie with impeccable reputation among UK gamblers. Punters opt for this site for high-quality sports products, niche markets and above-average odds payout percentages.
Pros
Competitive odds for UK
Mobile apps in place
Lots of sports covered
Cons
Restricted in many territories
---
WilliamHill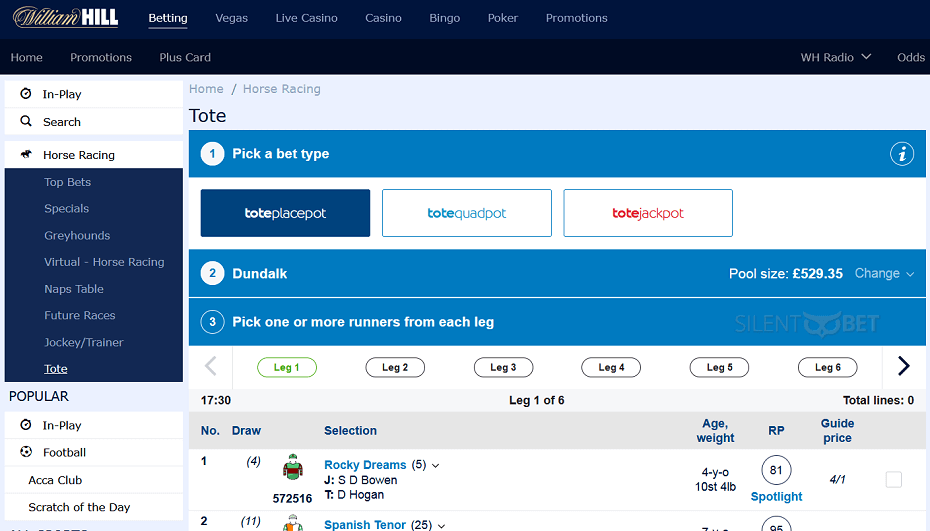 We counln't but include WilliamHill on our list of best UK betting sites. This brand is renowned for its horse racing bets. Of course, races are not the only thing that is worth your while at WH platform. Check out their vegas and casino section as well.
Pros
Nice range of sports offers
Ante-post horse racing
Wide range of specials
Cons
The iOS app needs improvement
---
Bwin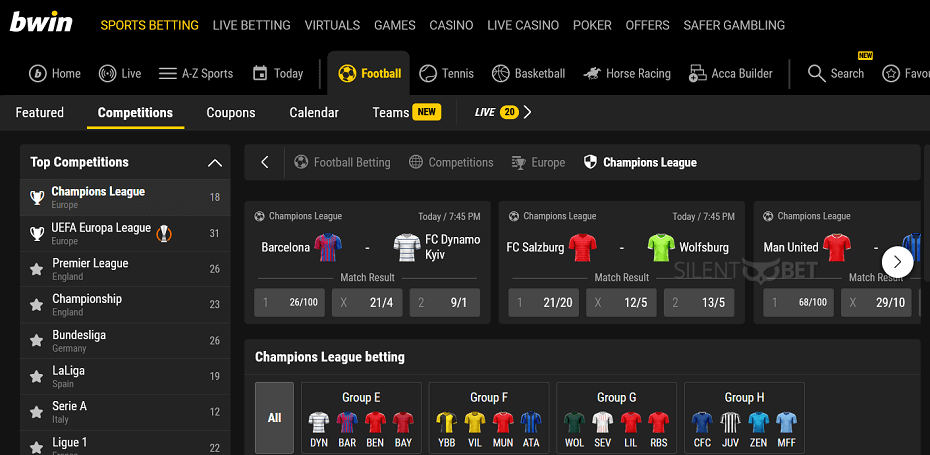 UK football fans are in a league of their own. That is why among the top UK bookmakers you will find the likes of Bwin. This betting site has focused on the top football championships in the UK and all over Europe. Try their special features for soccer bets that include bet builder, cashout, combi boost and more.
Pros
Apps for betting on the go
Odds boosts for major events
Helpful guide section
Cons
They need to improve the Virtuals section
---
Leo Vegas
Though relatively newer in the market, this bookie is currently one of the most promising online betting and gambling sites. The brand is based in Sweden. Among the numerous offshore sites operating in the UK, LeoVegas features one of the best bookmaker bonuses. This, together with their rich selection of betting products, makes Leo Vegas be picked among the top betting sites in the UK for 2023.
Pros
Impressive bonuses and promotions
Numerous payment methods and currencies available
Long list of sports betting markets to choose from
Features a virtual sports betting section
Cons
Tends to be slower in processing withdrawal requests
---
Ladbrokes
This company is probably one of the most popular betting companies globally. The company traced its roots way back in the late 1800s when it was established to cater for the then vibrant horse race betting. Over the years, Ladbrokes has ventured into various aspects of betting and gambling and at one point, controlled the gambling operations for the Hilton Group. Currently, Ladbrokes maintains a stellar reputation even with their online betting segment.

Their site offers a mix of everything, including a sportsbook, a racebook, and an online casino. Ladbrokes is also available on mobile through their downloadable android and iOS apps.
Pros
Offers a good variety of sports betting markets
Features a live casino section with live dealers
The website has a simple and easy to use interface
Cons
Relatively fewer modes of payment
---
What to consider when choosing a Betting Site in the UK?
With the few recommendations we have highlighted above, you could be wondering what goes into selecting the best betting sites among the many UK bookmakers. Even with such strict laws to protect the player, the truth is the internet is fraught with scammers and unscrupulous dealers. The shortlist below can serve as an essential guide in choosing the best site, whether your interest is in betting on sports or casino gaming:
Does the bookie have a license?

As we have already mentioned earlier, a licensed site guarantees you the protection of the UK Gambling Commission. Any licensed site in the UK must display their UKGC license status on their website, usually highlighted using the UKGC logo at the bottom of the home page.

---

What is the company's reputation?

Besides being licensed by the government, the public opinion about the site serves as a second license of sorts. Evaluate the reviews done by other players, paying close attention to the cons which often get glossed over.

---

What type of betting or gaming products are offered by the company?

The essence of an online betting site is to offer you variety and convenience, and so you need to find a betting site with the right mix of entertainment.

---

How do the odds provided by the bookie compare to other sites?

This is very important as the odds will determine how much you make playing at the site. For casino gaming fans, you can consider the casino's return to player (RTP) rate to evaluate your chances there.

---

Are there any bonuses offered?

Bonuses and any other forms of freebies can be used as a marketing tool by the betting sites but consequently, give the player loads of free cash and goodies. While evaluating the bonuses offered, you will need to have in mind the terms and conditions applicable as well.

---

What payment options are available and how secure is the site?

The bookie's cashier section should be flexible enough in terms of the payment methods available and also efficient in processing fast deposits and withdrawals.
Bookmaker – A Comprehensive Definition
A bookmaker, or 'bookie', is the title given to a person or company that accepts and pays out on bets. In the vast majority of cases, a bookmaker will take bets on sporting events, but many have also branched out into other areas, such as politics or even TV shows.
In addition to accepting wagers, a bookmaker is also responsible for determining the odds of the markets they offer. This, in turn, determines how much they are obliged to pay out should a customer's bet prove to be a successful one. You may notice that some websites call themselves a 'sportsbook' rather than a 'bookmaker', but these effectively mean the same thing.
---
List of Betting Sites around the World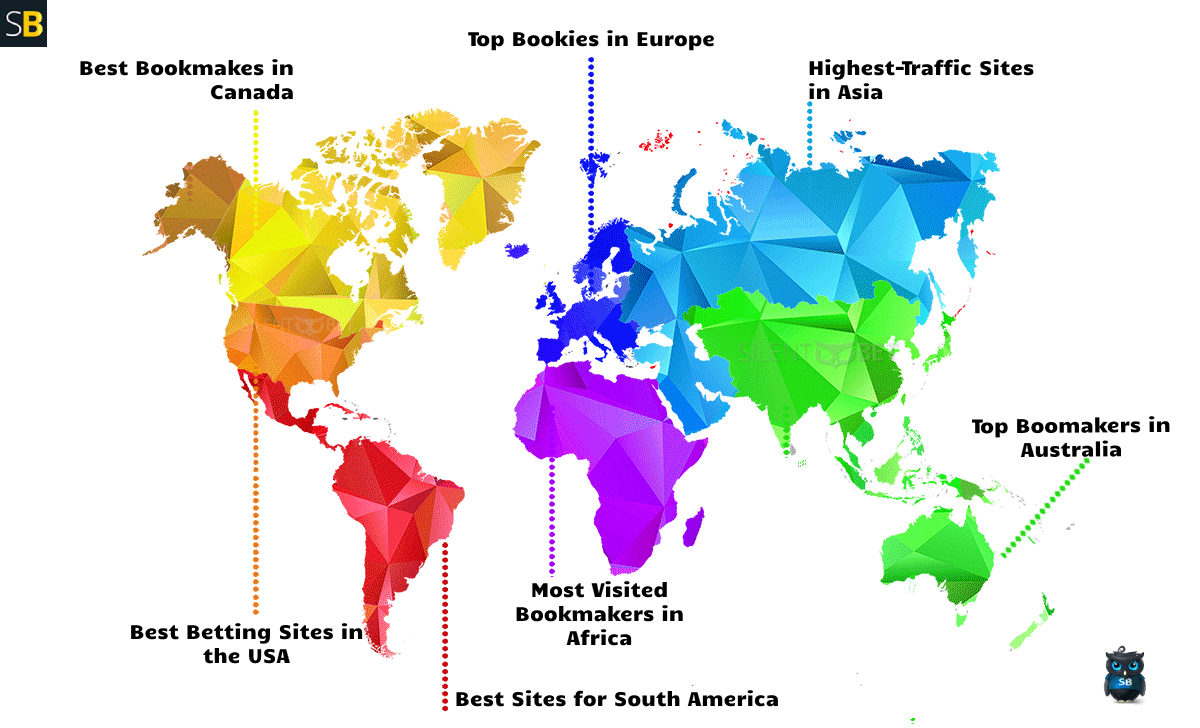 The creation of the internet has allowed bookmakers to take their business online, bringing them into contact with customers they would never have previously met. Lacking the physical barriers that once existed, we now see many large brands that enjoy a presence around the globe.
While most people now have access to hundreds of bookmakers in the palm of their hand, this is not the case for everyone. Strict anti-gambling regulations in some countries prevent online bookmakers from operating or restrict what services they can provide. Several countries in the Middle East, for example, Qatar, Lebanon, and UAE, have outlawed online gambling websites. There are also very limited forms of accepted gambling in the likes of Cambodia, Vietnam, and Singapore.
Interestingly, despite being a nation known for big businesses and financial trading, online betting finds itself heavily restricted in the USA. Regulations vary quite drastically between states across various forms of betting (sports betting, casino, lotteries, and so on). As things stand, most states refuse to allow online bookmakers to operate, but opposition is gradually waning. Over the past few years, we have seen states such as Colorado, Indiana, and New Jersey (following a landmark Supreme Court ruling) all open their doors to online bookies.
Ultimately, you will find that the picture across the globe is constantly changing as online bookmakers continue to expand. Take a look at most countries, and you will probably find they have proposed and/or passed some relevant legislation within the past few years. Albania, for example, voted to ban all forms of online gambling in 2018, whereas the Netherlands introduced the Dutch Remote Gambling Act in March 2021, expanding a previously restricted market.
---
Gambling in the UK


Currency: Great Britain Pound
Population: 66,040,000
Active Players: 25,000,000
Designated authority: United Kingdom Gambling Commission
Regulated Gambling Products: Sports betting, horse and greyhound racing betting, lotteries, land-based casinos, betting exchanges, online casinos, bingo halls, online bingo, poker
Types of Operators: Land-based casinos, betting shops, online operators
Did you know that?
The UK gambling market employs over 100,000 people.
As of 2017, more than 50% of all online betting action in the UK was through smartphones and tablets.
There are no taxes charged on bet winnings in the UK.
The largest section of the population that actively participates in online gambling is aged between 25 to 34 years.
Gambling has been part of the UK community for centuries. Historical records and tales from way back detail some forms of gambling activities in various aspect of the locals' daily lives. It, therefore, comes as little surprise that the UK is currently one of the most vibrant betting markets. The market is comprised of various forms of betting and gambling, ranging from the traditional brick-and-mortar casinos and betting shops to national lotteries, online bookies as well as online casinos.
As we will be reviewing in this article, there are many positives to the structure of the UK gambling market. Though the government is heavily involved in a regulatory role, the more significant portion of the market is left to operate in laissez-faire. This has opened the door for multiple betting companies to set up shop in the UK. Currently, the market competition here pits local companies against several offshore operators.
This competitive nature on the operators' side has worked to the advantage of the UK player as they end up getting the best bookmakers the market can offer. However, industry stakeholders are keen to see how the recent Brexit turmoil is set to affect their business. As other business sectors in the EU rush to protect their interests, the gambling market will equally feel the impact, especially for the offshore companies targeting the UK market.
Is gambling in the UK legal?

Yes, it is legal to gamble in the UK, but under specific terms and conditions. Unlike many other European nations, the UK government's attitude towards gambling is much more friendly. The government has long been involved in the gambling market, with parliament legislating a national lottery way back in 1694. Over the years, the legal framework governing gambling in the country has changed to accommodate various aspects of market changes.

Commercial betting shops were first legalized by the Betting and Gambling Act of 1960. By the mid-80s, the betting shops had become quite common and popular among residents. Some even went further to offer a lounge-like setting complete with seats and TV sets. Back then, there was minimal interference of offshore companies coming to operate in the UK.

But the internet boom brought forth another aspect of gambling that opened doors to external players. This necessitated the establishment of formal structures to regulate not only the brick-and-mortar betting halls but also the online gambling sector. The Gambling Act of 2005 brought in some form of control in the online sector.

Currently, all forms of gambling and betting are regulated by the UK Gambling Commission (UKGC). The commission operates as an independent body and is mandated with regulating both the land-based and online gaming sectors, including those offered by offshore companies. Since the establishment of the UKGC, most of the policies they have passed seem to affect the operators more than the players.

As a player, all you need to ensure is that you meet the legal age limit to gamble, which is set at 18 years. Operators, on the other hand, will have to contend with quite several legal obligations before they can legally operate in the UK market. For instance, the UKGC introduced a number of conditions which prohibit unlicensed casino operators from running advertisements targeting UK citizens.
Do the UK Players get restricted by some bookmakers? Why?

The attitude with which the UK government approaches the online gaming and betting industry tends to place more responsibility on the operator. One example is the one we mentioned above where an operator can be prosecuted for advertising to UK citizens without being licensed for the market. For such reasons, it is not uncommon to find many remote operators placing warnings or notifications on their sites which prohibit UK players. In most cases, such restricted sites will automatically block you by refusing to launch.

But some players might be witty enough to circumvent such a blockade using VPNs. While this might give you access to the restricted site, you will mostly be risking your money by proceeding to play at such a site. The essence of having a regulatory body such as the UK Gambling Commission is protecting the citizens from unscrupulous dealers. The commission provides a dispute resolution mechanism that you can run to in case there is a misunderstanding. As such, betting on unlicensed remote sites would be at your peril in case things went south.
How much tax do you pay on gambling winnings in the UK?

According to UK laws, gambling is not considered a trade, and therefore, no taxes are imposed on returns from betting and any forms of gambling activities. This means that not only are the small bets tax-free, but even the multi-million lotteries do not get charged any taxes. This actually quite friendly to players, if you compare with other jurisdictions such as the Netherlands where the gambling taxes can be as high as 29%.

But things had not always been so rosy in the UK market. Up until 2001, there used to be a 9% tax on bets placed. This was then rescinded, and the burden was transferred from the player to the operators themselves. Bookmakers and other betting company operators started getting charged a 15% tax. However, the structuring of the taxation system followed the point of supply principle, whereby bookmakers based outside the country could easily dodge the tax. This led to the many UK based betting firms changing their registration details and headquarters to offshore territories where the tax rates were much lower. The exodus was so massive that it awakened the government, and they realized their mistake in the taxation laws.

Currently, the betting taxes are charged on operators on the point of consumption principle. This means that even for the remote companies, they will have to pay the tax provided they do it in the UK market. This further helped to tighten the regulation of the online betting industry as for any company to comply with the tax requirements; they would have to acquire the UKGC license.
About the gambling market
As we started by mentioning, the UK presents one of the most robust gambling markets in not only Europe but globally. The market is made up of a mix of all forms of betting products, ranging from land-based casino halls and arcades, sports betting shops, horse race betting, national lotteries, postcode lotteries, and the online betting sector. This is an industry that generates upwards of £700 million in taxes annually. By some rough estimates, the gambling market is worth about 0.5% of the country's GDP.
Over time, the online betting sector has shown tremendous growth. Currently, industry experts estimate that the UK online betting market draws in more than 2 million repeat customers, generating more than half a billion in revenue every year. The UK is home to some of the biggest betting brands. The market's stability and robust regulatory framework also allow other foreign-based firms to set up shop in the country. The market competition currently pits two categories of online bookmakers; locally licensed and those licensed in whitelisted territories.
In a nutshell, whitelisted territories are countries that the UK considers to have met the same gambling regulatory conditions as those set by the UK Gambling Commission. This means that companies based and licensed in such territories or countries can as well operate in the UK market. Currently, there are about five such whitelisted countries which include;
Isle of Man
Gibraltar
Antigua and Barbuda
Alderney
Countries in the European Economic Area
It is considered safe and okay to play on any offshore betting site bearing a license from any of these territories.
How Important is a Licence for a Bookmaker?
Given the amount of money involved in the online sports betting industry, very few countries have not opted to take action. Most now have a government-run betting agency that oversees bookmakers and casinos alike that are located within their country (including in an online capacity). Countries with more strict rules, for example, Greece, only grant licences to a select number of bookmakers, so citizens are limited with their choice. The benefit is that any accessible site has been heavily vetted before going online. Other nations, for example, the UK or Sweden, have a more open market but insist that all bookmakers are licenced by their own regulatory body.
Then you have other countries, like Finland or Peru, who, despite having their own rules for local gambling sites, allow players to freely place bets at foreign websites. This is why so many different bookmakers are able to accept players from across the world, despite only having one licence, perhaps one from the Malta Gaming Authority.
So, licences are not only important for opening new markets but also for instilling a level of trust into the website. As part of obtaining and maintaining a licence, bookmakers must meet and follow specific rules. These guidelines are designed to keep players safe when finding licensed betting sites and their betting experience fair at all times. Should a bookmaker fail to comply with these rules, then punishments often follow. This is especially true with tough regulators, for instance, the UK Gambling Commission. Between May 2018 and 2019, the Commission issued £19.6m in fines to companies due to failures to protect problem gamblers and stop money laundering.
---
Key Characteristics of the Best Online Betting Operators
In a world full of betting sites, it is a challenge to find a truly reliable bookmaker. Here are some tips that will help you find betting sites with outstanding products in place.
Available odds – Anyone who has seen an odds comparison site before knows that different bookmakers offer different odds across markets. In addition to ranging prices, some bookmakers take a larger margin than others. Also known as the payout rate or bookmaker margin, this percentage determines how large the typical house edge is, and in turn, how much value for money you are getting.

Wide choice of events/markets – Long gone are the days of only being able to bet on a narrow choice of markets across the leading sporting events. These days many online bookmakers will offer a wide variety of weird and wonderful markets. They have also extended their coverage, so the odds are available on low-tier events or niche sports. A good deal of extra choice for the customer is always a welcome addition.

Live streams – We are big fans of being able to live stream games as we bet on the action. Not only do we enjoy the entertainment watching a live sporting event brings, but it can also help give us an edge on the betting. With sports such as football, seeing for ourselves how the game is playing out tells us far more than some plain stats ever could. Using this knowledge, we can end up placing smarter bets.

Android & iOS apps – Given that an increasing number of us place bets on our smartphones, having a bookmaker offering their very own betting mobile app is a big benefit. A mobile app often provides a smoother and more user-friendly way to access your betting account while on the move. You can easily be kept up-to-date with how your bets are doing or about the latest promotions, thanks to app notifications too. The best part is, these apps generally use very little battery and mobile data.

Bonuses – Here at SilentBet we are big fans of bonuses. Some sites run top-quality promotions, particularly for new customers, that provide exceptional value for money. By taking advantage of these bonuses, you can help your returns stretch further than it usually would. Whether it's receiving free bets, paying out on extra places, or accumulator insurances, bonuses can help enhance your overall experience.

Fast payouts – Last and by no means least, one key criterion we look for is how long a typical withdrawal takes. For some payment methods, the speed of the transaction is partially outside the bookies' control, but they often play a large part in how quickly you get your money. While some sit on your withdrawal request for days, others are committed to approving your winnings near-instantly, even on weekends.
What's in a Name? Should We Look for Big Brands Only?
When betting online, we want to be sure we are getting what we pay for, and this applies to online bookmakers as much as with an online store. As a general rule, picking big, well-known brands is very much a safe bet. Names that have operated for years and years have already proven themselves to be trustworthy and regulation abiding. It is also much easier to find financial information about larger companies, for example, if they are in any danger of bankruptcy.
This is not to say that you should only stick to the biggest names in the industry, though. We have reviewed many lesser-known brands that provide a quality and reliable service to their small player base. In some cases, these smaller brands actually outdo their more well-known rivals in terms of the overall experience. This is partly because a small number of larger brands end up becoming complacent with success. We would say that your best approach is to see if the site you are looking at, big or small, has been reviewed and recommended by ourselves. If so, you know it is a site worth trying out.
Players' Reviews and Online Bookmakers
At SilentBet, our experts do their very best to review online bookmakers as accurately and as impartially as possible. We take pride in the reliability and fairness of what we produce, but we also acknowledge how important user reviews are too. It is for this reason that we encourage users to rate and write about their own experiences at bookmakers they have tried out. Additionally, we allow customers to submit complaints about a particular website in case they have an unresolved problem.

Some may be quick to dismiss player reviews, but they can sometimes be of real value. It is possible, for instance, for a website to promise one thing but consistently fail to deliver. Without customers reporting this, it would be difficult for us to know this is the case. You do, however, have to remember that reviews typically attract people who hold strong opinions about a particular site. There is a greater urge to write public feedback if you have had an exceedingly good or a very poor time at an online bookmaker. Therefore, you should not necessarily be put off if you see a few complaints about a site as there may be 50 times more silently content customers.
---
Does the bookmaker have bonuses & promotions?
You can be sure of enjoying some of the most current promotions from a number of bookmakers. These include free bet offers and betting sign up offers or bonus credits for new customers. There are also loads of reload bonuses, no deposit bonuses, and other promo offers for loyal players. Some bookies even include a Loyalty Bonus Point program for their returning customers.
---
What are the betting odds?
You can find some of the best odds offered by our bookmakers. The odds basically reflect the possibility of the event resulting as you predicted. The price will correspond to a certain percentage of the outcome that occurs. If the odd place is 1/2, that is equivalent to about 75% chance of the team to win in that game. 1/1 is a 50% probability. Our bookmakers offer some of the fairest and highest odds available online.
---
Trend, Stats, and Future Development of Online Betting
In 2020, the global sports betting market was estimated to be worth 203 billion US dollars, involving nearly 200,000 employees and 30,000 businesses.

(Source: statista)
You should bear in mind, however, that this figure does include all in-store betting activity. Although betting store numbers are dwindling in certain countries, in many, they remain the first choice when it comes to placing your sports bets. It would therefore be wrong to think that online is king at this stage. Indeed, the entire online betting industry was worth approximately 67 billion US dollars in 2020. This includes not just sports betting but also a casino, poker, and bingo games played online.

(Source: statista)
When focussing solely on online sports betting, you will see that the general trend is one that is increasing, much like within the industry more generally. Data provided by the UK Gambling Commission shows a significant growth in the amount of online sports betting.

(Source: UKGC)
There is a similar trend in the US which clearly shows a distinct positive trend in the value of the online sports betting market.

(Source: Grandview Research)
The trends witnessed in these nations are representative of many others across the globe. They indicate how sports betting continues to be a thriving business and one that is here to stay for a long time to come.
---
Currency and Preferred Payment Methods in the UK

Players in the UK usually bet in GBP or EUR. However, since most of the sites operating here have a global clientele, it is not uncommon to find sites accepting transactions in other currencies such as USD, YEN, SEK, and NOK.

The payment methods for deposits and withdrawal include e-wallets, direct bank transfers, voucher-based systems, credit and debit cards. Recently, we have also seen the introduction of betting sites that accept payments in cryptocurrencies such as bitcoins.
---
Bookies with mobile apps for UK customers
For convenience purposes, a bookie must have the option for betting on mobile. This actually one factor that you should always consider selecting the site you wish to register and play at. Big brands such as Bet365, Ladbrokes, Unibet, Betway, and Paddy Power register the most downloads for their android and iOS apps.
---
Betting Tips
Gambling is one of the riskiest hobbies you can enjoy online. The outcome of any betting activity is quite clear. Punters will either get lucky. Still, luck is one thing, but knowing the game and how to play it is another. Here are some winning tips for our readers:
Understand that it is all about risk. Whenever you are placing your bets, you will either win or lose regardless of the certainty of the bet you are placing.
Research the bookmaker. You will also need to carry out in-depth research and learn more about the brand you have signed up at.
Always look for value bets. You should keenly consider the odds that are paid out to the customers. Shop around for the best prices and look at the statistics to find the best bets possible.
Use social media. You can also follow bettors on social media and ensure that you get the best tips available. You can try to learn betting know-how from pro gamblers with lots of experience.
Bet responsibly. Before you place any bet, always ensure that you understand the odds and variables. Remember to weigh all the betting options and only bet an amount you are ready to lose.
---
Why Are There So Many Bookmaker Sites for Sports Betting?
When seeing the sheer number of online bookmakers out there, this is a very good question to ask, but not one with a simple answer. The reason we see so many online betting sites is a combination of different factors. Firstly, it is because bookmakers tend to be profitable. Much like a casino, due to their house edge in the odds they offer, they are well-placed to secure a profit if they can attract enough bets. Due to this, it is important to remember that gambling should be for entertainment purposes, rather than a pure pursuit of profit. Many players are able to keep things fun, but for those that struggle, responsible gambling measures are something you really should be implementing when playing.
In addition to this, it does not really cost that much money to operate an online betting website. Operating costs are fairly low, and you do not need any kind of physical presence, expensive equipment, nor specialist staff. Most smaller websites choose not to pay much for advertising either. Instead, they prefer to let their affiliates spread the name of their brand for them. In return for doing so, affiliates receive a fixed fee per referral or a share of the net revenues. Should an affiliate fail to refer any new customers, then the bookmaker has nothing to pay.
Finally, you have to consider the ease of market access. If you have the upfront capital, there is very little stopping you setting up a website and acquiring a licence. This is especially true given there are a number of white label companies that will do all the leg work for you. By this, we mean acquiring the necessary licence(s), create the website, provide the support network, and so on. But obviously, they will take a fair fee or slice of the profits in return.
---
The favourite sports of the UK bettors

A typical bet slip in the UK would be comprised of the country's most popular sports. These include;
Football
Dubbed the universal religion, football has such a large following in the UK. The top tier English Premier League draws in audiences in millions on every match weekend. The same numbers are reflected when it comes to the betting trend of the UK market. Most bets placed are on football matches.
Horse and Greyhound racing
This is another age-old sport that had such a large following in the UK. It is for this reason that you will hardly find a bookie operating in the UK without a racebook section.
Cricket
Cricket is also a relatively popular sport in the UK. Probably inspired by their national team which does quite well, the sport has received considerable attention in the betting markets as well.
Snooker
Snooker might not be so prevalent in other parts of the world, but the UK players tend to love betting on this sport which most people might associate with local pubs.
Tennis
Tennis gets its fair share of betting action in the UK market. With stars such as Andy Murray still whipping backhands on the clay court, the crowds drawn to the sport is expected to keep on growing, translating into more action on the bet slips.
Darts
What started as a British pub sport has rapidly grown to rank among other major mainstream sports in terms of betting activities.
---
FAQs about Bookmakers
Can I keep myself in control of my spending when betting online?
An increasing number of online bookmakers are giving their customers access to responsible gambling controls. Self-imposed restrictions such as deposit and loss limits help players keep in control of their finances at all times.
How do I know which bookmaker to choose, there are so many?
Reviews are often the best way of finding out if an online bookmaker is any good. Quality, in-depth reviews like the ones we produce will highlight the strengths and weaknesses of a particular online bookie.
Is it illegal to bet on a site that is not licensed by the UK Gambling Commission?
No, there are no laws prohibiting you from accessing and playing on an unregistered site. On the inverse, such an operator would be doing it illegally to offer their products in the UK market without the requisite licensing.
Should I trust new online bookmakers?
If a completely new brand has landed, so new that it has limited/no reviews, we would advise proceeding with caution.
Is my money safe at an online bookmaker?
Generally speaking, yes. It is very rare to see a bookmaker go out of business and also be unable to pay back money owed to players. Most bookmakers are financially healthy and face no real danger of bankruptcy/an inability to pay their customers. That said, you should not treat an online bookmaker like a bank account.
Why should I trust your recommend list of online bookmakers?
At SilentBet, we have professional and impartial reviewers who thoroughly assess each website they are assigned to look at. We do include affiliate links for all websites reviewed, but we have no special relationship with any particular site. This allows us to remain unbiased when writing our content.
Should I register at more than one online bookmaker?
This is a matter of personal preference, but we tend to think it is better to have a presence at two or three sites rather than just one. Firstly, you should consider bonus/promotion availability. As each bookmaker runs their own offers, you can take advantage of a wider range of bonuses.
What is a lay bet?
At most bookmakers, you place a bet on an outcome in the event that you think will happen, for instance, a particular team to win a game of football.
I have seen someone say that a bookmaker refused to pay out, should I avoid them?
We will start by saying that there are some instances where a bookmaker was wrong to avoid/delay a withdrawal request. Not every online complaint, however, should be taken as evidence of foul play, though.
Have you reviewed every single sportsbook available online?
Not yet, no, this is virtually impossible given how frequently new sites appear in different regions. We have, however, reviewed an exceedingly large number, including the vast majority of the most well-known names.
Does the UK charge a tax on betting winnings?
No, in the UK, returns from betting is not considered taxable income.
How can I tell if a site is licensed to operate in the UK?
All licensed betting sites are required by law to show their licensing information on the website. This information is usually placed at the lower part of the site's homepage.
Are there any laws limiting how I move funds into and out of my betting account in the UK?
No, in some jurisdictions, there are laws barring players from making direct bank deposits into betting accounts. This is not the case with the UK law, and you can transact using any means available on the site.
---
Which Bookies Make our List of Online Bookmakers UK and Why?
Our regularly updated list of top bookmakers scores very highly across a range of important areas. We focus on things like bonuses and offers, website design, payment methods, available markets, live betting capabilities, additional extras such as cash-out features, live streaming availability, and the quality of customer support.
Ultimately, for a brand to feature as one of our best online bookmakers, they can have very few weaknesses. We find that some excel in particular areas, but even across the rest, they are still well above average. Given that our list only covers a tiny percentage of available online bookmakers, the names you see are truly the crème de la crème of the industry. As it is a prestigious place to be, we do pay special close attention to these websites to ensure they do not let their exceedingly high standards drop.
The conducive environment created by the UK government has contributed significantly to the growth of the UK online gambling industry. The guarantee to players of their protection is particularly important, which the government has achieved through the UKGC. For operators, on the other hand, the tax implications of setting up shop here might seem high. But if you are to consider the relative rates charged by other more hostile governments, then it appears okay to operate in the UK. The future of online betting in the UK seems to be bright, as we look forward to more innovative ideas stirring up the markets.