Online Bookmakers for 2022
Here at SilentBet, our dedicated team work tirelessly in search of the greatest online bookmakers available on the web. In doing so, we have been able to compile a list featuring the very best of the best, as you can see below.
Popular FiltersLive Streaming, Poker, E-Sports
All193
Live Streaming117
Poker50
E-Sports179
Bookmaker FeaturesCashout, Live Streaming, Live Betting, Poker, Lottery
PaymentsVisa, Bank Wire Transfer, Neteller, Skrill, Trustly
TypeHigh Odds, Traditional, Asian, American, Betting Exchange
It must be stressed just how exceptional an online bookmaker must be to make its way onto our prestigious list. We have carried out impartial reviews of hundreds and hundreds of different sites, and we continue to look at even more. So, trust us when we say that those names you see below are those that provide the best online sports betting experience around.
---
Bookmaker – A Comprehensive Definition
A bookmaker, or 'bookie', is the title given to a person or company that accepts and pays out money on bets. In the vast majority of cases, a bookmaker will take bets on sporting events, but many have also branched out into other areas, such as politics or even TV shows.
In addition to accepting wagers, a bookmaker is also responsible for determining the odds of the markets they offer. This, in turn, determines how much they are obliged to pay out should a customer's bet prove to be a successful one. You may notice that some websites call themselves a 'sportsbook' rather than a 'bookmaker', but these effectively mean the same thing.
---
List of Betting Sites around the World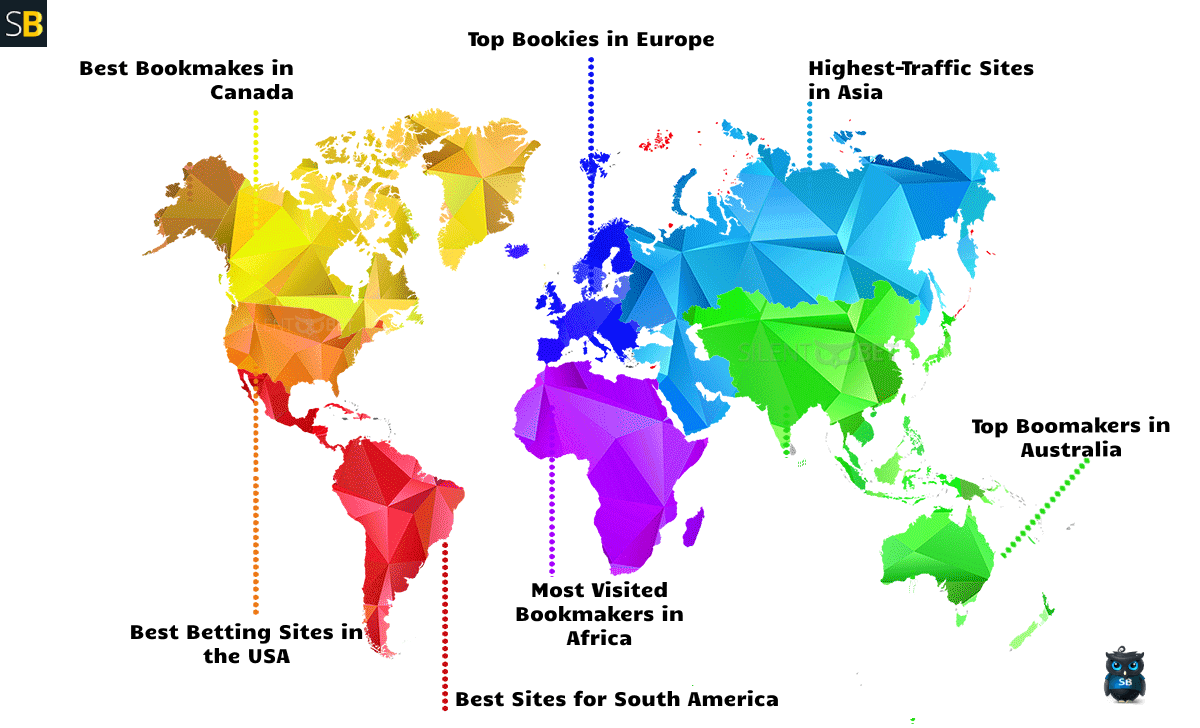 The creation of the internet has allowed bookmakers to take their business online, bringing them into contact with customers they would never have previously met. Lacking the physical barriers that once existed, we now see many large brands that enjoy a presence around the globe.
While most people now have access to hundreds of bookmakers in the palm of their hand, this is not the case for everyone. Strict anti-gambling regulations in some countries prevent online bookmakers from operating or restrict what services they can provide. Several countries in the Middle East, for example, Qatar, Lebanon, and UAE, have outlawed online gambling websites. There are also very limited forms of accepted gambling in the likes of Cambodia, Vietnam, and Singapore.
Interestingly, despite being a nation known for big businesses and financial trading, online betting finds itself heavily restricted in the USA. Regulations vary quite drastically between states across various forms of betting (sports betting, casino, lotteries, and so on). As things stand, most states refuse to allow online bookmakers to operate, but opposition is gradually waning. Over the past few years, we have seen states such as Colorado, Indiana, and New Jersey (following a landmark Supreme Court ruling) all open their doors to online bookies.
Ultimately, you will find that the picture across the globe is constantly changing as online bookmakers continue to expand. Take a look at most countries, and you will probably find they have proposed and/or passed some relevant legislation within the past few years. Albania, for example, voted to ban all forms of online gambling in 2018, whereas the Netherlands introduced the Dutch Remote Gambling Act in March 2021, expanding a previously restricted market.
---
How Important is a Licence for a Bookmaker?
Given the amount of money involved in the online sports betting industry, very few countries have not opted to take action. Most now have a government-run betting agency that oversees bookmakers and casinos alike that are located within their country (including in an online capacity). Countries with more strict rules, for example, Greece, only grant licences to a select number of bookmakers, so citizens are limited with their choice. The benefit is that any accessible site has been heavily vetted before going online. Other nations, for example, the UK or Sweden, have a more open market but insist that all bookmakers are licenced by their own regulatory body.
Then you have other countries, like Finland or Peru, who, despite having their own rules for local gambling sites, allow players to freely place bets at foreign websites. This is why so many different bookmakers are able to accept players from across the world, despite only having one licence, perhaps one from the Malta Gaming Authority.
So, licences are not only important for opening new markets but also for instilling a level of trust into the website. As part of obtaining and maintaining a licence, bookmakers must meet and follow specific rules. These guidelines are designed to keep players safe when finding licensed betting sites and their betting experience fair at all times. Should a bookmaker fail to comply with these rules, then punishments often follow. This is especially true with tough regulators, for instance, the UK Gambling Commission. Between May 2018 and 2019, the Commission issued £19.6m in fines to companies due to failures to protect problem gamblers and stop money laundering.
---
Key Characteristics of the Best Online Betting Operators
In a world full of betting sites, it is a challenge to find a truly reliable bookmaker. Here are some tips that will help you find betting sites with outstanding products in place.
Available odds – Anyone who has seen an odds comparison site before knows that different bookmakers offer different odds across markets. In addition to ranging prices, some bookmakers take a larger margin than others. Also known as the payout rate or bookmaker margin, this percentage determines how large the typical house edge is, and in turn, how much value for money you are getting.

Wide choice of events/markets – Long gone are the days of only being able to bet on a narrow choice of markets across the leading sporting events. These days many online bookmakers will offer a wide variety of weird and wonderful markets. They have also extended their coverage, so the odds are available on low-tier events or niche sports. A good deal of extra choice for the customer is always a welcome addition.

Live streams – We are big fans of being able to live stream games as we bet on the action. Not only do we enjoy the entertainment watching a live sporting event brings, but it can also help give us an edge on the betting. With sports such as football, seeing for ourselves how the game is playing out tells us far more than some plain stats ever could. Using this knowledge, we can end up placing smarter bets.

Android & iOS apps – Given that an increasing number of us place bets on our smartphones, having a bookmaker offering their very own betting mobile app is a big benefit. A mobile app often provides a smoother and more user-friendly way to access your betting account while on the move. You can easily be kept up-to-date with how your bets are doing or about the latest promotions, thanks to app notifications too. The best part is, these apps generally use very little battery and mobile data.

Bonuses – Here at SilentBet we are big fans of bonuses. Some sites run top-quality promotions, particularly for new customers, that provide exceptional value for money. By taking advantage of these bonuses, you can help your money stretch considerably further than it usually would. Whether it's receiving free bets, paying out on extra places, or accumulator insurances, bonuses can help enhance your overall experience.

Fast payouts – Last and by no means least, one key criterion we look for is how long a typical withdrawal takes. For some payment methods, the speed of the transaction is partially outside the bookies' control, but they often play a large part in how quickly you get your money. While some sit on your withdrawal request for days, others are committed to approving your winnings near-instantly, even on weekends.
What's in a Name? Should We Look for Big Brands Only?
When spending any money online, we want to be sure we are getting what we pay for, and this applies to online bookmakers as much as with an online store. As a general rule, picking big, well-known brands is very much a safe bet. Names that have operated for years and years have already proven themselves to be trustworthy and regulation abiding. It is also much easier to find financial information about larger companies, for example, if they are in any danger of bankruptcy.
This is not to say that you should only stick to the biggest names in the industry, though. We have reviewed many lesser-known brands that provide a quality and reliable service to their small player base. In some cases, these smaller brands actually outdo their more well-known rivals in terms of the overall experience. This is partly because a small number of larger brands end up becoming complacent with success. We would say that your best approach is to see if the site you are looking at, big or small, has been reviewed and recommended by ourselves. If so, you know it is a site worth trying out.
Players' Reviews and Online Bookmakers
At SilentBet, our experts do their very best to review online bookmakers as accurately and as impartially as possible. We take pride in the reliability and fairness of what we produce, but we also acknowledge how important user reviews are too. It is for this reason that we encourage users to rate and write about their own experiences at bookmakers they have tried out. Additionally, we allow customers to submit complaints about a particular website in case they have an unresolved problem.

Some may be quick to dismiss player reviews, but they can sometimes be of real value. It is possible, for instance, for a website to promise one thing but consistently fail to deliver. Without customers reporting this, it would be difficult for us to know this is the case. You do, however, have to remember that reviews typically attract people who hold strong opinions about a particular site. There is a greater urge to write public feedback if you have had an exceedingly good or a very poor time at an online bookmaker. Therefore, you should not necessarily be put off if you see a few complaints about a site as there may be 50 times more silently content customers.
---
Does the bookmaker have bonuses & promotions?
You can be sure of enjoying some of the most current promotions from a number of bookmakers. These include free bet offers and betting sign up offers or bonus credits for new customers. There are also loads of reload bonuses, no deposit bonuses, and other promo offers for loyal players. Some bookies even include a Loyalty Bonus Point program for their returning customers.
---
What are the betting odds?
You can find some of the best odds offered by our bookmakers. The odds basically reflect the possibility of the event resulting as you predicted. The price will correspond to a certain percentage of the outcome that occurs. If the odd place is 1/2, that is equivalent to about 75% chance of the team to win in that game. 1/1 is a 50% probability. Our bookmakers offer some of the fairest and highest odds available online.
---
Why Are There So Many Bookmaker Sites for Sports Betting?
When seeing the sheer number of online bookmakers out there, this is a very good question to ask, but not one with a simple answer. The reason we see so many online betting sites is a combination of different factors. Firstly, it is because bookmakers tend to be profitable. Much like a casino, due to their house edge in the odds they offer, they are well-placed to secure a profit if they can attract enough bets. Due to this, it is important to remember that gambling should be for entertainment purposes, rather than a pure pursuit of profit. Many players are able to keep things fun, but for those that struggle, responsible gambling measures are something you really should be implementing when playing.
In addition to this, it does not really cost that much money to operate an online betting website. Operating costs are fairly low, and you do not need any kind of physical presence, expensive equipment, nor specialist staff. Most smaller websites choose not to pay much for advertising either. Instead, they prefer to let their affiliates spread the name of their brand for them. In return for doing so, affiliates receive a fixed fee per referral or a share of the net revenues. Should an affiliate fail to refer any new customers, then the bookmaker has nothing to pay.
Finally, you have to consider the ease of market access. If you have the upfront capital, there is very little stopping you setting up a website and acquiring a licence. This is especially true given there are a number of white label companies that will do all the leg work for you. By this, we mean acquiring the necessary licence(s), create the website, provide the support network, and so on. But obviously, they will take a fair fee or slice of the profits in return.
---
Trend, Stats, and Future Development of Online Betting
In 2020, the global sports betting market was estimated to be worth 203 billion US dollars, involving nearly 200,000 employees and 30,000 businesses.

(Source: statista)
You should bear in mind, however, that this figure does include all in-store betting activity. Although betting store numbers are dwindling in certain countries, in many, they remain the first choice when it comes to placing your sports bets. It would therefore be wrong to think that online is king at this stage. Indeed, the entire online betting industry was worth approximately 67 billion US dollars in 2020. This includes not just sports betting but also a casino, poker, and bingo games played online.

(Source: statista)
When focussing solely on online sports betting, you will see that the general trend is one that is increasing, much like within the industry more generally. Data provided by the UK Gambling Commission shows a significant growth in the amount of online sports betting.

(Source: UKGC)
There is a similar trend in the US which clearly shows a distinct positive trend in the value of the online sports betting market.

(Source: Grandview Research)
The trends witnessed in these nations are representative of many others across the globe. They indicate how sports betting continues to be a thriving business and one that is here to stay for a long time to come.
---
FAQs about Bookmakers
Can I keep myself in control of my spending when betting online?
An increasing number of online bookmakers are giving their customers access to responsible gambling controls. Self-imposed restrictions such as deposit and loss limits help players keep in control of their finances at all times.
How do I know which bookmaker to choose, there are so many?
Reviews are often the best way of finding out if an online bookmaker is any good. Quality, in-depth reviews like the ones we produce will highlight the strengths and weaknesses of a particular online bookie.
Should I trust new online bookmakers?
If a completely new brand has landed, so new that it has limited/no reviews, we would advise proceeding with caution.
Is my money safe at an online bookmaker?
Generally speaking, yes. It is very rare to see a bookmaker go out of business and also be unable to pay back money owed to players. Most bookmakers are financially healthy and face no real danger of bankruptcy/an inability to pay their customers. That said, you should not treat an online bookmaker like a bank account.
Why should I trust your recommend list of online bookmakers?
At SilentBet, we have professional and impartial reviewers who thoroughly assess each website they are assigned to look at. We do include affiliate links for all websites reviewed, but we have no special relationship with any particular site. This allows us to remain unbiased when writing our content.
Should I register at more than one online bookmaker?
This is a matter of personal preference, but we tend to think it is better to have a presence at two or three sites rather than just one. Firstly, you should consider bonus/promotion availability. As each bookmaker runs their own offers, you can take advantage of a wider range of bonuses.
What is a lay bet?
At most bookmakers, you place a bet on an outcome in the event that you think will happen, for instance, a particular team to win a game of football.
I have seen someone say that a bookmaker refused to pay out, should I avoid them?
We will start by saying that there are some instances where a bookmaker was wrong to avoid/delay a withdrawal request. Not every online complaint, however, should be taken as evidence of foul play, though.
Have you reviewed every single sportsbook available online?
Not yet, no, this is virtually impossible given how frequently new sites appear in different regions. We have, however, reviewed an exceedingly large number, including the vast majority of the most well-known names.
---
Betting tips
Gambling is one of the riskiest hobbies you can enjoy online. The outcome of any betting activity is quite clear. Punters will either get lucky and win or lose their cash. Still, luck is one thing, but knowing the game and how to play it is another. Here are some winning tips for our readers:
Understand that it is all about risk. Whenever you are placing your bets, you will either win or lose regardless of the certainty of the bet you are placing.
Research the bookmaker. You will also need to carry out in-depth research and learn more about the brand you have signed up at.
Always look for value bets. You should keenly consider the odds that are paid out to the customers. Shop around for the best prices and look at the statistics to find the best bets possible.
Use social media. You can also follow bettors on social media and ensure that you get the best tips available. You can try to learn betting know-how from pro gamblers with lots of experience.
Bet responsibly. Before you place any bet, always ensure that you understand the odds and variables. Remember to weigh all the betting options and only bet an amount you are ready to lose.
---
Which Bookies Make our List and Why?
Our regularly updated list of top bookmakers scores very highly across a range of important areas. We focus on things like bonuses and offers, website design, payment methods, available markets, live betting capabilities, additional extras such as cash-out features, live streaming availability, and the quality of customer support.
Ultimately, for a brand to feature as one of our best online bookmakers, they can have very few weaknesses. We find that some excel in particular areas, but even across the rest, they are still well above average. Given that our list only covers a tiny percentage of available online bookmakers, the names you see are truly the crème de la crème of the industry. As it is a prestigious place to be, we do pay special close attention to these websites to ensure they do not let their exceedingly high standards drop.