Ad disclosure
SilentBet (SB) is proud to be the partner of numerous renowned casinos and bookmakers around the world. As such, we do use affiliate links to earn commissions (at NO cost to our readers whatsoever). These aff links help us stay a cut above our competitors, delivering top-notch content you can trust. Take a look at the
Ad Disclaimer
page for more information on our affiliate business practices.
| | |
| --- | --- |
| 📧 Boylesports email address | care@boylesports.com |
| 📞 Boylesports contact number | 0800 22 00 66 |
| 📍 Boylesports Head Office | Finnabair Industrial Estate, Dundalk, Co Louth, Ireland |
| 🆗 On-Site Message Form | ✅ via the ZenDesk |
| 💬 Live Chat | ✅ 24/7 |
Customer support is something that is so often overlooked in the online gambling arena, which is a great shame because, in our opinion, it is a reliable indicator of the overall quality of an online bookie or casino.
Think about it this way, if someone has a query about anything relating to their account, they will contact BoyleSports customer care. On contacting customer support, if they find that their problem is not resolved or, even worse, are made to feel stupid about asking a question in the first place, the chances are that in future they will decide to take their business elsewhere. Luckily, this is not the case when it comes to BoyleSports zendesk.
As you are about to discover, the customer support at Boyle Sports is first class.
---
How to Contact BoyleSports Customer Care?
Getting hold of Boylesports customer service is basically a matter of deciding which contact method you would prefer, either live chat, email or telephones.
There is a live chat button in the bottom right hand corner of the website which is a nice touch but if you would prefer to use one of the other options, scroll down to the bottom of the home page and click on the the Customer Services drop down menu where the other contact details will be displayed.
Launch the BoyleSports ZenDesk by clicking Help from the menu.
You can search for a specific topic in the FAQs section or choose a contact method.
Click on the Email Us button to send an on-site message using the form.
Select Contact Us for an up-to-date list of BoyleSports contact methods.
---
BoyleSports Live Chat Support – a quick and friendly option
Boylesports live chat is excellent, the live chat operators are friendly and it will become immediately obvious that they know exactly what they are talking about.
When the live chat option is clicked, a new window will open that will ask you to choose which category your question falls under, you will then be directed to a live chat operator.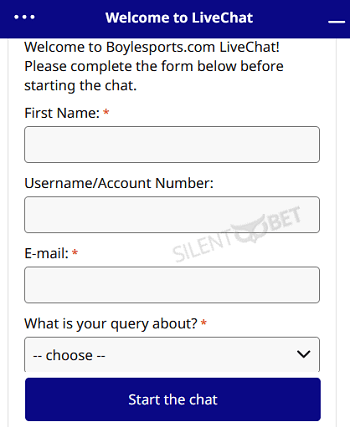 What impressed us with Boylesports live chat
To begin with, we liked the fact that the blue Live Chat button can be found in the bottom right-hand corner of every page, so there is no messing around looking for the link.
We were also impressed that we never had to wait longer than a couple of minutes to get connected to a live chat operator, often being connected straight away, even during busy periods such as Saturday afternoons.
It should also be mentioned that we found the operators to be very easy to chat with and despite us asking some questions that we thought they would need to be referred to a supervisor, that wasn't the case as the support agents answered straight away without any problems at all.
What didn't impress us about Boylesports live chat
When writing these reviews it is easy to be over critical if a bookie falls short in any way but in the case of the Boylesports live chat, we couldn't fault it in any way.
---
Contacting Boylesports by Email
Boylesports customer support can be contacted by email at care@boylesports.com or by filling in the contact form on the website.
The problem with contacting any bookie by email, not just Boylesports, is that it can end up being a little frustrating if the customer doesn't get their point across properly or if the support agent doesn't understand the question in the first place.
This can result in emails being sent backwards and forwards with the initial question just not getting answered properly.
Some people obviously prefer contacting support by email for one reason or another but we would always recommend either live chat or telephone.
What we liked about Boylesports email support
We sent three emails to the Boylesports email support with the average response taking just under two hours.
The replies were thorough and the questions we asked were answered properly.
What we didn't like about Boylesports email support
The email support link on the website wasn't clickable which was a little frustrating but we are assuming that is a short term fault that will be corrected in due course.
*Update: The error was fixed within one hour of reporting it to Customer Support.
---
Contacting Boylesports Customer Support by Telephone
There are three options for the Boylesports contact number depending on which country you are phoning from.
It should be noted that these contact numbers are NOT the same as the Boylesports phone a bet number.
What we liked about Boylesport telephone support
We phoned from the UK and the call was answered within 30 seconds by a friendly operator who was eager to make sure our questions were answered properly and that we were satisfied with the response.
Very impressive and the support agent gave the impression that they were very experienced and as our query was football related, we even had a chat about who we thought would win the World Cup.
What we didn't like about Boylesport telephone support
This is not really a negative in any way but as Boylesports is an Irish company, many of the support agents have Irish accents, even if you are not calling Boylesports customer service Ireland so some customers may have difficulty understanding the accent.
The reason we mention this is because we had difficulty understanding the advice given and we are from the UK!
---
Can Anyone Get in Touch with the Customer Care Team?
Yes, anyone can contact the Boylesports customer care Ireland team, it doesn't matter if you already have a Boylesports account or not.
To do so, head over to Boyle Sports Zen Desk, create a ticket and ask your questions. You don't need to sign up or log in first to do so.
---
Why Contact BoyleSports Support?
As long as any questions are related to your account or betting in general, you can contact Boylesports customer support for any reason at all.
These reasons include questions about
Deposits
Withdrawals
Account Verification
Bet Settlement
Promotions
Website Issues
Log in Issues
Betting Market Queries
---
FAQs
Do you have to be a customer in order to contact customer support?
No, anyone can contact the Boylesports customer support.
What is the recommended customer support option?
Live chat, very quick to get connected and you will have a record of the advice given if you should need it at a later date.
Will customer support recommend winning bets to me?
No, unfortunately Boylesports customer support will not recommend any winning bets to you.
As a Boylesports new customer, can I contact customer support with questions about the welcome bonus?
Yes you can contact customer support regarding any questions about the welcome bonus.
---