Ontario Content Disclosure
Silentbet Canada shows different content to players residing in Ontario. The reason is that we make an effort to follow the gambling guidelines as presented by iGaming Ontario (AGCO). So a review you access on SB CA may differ from one on SB ON.
Ad disclosure
SilentBet (SB) is proud to be the partner of numerous renowned casinos and bookmakers around the world. As such, we do use affiliate links to earn commissions (at NO cost to our readers whatsoever). These aff links help us stay a cut above our competitors, delivering top-notch content you can trust. Take a look at the
Ad Disclaimer
page for more information on our affiliate business practices.
Part of the fun of playing in an online casino is being able to bet live on game shows. Live dealer games are a favourite for this reason and there may be no better game to try than Crazy Time on Betano Casino CA. What is Crazy Time and how does it work? This is your guide to everything there is to know about the Crazy Time live casino game on Betano.
This game is only available in the Ontario site betano.ca (for now) but soon it will be live for the other site Betano Rest of Canada (ca.betano.com) as well.
The popularity of the game powered by Evolution gaming is the reason why Crazy Time Betano is going to be a permanent part of its games lobby.
---
How does Crazy Time Live Show work on Betano?
When the round is triggered, players will have a chance to pick from different colors. The red door is opened, and the presenter pushes the big red button. You choose between green, yellow, and blue, hoping for the biggest multiplier possible. If you land on the 'Double' or 'Triple' value, then your multipliers go up even more and the wheel spins again.
| | |
| --- | --- |
| 📖 Provider | Evolution Gaming |
| 🎯 Odds | 94.41% RTP |
| 👨‍💻 Dealer | Mario (or another presenter) |
| 💰 Maximum Payout | 25,000x |
| 💎 Minimum Bet | $0.10 |
| ✅ Maximum Bet | $5,000 |
| 🔖 Multiplier | Double or Triple |
| 👉 Betano Crazy Time | Play here |
Rules of the game show
The rules of Crazy Time Betano are pretty simple. Start by picking a chip size and then place a bet on one of the eight spaces available. You spin the top slot to give you the multiplier before the wheel starts to spin. If the wheel stops on a number, your payout gets calculated using the multiplier. But if you land on "bonus game", you will then start playing a new game. The potential winnings are extremely high with this game format.
---
How to play Crazy Time on Betano?
Playing Crazy Time is very simple. You are required to choose between blue, yellow, and green colors before spinning the wheel. You can bet on some of the bonus features (more on that below) and improve your multipliers along the way. It is also possible to land on the bonus game, giving you even more opportunities to win.
Just follow the simple steps below to get started.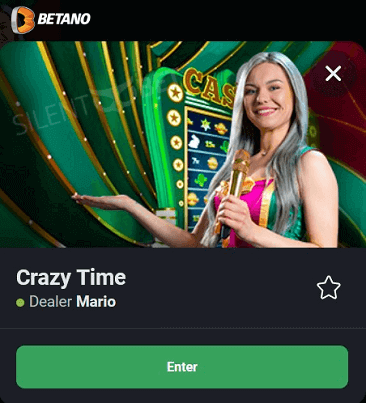 Go to the Betano Casino website.
Search for Crazy Time in the search bar.
Find and open the Crazy Time game on the website.
Open the game and choose how much you would like to wager.
Start the game and see how you do!
---
Best features of Betano Crazy Time
The cool thing about Crazy Time is that there is a litany of bonus features. The main game features a money wheel at the beginning of the round and players can bet on the spot where bonuses are available to extend the game experience.
Bonus feature
There are a few different bonus games within Crazy Time. Players can enjoy the Cash Hunt, Coin Flip, Pachinko, multipliers, and the Crazy Time feature. Let's take a closer look at each.
Coin flip
This bonus is exactly as it sounds. You will be presented with a coin that has one red side and one blue side. Whichever side lands face-up wins. There will be multipliers generated for each side, giving you unique chances to win depending on how the coin falls.
Cash hunt
In this feature, you are presented with a shooting gallery that offers up to 108 random multipliers. There are random symbols that get shuffled before the countdown timer starts. The player chooses where they think the biggest multiplier is before the cannon fires and reveals the multiplier.
Pachinko
The Pachinko game features a board with pegs on it and the game presenter drops a puck from the top of the board. Wherever the puck lands, the player receives that multiplier bonus. These can also be doubled, leading to another drop of the puck. This can happen repeatedly until 10,000x has been reached.
Multipliers
The single best feature of Crazy Time is the multipliers. Before the game starts, the multiplier reel spins, allowing up to 50x. With bonuses, that number can go up even more. This is a great way that you can get your potential return boosted.
Crazy Time feature
In the Crazy Time feature, you choose from three colors before the presenter pushes the red button. The flapper points at a multiplier to determine how big your winnings are. With 'double' and 'triple' options, it can lead to even larger multipliers.
---
Payouts and odds of Crazy Time game
Payouts generally fall between 1x and 10x for regular players with the biggest payouts coming from the bonus games. The game has 54 total segments with different hit frequencies. Once again, to get the largest payouts possible (25,000x), you need to earn the chance to play a bonus game and then win during that time.
With a return-to-player percentage of 94.41%, Crazy Time is around the industry average for slot games. However, the game does offer the chance to earn some huge multipliers and that high upside is what draws people in.
---
How to Win in Crazy Time – Strategies to Try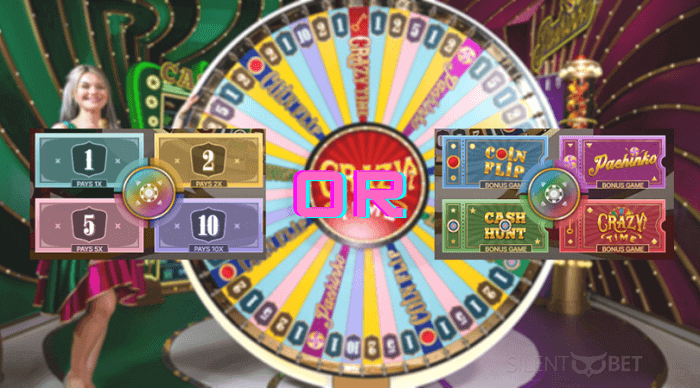 While there is no guaranteed way to ensure that you win every time you play Crazy Time, you can follow some strategies to give yourself a better chance. Make sure that you have developed an approach that you're going to take to the game.
#1 Martingale Strategy
This is a classic method for roulette players, and it can work here. Consider your bankroll beforehand. If you lose, double the bet. Keep doubling until you win. When you hit, go back to your initial bet and start again. This is the riskiest strategy there is and can result in you losing your money quickly. The key to having it work is to use very low bet amounts and take small profits.
#2 Bonus Games only
Statistically, the biggest wins have always come from the bonus games, though the RTPs are low. Keep adjusting the size of your bets and taking a run at the largest multipliers offered. The bonuses offer the largest returns and so focus on those if you're trying to get that massive payday.
#3 Only bet on numbers
By betting only on the numbers and not the bonus, you win more frequently (94.41% RTP) but the payouts are a lot smaller. Mixing some of these strategies may also prove beneficial.
---
What are the biggest Crazy Time wins recorded in Betano so far?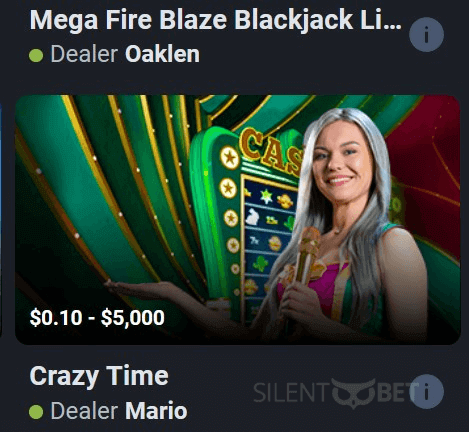 There have been a few massive wins playing Crazy Time. One player won on Cash Hunt, getting 25,000x their bet, earning $2.815m. Not far behind that win is another Cash Hunt player who won 12,500x their bet, winning $2.294m.
This particular win was not recorded by Betano, though. It happened in another casino. There is not statistical data on past winner on Betano Canada for now since the casino is rather new on the market.
---
Pros and cons of the slot game
Big range in how much you can bet
Lots of multipliers
Potential for big payout
Little player interaction
There is a lot to like about Crazy Time Betano. For starters, the bet range is huge, allowing players of all bankrolls to participate. There is also the litany of multipliers available that provide the chance for a huge payout with just one spin.
If there are downsides to Crazy Time, it is that there is limited access to how often you can play the game. There is also very little player interaction compared to some of the other games out there.
---
The Bottom Line
Crazy Time on Betano CA gives players plenty of chances to have fun and get potential returns like never before. Whether you play it safe or go big through the bonus games, there is a little something for everyone. You feel like you are part of your very own game show, controlling the potential available winnings. Also, Betano Crazy Time is suitable for high rollers.
This is one of our favourite games out of all the top slots Betano games. If you haven't yet tried your hand at Crazy Time, now is a good chance to get started and see what it's all about.
---
FAQs
What is Crazy Time?
Crazy Time is a live casino big wheel game where the dealer spins the wheel, and you hope to land on the biggest multipliers possible.
What do I need to play this game on Casino Betano online?
All you need is at least $0.10 to play Crazy Time. Place your bet, start the wheel, and the number it lands on is your winnings.
What other Evolution live game shows are available at Betano?
Evolution Gaming is one of the biggest providers for Betano Casino. Some of the most popular games include Lightning Roulette, Monopoly Live, and Dreamcatcher.
What are the game elements of Crazy Time live show?
This live casino game features a presenter who opens a red door to begin the game. After choosing your color, the presenter presses a red button to spin the wheel.
Does Crazy Time have bonus rounds on Betano casino?
There are several bonus features in this game. They include Cash Hunt, Coin Flip, multipliers, and Pachinko.
How much can I win playing the Crazy Time game on Betano?
If you hit the bonus and multipliers enough times, it is possible to get up to 25,000x your initial bet.
Where else can I play this game in Canada?
It is possible to play Cray Time at several major online casinos in Canada including Betway, 888 casino and LeoVegas. This big wheel live casino game can be started quickly, providing big potential.