Ontario Content Disclosure
Silentbet Canada shows different content to players residing in Ontario. The reason is that we make an effort to follow the gambling guidelines as presented by iGaming Ontario (AGCO). So a review you access on SB CA may differ from one on SB ON.
Ad disclosure
SilentBet (SB) is proud to be the partner of numerous renowned casinos and bookmakers around the world. As such, we do use affiliate links to earn commissions (at NO cost to our readers whatsoever). These aff links help us stay a cut above our competitors, delivering top-notch content you can trust. Take a look at the
Ad Disclaimer
page for more information on our affiliate business practices.
| | |
| --- | --- |
| ⚽ Sponsored teams | ~15 |
| 🏆 Top team | Barcelona S.C |
| 👨‍💻 Athletes | ~18 |
| 👉 Betano Sponsorships | Check here |
Betano is a European sports betting operator that is committed to providing its customers with a responsible sports betting experience. As part of its commitment, the Betano Canada sponsorship program sponsors multiple sports teams and athletes. As the betting sponsor program is quite diverse, the team at Silentbet took the time to investigate and compile a list of teams and athletes that the Betano sponsorship program supports. Below is a summary of our team's findings.
---
Football Teams Sponsored by Betano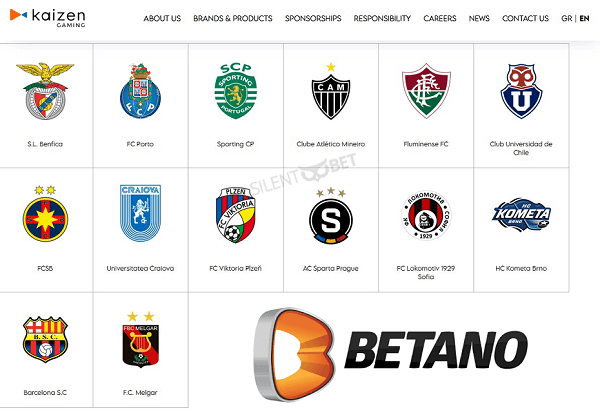 One of the main objectives of the Betano sponsorship program is its support of European and South America football teams. Along with being the Fifa regional supporter for the Fluminense FC, Betano is a shirt sponsor of Brazil's Atlético Mineiro and Chili's Universidad de Chile Crest football clubs.
In addition to the above-mentioned sponsorship agreements, Betano's parent company became the first gambling sponsor of the FIFA World Cup Qatar after it signed a regional sponsor agreement with FIFA as the official sponsor for the Club World Cup. That Club World deal saw Betano become an official FIFA partner to the world's biggest football event.
Likewise, football fans will be pleased to learn that the Betano sponsor program also has soccer partnerships with the following football clubs:
All Betano Sponsored Teams
AC Sparta Prague
Barcelona S.C
Club Universidad de Chile
Clube Atlético Mineiro
FCSB
Fluminense FC
FC Porto
FC Viktoria Plzeň
FC Lokomotiv 1929 Sofia
F.C. Melgar
HC Kometa Brno
S.L. Benfica
Sporting CP
Universitatea Craiova
---
Athletes Sponsored by Betano

Similar to its sponsorship of European teams and South American football clubs, the Betano brand is committed to its sponsorship of athletes from Greece. As a way to engage fans, the Betano sponsorship program has chosen athletes from a wide range of sports that millions of football fans will recognise.
Whether that is resultant of each athlete's personal achievements in World Cup events or resultant of their professional accomplishments, Betano betting brand has become the official supporter of the following athletes and regional champions in Greece that it believes go the extra mile in sport.
All Betano Sponsored Athletes
Greece Men's National Team
Greece Women's National Water Polo Team
Hellenic Swimming Federation
Alkis Kynigakis – Greek
Anna Korakaki – Greek
Annet Kyridou – Greek
Antigoni Drisboti – Greek
Christos Volkakis – Greek
Christos Frantzeskakis – Greek
Christian Bourmpou – Greek
Elisavet Teltsidou – Greek
Eleftherios Petrounias – Greek
Fenia Tzeli – Greek
Katerina Stefanidi – Greek
Kristian Golomeev – Greek
Maria Kytidou – Greek
Maria Preolaraki – Greek
Miltiadi Tendolou – Greek
Polyniki Emmanuilidou – Greek
Stefanos Ntouskos – Greek
Thenia Sarvanaki – Greek
---
Does Betano Sponsor any Canadian Athletes or Sports Teams?
While Betano was one of the first sports betting operator to receive a license in Canada, they have yet to enter into any sponsorship agreements with Canadian sports teams or athletes. However, considering Canadian players at Betano love football, it would not be surprising to see Canadian sports teams and athletes added to their sponsorship program in the future.
---
What Does the Future Hold
While it is difficult to know what the future holds and the possible outcomes of the Betano sponsorship deals, our team's speculations are that the company's trends of supporting local teams and athletes will continue. Whether that will see the company continue with World Cup sponsor groups or see it sponsoring regional champions is yet to be seen.
Either way, as more and more people believe that Betano will sooner or later become a regional sponsor in Canada as well even though the Greek company Kaizen gaming is focused on sponsoring EU teams mostly.
---
The Bottom Line
While it is clear that Betano love football sponsorships, its commitment to athletes in its home country of Greece is admirable. It is seldom that you see a sports betting company favour its locally raised athletes and clubs over those that are internationally recognised, but that is exactly the purpose of Betano owner, the Kaizen Gaming and its sponsorship program.
In our opinion, that shows the level of respect Betano and Kaizen international title have towards sports clubs and the athletes that make them successful. It also deserves recognition as a globally responsible organization that understands that without responsible corporations acting as official supporters, many athletes would be unable to reach their potential.
---
FAQs
What are the top Football teams sponsored by Betano?
The top football teams sponsored by Betano include Olympiacos F.C., Fluminense FC and S.L. Benfica.
Which Canadian athletes is Betano a sponsor of?
At the moment, Betano has yet to sponsor any Canadian athletes.
Does Betano sponsor any ice hockey teams?
No, the Betano sponsorship program does include ice hockey teams at the moment.
Will Betano ever sponsor MMA in the future?
It is possible that in the future that Betano will sponsor MMA, but at the moment, no sponsorship agreements have been made.