Introduction to Betway Kenya
Betway has carved its niche as one of the most efficient and established mobile and online sports betting platforms in Kenya and Africa at large. The internationally recognized brand has been a quality-driven provider of sports betting services across the globe, offering simple-to-use technology that allows passionate fans to not only keep track of their teams but also bet on them and, essentially, benefit from the same.
Registered in Kenya in 2015, Betway had the goal of providing a dynamic product that would allow you and other Kenyans to make big wins from small bets. In essence, you can place a low minimum bet and get an immense maximum payout that supersedes the industry metrics. In our Betway Kenya review, we will tell you more about the notable betting features of this bookmaker. We will take a closer look at the Sportsbook and the Casino section and share a few words about Betway mobile services, payment methods, etc.
---
Available Sports
There are varying sports that you can wager on with Betway. These include the following:
Cricket
Soccer
Basketball
Tennis
Casino
Ice hockey
Handball
Golf
Boxing
Rugby
Volleyball
Darts
Bowls
Baseball
---
Betting Coverage
Betway is known worldwide for its high odds, and the same applies to the conditions offered to Kenyan players. Here, you will find one of the best rates for your pre-match bets. Fortunately, the odds in the In-Play section are also good. Overall, you should give Betway a try so that you can compare it with other betting sites on the Kenyan market. Besides, this bookie offers several odds-formats for your convenience: decimal, fractional American.
---
Website Design, Structure, Layouts and User Experience
Betway Kenya has a considerably simple website layout that safeguards optimum experience for both tablets and mobile device users. The website is, essentially, easy to navigate and incorporates large icons for every other popular sport alongside an exciting and responsive banner carousel.
---
Betway Kenya Registration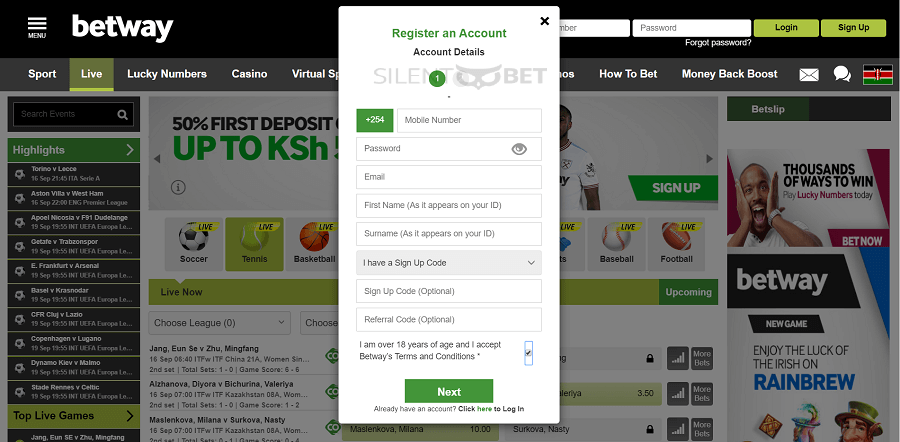 Registering at Betway is considerably easy and quick. You will only need to go to the website (www.betway.co.ke) and click the Sign-Up tab, which opens up the registration form.
Fill in the form with particular details including your mobile number, password and email address. It is recommended that you ensure that the phone number you use is connected to the Mobile Money wallet.
Keep in mind that it would be best for you to provide your real personal data, as it will be double-checked upon the verification process.
Once you sign up, you will get a sign-up code, in which case you will tick the "I have a signup code" option and enter the same.
Enter your newly created profile and start playing!
---
New Customer Bonus – 50% up to KSh 5,000
Once you have made the initial deposit at Betway, you will get a 50% sign up offer to a maximum of 5000 Kenya shillings, which is given as Free Bet. The only requirement is that you place three times playthrough with odds of 3 or more on jackpots and Sports. You should note that bets that are placed on Betgames, virtual sports and casino would not be eligible for opening offer requirements.
To qualify for the bet, you should be a newly registered customer on Betway and have to place bets on Jackpots on Sports that amount to three times the value of initial deposit at 3.0 odds or more. The Free Bet is given once you meet the playthrough requirements and you have 30 days to get the Welcome Bonus via meeting the playthrough requirements. It is important that a minimum of one bet be already complete (win or loss) for the wager to be eligible for consideration for the opening offer.
---
---
In-play sports betting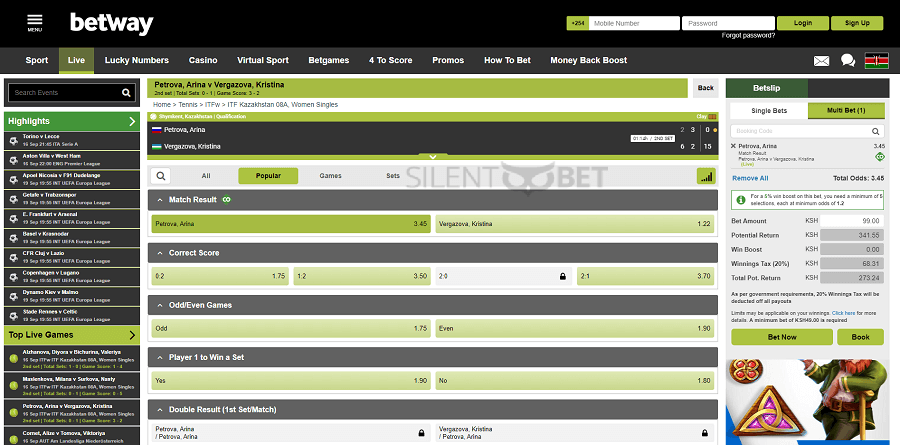 Betway offers in-play betting, an element that complements the wide range of tournaments and leagues on which you can bet irrespective of the leagues that pique your interest. Indeed, Betway live betting does not just cover football, but you will also find live betting markets and odds for other games such as tennis including major annual tournaments and more obscure tournaments that are on Challenger circuit.
---
Sports betting products
Cash-out feature
Cash-Out gives you total control of the bets you place and enables you to take early payout on the bets you placed prior to the completion of the game. This means that you would get your money back prior to the completion of the event and the resolution of the game. The amount that you get will be either a profit or a small portion of the initial bet that you placed subject to the bets you had made are doing at the time when you decide to take the cash out.
Live streaming
As much as having a satellite TV could provide you with an opportunity to watch live sports and follow sporting events, the offer is significantly limited. This is where Betway supersedes satellite TV given that it offers you an opportunity to view numerous sporting and league events every day on your mobile device or computer. You can stream an event live by simply clicking the TV icon that is next to it.
---
Virtual Sports betting
If you are a fanatic of sports betting, you should consider Betway's virtual sports betting platform, which is adapted from real-world sports betting. This service uses random number generation technology to determine the outcome pertaining to the sport on which you want to place your bet. Varying virtual sports betting games are provided, including basketball, soccer, tennis, and horse and dog racing.
---
Betway Kenya Casino
Betway offers you an opportunity to enjoy the best online casino in between kick-offs, where you will have the chance to enjoy unending entertainment irrespective of the time of the day and your location. You do not have to waste time going to the casino since you can access one right from your mobile device, preloaded with numerous online casino games, enabling you to have all the liberty you need. Some of the popular online slot machines at Betway Casino include High Society, Break Da Bank, Age of Discovery, Shoot!, Mega Money Multiplier and Riviera Riches and others.
Kenyan gambler's favourite method of relaxing in between the sports fixtures involves playing online roulette. It is noteworthy that playing roulette at the casino can be considerably absorbing and there are numerous ways for customizing your game on the classic game including European Roulette, where you can divide your bets across black, red and your preferred numbers. You can play the Spin and Win Roulette, which is a simplified and high-paced form of the roulette game, or you can try online blackjack and poker face.
---
BetGames at Betway Kenya
Betway gives you a chance to bet on live draws using Betwaybetgames. The distinctive speedy result games ensure that you keep betting even after the completion of the game. Betway bet games are varying quick-result games that have live-streamed draws combined with the online betting interface. This generates a hybrid of real-world and online betting, thereby providing the best of the two worlds.
Betway Betgames section is similar to the live casinos offered on other platforms. It gives you the chance to bet on your favourite games such as Roulette, Baccarat and Poker, but also includes some exciting lotto games.
---
Betway Mobile Services
The customers of Betway Kenta can enjoy an app for both Android and iOS. It provides enhanced flexibility since it means you can access the services of the website from any location and at any time as long as you can access the website. It is similar to the desktop version in all ways and provides a seamless experience, particularly with regard to its offering the full package of betting. The mobile version enables you to place bets from your mobile device. You will need to deposit funds via Mobile Money, which can be transferred to the Betway betting accounts. The process occurs immediately and is efficient for both withdrawals and deposits, in which case you will not have to wait for your winning.
---
Payment Options
Perhaps the one aspect in which Betway has excelled is in the provision of numerous options or ways of depositing and withdrawing funds from your account. In Kenya, you have the option of using mobile money transfer services such as M-Pesa and Airtel, whose limits for depositing and withdrawing per day are 70,000 and 50,000 Kenya shillings per day. Other methods that you could use include e-wallet and wire/bank transfer, among others.
Deposit Methods
Withdrawal Methods
| Payment Method | Deposit Minimum | Deposit Maximum | Time for Deposit |
| --- | --- | --- | --- |
| Airtel | KSH 10 | KSH 300 000 | Immediate |
| M-Pesa | KSH 10 | KSH 300 000 | Immediate |
| Visa | KSH 2 | KSH 1 000 000 | Immediate |
| MasterCard | KSH 2 | KSH 1 000 000 | Immediate |
| Bank Wire Transfer | | | |
| Payment Method | Withdrawal Minimum | Withdrawal Maximum | Time for Withdrawal |
| --- | --- | --- | --- |
| Airtel | KSH 2 | KSH 2000 | up to 24 hours |
| M-Pesa | KSH 2 | KSH 2000 | up to 24 hours |
| Visa | | | |
| MasterCard | | | |
| Bank Wire Transfer | KSH 50 | KSH 1 000 000 | up to 5 days |
---
Security and Regulations
Betway acknowledges the importance of safety and adherence to regulations. For a large proportion of their security and safety measures, Betway uses the world-renowned e-Cogra agency. Further, the company undertakes fairness tests to ensure that all automated systems and games on the website are unbiased and legitimate while also ensuring that the monetary deposits are safe and adhering to honest and responsible operations.
---
Betway Affiliate program for Kenya
The Betway Affiliate program is a performance-based online affiliate program in which its affiliates are paid a commission for customers that they get. The affiliates have access to top-notch tracking tools, marketing material, as well as payment and reporting options. The affiliate joins the Betway Partners Africa and undertakes the marketing of Betway brand. The affiliate program offers the affiliate the marketing and creative material to enable them to market the brand. The marketing efforts of the affiliate direct customers to the company's website, after which the tracking system would assign and pay the affiliate for the customers that have been acquired.
---
FAQs
How do I place a bet on Betway Kenya?
To place a bet on Betway Kenya, you should access Betway's homepage and examine the latest upcoming events or fixtures. You will need to go to "More Bet Types/Leagues" in order to select the league or market. You will then add selections to Betslip through clicking or tapping on them, after which you will confirm the bet on Betslip.
How much is the minimum bet?
The minimum amount that you can stake in a bet is 10 Kenya shillings or approximately €/£0.10.
Do the bookmakers accept a different currency for payment, besides KsH?
The bookmarker accepts numerous currencies including the major currencies such as Indian rupee, British Pound and the American dollar. However, it is recommended that you visit the website to determine whether the currency you have is accepted on the website.
Does Betway Kenya offer a no deposit bonus?
Betway Kenya offers a no-deposit bonus but only for casino games. This is available only on BetAndSkill where you can get a no-deposit free spin and start playing online without any risks. You can claim a maximum of €/£3000 in no deposit bonuses.
How can I deposit with Betway?
Betway offers an easy way to deposit money to your account. You simply need to access the M-Pesa option on your mobile device, select the pay-bill option and enter 830185 as the playbill number. You will then enter Betway as the account number and then the amount you would want to deposit, where the minimum amount is 10 Kenyan shillings. You will then enter your M-Pesa pin and then click "send". You will immediately get a confirmation message from M-Pesa, with your account being automatically credited.
How can I withdraw funds from my Betway account?
To withdraw money from your account, you will simply go to Betway login page and sign in to your account. Then click on "My Account" at Betway's home page. You will then select the withdrawal option and choose the mobile services provider that you would like to use. It is noteworthy that the mobile phone number you use will have to be the same that you used to register your account. You will then enter the amount that you want to withdraw and then click "Withdraw". The maximum amount of money you can withdraw is 50,000 Kenya shillings per day, which is processed at no fee.
How can I bet through SMS on Betway
You have the option of betting through SMS on Betway, where you will send a short message (SMS) of the Betway Game ID pertaining to the team that you think will win in the next 90 minutes, as well as the amount of bet you would like to place. Send the message to 29029, after which you will get a confirmation code for the match.
---
Customer Support and Contacts
There are numerous ways in which you can contact the customer support team and have your queries and problems resolved in the shortest time possible. You may chat live with them or call them via the provided numbers.
---
Final verdict and rating
Betway Kenya provides a great service as far as the functionality of the website, and the multiplicity of the games and events on which an individual can bet is concerned. However, it lacks markets and promotions, since the markets offered are insufficient for punters that want to explore more exotic markets. Nevertheless, there are numerous games on which one can place a bet coupled with the online casino and live bets.

Overall, I would rate the website at 9/10.