Why Punters Want to Cheat the Bookmakers?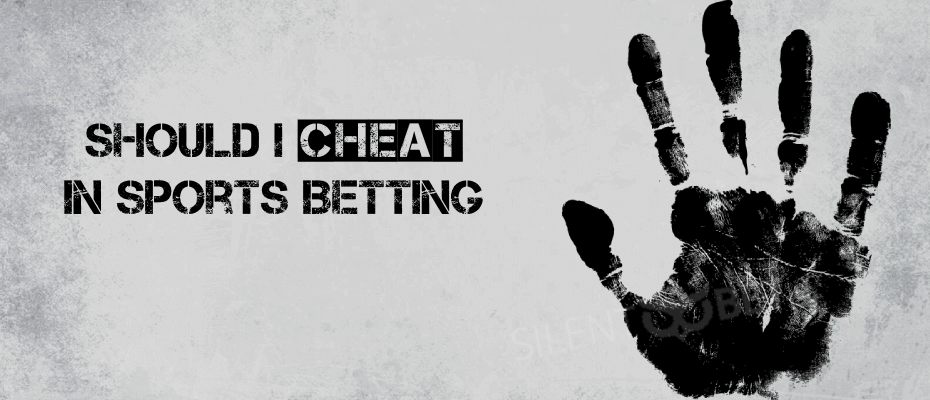 Online sportsbooks are there to provide punters with a safe and convenient platform to bet on various sports or games. The platform isn't available freely, however; you'll still need to pay a fee. The sportsbook's primary goal is to place against you, the punter, to get returns.
Of course, you can imagine that most leading online sportsbooks don't like to lose. If you're successful in beating a sportsbook, or manage to pull the wool over its eyes, then you might not get desirable attention. Sportsbooks will always be on the lookout for punters trying to one-up them.
Gamble Responsibly
Disclaimer: You risk being banned if any involvement in any incriminating or criminal actions is found. We don't condone any illegal gambling actions, nor do we give any advice about such activity. You can, however, read up on some popular methods used to (legally) beat the bookie.
begambleaware.org
---
What Do Sportsbooks Do?
To understand how to outdo a sportsbook, you must first know how it operates. A sportsbook is an online bookmaker that provides you with odds for sporting events and is usually combined with online casinos and live dealer games under the same roof. The sportsbook calculates and gives you odds for a specific market or game.
The sportsbook accepts bets from sports bettors – which is you. In turn, you pay towards the juice or the vig of the sportsbook, which is how it makes its returns. This juice acts as a commission for the sportsbook providing the events and odds.
---
Can I "Cheat" Bookies With Certain Tactics?
You'll most certainly be banned from an online sportsbook if you're caught out doing something dodgy or illegal. That doesn't mean that punters haven't tried and prevailed. Two commonly used betting strategies in betting that in essence "cheat" sportsbooks, but which are entirely legal, do exist.
These are some of the most popular betting tactics that people have employed the world over. A strategy like this has been used in the past to better some of the best bookies. We cover the basic premise of each strategy below.
Arbitrage Betting
In this strategy of betting, you make use of a betting exchange. An exchange is similar to a sportsbook in that it will take a commission for providing the platform.
Arbing, looking for arbs or arbitrage betting, is the most simplistic way that punters 'scam' sportsbooks. The hundreds of available online bookies with betting exchanges will all have necessary algorithms calculating and producing odds on ever-changing events. This is where the arbs come into play.
You will see the term arb used in reference to a discrepancy found between two or more sportsbooks. A discrepancy is the difference between odds offered at the same event. But arbs appear quickly, and you must take advantage of them as soon as you see them. For this reason, you can now use software that has been developed to aid punters in identifying and using these arbs. The software is available for a small fee, of course.
Let's use an example. Using pure luck, or an arbitrage betting software platform, you identify an appealing arb. Sportsbook A has different odds for an event than Sportsbook B. Now that you have an arb, you can place both the back and the lay bet for the same game.
If we say, you bet £/€/$2,000 on Team C to win and then bet another £/€/$2,000 on Team C to lose on an exchange. The outcome will cancel this bet out regardless of the outcome. However, you still have the edge, thanks to the difference in odds.
Matched Betting
A matched betting strategy works similarly to arbitrage betting. You have to have an account with two different sportsbooks, and one of them must offer you a free bet bonus. You can also use a betting exchange, provided that there's an offer for a free bet.
This strategy allows punters to benefit from free bets and other promotional offers at sportsbooks. Another plus to matched betting is that punters generally consider it risk-free. The next step is for you to place the free bet then. Circumventing all of the possible results is done via the opposing book or betting exchange. The value of the free bet is retained regardless of the outcome. In straightforward terms, matched betting is placing a back bet using the free bet offered by a sportsbook. All the while you're then placing an opposing lay bet at an exchange.
Sportsbook companies have tried to work around this by including specific restrictions on offers. You'll find it a normality that the offer is limited to newcomers. Then you're required to place an initial bet with your own bank before any bonus is rewarded. More advanced punters will wager on specific results at the bookie and will have the second bet on the same outcome not occurring at an exchange.
Another popular tactic using matched betting is dutching. Dutching involves placing bets across numerous sportsbooks. Punters attempt dutching in the hopes of avoiding commission charges at betting exchanges. Professional punters are more likely to use tactics like this.
Considering that you'll pay commission at a sportsbook anyway, this seems somewhat counterproductive. An exchange will take anything from 1-5%; the exact figure depends on where you go. Successful matched betting on an exchange can "cheat" your bookies just fine.
Honest vs Dishonest Betting
Although arbitrage and matched betting strategies aren't illegal, sportsbooks aren't the biggest fan of either approach. To put it simply, it's well known that sportsbooks don't like to lose. If they approve of arbitrage, like the case with Pinnacle is, the bookies will state it clearly. Otherwise, try not to use this tactic as it may lead to blocked accounts. Understandably, any possibility of an exchange gaining off the sportsbook is not what it wants. Being honest or trying to cheat a bookie also has a bit of ethics to it.
Of course, there are ways to try and cheat in sports betting that are unethical. The consequences are bleak; instead, stick to known legal tactics like the ones examined above. The sportsbooks usually catch on, and you can have your account banned.
Alas, there's plenty of fish in the sea, and there's a reason betting exchanges are so popular. There have been hundreds of new sportsbooks appearing every day, since the growth of the online betting industry. The betting exchange isn't going out of business anytime soon.
With this comes the software, specially developed to aid your betting strategy of choice for you. You can even calculate your expected returns before wagering your odds. Dishonest betting in the past has seen some organized sport bring disgrace.
---
History Of Cheating In Sports Betting
Sports betting has had its fair share of scandals in the past. These scandals rocked nations and changed the view on gambling. Online gambling has come a long way, dodging some of the legalities thanks to legal loopholes.
The following are some of the sports betting world's biggest scandals. Match-fixing and point-shaving are two tactics that have a long history in the world of cheating in sports betting. Referees, players and even coaches have stood accused of fixing a sporting event.
If you're an NBA fan, you'll remember the 2007 scandal involving the referee using inside information to bet. The accused ended up doing jail time, in case you needed any more warning of just how serious this issue is. Another scandal that rocked the sporting world took place in 2009.
You can read up on the controversial football scandal. It was uncovered that there were close to 200 matches uncovered in a few Euro countries that had been fixed. Amongst those, 12 qualifying matches for the UEFA Europa League and three UEFA Champions League matches were identified to have been fixed.
Today the world and industry of sports betting are booming. Imagine how long the history of bookmaking has been in the making to get the general idea of the present situation. The inclusion of online sports betting sites has made this industry that much more valuable.
---
What We Recommend
Newbies can start to experiment with arbitrage or matched betting strategies. Either strategy is easy to learn, and both follow the same principle more or less. Legally, you're safe to use these betting tactics online.
We highly recommend staying within legal and ethical betting standards. There are plenty of options for reputable betting exchanges, as well as software to help place your wagers. Please note that making an adequate returns this way requires both practice and patience.
The priviliges received from either betting strategy mentioned above are small, sometimes only 1-2% of the wager. With experience, you'll become more familiar with the process as a whole. Then you can opt for professional bookmakers to showcase your newly-honed skills. Once you are more familiar with the methods, you can better apply yourself and hopefully be successful.