Playing lotteries is no longer a TV-exclusive phenomenon. You can try your luck online on different betting sites. This is why we have exemplified an online lotto at a specific bookie. Let's get started.
Introduction to Lottery Games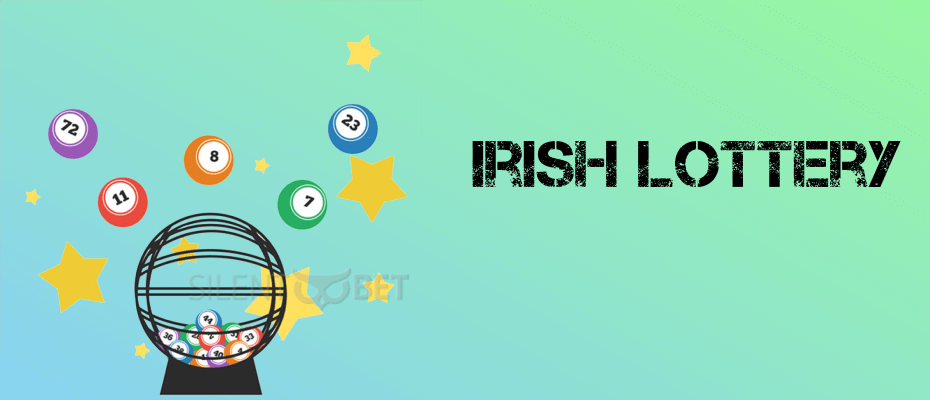 Lottery draws have been taking place all over the globe for centuries. One of the earliest recorded draws was held in Thailand in the 1800s for a royal event. From there, it now gets featured on all best online casinos and is also found in bookmakers with sportsbooks alone. It's a much loved and world-famous way of gambling that appeals to a broad audience of people.
Nowadays lotteries entice people to get involved in gambling who wouldn't usually consider it. There are several reasons why it's so successful at enticing you to play. These include:
Simple to play
Low risk vs high reward
Lottery operators work closely with charities
It takes minutes to enter
Ireland has had a strong love for the lottery since the first draw in the 1980s. As a result, there are now multiple types of Irish lottery available to play. Today they have become some of the biggest lotteries on the online market.
Online lottery play takes away the hassle of buying a ticket. It also opens up new opportunities for bettors without taking away the traditional feel of the original concept. By choosing to play online, you can place straight bets and multiple bets on a variety of different draws. You can find the Irish lottery amongst the popular ones at almost every reputable online casino.
---
Lotto at Ladbrokes
This bookie offers one of the most diverse selections of the biggest lotteries from around the world. What you can find in Ladbrokes includes Irish, New York, Spanish Lotto and 49's. Further to this, each type of Lotto then divides into different subcategories.
In total there are not just one but different variants of Irish lottery to enjoy and try your luck at. Below we will detail more about each of the Irish lotteries and explain how to play them at Ladbrokes.
Irish Lotto 6 & 7 Balls
The Irish Lotto is otherwise known as 'Lucky Numbers', and the results are based on the draw from the Irish National Lottery.
To play, you must choose either 6 or 7 numbers from 1 to 47. Choosing 7 includes the bonus ball which will boost your big win chances if you predicted correctly.
There are six draws a week, punters must place their bets by 7 pm on a Wednesday and Saturday for their wagers to be counted in the proceedings. The main draw, 2d draw, and 3rd draw will then take place.
49's 6 & 7 Ball
Ladbrokes also offers 49's betting, which is a twice-daily Lotto draw. The draws take place at lunch and tea time every day. Depending on the time of the year, the 49's draw time may vary.
Again, you can choose between the six or the seven ball variants. With this bet, you must choose between 49 numbers and a booster ball. The booster ball is similar to the bonus ball in standard Irish Lotto.
The most significant difference with 49's betting is you can choose how many numbers to bet on. The more you pick, the higher the odds and the reward if the same numbers draw. The 49's Lotto opens up even more opportunities to gamble and therefore even more chances to land a win.
---
How to play the lottery at Ladbrokes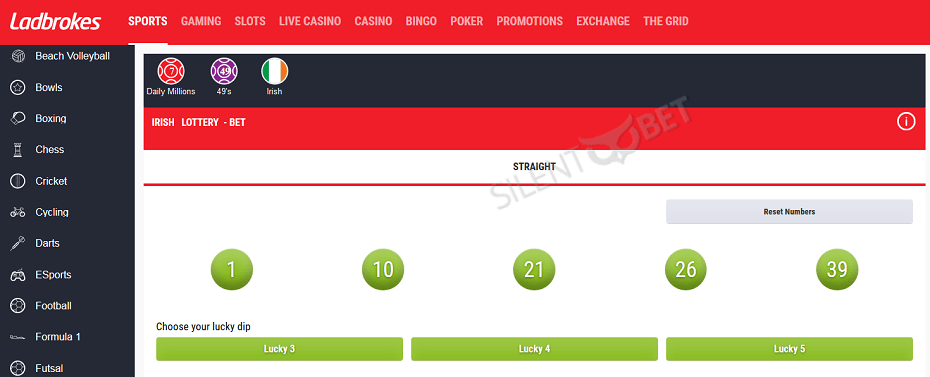 Playing Lotto at Ladbrokes is straightforward, with only a few steps to follow to place your bets. The first thing you must ensure you do is Register. If you have yet to sign up at Ladbrokes and open an account, you won't be able to play Irish or any of the other lotteries.
The next step is to choose the lottery you wish to play and pick your variant, for example, the six ball 49's. Alternatively, you can also select the Lucky Pick option that will choose up to 5 numbers at random for you. From here, it's time to cross your fingers and choose your numbers before entering your stake.
Most importantly, after you have made these decisions, you mustn't forget to tick the confirm box to secure your bet line. Plus, you also must select how many draws you want to place your stake.
To complete the bet, click on the 'Bet Now' button. Then confirm your selections one the last time in the pop-box. The last thing to remember is to check back during the draw to see if lady luck is smiling down on you.
Rules
With any betting, there is always a set of rules you must abide by. These rules don't spoil your fun but make sure gambling is fair and legal. Therefore, some noteworthy rules from Ladbrokes Lotto include:
A maximum payout is applied to any winning player or group of team punters in one given day. To collect a win above this sum, a daily payout schedule will occur.
Fixed odds Lotto bets are only valid if they are confirmed more than 15 minutes before the first number is due to be drawn. Any bets placed after this time are void.
Bonus Balls, Extra Balls, and Power Balls do not count towards Fixed Odds Lotto bets.
Ladbrokes Lotto uses the UK time zone. Draws, bet confirmation times, and limits follow UK time.
---
To Conclude
In conclusion, playing the lottery can be lots of fun. With advancements in Lotto online markets, its popularity is on the rise. As previously mentioned, playing this way opens up new betting opportunities for Lotto bettors across the world.
There are numerous lotteries and Lotto variants for you to punt on. Ladbrokes has cornered the market by offering the biggest and most thrilling on a highly regular basis.
Irish Lottery is one of the biggest in the world, so if you enjoy a Lotto gamble, then you shouldn't miss out. Substantial cash prizes are up for grabs. Plus, with the Irish National lottery running twice a week totalling six draws there is ample opportunity to enjoy the thrills of the Lotto.
Ladbrokes has also paid particular attention to simplifying the online Lotto betting process. As you can see to wager on Irish Lotto only takes a few minutes even though there are several different punting options. The fixed odds mean you don't have to worry about odd movement if you decide to place a bet early on in the week in preparation for a draw.