This game is not suitable for people under

18
Theme of European Roulette EGT
Imagine gambling your favorite Roulette and making some extra money without the guilt of spending time away from home and the family. With European Roulette, you can do both at the same time. This game, released in 2013, offers classic simplicity with exciting gameplay that makes you feel that you're part of the action.
European Roulette offers an online version of the classic game set in a casino setting that can be enjoyed from your home. The table is simple but looks bright with an inviting green felt look. A nostalgic retro design theme is used that makes the casino experience palatable. The soundtrack is relaxing and, coupled with the sound effects, creates the atmosphere of being in a real casino.
---
Type of Casino Game & Features
European Roulette is a table game. The game features available include an autoplay function and a very dynamic billboard. It also allows you to repeat your favorite bets and shows hot and cold numbers. It has a captivating racetrack or paytable with a dedicated special bets panel.
The game is played with a spinning wheel and alternating black and red-colored pockets numbered one to 36, and a green pocket marked zero. You choose the number on which you think the ball will settle. A large payout table showing the different bet options is next to the spinning wheel.
You can use the options at the bottom of the racetrack or paytable to select the amount you wish to bet on within a time limit. When the time runs out, the bets are closed. The wheel starts spinning, and the ball spins around until it settles on the winning number.
A separate statistics screen on recent player activity is also available. Just like traditional European Roulette played in casinos, this online version doesn't offer any free spins or bonus rounds.
---
What is the RTP of the Game?
How much and how often you win is influenced by the Return to Player (RTP) of the game. This long-term statistical rate indicates how many rounds you need to play to achieve a return. European Roulette has an RPT of 97.3%.
---
Pros and Cons of European Roulette EGT
European Roulette is a relaxing, but thrilling, online slot. Some of the pros and cons include:
Pros
It feels like a real casino
Interesting classic design
No double zero possible as in American online Roulette games
No set coin size
No paylines, wilds, scatters, reels
You don't play lines
Cons
No free spins, bonus rounds, or bonus games
No multiplier or progressive win features
No slot volatility
No progressive jackpot
---
Working Strategies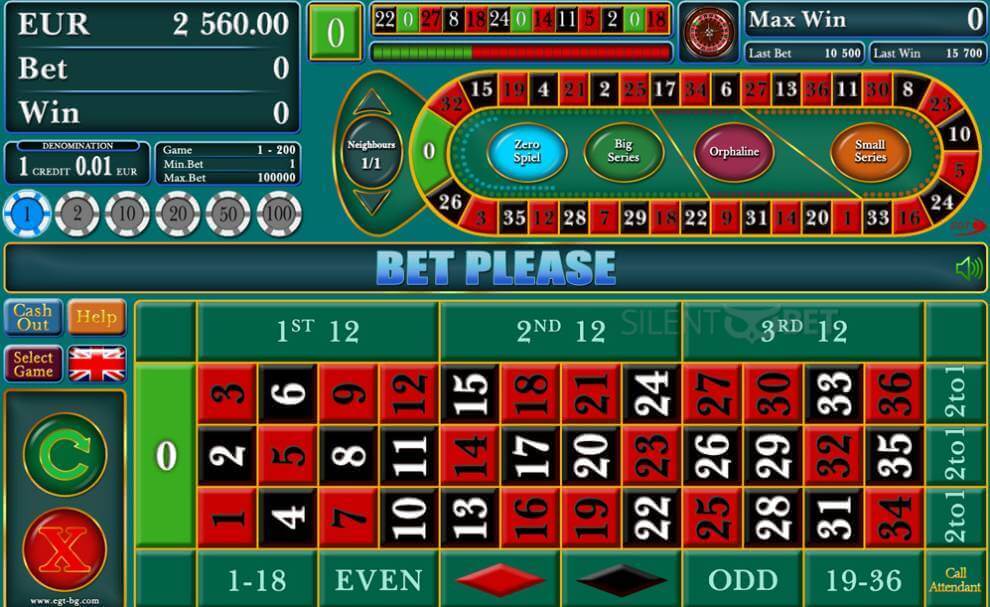 For players with less experience, the Outside Bets strategy is ideal. You have an almost 50% winning chance, and this strategy is less complicated and less risky. Outside Bets strategy involves betting red, black, even, odd, one to 18, or 19 to 36. You do, however, receive less in payouts.
The inside bet strategy is more ideal for players with more experience. This involves betting on specific numbers by placing your chips on the right place on a Roulette board. This way, you can play several numbers near each other with one single bet. Payouts are less than single number bets but higher than playing the outside.
---
Demo Mode or Play for Real Mode?
You can play the demo mode version of the European Roulette free without any download or registration required. You play European Roulette for free and can't lose any of your money; you can't win any, either. You can also play the play-for-real money mode through many registered online casinos.
---
Can I Play European Roulette on Mobile (Android & iOS)?
European Roulette is available for play online on all mobile devices and on your desktop. Try the demo mode by visiting Silentbet mobile. Alternatively, find an EGT mobile casino that offers this game for real play. A list of all licensed casino sites can be found on Silentbet.com.
---
FAQs
Who is the software supplier of European Roulette?
EGT Interactive made European Roulette.
Can I play European Roulette EGT for free?
Yes, you can play European Roulette for free via the demo mode, play-for-fun mode. Look out for the European Roulette free online demo version with no registration, no download required. You play for free.
Can I bet real money on European Roulette?
Yes, you can play with real money by registering with any legit online casino.
Is European Roulette suitable for beginners?
This game is ideal for everyone from beginners to well-experienced European Roulette players.
What is the most I can win?
The highest amount you can win is 35 times your bet.
---
Conclusion and Verdict
This online version of European Roulette can be played on your phone or computer with smooth gameplay. You can have the classic casino experience with all the sounds and wins in the comfort of your own seat. Make extra money with this classic rendition of the popular game.