This game is not suitable for people under

18
Other Video Slot games
Welcome, all lords and ladies to the royal court of the Kings of Cash. Join your favorite card kings, suits diamond, spade, clover, and club, on their regal slotting experience. You're sure to enjoy your time in court with two bonus games, extra free spin payouts, and great mobile compatibility. Read on for more details on these colorful kings and their slot.
---
Kings of Cash Theme
The royal court of cards is now in session in Kings of Cash, and it's filled with great riches. This 2015 slot has a simple theme based on the kings of card suits. The art is stylistic and cartoonish, and the bland red background feels like a room out of grandma's house. With no background music to entertain you, this slot is lacking in that particular aesthetic.
However, every symbol is animated upon a match, and the victory jingle that plays after huge wins does make the player feel like royalty.
---
Type of Casino Game & Features
Kings of Cash is on the simpler end of slots but provides all the basic features with five reels and 15 paylines. There are seven symbols in total, on top of one wild and scatter symbol. The black-bearded king of spades is the highest standard symbol, but the true cash relies on your number of free spins.
A total of 25 free spins can be stacked up when three or more scatter symbols match, but the real bonus is how all winnings made during your free spins are multiplied. With a 10x multiplier up for grabs, the free spin is a metaphorical loyal knight to this royal court.
An additional point and click bonus game can be triggered when three wilds match, but after 250 demo spins, we only got this feature once.
---
RTP of Kings of Cash
Kings of Cash sits at a comfortable 96.60% RTP, which is a fair theoretical return as far as slots go. It's considered a medium volatility slot, which means many small wins will come your way instead of one big win. Even so, the kings remain generous in their payout, even without a large jackpot or high variance.
---
Kings of Cash Slot Pros and Cons
Kings of Cash includes many standard slot features, but play your cards right, and the rewards will be fit for royalty.
Pros
Two bonus games
Large payout opportunity
Easy to learn
Great on Mobile
Cons
Simplistic
Garish
No background music
---
Working Strategies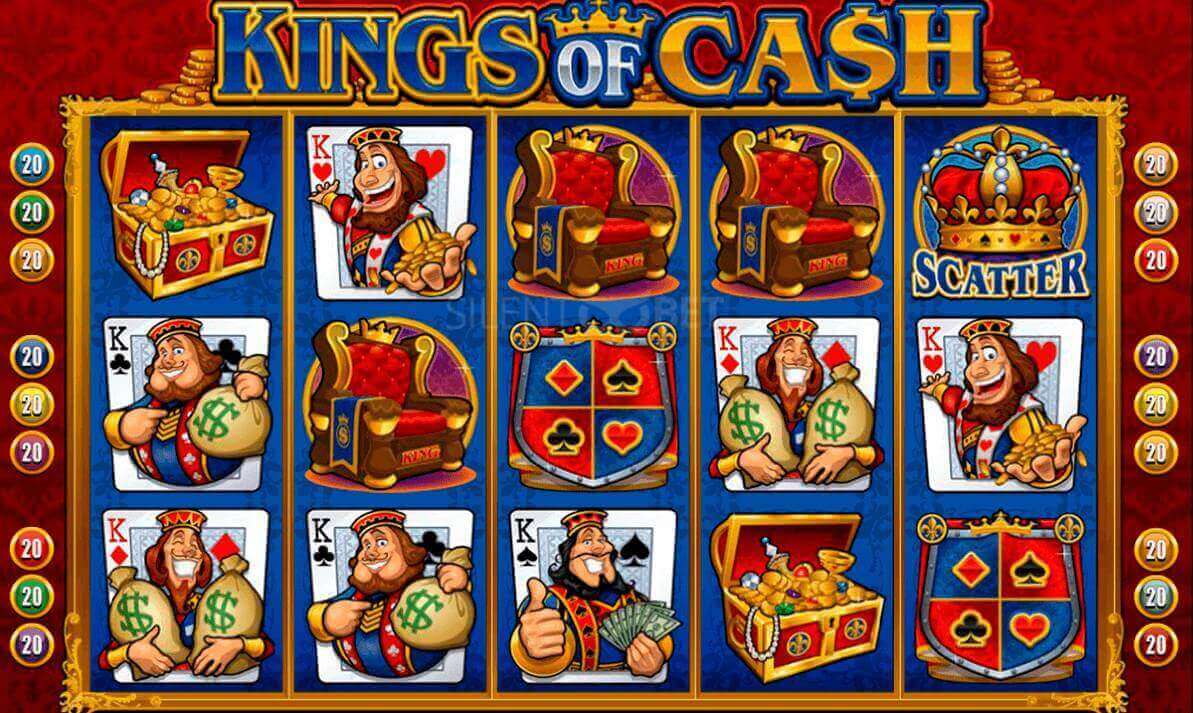 Though standard symbol matches can pay out decently, the trick to winning big for these kings is taking advantage of the bonus features. The first is a point-and-click bonus game where you match four kings to get their payout. The king of spades is the card to shoot for, as he will earn your the most in the game. Unfortunately, the cards are scattered at random, leaving your match result solely to chance.
The free spin multipliers are easier to trigger and include larger payouts. All earnings won in free spins will be at least doubled and at max multiplied by 10x. Extra winnings without extra work is our favorite way to win. So try and rack up those free spins and get your royal reward.
---
Demo or Play-For-Real Mode?
Both options are available at Silentbet, leaving the rest up to personal preference. The lack of bells and whistles makes it hard to play Kings of Cash for fun, but the generous payouts mean it's perfect for play-for-real. It's a fantastic game to start your play-for-real experience with, as it has low starting bets but remains rewarding.
---
Can I Play Kings of Cash on Mobile?
Kings of Cash is best played on mobile, found as an app on iPad, iPhone, and Android devices. The slot runs beautifully, the quaint animations fitting your mobile screen perfectly. It's the perfect slot to play on the go, especially when you need to kill some time.
---
FAQs
What is the RTP/volatility of this slot?
This slot has an RTP of 96.60% and is considered a medium volatility slot.
Where can I find Kings of Cash?
Kings of Cash is available for free-play and cash on Silentbet.com.
Do I need to download this slot?
No. It can be accessed for free on our site with no additional download through your mobile or desktop browser.
Who is the software supplier of Kings of Cash?
Microgaming created this mobile slot in 2015 and later made a standard online version in 2016.
Do I need an account to play Kings of Cash?
No account is needed! Load the game and spin to enjoy free play instantly. Requirements for playing for real-money will vary from casino to casino.
Will I lose my money in the Kings of Cash demo version?
No. The Kings of Cash slot demo is free to play at no risk.
Where can I find trusted casinos to play King of Cash at?
You can find a few top-rated casinos here on Silentbet.com.
---
Conclusion
These kings may not be the most exciting royal group to grace your screen, but they are reliable. This game is perfect for new players wanting to test the waters in play-for-real slots. It's a simple but excellent game and easy to spin between tasks. Try your chance at winning with the Kings of Cash today.