This game is not suitable for people under

18
Rise of Olympus Theme
Mortals take heed as the famous three brothers emerge from their mythic domains in the epic Rise of Olympus cascading reel slot. Play'n GO puts the big three greek gods, Hades, Poseidon, and Zeus, on center stage in this fast-paced game.
The Olympians shine in all their might with grand animated character models to the side of your slot and energizing animations. The gods swap out every few turns, showcasing the beautiful scenery changes that match each original Olympian's aesthetic.
The music is action-packed and full of adventure, complete with a deep-voiced narrator to guide you through special features and big fun wilds. It's a beautiful slot that will be adored by hardcore spinners and lovers of lore alike.
---
Type of Casino Game & Features
Rise of Olympus features Play'n GO signature cascading reel style of gameplay. It features a five-by-five-play area with huge multipliers, two unique power-ups, free spins, a small coin size starting bet, and a max payout of 10,000x your original bet. The rewards may not be progressive, but they are god-sized.
The two special game features are named Hand of God and Wrath of God. With the Hand of God, a random Olympian will appear and use their unique power on the slot. Hades will transform your symbols, Poseidon will grant you wilds, and Zeus will destroy two sets of symbols. After five wins on any spin, the Wrath of God will activate and unleash the trio's special abilities, all at once.
If the entire board gets cleared in one turn, you earn 20 free spins and a patron Olympian to help with your rolls, each with a different boost to offer.
---
RTP of Rise of Olympus
This Greek-forged slot offers many features that can shift the gameplay, volatility, and RTP of its outcome. Our research shows an RTP range from 95% to 96.5% with high volatility. This is due to the special features that let you decide if you want a high or low-risk spin.
---
Rise of Olympus Pros and Cons
There is a lot to love in Rise of Olympus, but sometimes there can be too much of a good thing. Decide for yourself if this glitzy slot is up your alley or not.
Pros
Excellent graphics
Huge 'big win' potential
Many interactive features
Immersive gameplay
Cons
Hard to trigger free spins
No scatters or bonus games
Only one payline is your play line
---
head id="strategies" icon="color-vip" ]Rise of Olympus Strategies[/head]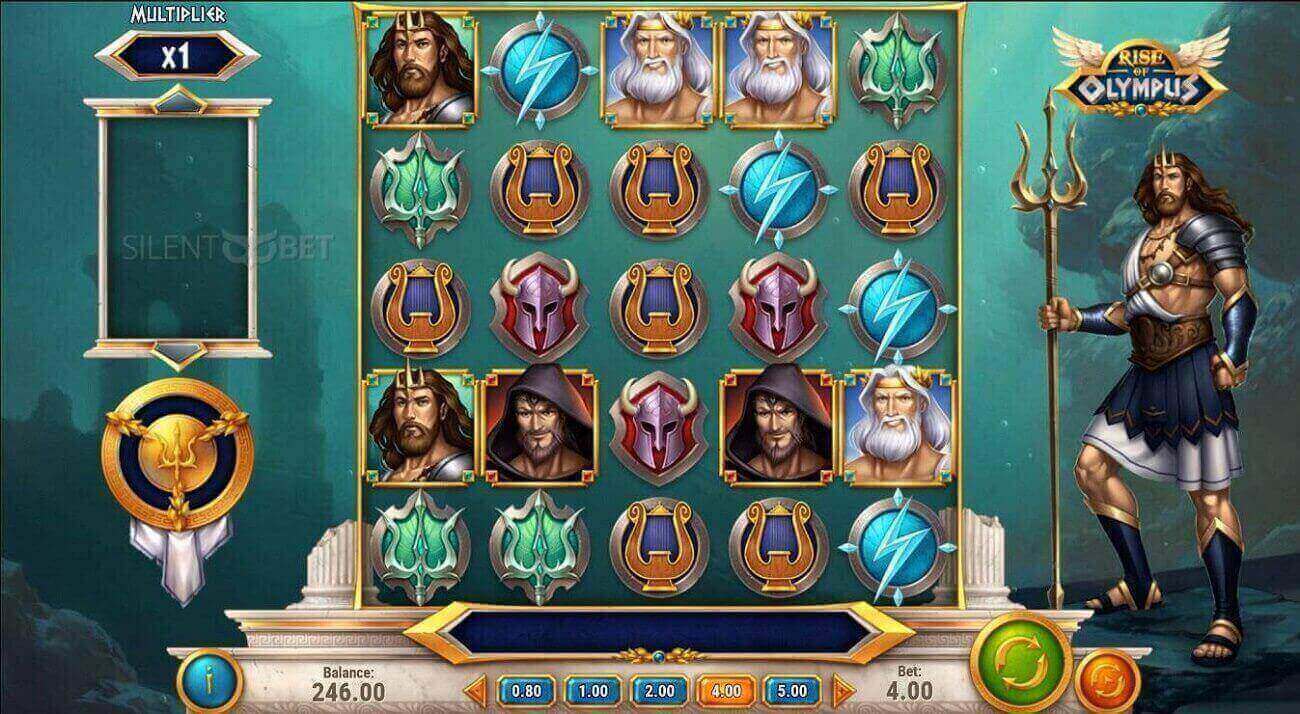 Rise of Olympus is a tricky slot to handle as its match-and-smash cascading reels and bonus features rely on clearing as much of the board as possible.
The real choice comes with the free spin bonus round feature, leading to a decision between three godly power-ups. There's no wrong answer, but there are riskier and safer options. For those ready to go all in, keep your eye on the Lord of the Underworld for his vast payouts.
---
Demo Mode or Play-For-Real Game
The features offered in Rise of Olympus's demo mode are the same in play-for-real. Still, due to the cascading reel's complicated nature, it's recommended to start on demo mode to familiarize yourself with the game mechanics.
---
Can I Play Rise of Olympus on Mobile?
You can play Rise of Olympus online on any web browser from any device. Though optimized for mobile (iOS and Android) with no download required, it plays best on a computer or tablet due to its bright graphics and extensive setup. Still, if you choose to try the game on the go, visit Silentbet on your smartphone or tablet and start the demo mode.
---
FAQs
What is the RTP/volatility of this slot?
This slot has an RTP range of 95-96.5% with high volatility.
Where can I find Rise of Olympus?
Play online for free on our site – Silentbet.com.
Do I need to download this slot?
You can play Rise of Olympus for free with no download and no registration required.
Who is the software supplier of Rise of Olympus?
Play'n GO brought the pantheon down to earth in 2018 for this cascading video slot.
What is a cascading reel?
Instead of a traditional spin, a cascading reel brings a column of symbols down and creates matches based on how they fall. Matches will explode and pave the way for new symbols to take their place. It's a nontraditional take on the slot experience but still tons of fun.
---
Conclusion
The Greek gods showcase the best of their skills in this Play'n GO slot. We found it charming and fun to play, even when playing for free. Lovers of myth and fans of big fun will flock to this slot. Due to its complexity and riskier than typical nature, we recommend this slot to experienced and seasoned players instead of new ones.