This game is not suitable for people under

18
Play VIP American Roulette here
Theme of VIP American Roulette
VIP American Roulette is a roulette game available to play for free online. It's simple yet inviting graphics and realistic sounds give you the feeling you're playing live roulette at a real casino!
Microgaming's VIP American Roulette is an exciting variation of the standard American Roulette. It is perfect for high-stakes players who aren't afraid to put down a big bet! You begin by placing a bet anywhere from $10-$1,000. The coin size is highly variable, with chips being valued at $.25, $1.00, $5.00, $25.00, $100.00, and $500.00.
You can bet as low as $.25 and as high as $1,000! The game uses both zeroes and double zeroes. If the ball lands on these, a player loses his or her whole bet. Players can bet on certain sets of numbers and lines, corners, streets, odds, evens, blacks, and reds. The myriad of ways and amounts to bet make VIP American Roulette an exciting game for courageous betting!
---
Game Type and Features
This roulette game features classic roulette gameplay for people ready to put down serious bets. It has various betting amounts and chip sizes, utilizes both zeroes and double zeroes, and offers a plethora of betting options.
Compared to other casino games, such as slots, VIP American Roulette has no paylines or reels, nor does it feature wilds, scatters, bonus games, multipliers, progressive jackpots, bonus rounds, volatility, or free spins. What the game lacks in flashy graphics, lights, and sounds, though, it makes up for in classic, relaxing play with no download or registration.
---
RTP Breakdown
The RTP, or return-to-player rate of VIP American Roulette, is 94.74%. It's below the average of other roulette games.
---
Pros and Cons of VIP American Roulette
VIP American Roulette is a classic game with a fun twist for high-stakes betting. While roulette can be relaxing and straightforward, there are always some things we wish we could add or remove to improve the game. Here's a look at some pros and cons of VIP American Roulette:
Pros
Simple design and graphics make it look and feel like an authentic roulette.
Tailored to people open to placing large bets
Varied coin size
Large betting range
Cons
No auto- or fast-play options
Slow gameplay
Lower RTP than other roulette games
---
Strategies & Tactics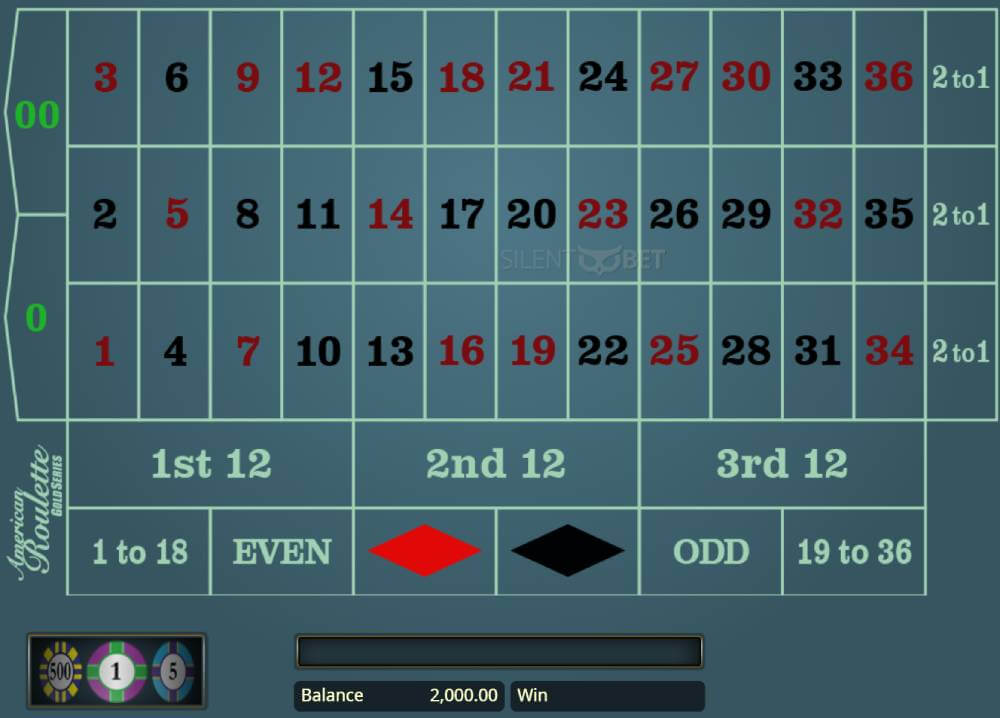 While there are no sure-fire ways to ensure a roulette win, there are some things you can do to increase your chances of a successful roll.
One way to do this is by beginning with a set bankroll and starting off betting small amounts. You can gradually increase your bets as your bankroll grows. You should also make smart bets, and don't bet more than you can afford to lose.
If your rolls become successful, don't drastically increase your bets. Set aside a portion of your earnings so you don't lose everything if your rolls start going poorly.
Another good strategy is to play multiplayer roulette. You can watch other players, analyze their bets, and adjust your gameplay accordingly. Play on the demo mode, practicing different strategies to learn what works best for you before you start playing with real money.
---
Demo or Play-For-Real Mode?
Demo mode is set up for players who aren't familiar with roulette or maybe out of practice and want to improve their skills before betting with real money. The play-for-fun mode allows you to get familiar with the table's set-up and learn how to bet creatively with no risk to you.
If you decide to play with real money, the game offers a simplistic player screen that makes it easy to place your bets. There are no auto- or fast-play options, so this game is definitely for people looking to take their time and make intelligent bets. The lack of auto- and fast-play options allow you to analyze gameplay between spins and make adjustments if necessary.
---
Can I play VIP American Roulette on Mobile (Android & iOS)?
VIP American Roulette is not currently available as an app, but it can be played for free on your mobile device on our website! Try the game on any mobile smartphone or tablet. No registration needed.
---
FAQs
Who is the game's software developer?
This slot game's software developer is Microgaming.
Do I have to download or register to play VIP American Roulette?
No! You can play online with no registration or download necessary!
What are some of the game's features?
Sleek, simplistic designs and graphics make this game very realistic. A large chip and betting range keep bets interesting. You can practice in demo mode before betting real money.
What is the difference between American Roulette and VIP American Roulette?
VIP American Roulette has a higher betting and chip range than American Roulette, making it more appealing to those willing to place higher bets.
What is the game's RTP?
The RTP is 94.74%, which is lower than other roulette games.
---
Conclusion
VIP American Roulette is a high-roller's dream come true! The simple, realistic design and lack of flashy bells and whistles make it a fun, true-to-life roulette experience. You can learn how the game works and perfect your betting practices in demo mode before placing real-money bets in play-for-real mode. If you're looking for a relaxing version of a classic roulette game where you can place some severe bets, this is the game for you!