Warning: Use of undefined constant BOOKMAKER_TPL - assumed 'BOOKMAKER_TPL' (this will throw an Error in a future version of PHP) in /home/silentbet/public_html/app/themes/theeye/settings/comparison.php on line 4

Warning: Use of undefined constant BONUS_TPL - assumed 'BONUS_TPL' (this will throw an Error in a future version of PHP) in /home/silentbet/public_html/app/themes/theeye/settings/comparison.php on line 6

Warning: Use of undefined constant CASINO_TPL - assumed 'CASINO_TPL' (this will throw an Error in a future version of PHP) in /home/silentbet/public_html/app/themes/theeye/settings/comparison.php on line 8

PremierBet Review
Amazing website design
Cash-out option available
Huge range of sports
Competitive odds
Live Betting
Casino
Cashout
Live Casino
Lottery
Virtual Sports
PremierBet is an official gambling platform in Africa. The website comes with an expertly developed interface, as you will find out on PremierBet overview of the website design. Additionally, it is home to sports punting, virtual betting, and casino gaming with many returning gamblers. The function of this comprehensive PremierBet review is to describe every section of the bookmaker as is. Hence, relax and get to know every significant aspect concerning the bookie. But first, check out the pros and cons of PremierBet.
---
Pros & Cons of PremierBet
Pros
It has a stunning website design.
The bookie contains cash-out functionality.
PremierBet has an Android app.
It contains regular odds boosts.
Cons
It does not have an iOS app.
The website does not offer live streaming services to punters.
---
Available Sports
Very few sportsbooks in Africa can match PremierBet's sports catalogue. That's because the website has contact sports, water sports, and team sports. In short, it is hard to miss a fixture entirely because a particular game is lacking. So far, here is a list of games you should expect on the bookie.
American Football
Aussie Rules
Badminton
Baseball
Basketball
Beach Volleyball
Boxing
Cricket
Darts
Football
Futsal
Handball
Ice Hockey
MMA
Motor Sports
Rugby
Snooker
Tennis
Volleyball
Water Polo
---
Betting Coverage
PremierBet's betting coverage is standard. In other words, that's what you will conclude by the time you finish this PremierBet overview of betting coverage. But then, you should know that some areas are well covered. The problem is poorly covered sections. For more information on PremierBet coverage, check the descriptions below.
Bet Types
The bookmaker offers few bet types. Thus, coming across an event with more than 150 betting options is a struggle. Nonetheless, the management includes a mixture of both basic and advanced betting options to accommodate expert and non-skilled clients. The most common choices so far include over/under, handicap, and both teams to score.
Sports Markets
PremierBet Sportsbook has some impressive sports markets. You should expect to see events from international competitions like FA Cup and EFL Cup. Additionally, the bookmaker provides access to Bundesliga and NFL events. That's without forgetting local football markets like the Super League.
What Are the Odds?
One of the most significant advantages of PremierBet is that it offers its clients impressive odds sizes. You can consider it to be among the few bookies with events whose bet types bear odds levels as significant as 500.00. Then again, players can only access the decimal odds format, which is quite limiting.
---
Website Design and UX
The gambling platform features a beautiful green-themed interface with a white background. Additionally, it comes with distinctive outlines, which gives it a neat finish. On the other hand, the layout is simple, and so it will be easy for punters to grasp its workings. Despite all those attractive components, the most distinctive feature on the platform is the controls. The bookie has different command issuing elements nicely placed to facilitate navigation. Generally, everything on the platform works perfectly to ensure an outstanding user experience.
---
How to Register (Steps)?
PremierBet registration process is simple compared to that of other African bookmakers. The account opening steps are the same, whether you are using PremierBet Uganda or PremierBet Zambia. To proceed, simply click the registration tab and proceed as highlighted.
Decide whether you want to use the short or long registration form.
Type your actual names in the spaces provided.
Give a working phone number.
Create a hard to guess password and sign up.
---
PremierBet Sports Welcome Bonus

The operator provides new players with an impressive welcome bonus. That makes the site magnetic to potential bettors and enhances PremierBet ranking. Then again, the size of the welcome package depends on your country of origin, as seen below.
New Customer Promo for Ghana – 100% up to 150 GHS Sports
If you are using PremierBet Ghana, the management will grant you a match deposit reward of money capped at 150 GHS. That's on the condition that you deposit cash up to 150 GHS. After you receive the promo, you must place bets on at least five events, with each bearing odds of at least 1.50. Additionally, the promo comes with an x6 turnover requirement that you must satisfy within 14 days before the reward expires. Minimum deposit to claim the offer is just 1 GHS.
Signup Offer for Mozambique – 100% up to 1875 MT
On the other hand, bettors using PremierBet Mozambique punting site get a matched bonus of money totalling 1875 MT. The prize is for placing combination bets comprising five fixtures, with each having odds of 1.50 and beyond. Besides, punters have 14 days to meet a wager of x6.
---
In-play Sports Betting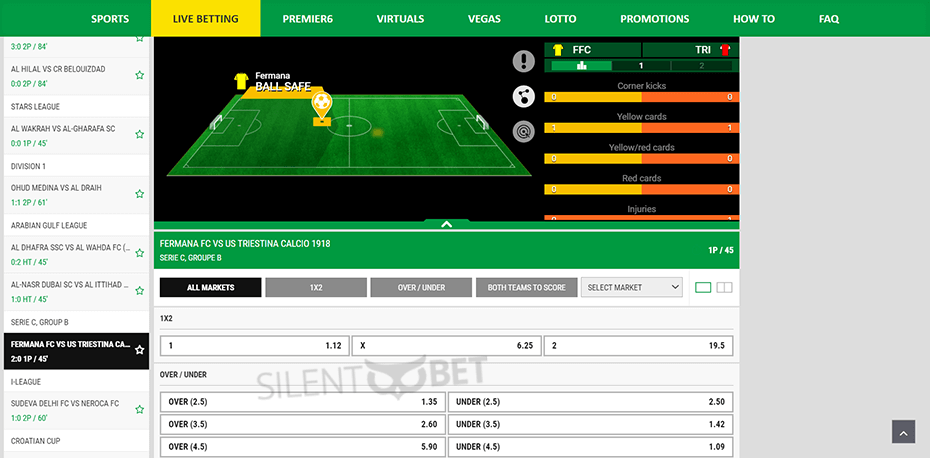 In-play sports betting is an advanced type of gambling offered to any punter with PremierBet login details. That's whether you are using the PremierBet Cameroon, PremierBet Malawi website or a PremierBet website from any acceptable country. Live gambling entails placing bets as the match proceeds. Note that it comes mostly recommended for skilled gamers due to its complicated features. For instance, PremierBet live events come with fewer betting options compared to pre-matches. Besides, it comprises both closed and open bet types. As the name suggests, closed betting options are punting choices that you cannot pick. They usually have a padlock symbol. On the other hand, open bets are those options available for gambling.
A thorough PremierBet analysis revealed that the odds keep changing as the events proceed. The bookmaker uses flashing red and green symbols to make sure you see the shifts. However, what will impress you most is that PremierBet live fixtures have extensive statistics. The management provides players with useful information such as corner kicks, red cards and yellow cards for both teams. So far, some of the sports with in-play matches are soccer, basketball, and tennis. The number of games tends to vary depending on the day's fixtures.
---
Sports Betting Products
Betting products are functionalities the management includes to enhance gambling activities. That's because they allow players to have control of their betting sessions. Additionally, the features help with PremierBet rating. After all, the more the betting coverage, the more attractive the site becomes. With this in mind, here are details explaining PremierBet's functions.
---
Virtual Sports
The bookmaker has a Virtual sports section designed for bettors who prefer regular events that do not require too much research. Note that virtual matches come categorised into groups, with Motor Racing and Steeplechase being the primary selections. Unlike actual sports, virtual events depend on the advanced technological application, for instance, AI and RNG.
---
Premierbet Casino
The casino page is yet another section that has seen PremierBet ranking score increase drastically. That's because the page contains quality games from prominent software providers like NetEnt and Microgaming. If you are a fan of casino games, you should look forward to categories such as table games and scratch cards. The platform also has multiple PremierBet slots, for instance, Fortune Panda and Lucky Scarabs.
---
PremierBet Casino Signup Offer – 400% up to 351 GHS
Due to the casino page's positive impact, the management provides new casino players with a lucrative welcome pack which entails a 400% prize for cash up to 351 GHS. There is no minimum deposit required to qualify for this bonus. Once you have the promo, you must meet an x30 wager with a maximum stake of 29.25 GHS, any amount above that will not be counted towards the wagering requirements. The offer comes built to only last for 14 days.
---
Live Casino
It is vital to know that the gaming interface has a Live casino section. It is the only page mentioned on this PremierBet review with games that have an authentic feel. The main products on this page include the likes of Infinite Blackjack and Side Bet City. What makes these games topnotch is their stunning features which include live croupiers and working live chat functionalities. Besides, live Vegas or live casino games allow multiple gamers on a single table.
---
Premier Bet Мobile Аpp
The management only has a PremierBet app for Android users. Hence, if you're using an Apple phone or an iPad, you should use the mobile interface instead. After all, it is equally appealing with lots of sports and casino games. You can also use either of the mobile interfaces to punt on live matches. There's nothing you cannot do with your smart device.
---
Payment options
Viewing PremierBet fixtures is free but punting on any selection for real money is not. That's why the brand has various working payment solutions nicely added on the payment page. Similar to the bonuses, PremierBet online banking solutions vary depending on your region. But then, payment methods such as Voucher and Vodafone are common despite your location. Have a quick look at the table for more information on the modes of payment.
Deposit Methods
Withdrawal Methods
| Payment Method | Deposit Minimum | Deposit Maximum | Time for Deposit |
| --- | --- | --- | --- |
| Airtel | 1 GHS | 3000 GHS | Instant |
| MTN | 1 GHS | 3000 GHS | Instant |
| Voucher | 1 GHS | 250 GHS | Instant |
| Vodafone | 1 GHS | 3000 GHS | Instant |
| Payment Method | Withdrawal Minimum | Withdrawal Maximum | Time for Withdrawal |
| --- | --- | --- | --- |
| Airtel | 2 GHS | 100 000 GHS | up to 7 days |
| MTN | 2 GHS | 100 000 GHS | up to 7 days |
| Voucher | 2 GHS | 100 000 GHS | up to 7 days |
| Vodafone | 2 GHS | 100 000 GHS | up to 7 days |
---
Security and Regulation
The gambling site is a hack-free platform, thanks to the available security measures. But before digging deep into PremierBet security systems, customers must know that regulations are in place to ensure account safety. For instance, every PremierBet member must have a unique password and username. Additionally, they should always keep their login details a secret. That's because without doing so, it will be hard for the operator to guarantee their safety even with the updated firewall system and the ever-active SSL encryption security protocols. Additionally, PremierBet management makes sure their clients are safe by storing copies of their documents in a password protected cloud server. These security measures are the reason why PremierBet bookie has never had a security breach.
---
Affiliate Program
PremierBet has a partnership program with marketers. The program entails paying PremierBet affiliates a commission to advertise everything mentioned on this PremierBet review. Additionally, members of the PremierBet affiliates program get access to various marketing tools to help fulfil their goals. All you have to do is register to become a member.
---
FAQ
Is PremierBet a legit sportsbook?
PremierBet is an authentic sportsbook managed by a professional company. Thus, you can trust its products and services.
Does Premier bet have a license?
PremierBet has a license from the Gaming Commission of Ghana. It is, in fact, one of the ways the bookmaker proves its legitimacy.
Is there a No Deposit bonus at Premierbet?
The bookie does not have such a bonus. Instead, it does have a variety of deposit rewards.
Does this site offer a VIP program for loyal players?
PremierBet does not have an actual VIP program. But then, once you enrol, the operator will start monitoring your VIP status.
How many PremierBet accounts can I have?
Players can only have a single PremierBet bookie platform. Having more than a single account is dishonest.
Can I share my PremierBet account with a friend?
You cannot share your PremierBet sportsbook with anyone for security purposes. After all, there's no way to divide the platform to suit two players.
Are there eSports?
PremierBet does not offer eSports betting services despite being an all-inclusive platform.
---
Company information
PremierBet gambling platform began operating in the UK before majoring in the African betting market. The platform dates back to early 2012, and thanks to Premier Betting Solidere Ltd's dedication, the site has proven to be worthy. In Africa, PremierBet operates under the jurisdiction manned by the Gaming Commission of Ghana. The body hence regulates PremierBet sports and casino sites. Additionally, they monitor other services to make sure no unfairness on the site. You can thus trust PremierBet, especially if you're after quality services and exemplary user experience.
---
Customer support and contacts
The management makes sure clients are not distracted by various unexpected happenings such as loss of password or malfunctioning. That's by including an active customer support centre which allows customers to use the following details to communicate with the available agents.
Additionally, the site has multiple social media platforms, including Twitter, Instagram, and WhatsApp. All these methods are available to help clients find solutions to their problems or confirm any information on this honest PremierBet review.
---
Conclusion and Rating
From the details above, PremierBet is undoubtedly a trustworthy platform that guarantees user satisfaction. After all, it offers players a secure betting site and plenty of sports fixtures. Additionally, the website contains multiple sports markets and many casino games. Hence, you should be confident that your time online will be excellent. However, certain aspects don't match the players' needs. For instance, the absence of an iOS app, not to mention the missing live streaming feature. Due to those flaws, the PremierBet rating score is 8.3/10.