Many sports bettors are keen to find ways to improve their chances. They also want a system to choose bets and a way to beat the bookies. Using certain approaches or methods can improve your long term profits, even though there isn't a foolproof plan for sports betting.
Introduction to Quantitative Betting Models
Quantitative models have found some popularity among those who are interested in data-driven predictions. Not knowing what quantitative analysis is, and how to create a model, is the main barrier. Then comes the need to maintain it, which is another reason that this approach to sports betting often gets overlooked.
You can't learn how to do it overnight; however, this article will give you everything you need to know to come to your own conclusions. It examines quantitative models as the key to successful sports betting and how effective they can be in the long term. You can then weigh up the advantages and disadvantages to decide whether it's a sustainable method for you.
---
What Is A Quantitative Model?
When the bookmaker needs to set their odds, some take the information from other reputable sportsbooks. Other brands that are among the bookmakers with the highest traffic use an algorithm that combines many factors and assumptions. Many bookies simulate results by inputting data to calculate probabilities of outcomes over a large number of occurrences.
A model is designed to run the simulation using specific sets of data. For a sports event, this could be goals scored, tennis sets won, or points conceded, as well as other relevant factors. The model then simulates the event or game, based on the data, and determines a winner.
Crucially, the quantitative model runs the simulation several times, since the outcome won't always be the same. This delivers a percentage for each team or competitor, showing a frequency of wins, which helps the sportsbook set the odds.
Just as this practice is useful for weather forecasts and economic situations, it can also be used by bettors too. It's not just the bookies that can access data and run simulations. To make predictions, though, you'll need a quantitative model.
---
Harnessing Technology And Data
Fortunately, you can take a lesson from finance companies. They get the software to do the heavy lifting when it comes to algorithms and predictions. While data, the right formula and the appropriate program to run it in are all going to help you, you'll need to know where to start with your model.
If you're keen to test the waters with a quantitative model, but not sure if it's right for you, then you should try starting with tennis. The sport is popular for those who like to use analysis and simulations. This is because there are two possible outcomes for every event, as a tennis match always has a winner and a loser.
Before you craft your formula, it's worth looking around online to see if there's one that has been published that you could try out. This will give you an understanding of the kind of data required, how it works and what kind of results you'll get.
Quantitative models require effort to create, and you'll need to maintain it too. The more you understand the model and the inputs that create the simulations, the better you'll be at developing and refining them. Although technology is involved, most formulas can be run in Excel, which means that you won't need any niche software to try it out.
---
How To Apply Quantitative Models
Whether you build your own simple model or adapt an existing one, you'll need to test it. Your model will have an aim, depending on what you're analysing. Different sports and data will produce varied results, and you need to know what to expect.
Once you have a precise aim, then you can test the model to get results. These should meet your aim, and they should result in profits. Usually working on such a model will require the use of free money so look at the bonuses for loyal players as there are usually weekly rewards. Based on the outcome of the test, you might want to refine the model, test some more and gather more data on its effectiveness.
Models are built on assumptions, which is why testing is essential. Each assumption is a variable, and you'll want to know how each one affects the outcome. Knowing how sensitive the model is will help you to refine it and will also allow you to trust your results as you progress.
Maintaining the model, once it has passed the tests, will mostly involve the data, rather than the formula. You'll need to keep the statistics and inputs up to date so that your simulations are accurate.
---
Advantages, Disadvantages And Risks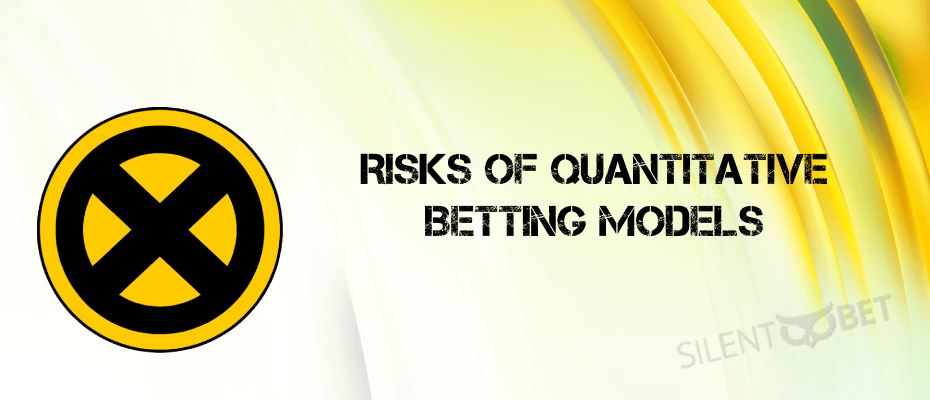 There are pros and cons to adopting any approach to sports betting. Here are the primary considerations for a quantitative model.
Advantages
Many proponents of models and the use of statistical data in sports betting see the advantages of this method. The main view is that it can put the punter on equal footing with the bookie, as they also use simulations to set their odds.
Creating a successful model that gives you results that you can rely on can help you to make better bets that stand to increase your profits over time. You have a reason, and scientific data to back up your decisions, which makes it easier to track and evaluate your bets over time.
Disadvantages
Developing a model or even reworking someone else's is time-consuming. Models are on the spectrum, so you can choose a simpler one, or spend more time creating something complicated. Either way, you'll need to spend time gathering data and will need to maintain the inputs.
This means that it will require upkeep for it to be a sustainable method. Although your predictions are based on simulations, you won't be guaranteed profits. It might take some time for the model to be truly useful and, as with all gambling, you'll still need to take risks to see rewards.
Risks
The risks of a quantitative model are that it doesn't deliver reliable results. The main risks can be mitigated by testing. The key is to follow several steps when creating the formula and adding the data so that you understand what could impact the outcomes.
---
Your Betting Style
A quantitative approach has advantages that will appeal to many. However, it's the disadvantages that will let you know if this is the right approach for you. Many sports fans and bettors are put off by the data-heavy nature of this approach. It's time-consuming and reduces sporting events to numbers, which might not suit everyone. However, if you want to understand betting more, get better at predictions and potentially see profits, then you might want to make time to learn how to use a quantitative model.