SportingBet Review
Sportingbet launched one of the leading online betting platforms in the world in 1998. The website is available for use in 26 countries and has an estimated 700,000 active customers around the globe. Sportingbet is licensed to accept bets from customers via electronic media on a global basis. Sportingbet has launched its website to be extremely informative and user-friendly, attracting thousands of customers from all over the world. They designed their online sports betting platform by keeping the best interests of the customers in mind related to the easy access to almost every sporting event around the world.
Get your Bonus
18+ | New Players only | Get up to £50 in FreeBets, an Odds Boost Token, 20 Free Spins and £10 Casino Bonus when you sign up to Sportingbet today. | T&C apply |
begambleaware.org
|
gamstop.co.uk
| Play Responsibly
An amazing sportsbook
Superb bonus offers
Cash-out feature available
Mobile apps
Live Betting
Casino
Live Streaming
Cashout
Live Casino
Virtual Sports
---
Available Sports
Sportingbet is the leader of online sports betting, as they offer 8,000 different opportunities for betting on a daily basis on 30 different sports. Some available sports betting opportunities include:
Football
Horse Racing
Tennis
Basketball
Cricket
Darts
Golf
Rugby
Snooker
Ice Hockey
Baseball
MMA
US Motor Racing
Boxing
Volleyball
Cycling
Motorsports
Winter Sports
---
Website Design and Layout
The website is designed to provide ease of access to all desired areas of betting. Quick links are available to the most popular events taking place. An area provided for the most popular bets and the coupon highlights for the day. Customers can easily view live bets and upcoming bets with convenient access to bet slips and promotions. Access to a large FAQ section for help and support as well as access to a guide on how to place a bet and a betting glossary are easily available. Navigating towards the bottom of the home site provides information about responsible gambling, rules, statistics and results, investors and affiliate programs.
If you are new to the web, the Sportingbet website design and layout is designed to cater to the needs of all customers, both novice and the media experts. If any difficulties encountered when trying to view current opportunities for betting or you need assistance to place a bet, the Customer Support and Help button conveniently located on the top right side of the page which gives users a wealth of information about all aspects of sports betting.
---
Betting Coverage
Sportingbet offers live betting 24-hours a day on a majority of betting areas. The website is available for viewing current bets and placing new and upcoming bets 24-hours a day. Sportingbet is a perfect option for those who are only available during certain days or hours to review events and place bets with their 24-7 online availability for over 8,000 different events per day.
---
Sportingbet Welcome Bonus
An amazing welcome challenge awaits new customers of Sportingbet. If you register an account you can grab free bet, free spins, a casino bonus and odds boost token. Isn't it amazing? The free bet is £50 while you also get the token plus 20 free spins and a £10 casino bonus. Mind you that the free bet will expire within 3 days.
18+ | New Players only | Get up to £50 in FreeBets, an Odds Boost Token, 20 Free Spins and £10 Casino Bonus when you sign up to Sportingbet today. | T&C apply |
begambleaware.org
|
gamstop.co.uk
| Play Responsibly
---
---
In Play Feature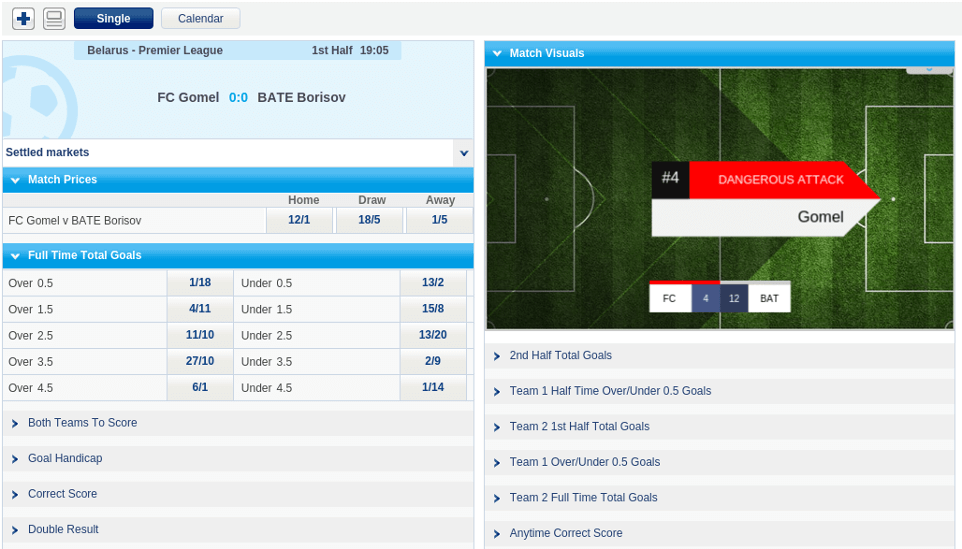 Among the fastest growing betting mediums available is live betting, as it allows customers to place a bet on an event after it has started. For that fact, it called In Play.
Customers can have the opportunity to react to what is happening while watching a live event. In most cases, customers have already formed an opinion as to what the outcome of a sporting event will be before it begins. With the In-Play feature, customers can either back up their opinion or change their minds in regards to their bet based on the outcome of the event.
That is a useful feature for customers as it allows them to change their mind as often as is needed. If a customer has funded their account, they can bet on any market they choose and change their bets based on various circumstances.
Many bettors are using this feature as it provides them with the opportunity to place a more evidence-based bet as they have more knowledge of how the event is taking place than before the start of the event.
An example of how this feature works: A bettor who supports a specific team chooses to hold off on betting before the match. That done so he/she can review the play during the first quarter of both the favoured team and the opponents, as well as the tactics of the referee. After watching an event for some time, the better may feel more confident with their decision and can then place a more informed bet.
---
Bet Slip Feature
Placing a bet is simple. Once a customer is logged into their Sportingbet account, he/she can glance through all of the possible events. Numerous opportunities are available by following the sports menu on the top of the home page.

Once a customer is ready to place a bet, he/she need to click on the bet, and it will automatically add to their betting slip.

Betting slips are easily viewable on the top right side of the page.

Once the bet appears, all that is left to do is to select the amount to be placed on the specific bet. When completed, select "Place Bet".
If customers have any difficulties at all with this feature, detailed information and guidance is available via the FAQ section offered under Customer Service and Help.
---
Sportingbet Mobile
Sportingbet offers a handy mobile website and application for those of us who are always on the go. You can access many of the same features via mobile that you can on the desktop. Customers can access the mobile site: https://mobile.sportingbet.com or if you have an iPhone, the Sportingbet Sports app can be downloaded from the App Store.
New customers can easily register and begin exploring the numerous opportunities for betting via mobile. Deposits and withdrawals can be handled conveniently through this application as well. All information is secure over this site and through this application via a secure HTTP connection. There is no cost to use the mobile applications, except those charged by a customer's service providers and the mobile app covers all of the same sports that are available online, including In-Play and upcoming events.
The only drawback of using the mobile-friendly site is that customers cannot utilise free bets. This feature has to be done on a desktop.
However, there is mention on the website that this feature will soon be available to mobile users as well. Sportingbet is doing everything possible to make their mobile site and application just as convenient as the desktop version.
Update: You can find the full review of Sportingbet mobile app and version here.
---
Deposit and Withdraw Methods
| Payment Method | Deposit Minimum | Deposit Maximum | Time for Deposit | Minimum Withdrawal | Withdrawal Maximum | Time for Withdrawal |
| --- | --- | --- | --- | --- | --- | --- |
| Visa | £10 | £50,000 | Instant | £10 | £100,000 | 1 – 5 bank days |
| Bank Wire Transfer | £10 | £50,000 | 3 – 5 Bank Days | £10 | £100,000 | 1 – 3 bank days |
| Neteller | £10 | £50,000 | Instant | £10 | £100,000 | 1 – 5 bank days |
| Skrill | £10 | £5,000 | 24 Hours | £250 | £2,500 | 1 – 5 bank days |
| Paysafe Card | £1 | £4,000 | Instant | - | - | - |
| MasterCard | £10 | £50,000 | Instant | - | - | - |
| PayPal | £10 | £50,000 | 24 Hours | - | - | - |
| CLICK2PAY | £10 | £50,000 | Instant | £10 | £100,000 | 1 – 5 bank days |
| Maestro | £10 | £50,000 | Instant | £10 | £100,000 | 1 – 5 bank days |
| Ukash | £1 | £1,000 | Instant | - | - | - |
| Laser | £10 | £50,000 | Instant | - | - | - |
| Delta | £10 | £50,000 | Instant | £10 | £100,000 | 1 – 5 bank days |
Sportingbet does not charge any fees to either deposit or withdraw funds. To quickly deposit funds, a customer needs to log in to their account and access the "My Account" section. This section will guide you in both the deposit or withdraw of funds.
Methods acceptable for payment include the following:
PayPal
Skrill
Visa
Bank transfer
Maestro
MasterCard
Neteller
Click2Pay
Delta and U
Sportingbet offers multiple methods for the withdraw of funds including:
Debit Card – If a Visa card has been previously used to deposit into your account, the card is available to accept refunds/deposits as well. Note: Refunds can only be placed on a MasterCard if the card is issued in the UK and registered at a UK address.


Neteller – If a customer has previously used their Neteller account to make a deposit, Sportingbet can refund or send a withdraw free of charge to this account. It is necessary for the name and email address listed on a Neteller account to match the name and email address listed on your Sportingbet account as well. Withdrawals using Neteller are available in EUR, GBP, USD and CAD.


CLICK2PAY – As long as a customer has made a deposit using this account, he/she can receive withdrawals free of charge. It is necessary for the name and email address on the Click2Pay account to match that of the Sportingbet account.


Skrill – If a customer has an established account with Skrill and has used this account to deposit in his/her Sportingbet account, withdrawals are possible and free of charge.


PayPay – If a customer's PayPal account has been previously used to make a deposit, Sportingbet can deposit funds into this account within 24 hours. There is a minimum withdraw of 10 Euros for this method.


Some Bank wire transfers are available outside of the UK only. These offered free of charge and usually post to a customer's account within 3 to 5 days. All fund requests deposited in the form of GBP, USD, CAD, HKD, SGD, SEK, DKK, EUR, CHF, AUD, JPY, IDR and HUF.
Some Bank wire transfers are available to UK residents only and are processed within 3 to 5 working days in Sterling (GBP) only.
NOTE:
If a customer chooses the same working day bank transfer, a fee is applied. Availability of the funds can be affected by a customer's country of residence of the currency in their account.
---
Customer Support
The customer support and help sections are offered both on the top right side of the home page and near the end of the website. The FAQ section covers almost any question a customer may have in great detail.
If the help section is not able to correctly answer your question or concern, there are convenient tabs available on the FAQ page to access the contact information for Sportingbet and also a tab to access an agent for a live chat.
1. Telephones
Please select a number from the list below and have your username and ID ready.
2. Live chat:
3. Email address: admin@sportingbet.com
4. Fax +44 020 7184 1810
5. Postal Addresses
Headlong Limited
c/o Fenlex Corporate Services Ltd
85 St. John Street
Valletta
VLT1165
Malta
UK customers only:
Sporting Odds Limited
3rd Floor
45 Moorfields
London
EC2Y 9AE
---
Conclusion
For those bettors who need proof of evidence that their favoured team will avail in an event, In Play is just the right feature for them. Customers who are new to both media and gambling will find the Sportingbet website very informative and easy to use. From the layout of the page to the help guides on placing bets, almost anyone can be successful in the navigation of this site. Sportingbet is frequently offering various promotions and bonuses, so it makes it easy for customers to give it a shot. Betting is made so convenient with the numerous payment and withdrawal methods available that almost anyone, anywhere in the world can benefit from what this site has to offer.