Tornadobet Review
Tornadobet is one of the new bookmakers that has found a home in online gambling. Media Entertainment operates Tornadobet; the company established the brand in 2019. Based in Malta, its coverage is spreading over Europe as it finds popularity with gamblers that enjoy punting online.
Our Tornadobet review determined that the operator claims gaming experts developed the online casino. This piqued our interest, so we decided to take a look at what it has to offer in terms of the new sportsbook and casino games.
Reliable Support
Variety of Promotions
Exciting Casino Section
Live Betting
Casino
Poker
Live Streaming
Cashout
Live Casino
E-Sports
---
Pros & Cons of TornadoBet

Pros:
Modern desktop layout with elegant design
Fast payouts
Extensive coverage of markets, including virtual sports and eSports
Offers high welcome bonus for both sports and casino
Reload Bonus available every week
Mobile version looks and works great on the phone
High affiliate commission rate
Cons
No Live Streaming
No Mobile App
Somewhat clumsy design
---
Available Sports
If you want to punt with a new sportsbook that has a large variety of sports available, then Tornadobet is for you. The bookie's list ranges over the most popular sports while also covering smaller sports niches. You can also punt on any of the popular sports leagues available if punting on leagues is more appealing to you.
Our Tornadobet review found It clear that the new bookmaker has a definite focus on football. If you quickly scan the latest and popular bets, football matches have the most extensive coverage. Even the popular leagues presented in the side menu bar mostly consist of football leagues.
While there may be many European sports available for a punter to bet online with, Tornadobet also covers international sports matches. Whether you want to punt on the Russian Ural Volleyball League or the American NBA basketball matches, Tornadobet's sportsbook is not limited to European sports only. Tornadobet's sports betting has such broad coverage; it even allows you to bet on basketball matches in Taiwan.
Here is a quick overview of the bookie's list for sports markets:
American Football
Baseball
Basketball
Cricket
Darts
eSports
Football
MMA
Politics
Snooker
Tennis
Volleyball
Athletics
Awards
Badminton
Boxing
Chess
Cycling
Entertainment
Floorball
Futsal
GAA Football
Golf
Handball
Ice Hockey
Motor Sports
Netball
Olympic Games
Rugby
Bandy
Surfing
Winter Sports
Horse Racing
Greyhounds
---
Betting Coverage
Tornadobet offers decimal odds. This is not a surprise, as sportsbooks in continental Europe use decimal odds as the norm. While we have seen new bookmakers that offer conversion between decimal, fractional and American odds, it appears that Tornadobet only offers a decimal odds system.
Our Tornadobet review did find that the operator doesn't offer much variety in sports markets for punters to bet on. When we talk about sports markets in the bookie's list, we are not referring to the types of sports available, but rather the markets that open and close for individual sports. This refers to the types of bets you can punt for a specific sport.
The majority of odds available for punting are either outright bets or match bets. For tournaments such as the UEFA Champions League, you can punt for the teams most likely to win the competition. A player can also bet online for individual matches in the League. There is more market variety when it comes to sports in-play punting, but we will review that section separately.
---
Website Design, Structure, Layouts and User Experience
Tornadobet's website follows the three-menu approach, a trend we seem to have found with new sportsbooks. Having said that, the blue colour scheme and theme does have a sort of elegance to it that we found pleasing to the eye.
The three menus lead the way to the most popular access points of the new bet website. Any bettor can quickly access the bookie's list of sports on the left. If you want to punt on something other than sports, you can choose one of the links in the top header menu. If you have selected a sport you want to bet on, then the right menu presents all the punting information relative to the sports match.
What we really liked about the new bookmaker's platform's design is that there is a highlight reel of the available promotions and bonuses just below the header menu. This means that Tornadobet always informs players of special offers available to new and existing customers. Just beneath the promotions, you will find the bookie's list of last-minute bets and popular online bets that gamblers are punting on.
---
How to Register at Tornadobet?
Our Tornadobet review found the Registration process fairly straightforward. A punter will need to read and agree to the new bookmaker's Privacy Policy, which details the operator uses the information. Here is a break-down of the registration process:
Click the "Join" button on the top right of the page
Enter your name, gender, email address, mobile number and date of birth
Enter your preferred Username, Password, currency and your welcome bonus code
Complete your physical address details and country
Confirm that you have read the Privacy Policy, consent to the gathering of personal data, and choose if you want to subscribe to the newsletter
Complete the Captcha and then click the "Register" button
Verify your account with any supporting documents required
---
Tornadobet Welcome Pack for Sports – Up to €300
Tornadobet's welcome package is available to any new customer who registers on the site. While the registration process makes provision for a bonus code, there is no indication punters need to claim the bonus with a code. However, there are other special requirements for a new player to claim the bonus.
Our Tornadobet review found that there's a minimum deposit amount of €20 to qualify for the welcome package. There is a 100% bonus on the initial deposit up to €100. You'll need a minimum second deposit of €40, in order to claim the second bonus. The reward is 50% of the second bonus up to the value of €200.
This two-phased approach to unlock the new bookmaker's welcome package is further complicated by some qualifying conditions. You must use each qualifying deposit at least once with minimum punting odds of 1.80. So make sure you work through the bookie's list of sports markets to find the best odds that qualify.
Please note, you need to punt your initial deposits within 30 days. Once you wager the qualifying deposits, you need to activate the bonuses within seven days. You also need to punt their bonus wagers within 14 days. To top it off, you need to meet all these bonus requirements within 60 days from the initial deposit.
As a final note, there are certain terms attached to the withdrawal of bonuses. You need to wager both the bonus and deposit amounts at least ten times to qualify for withdrawal. Tornadobet reviews withdrawal requests from bonus receivers and will void your bonus for withdrawing before meeting requirements.
While we have reviewed the requirements of the welcome package for bettors who bet online with the new bookmaker, please make sure you read through the bookie's list of comprehensive terms and conditions to ensure that you follow the qualifying criteria.
---
---
In-Play Sports Betting
As mentioned earlier, the bookie's list of in-play sports markets has loads to offer in terms of in-play odds. Live betting has grown in popularity among new sportsbooks who want to offer punters the edge when they bet online.
Tornadobet offers some decent in-play market options. Visible on the Live games page, you can easily see which matches are in play that they can punt on. The different in-play markets are available just beneath the live game scores.
If you desire punting on other live sports, the bookie's list of live games is on the left menu. The site indicates the number of live matches per sport in brackets. The bookie's list of in-play sports will increase during peak times and decrease during off-seasons.
What we found amazing at the time of this Tornadobet review is the large number of eSports in-play punting available. It is rather impressive when new sportsbooks can keep tabs on so many eSports available today. Even more remarkable is the bookie's list of in-play markets for eSports. During the time of the review, we found ranges from 4 to 14 in-play markets available for punting per sports game.
---
Sports Betting Products
Because Tornadobet is one of the relatively new sportsbooks, we wanted to take a look at two specific sports betting products. It has become clear to us that bettors wanting to bet online with new bookmakers are very interested in these two features. So we decide to review these features if you are looking forward to punting on this new bet website.
Cash-out feature
A Cash-Out feature refers to the punter's ability to cancel a bet and have the wager returned before the sports market closes. Even though Tornadobet is one of the new sportsbooks, it does indeed have a Cash Out feature. You can find it on the bet slip as a 'Cashout' tab.
From our investigation of this Tornadobet review, it would appear that punters can cash out on most of the bets. It is worth noting that you will not count towards the roll-over requirements for the Welcome Bonus Package.
Live-streaming
Another important for punters who want to bet online is the live streaming feature. This allows the player to punt on in-play markets while watching the game live. In-play markets can change so quickly, and it is always advisable to watch the live matches to keep track of the action.
Unfortunately, the new bookmaker does not offer live streaming. It is strange to find new sportsbooks that do not offer this feature since it is one of the factors that customers look for the most in new bookmakers. The new bet website does offer live scores that change as the action happens, but you would need to watch the live game elsewhere.
---
TornadoBet Virtual Sports
What makes Tornadobet exciting as a new sportsbook is that you can punt on virtual sports on its new bet website. Not many new bookmakers have this feature on offer. This is one of the features which boosts the new bookmaker's ratings in this Tornadobet review.
Tornadobet's new bet website offers a host of virtual sports to be on. There are some sports markets that are only available on the virtual sports platform, such as Speedway, Motorbikes and horseracing. There is also an Instant Sports section if you want some quick punting action.
---
TornadoBet Casino
Now that we have discussed what the new bet website has to offer in terms of sports betting let's have a look at what else it has to offer. The Tornadobet Casino is tremendous in size. You will spend a lot of time just scrolling down through the bookie's list of games.
The new bet website hosts hundreds of slot machines from developers such as iSoftbet, Microgaming, NetEnt, Playson Play N Go and Pragmatic Games. They also have loads of table games from NetEnt, Microgaming and iSoftbet.
And if you thought that was a lot to bet online with, Tornadobet states on the new bet website that they 'have a pipeline of more great games providers' coming your way. It is always a good thing when operators promise to bring you new games.
In the meantime, punters can already enjoy the bookie's list of games, which is well-designed and offers a good player experience. In this part of our Tornadobet review, something immediately came to mind. When analysing the new sportsbook for its online casino component, scrolling through the bookie's list of games was a massive undertaking.
It becomes horrendous on the eyes to keep scrolling down to find games that you would enjoy. Imagine having to scroll through them every time you wanted to play your favourite casino games. Thankfully, Tornadobet has an answer to this.
There is a 'Favorites' section where you can find all the games selected as your preferred games to play. The site populates this area with your favourite games that you want to frequently bet online with.
---
Casino Welcome Promotion – up to €500
Tornadobet not only offers a welcome bonus for the sportsbook section but for its casino as well. It offers a higher welcome package for the punter who wants to bet online with its new bet website. As with the sports welcome package, there are certain conditions for activating the promotion.
Tornadobet Casino offers a two-part welcome package for the casino too. The offer is a 100% Bonus up to €200 as well as a 50% Bonus up to €300. The terms and conditions are basically the same as the sports welcome bonus. The only important alterations are the amounts.
The minimum deposit amount is €20 to qualify for the first welcome bonus. There is a 100% bonus on the initial deposit up to €200. For a player to take part in the second bonus, the minimum second deposit is €20. The reward is 50% of the second bonus up to the value of €300.
Our Tornadobet review found a few other important caveats that apply only to the Casino Welcome Package. Punters must wager Bonus and Deposit amounts at least 25 times before Tornadobet will permit a withdrawal.
The bonus package only applies to Casino and Live Casino sections, and you cannot use it in the sports betting section. Players also need to note that different games have different percentages that apply to the punting requirements.
Please note again, that while we highlight the main casino bonus conditions for the new bet website, we recommend that you thoroughly read through the terms and conditions before you register with Tornadobet Casino. Reading our Tornadobet review is no substitute for checking the fine print yourself.
---
Live Casino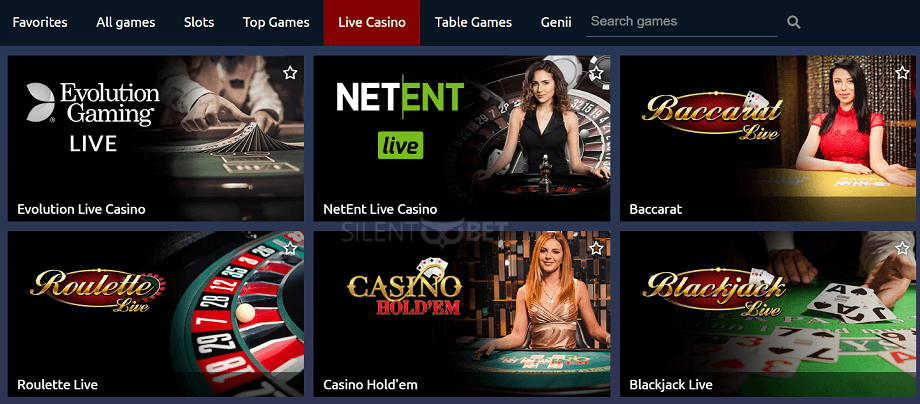 The Live Casino section on Tornadobet's new bet website feels a bit empty. This is only because the other sections have so much on offer. Don't let this small selection fool you, though. Evolution and NetEnt software providers have designed these live games. What it lacks in quantity it makes up for in quality.
Evolution and NetEnt offer their own live casinos on the new bet website for punters to bet live on. Other table games on offer on the bookie's list include Baccarat, Roulette, Casino Hold'em, Blackjack, Three Card Poker and Caribbean Stud Poker.
---
TornadoBet Mobile App
The one aspect that really makes excellent new sportsbooks stand out from standard new bookmakers is that there is a mobile app available that compliments the new bet website. It allows synchronisation with the desktop account and has the convenience that you can punt from anywhere.
Sadly, this is where our Tornadobet review takes a dive. There is currently no iOS or Android app available. We have done a search for one and, although there are websites falsely claiming you can download one, the download link simply takes you to the Tornadobet desktop website.
Having said that, there is a mobile-friendly version of the new bet website available for mobile bettors who wish to use their mobile devices to bet online. The menus are the same, as well as the layout for punting and games. It also has the same elegant design that fits very nicely on your mobile's screen.
As with the desktop version, you will be scrolling very far down to get through all its online casino slots. Once again, you can make some of these your favourite to bet online with, and then you can access them in the section reserved for your favourite online punting games.
A full-fledged app would improve the rating of our Tornadobet review, but the mobile website is still quite functional.
---
Payment options
Tornadobet offers a large variety of payment methods in terms of deposits and withdrawals. You should note that you will go through verification upon their first withdrawal.
| Payment Method | Deposit Minimum | Deposit Maximum | Time for Deposit | Minimum Withdrawal | Withdrawal Maximum | Time for Withdrawal |
| --- | --- | --- | --- | --- | --- | --- |
| Visa | €20 | €150 | Instant | €25 | not stated | 1-3 Days |
| Neteller | $10 | $1,500 | Instant | $30 | $10,000 | Up to 24 Hours |
| Skrill | €10 | not stated | Instant | €10 | €10,000 | Up to 24 Hours |
| Paysafe Card | €10 | €1,000 | Instant | N/A | N/A | N/A |
| EcoPayz | €30 | €1,000 | Instant | €25 | not stated | Up to 24 Hours |
| Rapid Transfer | €20 | €5,000 | Instant | €50 | €15,000 | Instant |
| Boleto | 50 BRL | 1,000 BRL | Instant | N/A | N/A | N/A |
| AstroPay | $10 | $100,000 | Instant | N/A | N/A | N/A |
| Multibanco | €10 | €2,500 | Instant | N/A | N/A | N/A |
| Pay4Fun | 30 BRL | 100,000 BRL | Instant | 30 BRL | 5,000 BRL | Instant |
| eZeeWallet | €20 | €5,000 | Instant | N/A | N/A | N/A |
| CryptoPay | €20 | not stated | Instant | N/A | N/A | N/A |
| Bank Wire Transfer | N/A | N/A | N/A | €100 | €5,000 | 3-5 Banking Days |
---
Security and Regulation

Media Entertainment N.V. operates Tornadobet, which Curaçao Interactive Licensing N.V. has licensed. It has certified 256-bit SSL Encryption that CloudFlare has issued. In their Privacy Policy, it indicates exactly how it collects and protects data.

The policy also indicates that they have strong physical and electronic security safeguards in place to protect information and prevent fraud.
---
Affiliate program

Many new sportsbooks are offering affiliate programs for punters to earn commission by marketing the casino's products and signing up new gamblers when they bet online. This is a great way to obtain new clients as well as encourage gambling activity on the new bet website.

Tornadobet affiliate program offers up to 50% commission to partners, which is quite high for a new sportsbook. There is also a range of marketing materials that will assist affiliates in obtaining new clients. What is great is that there are affiliate tools and reports that punters can use and analyse.
---
FAQs
Does Tornadobet Have a Valid Licence?
Yes. Media Entertainment N.V. operates Tornadobet. Curaçao Interactive Licensing N.V. has licensed the operator with the Master Gambling Licence #5536/JAZ.4
How Do I Verify My Account?
Once you have registered your account, there will be some due diligence checks to make sure you are of legal gambling age. Thereafter, you will need to send some documents to customer support to verify your personal information and address.
Is There a No Deposit Bonus Offered by Tornadobet?
No, Tornadobet does not currently offer a no deposit bonus.
What Cash Wallet Balances Are Available?
There are three cash wallet balances available for your account. The standard Cash Wallet has no restrictions on your real cash, and you can punt on anything you want. The Restricted Cash Wallet is also real cash and has links to any bonuses you have selected. You can also punt on any games you would like. Finally, there is a Bonus Wallet. Punters can only use this waller for the category that it applies to, such as the Casino Bonus for a certain casino game. This amount has a Play Through Requirement attached to it.
Will Tornadobet Notify Me of Changes to the Terms and Conditions?
Yes. Tornadobet members will contact you via email to notify you of any changes to their Terms and Conditions.
Can I Cancel a Bet?
No. Once you place a bet on the server, there is no option to cancel the bet. If you are not sure if a bet has gone through due to internet connection problems, you can check on the bet history of your account. You will need to contact customer support if you feel there is an issue with one of your bets.
Are There Any Free Casino Games?
Yes. In the Casino and Live Casino sections, you will have access to some free games by selecting the "Play for Fun" option. You will be able to learn how to play the games before punting any real funds.
What Happens If My Internet Disconnects While I Am Playing a Game?
If you are playing games in the non-live casinos and the internet disconnects, the server will remember where you last were and what your last complete decision was. So you may be able to return to the game and return to the action. If you won and were waiting for the results, the system will allocate your winnings to your bankroll when you return. However, if you're disconnected while in the live casino, the system cannot stop the live-action. The game will play out as if you proceeded with no further action.
---
Company Details
Tornadobet has been around since 2019 under Media Entertainment N.V. It is a company registered in Curaçao. Curaçao Interactive Licensing N.V has licensed it, and it has had a Master Gambling Licence since 2009.
---
Customer Support and Contacts
Tornadobet offers 24/7 customer support to all its members. The only downfall is that they do not offer a phone line for calls. However, the support that they do offer is available every day of the week. Tornadobet reviews support tickets often, with quick response rates overall.
These are the two methods that players can use to contact support:
---
Overall Rating
The most important factor to consider when rating Tornadobet is that it is a relatively new bet website that formed in 2019. Despite being one of the new sportsbooks available, it still has a large variety of sports to punt on and a massive gallery of casino games.
One of the greatest advantages that our Tornadobet review came across is eSports betting availability. The in-play markets have huge selections, and you would be wonderfully surprised at the games that you can punt on. The website also has a sleek and beautiful design that provides easy access to menus. Of course, the major appeals for new punters are the huge sportsbook and casino welcome bonuses.
Of course, there could be some improvement. Live streaming can improve in-play punting. At the moment, bettors have to rely on other sportsbooks that have this available. While the mobile version of the site is very user-friendly, it deserves a proper app with all the functionality of the site.
Tornadobet gets a well-deserved 7.9/10 rating. We will be sure to keep an eye out on this ever-growing new bet website, as we are sure it will introduce new games and functionality that will make the operator even better.
---