Ad disclosure
SilentBet (SB) is proud to be the partner of numerous renowned casinos and bookmakers around the world. As such, we do use affiliate links to earn commissions (at NO cost to our readers whatsoever). These aff links help us stay a cut above our competitors, delivering top-notch content you can trust. Take a look at the
Ad Disclaimer
page for more information on our affiliate business practices.
Not Available Any More
Unibet Lottery is no longer available. Unibet UK, Unibet DE and Unibet FI used to offer lotto sections. These are now unavailable. Choose another bookmaker that offers lottery betting. Some examples are:
Here is a Malta-based betting site that was founded in 1997 and one of nine brands that are owned by the Kindred Group. Originally opened as a sportsbook, Unibet casino quickly diversified its operation into a multi-platform brand. That saw Unibet expanding its betting operations to include casino, poker, and bingo, and in 2014, the company added Unibet lottery to its portfolio.
Since opening, Unibet Lotto has continued its expansion efforts and today, the company operates in more than 100 countries, supports over a dozen languages and boasts over 1 million registered users.
---
How to Play Unibet Lottery
Playing the lottery at Unibet is similar to how you play the lottery at a lottery retailer. The only difference is you are betting on the outcome of a lottery, and any winnings from your lottery ticket will be paid by Unibet.
However, before you are eligible to play the lotto you will need to create a Unibet account. To register a Unibet account, you will need to click the "Register" tab, select a welcome offer, and enter the information requested in the registration form.
Once registered, you can add funds to your account, navigate to the lotto section.
Choose one of the available lotteries and select the number of tickets you wish to purchase.
Read the rules and place your numbers.
Bear in mind you must be at least eighteen to open a Unibet account, and identity verification will be required.
---
Lotteries Available at Unibet
Unibet Lotto provides a uniquely designed lotto betting platform that features more than a dozen different lotteries from around the world. This includes lotteries like the EuroMillions, EuroJackpot, Powerball, MegaMillions and the El Gordo Christmas Lottery. While each lottery in itself is similar, the number of balls and the prizes are different. Below is a summary of a few of the more popular lotteries at Unibet.
PowerBall
The U.S. Powerball lottery is a multi-state lottery that is known for its record-breaking jackpots. Every Monday, Wednesday and Saturday, for a cost of $2 per ticket, plus $1 extra for the Power Ball option, each ticket offers up to nine ways to win, and each draw has a minimum jackpot of $20 million dollars.
Mega Millions
Mega Millions is another multi-jurisdictional state lottery in the United States that is held at 11 pm every Tuesday and Friday. Established in 2002, and offering a minimum $20 million jackpot, ticket prices start at $2 for an additional $1 the Megaplier option offers the chance at multiplying non-jackpot prizes by as much as 5x.
EuroJackpot
As a transnational European lottery, the EuroJackpot uses a similar format to many other lotteries and offers a multi-million euro jackpot every Friday night at 7pm. With tickets costing at little as £2 per lime, Unibet offers multiple line combinations and the opportunity to purchase up to six tickets simultaneously.
El Gordo Christmas Lottery
The El Gordo Christmas Lottery is a Spanish lottery drawn once a year on December 22nd. Anyone purchasing tickets can choose to buy a ticket or buy a share of a ticket. At a cost of £20, the El Gordo offers over 15,000 prizes and a maximum prize of £4 million. One of the world's oldest lotteries, Unibet offers the opportunity to wager on a numbered ticket, or participants can opt to wager on part of a ticket.
Irish Lottery
The Irish Lottery is another of the popular lotteries offered via Unibet Lotto. Available through Unibet Lotto for a cost of £2 per ticket, bettors have the option to play up to twelve sheets per ticket, with each ticket containing six numbers. Held every Wednesday and Saturday at 8 pm, each draw offers a minimum jackpot of £1.4 million.
---
Unibet Lottery Welcome Bonus and Other Offers
Similar to the other offers, the Unibet Lottery Welcome bonus is designed to specially target lottery players and will, upon making their first deposit, award a 50% bonus up to £10. To claim the Unibet lottery welcome bonus, bettors must make a minimum deposit of £20, and on receipt of their bonus, they must wager their bonus three times.
Likewise, the bonus must be wagered within 30 days, and withdrawals will not be permitted prior to wagering requirements being met. It is also important to remember that Unibet's terms & conditions stipulate that only one bonus may be active at a time. Moreover, it is important to note that this casino does not require the entering of a Unibet bonus code to activate the Lottery Welcome Bonus.
In addition, Unibet provides a variety of unique bonuses for its casino and live casino betting, and likewise, Unibet offers bonuses for sports and offers for Unibet Bingo and Unibet Poker. Currently, this includes a £40 Money Back Sports bonus and a £10 Casino Bonus, while bingo players can qualify for free scratch cards and daily missions, and poker players can qualify for free tokens.
---
The Unibet Lotto App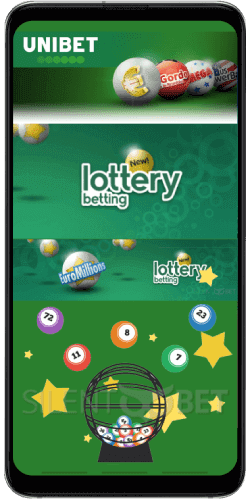 As a leading gambling site operator, it is not surprising to see that Unibet offers a variety of apps as part of its mobile betting options. The Unibet app is compatible with iPad and iPhone devices and is downloadable via the App Store. Whereas Android users can download an Android app via Google Play.
While the Unibet betting apps are a convenient option, Unibet enhances its mobile betting options with a mobile-compatible website. Similar to the apps, the website offers a wide range of options, including the option to access Unibet lotto. Likewise, it is optimized for mobile devices and features a variety of navigational and functionality features.
---
FAQs
How to win the Lottery Jackpot?
Depending on the lottery, you will need to purchase a ticket and match 5 to 6 balls plus the bonus ball.
Are deposit and withdrawal transactions free?
Yes, whenever purchasing tickets via Unibet lottery, deposit and Unibet withdrawal transactions are free.
Does Unibet Lotto publish any details about the lottery winners?
No, due to Unibet's privacy policies, it does not publish any details about the lottery winners.
Where can I find the most favourable odds for my bets?
Unfortunately, lotteries do not typically offer favourable odds. However, you can increase your odds by purchasing extra tickets.
Is it possible to place buy a ticket for a Unibet lottery that has already started?
No, you must purchase a lottery ticket before the winning numbers are drawn.