Ad disclosure
SilentBet (SB) is proud to be the partner of numerous renowned casinos and bookmakers around the world. As such, we do use affiliate links to earn commissions (at NO cost to our readers whatsoever). These aff links help us stay a cut above our competitors, delivering top-notch content you can trust. Take a look at the
Ad Disclaimer
page for more information on our affiliate business practices.
This is one of the top-ranked betting sites to place wagers on the most anticipated and beloved tennis matches and tournaments. Check this guide to find out more about the Unibet tennis betting features that you can benefit from. Payouts on tennis here range ~95.66% – 99.75%.
---
What Tennis Betting Markets Does Unibet Offer?
Once you choose the sport that you love and you want to place wagers, you will need an excellent set of markets to choose from. In this respect, Unibet stands out from the crowd offering its customers a great selection of tennis betting markets. They can help you place value bets and get one step ahead. Here are some of the top markets for tennis betting at Unibet.
Matches
Outrights
Win
Game Line
Set Offers
Over/Under
Total games
Set Line
Game Line
Set betting
Total Sets
Total Number of Tiebreaks
Bet pre-match or live. You can also check the Outrights markets to bet on winner (Each Way) long before a major tennis tournament like Grand Slam, for instance.
---
Live Tennis Betting by Unibet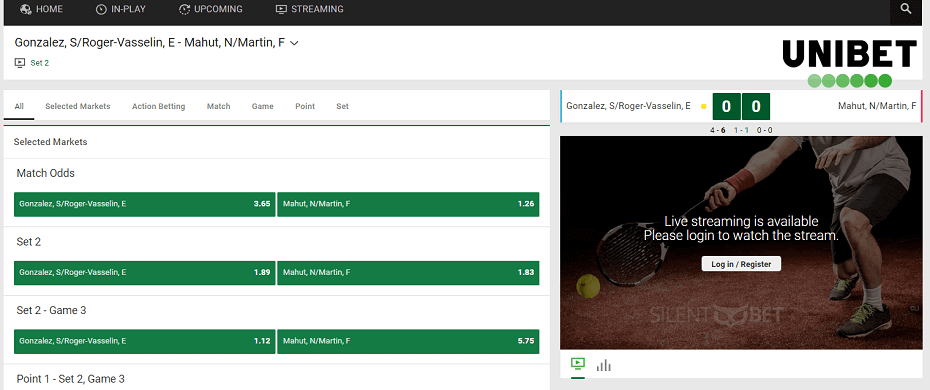 There is yet another component that makes Unibet an excellent choice for betting on tennis. The sports gambling site also offers a live betting section where punters can place wagers on current events and benefit from placing their bets at the right moment. The online bookie covers the matches from the ATP and the WTA.
What is more, is that you will be able to find some very convenient options. The bookie offers dedicated statistics for every live tennis event so that you can prepare your betting strategy better. Besides, the user interface is excellent allowing you to choose from options such as Selected Markets, Match, Game or Set.
The array of betting markets available in the in-play section is also impressive. On the list are over/under, set 1, set 2, total games, win, most games, total games, game line, set line, set betting and more.
Moreover, punters can have the chance to watch tennis matches live through Unibet TV. Once you access the live betting section, you will be able to use the dedicated live icon and follow the event in real time and place your bets as soon as you decide. Log in to watch the tennis live streaming.
The statistics and live score tab will reveal thorough information about the performance of the contendents. Unibet is known for offering extremely useful details and stats about the tennis players and the anticipated matches from the major tournaments.
---
Tennis Events You can Bet on with Unibet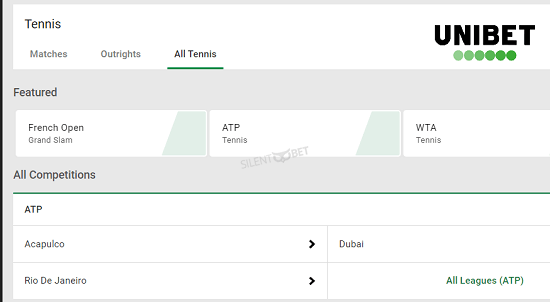 Unibet has always been trying to take a leading position when it comes to offering the best tennis betting services. And this is proven by the fact that the operator covers the top-ranked tennis events that you can bet on. There are many different tennis tournaments that provoke great interest among online bettors. And almost all of them are available in the Unibet sportsbook.
ATP Doubles
Challenger
Challenger Doubles
ITF Men
ITF Women
ITF Women Doubles
UTR Pro Tennis Series Women
WTA
Yet another great advantage of the online betting platform of Unibet is the fact that it is easy to use and navigate. Once you choose tennis as your preferred sport, you will access the respective section. There, you can easily pick your preferences. Simply choose an event, check the stats and click on the tab to place your bets within seconds.
---
Unibet Tennis Odds
The available betting odds (unibet tennis payouts ~95.66% – 99.75%) are also an essential part of the services offered by online betting sites. As a leading online bookmaker on the market, Unibet has managed to come up with tennis odds that are highly competitive to those that other tennis betting sites offer. The good thing about Unibet is the fact that the odds levels for the top tournaments such as the ATP and the WTA are well-balanced.
For instance, once you check the top matches from the ATP, and make a quick calculation, you can come up with profit margins ranging from 5.60% to 5.92% or 5.82% to 6.01%. On the other hand, the profit margins for the top matches from the WTA range from 4.87% to 6.91% or 4.84% to 6.99%. All this means that the Unibet tennis betting odds may catch the attention of bettors with different skills and preferences.
---
Available Unibet Tennis Bonuses
To keep the interest of its customers and to offer them more exciting opportunities, Unibet runs regular tennis betting bonuses. Thus punters can boost their accounts seriously and keep themselves engaged for good.
The operator offers daily live profit boosts on tennis. These promos will be extremely convenient for punters who want to grab extra rewards while enjoying their tennis betting experience. Punters can benefit from a 5% live profit boost on ATP, WTA, ITF Grand Slam and more.
Important!
Promotions on Unibet vary depending on your location. Always check the official site for up-to-date information.
---
FAQs
How does Unibet tennis betting work?
Unibet is a top-ranked online bookmaker that will offer you plenty of opportunities once you decide to place wagers on the top tennis matches. To bet on tennis at Unibet, simply register as we new customer and fund your account. It is as simple as that.
What are the Unibet tennis matches that I can bet on?
One of the greatest advantages of Unibet is that it supports all of the top-ranked tennis matches. You can place wagers on events such as the ATP, the WTA, and the ITF as well as the UTR Pro Tennis Series Women, the Challenger and many more. All this can provide you with lots of good opportunities.
Are the Unibet tennis betting odds any good?
Yes, Unibet is known to offer some of the most competitive odds when it comes to online tennis betting. Many bettors choose this bookie because the profit margins that it offers for the major matches are attractive enough. Even the odds for the primary events from the leading tennis tournaments are excellent.
How to place a bet on tennis at Unibet?
Once you access your account and fund it, head to the tennis betting section. There, you will be able to see the available matches. Click on your preferred selection and you will be able to choose the markets that you want. You can manage your bet slip accordingly.
Does Unibet offer live tennis betting?
Yes, Unibet also stands out thanks to its well-managed live betting section where you can choose from the same excellent array of tennis matches. You can find the most preferred betting markets as well. A live-streaming feature is also available for all major tennis events.