Ontario Content Disclosure
Silentbet Canada shows different content to players residing in Ontario. The reason is that we make an effort to follow the gambling guidelines as presented by iGaming Ontario (AGCO). So a review you access on SB CA may differ from one on SB ON.
Ad disclosure
SilentBet (SB) is proud to be the partner of numerous renowned casinos and bookmakers around the world. As such, we do use affiliate links to earn commissions (at NO cost to our readers whatsoever). These aff links help us stay a cut above our competitors, delivering top-notch content you can trust. Take a look at the
Ad Disclaimer
page for more information on our affiliate business practices.
| | |
| --- | --- |
| 💳 Betano Withdrawal | credit/debit card or eCashout |
| 💰 Max payout | $25,000 per bet |
| ⌚ Cashout time | ~24h |
| 👉 Withdraw from Betano | Link here |
Betano is a progressive-thinking betting site that offers a variety of Canadian-friendly payment options. Due to their progressive operational guidelines, Betano focuses on providing the option to enjoy same day withdrawal of as much as $50,000 per transaction, and similarly, processes transactions within 1 to 4 days. As such, the Silentbet team was tasked with testing the payout process step by step. Below is a summary of everything you will need to know about the Betano online casino payout process.
---
How Long Do Betano Withdrawals Take – The Quick Answer
For bank transfer payments, the typical processing time is between 1 to 4 days. However, this does not include weekends or banking holidays. If you opt to withdraw via credit or debit card, withdrawals are processed within one day, excluding weekends, and for Interac, the withdrawal time is one hour or less.
When you place bets at Betano and wish to withdraw money from your account balance, you may be wondering how long does it take to receive payment. Fortunately, when making a withdrawal from Betano, how long does it take for payments is a simple one to answer. After Betano performs the initial verification checks, the long does it take for the withdrawal time is determined by the withdrawal method.
---
How much is the Maximum Payout?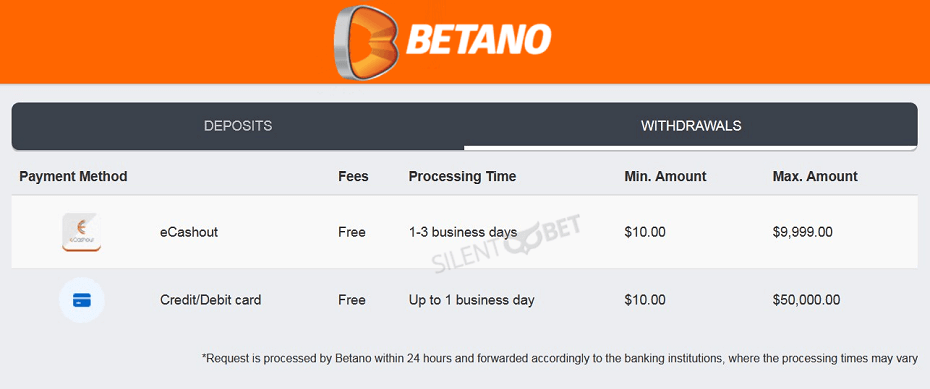 The next step in our Betano withdrawal article is to discuss how much is the maximum payout. As Betano Casino and Sportsbook offers several payment options, the maximum payout for each payment method differs.
Resultantly, bank payment withdrawals are capped at $10,000 per transaction, credit and debit cards are capped at $50,000, and Interac withdrawals are capped at $3,000. In addition to the Betano maximum payout amounts, the terms and conditions that govern withdrawals at Betano state that withdrawals must be requested via the Betano website and that electronic and telephone requests will not be accommodated.
Furthermore, only those accounts that are passed the verification process will be eligible for withdrawal processing and while Betano will attempt to accommodate the payment method chosen for withdrawal, withdrawals may be processed via a different payment method.
Moreover, should Betano deem additional verification documentation is required, or that documentation is suspicious, it may refuse withdrawal requests until such time that legal identification documents are provided.
Betano Maximum Payout for Sports
Similar to the maximum Betano payout for each withdrawal method, Betano has a maximum payout amount for sports (usually $25,000 with a single bet). This applies to the maximum amount payable when you place a bet on a specific sporting event. Fortunately, this amount is fairly competitive and is based on the maximum betting amounts Betano accepts. As such, we have included a table that indicates the maximum payout allowed to withdraw your winnings from sports that are favoured by Canadians.
Sport Maximum Payout

| | |
| --- | --- |
| 🏒 Hockey | $25,000 per bet |
| 🏀 Basketball | $25,000 per bet |
| 🏈 Football | $25,000 per bet |
| ⚽ Soccer | $25,000 per bet |
| 🏏 Lacrosse | $25,000 per bet |
| 🏌 Golf | $25,000 per bet |
Betano Maximum Payout for Slots
Like its maximum payouts for sports, Betano also adheres to the maximum payouts for slots based on the software provider's maximum payout tables. This varies from slot to slot and is based on the RTP and the number of possible winning combinations. While Betano offers a huge selection of slots, it would not be possible to list the maximum payouts for each. Therefore, we have included the max payouts for several of the most popular slots at Betano.
Slot Max Payout

| | |
| --- | --- |
| 🍭 Sugar Rush | 5,000x the bet |
| 🚂 Money Train 4 | 20,000x the bet |
| 🐕 The Dog House | 5,000x the bet |
| ⚡ Gates of Olympus | 6,750x the bet |
| 🌊 Big Bass Splash | 5,000x the bet |
---
All Betano Withdrawal Methods for Canada in 2023
| Payment Method | Withdrawal Minimum | Withdrawal Maximum | Time for Withdrawal | Taxes |
| --- | --- | --- | --- | --- |
| Interac | - | - | - | Free |
| Credit Cards | $10 | $50,000 | Up to 1 business day | Free |
| Debit Cards | $10 | $50,000 | Up to 1 business day | Free |
| ApplePay | - | - | - | Free |
| eCashout | $10 | $9,999 | 1-3 business days | Free |
Depending on the payment methods you choose for your withdrawal request, the amount you can withdraw will be dependent on the Betano withdrawal maximums. This applies to bank transfers, debit card payments, credit card payments, debit card and Interac payment if available in the province you reside.
Withdraw via eCashout
When selecting eCashout as a withdrawal method at Betano, the minimum payout limits is $10.00 per transaction, while the maximum withdrawal limit per transaction is $10.000. As for the withdrawal processing times, eCashout payments take 1 to 3 days and are free of any processing fees. However, processing fees may be applied for the processing of your withdrawal payment by your financial institution.
Payment with Credit or Debit Card
Similar to other iGaming operators, Betano offers a variety of credit card and debit card withdrawal methods. As each is unique, the depositing minimums and maximums vary according to the method in question. In addition, the payout limits differ as do the payout times.
Credit Cards
At the moment, customers wishing to withdraw to their credit cards have two options. The first credit card is Visa, while the other is Mastercard. Fortunately, neither incur withdrawal fees, and the payout limits are $10.00 and $50,000, respectively.
Likewise, this option is one of the faster withdrawal methods as payments only require one business day to reflect on your credit card statement. Unfortunately, you may only request a withdrawal by credit card if you deposited via credit card.
Debit Cards
Debit card withdrawals are processed within one day and are not subject to withdrawal fees. Moreover, the minimum transaction for debit card withdrawals is $10.00 and the maximum withdrawal is apped at $50,000. At the moment, those wishing to withdraw via a debit card can select Visa Debit and Mastercard Debit.
Can I Withdraw via Bank Transfer?
Yes, Canadian players at Betano can withdraw via bank transfer However, in order to withdraw to their bank, Canadians will need to select the "eCashout" option and follow the prompts. This will require that they provide their details, such as the name of their financial institution their account number, branch number, institution number and swift code.
Similarly, to process a withdrawal via bank transfer the minimum payment for a bank transfer withdrawal is $10.00, while the maximum amount per transaction is $9,999. Typically, theBetano payout time will take 1 to 4 business days before the payment will reflect in your bank account.
---
Do you need to have verified your account to withdraw?
Yes, you will be required to verify your account to withdraw at Betano. The Betano verification procedure requires that you upload several identity verification documents. This includes a copy of your driver's license or passport and a recently issued document that verifies your residential address. Unfortunately, this is unavoidable as it is part of the KYC requirement regulations that Betano must follow.
---
How to Withdraw from my Betano Account – Step-by-Step Guide
One of the nice aspects of playing at Betano is how easy it is to withdraw. As such, we thought we would include the Betano withdrawal steps so you could see for yourself how easy withdrawals are at Betano.
Step 1: Log into your Betano Canada account.
Step 2: Click the green "Deposit" button.
Step 3: Select "Withdraw" from the banking navigational menu.
Step 4: Select a withdrawal method and enter the amount to be withdrawn.
Step 5: Click "Withdrawal".
---
How Do I Cash Out My Winnings via the Betano App?
Similar to the bookie's desktop site. Betano has optimised its Android app so that players can easily withdraw funds via their mobile phone. Fortunately, the steps for withdrawal via the Betano app are identical to those used on the desktop site. Therefore, to withdraw via the app, you simply:
Log into your Betano Canada mobile app account.
Navigate to the Cashier page on your phone.
Tap "Withdraw" from the mobile banking menu.
Choose your preferred withdrawal method and enter a withdrawal amount.
Select "Withdrawal" to take money out of your account.
---
Does Betano Offer Early Payout Bonuses?
Yes, at the moment, Betano does offer early payout bonuses for hockey (3 goals ahead), baseball (5 runs ahead), football (17 points ahead) and basketball (20 points ahead). Along with hefty sports and casino Betano bonuses for Canada, there are also parlay boosters, parlay insurance and other sports-themed promotions. Similarly, you will find multiple promotional offers for the casino, such as Game of the Week bonuses, and Betano's daily reward offers.
---
Most Common Betano Withdrawal Problems and How to Solve Them
When withdrawing at Betano, you may run into some withdrawal problems. Fortunately, most of these are common issues, such as attempting to exceed the withdrawal maximum or your account has not been verified. Luckily, players can contact customer support to solve or rectify most problems.
#1 Your request exceeded allowed maximum
When submitting a withdrawal request, it is common for players to request an amount that exceeds the withdrawal maximum. You can resolve this issue by requesting an amount that is less than the withdrawal maximum.
#2 Your account has not been verified
A common problem that some players may experience is that they have forgotten to verify their account. In you have failed to submit the Betano verification documents, you will be unable to request a withdrawal. This is easily solved by uploading your verification documents via the "My Account" section at Betano.
#3 Using the wrong payment method
If you experience this problem, you must select the same payment method that you used to fund your account. Unfortunately, regulations require that Betano processes payments via the funding methods used for deposits. So choosing a VISA debit card for deposits and MasterCard debit card for withdrawals won't work.
#4 Your account is restricted
This is another common problem that can cause delays in the withdrawal process. This may be resultant of Betano casino requesting additional verification documentation, or you may have opened multiple accounts. If you experience this problem, your best bet is to contact support and provide info along with your bank transfer pending withdrawal requests.
---
Can I Reverse a Betano Withdrawal?
Yes, you can reverse a Betano withdrawal by logging into your account and navigating to the "My Account" section. On arrival, navigate to "Transactions" and select the "Withdrawal Cancellation" option. However, this option is only valid if Betano has yet to process your withdrawal. Hurry if you want a reversal because this brand is known for its same day withdrawals.
---
FAQs
Can I withdraw the Betano max payout in a single transaction?
Yes, you can the Betano max payout in a single transaction.
Why is my Betano withdrawal still pending?
Your withdrawal at Betano could still be pending for a variety of reasons. To find out the reason, you can contact the support team.
How long is the payout duration here?
The payout duration depends on the withdrawal method, but typically, the payout duration at Betano ranges from 1 to 4 days.
Will betano.ca charge me fees for withdrawing money from my account?
No, betano.ca will not charge you fees for withdrawing money from your account. There are no fees.
Can I request a Betano bonus payout before clearing the bonus?
Typically, you may not request a payout before clearing the bonus. However, if allowed, it will be stated in the terms and conditions.
Can I use credit cards with Betano?
Yes, you can use Visa and Mastercard when making a deposit or withdrawal at Betano.
Is it possible to change the currency of my Betano Canada account?
No, you may not change the currency of your Betano account (CAD, in out case), unless you move to a different country that Betano operates within. You will then need to re-verify your account before the currency is updated.