| | |
| --- | --- |
| 🎯 10bet SA Login | PC or mobile |
| ⌚ Sign-in Time | ~1 min |
| 🚨 South Africa account problem | forgot password |
| 👉 10bet.co.za login link | Login here |
Learn the 10bet login procedure to avoid glitches and mistakes tested by Silentbet experts who also wrote the 10Bet South Africa review. To do this, you need the 10bet.co.za login account details at your fingertips. The login process is easy, and we have tried it out to give you the ultimate experience. We have discussed the login process, how to reset your password and problems you might encounter on the way.
---
How to Log In 10bet Account from SA?
When you create an account at 10Bet, you get to determine your username and password. These two essential credentials will help you access your account whenever you need to play. To log in, follow these steps: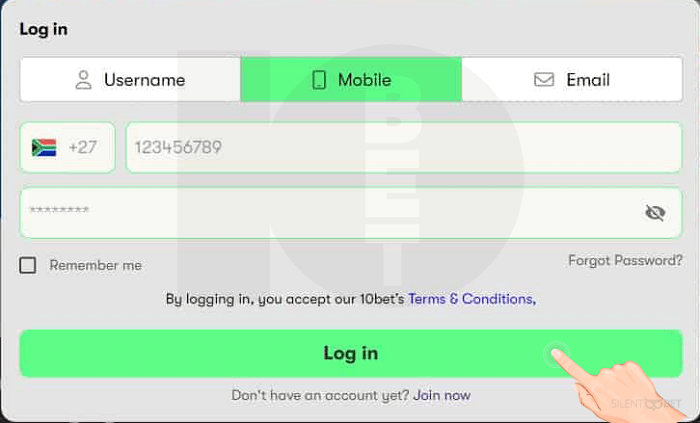 Load the official 10Bet.co.za website
Click the Login button
Choose username, mobile or email login
Enter your password
Choose if you want to remain logged in
Hit the Login button
To make the 10bet login South Africa process more approachable, let us dig deeper into the procedure.
Step #1: Load the official 10Bet website
Firstly, log into the official 10Bet.co.za website. Avoid mirror links that may lead you to the same website.
Step #2: Click the login button
On the far-right corner, locate the white 'Log in' button. When you click on it, you will see the login form that requires you to enter your credentials.
Step #3: Choose a username, mobile or email login
10Bet offers you three login options. You can use your username, mobile phone number or email address. Choose the one you would like to use for login purposes.
Step 4: Enter your password
When you select the login method, enter your secret password correctly. A wrong password means you won't access your account.
Step #5: Choose if you want to remain logged in
10Bet allows you to remain logged into your account. You will autosave your login credentials when you check a button just above the login button.
Step #6: Hit the login button
When you key in your login details, the grey login button will go green. Click on it to log in, enter your 10bet account, and start playing.
Samuel Karugu, Betting Expert & Writer at Silentbet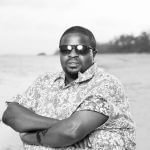 I tested the whole 10bet South Africa login process step by step to come up with this guide. I hope it helps our readers log in their accounts quick and easy in under a minute to start sports betting.
---
Login via Phone – Mobile Sign-In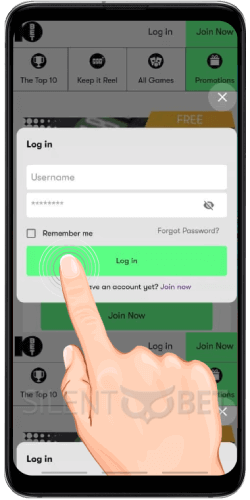 Currently, 10Bet Bookmaker has a standalone app for Android users. But, there is none for iOS players. Perform the 10bet app download, on their official site, remember to allow installation from unknown sources on your phone.
If you are playing on the 10Bet app, you can log in through the below steps:
Download and install the app or open the bookmaker site on a mobile device.
Secondly, click the 'log in' button on the far right.
Next, choose your login method and then enter your password.
Finally, hit the 'Log in' button to finalize the process.
Can I Use DataFree App Login
Currently, 10Bet app does not support data-free browsing for sports betting, slots and live casino games. However, you can use the app in data saver mode. The login datafree or not reamins the same.
---
No Account Yet? Register First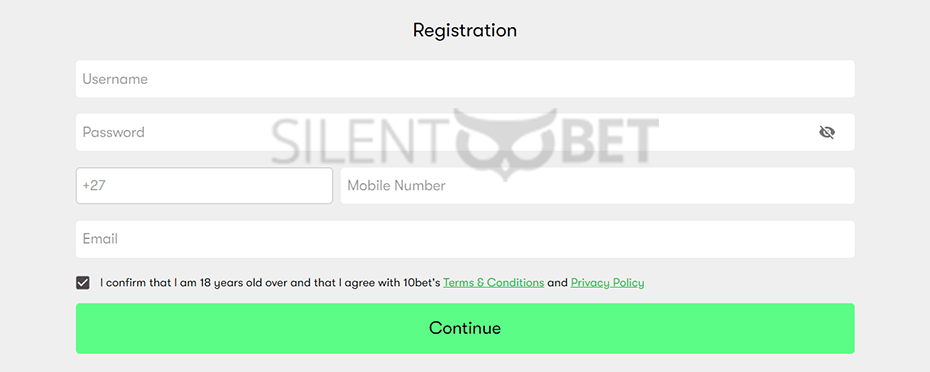 Are you a player who wishes to enjoy betting at 10bet but doesn't have an account yet? We got you. We have listed all the account registration steps to start enjoying staking at the bookie.
Below are the sign-up steps.
Sign Up Steps:
Load the official 10Bet website, and on the far-right corner, locate and click the green 'Join Now' button.
Enter your name and mobile number, followed by your ID type and number.
Next, enter your email address followed by a password for your account.
Confirm you are 18, agree with the 10Bet's T&Cs privacy policy, and consent to receive marketing messages.
Lastly, click the green 'Join Now' button.
---
10bet South Africa Login Problems & Solutions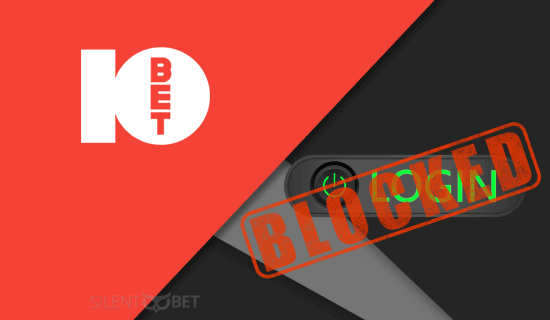 When doing 10bet.co.za login, you can experience various problems. These problems are common, but they should not scare you. In the part below, we look at the issues and possible solutions.
10bet Lost Login
At times, you may forget your login details. In this case, you will need to replace your lost login details. But how do you do it?
Password Reset
To reset your password, click the 'Forgot Password' option on the log in form. You will then need to select the password resetting method and enter your mobile number and birthday to proceed.
Make sure you write down your new pass so that you can skip the forgot password exercise in the future.
Changed Cell Number
If you get a new phone number (which you need for the login details), you will need to contact support for assistance to change it. You must provide your cell mobile number, ID, and full name.
10bet Login Unavailable
At times, the 10Bet website is not available at all. This may be due to any of the following reasons:
Site Under Maintenance
At times, the 10Bet site is under maintenance. This makes the betting entertainment site inaccessible. The solution is to keep trying to log in until the site resumes.
Connectivity or Technical Issues
If your internet connectivity is problematic, you will not access the 10Bet website and South Africa account. Check your internet to ensure it's working perfectly.
Logging In with IP Outside of S.A
If you are not in SA, any login attempts will not go through. You will get an error message saying you cannot log in from a restricted jurisdiction.
10bet Login Interrupted
When logged in and enjoying the bookmaker, you may be surprised that you are automatically logged out. This may be due to any of the following reasons:
Expired Session
Your browsing session will expire when you remain logged in for too long. Consequently, the bookmaker will log you out automatically.
New Login on Another Device
At any given moment, you should be logged into your account through a single device. You will be logged out when you log in to multiple devices.
10bet Login Blocked
You cannot log into your 10Bet account if your account is blocked. Some of the reasons for a blocked account include:
Self-exclusion
If gambling is challenging, you may choose to self-exclude your account. This means you cannot access your account. Unfortunately, accessing your account is only possible once the self-exclusion period ends.
Account locked by 10Bet
If you violate the terms and conditions of the bookmaker, 10Bet will block your account. This denies you access automatically.
Besides, it can be blocked for security reasons.
Unsuccessful FICA
To punt at SA bookmakers, you must verify your account by submitting proof of identity and address. If you don't submit the two, or one of them is rejected, your account may be blocked by 10Bet.
Samuel Karugu, Betting Expert & Writer at Silentbet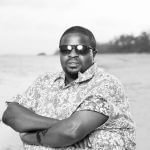 Testing the 10bet.co.za log in from S.A. myself I can say that there were no issues at all. If the login is not working it usually means there is a problem with your account or internet connection. Hope you can quickly solve all problems with your South Africa account which this guide aims.
---
Contact Support for Login Help
You can contact the 10Bet customer support through any of the following methods:
The customer support of 10Bet is available 24/7.
---
The Bottom Line: 10bet Login South Africa will Only Take a Minute
10Bet is an incredible bookmaker by all measures. As seen above, the process of 10bet.co.za logging in is simple. It will not even take you more than a minute. However, the 10bet login process (validated in S.A. for December 2023) has a heap of issues. But you can always troubleshoot the issues through all the solutions we have given in this article.
---
FAQs
Can I Log in to 10bet South Africa?
Yes, you can do a 10Bet log in South Africa for sports betting.
Am I allowed to use a VPN to sign in?
No, you are not allowed to use a VPN. Your account could be closed.
Why is the 10bet.co.za login link not working?
It could be because the site is under maintenance. Besides, you could have a poor network to check on.
What is the 10bet login bonus for SA players?
What is the data-free login link for 10bet ZA?
South Africa does not offer a data-free app for online sports betting for SA punters.
Why register and login at 10bet.co.za SA?
The site offers unique betting and iGaming options for South African players. Among them are substantial jackpots, sports betting live and pre match, casino games and free bets.