| | |
| --- | --- |
| 🎯 Bet co za SA Login | PC or mobile |
| ⌚ Sign-in Time | ~1 min |
| 🚨 Log In Problems | VPN access or forgotten pass |
| 👉 Bet.co.za login link | Login here |
Online sports betting at Bet co za will require you to have a real money account. Once you register, you get your Bet.co.za login details that you will use to access your account. Betcoza is one of South Africa's top betting sites and the reason they do not offer casino games.
The login process at the bookie takes less than a minute. We came up with this guide after the Silentbet team tried out the log in procedure. You can be sure that your betting experience will be worthwhile since the bookie is regulated and licensed by Western Cape Gambling & Racing Board.
Samuel Karugu, Betting Expert & Writer at Silentbet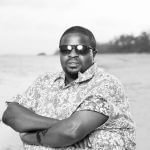 I personally tried the Bet.co.za login process as described in this article. It took me a minute to access my SA account. Let me show you how.
---
How to Log In Bet.co.za Account?
Follow these steps to get to your online betting account at Bet.co.za.
Open Bet.co.za site
Click the 'Login' button
Enter your username
Key in your password and note that it is case sensitive
Click the green 'Login' button to begin betting
Once logged in you can head to the promotion's page for the welcome bonus.
Since Silentbet team (Samuel, our author in particular) took the time to log in step by step, here is a breakdown of the process:
Login Step #1: Open Bet.co.za login site
Under the first step, ensure you load the correct link. You should not use mirror links or any other link apart from the official one.
Login Step #2: Click the Log in button 
On the top right corner next to the 'Join Now,' there is a white login button. When you click on it, you get the username and password field to fill in your credentials.
Login Step #3: Enter your username
When creating an account, you had the chance of coining a unique identifier. This is what you key in on the username field. You can also enter your email address.
Login Step #4: Key in your password
Below the username, there is a password field to enter your password. Ensure the password is correct to access your account.
Login Step #5: Click the green 'Login' button
When you correctly enter your password and username, hit the green 'login' button. This gives you access to your account.
---
Login via Phone – Mobile Sign-In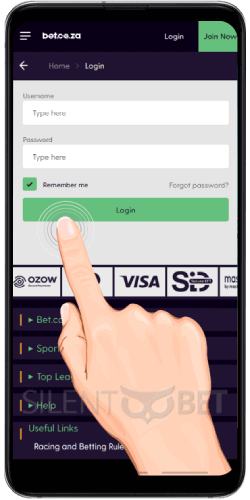 There is no standalone Bet.co.za app download available. Thus, both Android and iOS players can only play via the mobile website.
Bet.co.za login app process involves the below steps. 
First, load Bet.co.za site on your mobile device.
Locate the white 'Login' button on the far-right corner.
Next, key in your username followed by password
Finally, click the green 'Login' button to access your account.
Can I Use Data-Free App Login
No, you cannot use any data-free app login to play in Bet.co.za. To play at the platform, you need reliable internet connectivity that helps you connect to the bookmaker's website.
---
No Account for Online Sports Betting Yet? Register First
If you are new to Bet.co.za login, you need to register a player account via Bet co za registration. Here are the steps to follow:
Sign Up Steps:
Load Bet.co.za site and on the top right corner, click the green 'Join Now' button to load the registration form.
On the form that pops up, enter your personal details on the first page. These include gender, name, birthday, and email.
Move on to provide your contact details on the next page. These include country, state, mobile number, ID number, address, city, and postal code.
Besides, create your logins, and select your currency and source of funds.
Confirm if you were referred, prove you are human and agree with the T&Cs of Bet.co.za
Finally, click the green 'Create My Account' button.
Proceed to make your first deposit and remember to redeem the welcome bonus
---
Bet.co.za Login Problems & Their Solutions
When trying Bet.co.za log in process, you are likely to encounter certain problems. However, you could try out a variety of solutions discussed below for every issue.
Expired Sign in
When you log in and stay inactive for long, you will be automatically logged out. To solve this issue, log into your account again. Besides, try to remain active when logged in.
Live Login Session on Another Device
To avoid people logging into your account, Bet.co.za does not allow logins from multiple accounts. Therefore, if you are logged in on one device, you can't log in through another device.
Consequently, you need to ensure you are only logged in through a single device to remain online.
Password Reset
Since you need a secure account, you may be tempted to set a strong password that you could forget.
If this happens, you can reset the password through the 'Forgot password' button on the login section. You will get a verification code and link for reset.
Technical Reasons
At times, you may not access your Bet.co.za account for technical reasons. For instance, the website may be down or under maintenance.
Certainly, you should keep reloading the bookmaker site to see if it works.
Unsuccessful FICA
When you a betting account, in most cases you get a verification code. In this case, you need to submit your FICA documents for verification. However, not all the documents you submit will be accepted at times. This means you resend the verification documents.
Blocked Account
There are many reasons why Bet.co.za could block your account. Among them include violation of terms or security issues. Besides, engaging in fraud will lead to account suspension or termination.
If your account is blocked, you could reach out to the customer support through email for assistance.
Connectivity Login Issue
If your internet is not strong enough, then it is not reliable. As a result, you may find yourself loading Bet.co.za for a long time without any success. Ensuring that your internet connection is strong enough guarantees you a smooth experience.
Logging In Outside of South Africa
Betcoza online login is only allowed in SA. Trying to access it from another country will not work.
Ensure you are in S. Africa when loading the bookmaker site.
---
Contact Support for Login Help
If you come across any of the issues we discussed above and you don't manage to solve them, you can seek assistance from customer support. Bet.co.za has a lot to offer to their customers and getting help should not be one of them.
Use any of the below contact methods for issues with your new account, first deposit, sign up bonus or more.
Telephone – 0861 238 000
Live chat – Available on the bottom left corner of your screen
Help center – On the footer under 'Help' link
Email – support@bet.co.za
---
The Bottom Line: Betcoza Login South Africa in 1 Min
Bet.co.za log in process is simple (login validated for December 2023). Provided you have your username plus password ready, you are good to go. Since forgetting these details is common, the bookmaker gives you a 'Forgot password' option to ensure you can easily reset forgotten details. Finally, there is the customer support to sort out any issues you may encounter.
---
FAQs
Where is the log in button at Bet.co.za?
You can log into Bet.co.za account by clicking the log in button on the official website of the bookmaker.
How do I recover Bet co za login details?
If you forgot Bet.co.za login my account details, hit the 'Forgot password' option and reset your account. If it's a username, contact customer support.
Why is Bet co za login link not working?
It could be your internet connectivity that has issues. Try reconnecting again. If it doesn't work, clear your browser cookies and login again. 
Can I use a VPN to access Bet.co.za South Africa?
Yes, you can use a VPN to access Bet.co.za South Africa. However, it is not allowed, and your account could be blocked. 
What is Bet co za login bonus?
The login bonus is R1000. But, this Bet co za bonus is only available when you log in for the first time as a new player.
What are some betting tips to mind after login in?
The best betting tips we can give you is to check out the responsible gambling page and set up deposit and session limits.
What betting products does this brand offer after signin?
Bet on horse racing, 30+ sports, slots, bet games, live games and lotto after hitting the Join Now button.