Pending withdrawals are a bother. Still, Hollywoodbets ZA is a fair casino. It always pays out winnings to players on time (within 24 hours of request). Customers can use various methods to withdraw funds on the site. These include EFTs, bank transfer, and FNB e-wallets. Every transaction you make in the casino will be added to your withdrawal history. This guide will show you how to check withdrawal history on Hollywoodbets in 2 easy steps.
---
Steps to Check Withdrawal History on Hollywoodbets South Africa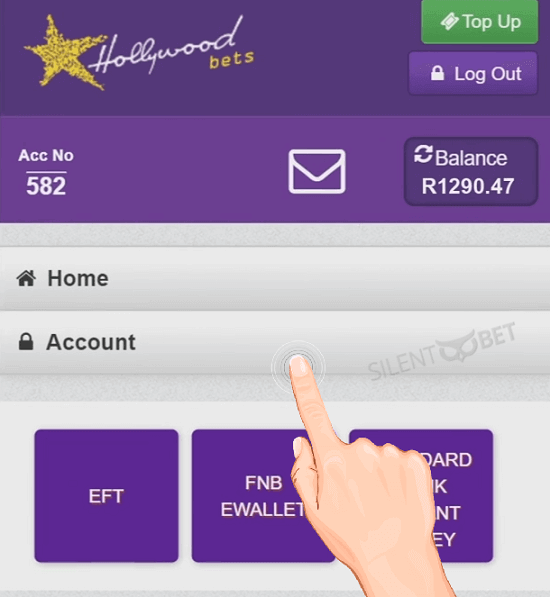 You can start by signing into your account. You can then follow these steps to check your withdrawal history.
#1 Click the link labelled 'Account'. It is positioned just below the login button.
#2 Click the 'Statement' link and go through the withdrawal history.
#3 Select the dates (time period) to check cashout transactions.
#4 Look for the Pending label as it signifies withdrawal that are still NOT processed.
This statement lists all the withdrawals you have ever made on the site. You will be able to see the withdrawal amount and the date of the transaction.
---
Steps to Delete Your Hollywoodbets Withdrawal History
Hollywoodbets ZA also allows players to delete their withdrawal histories. To do this, you have to follow these steps.
First, you should log into your Hollywoodbets account.
Then you can go to the 'Account' section.
Next, you can click on 'Statement'.
Finally, you'll be able to clear your withdrawal history.
After clearing your withdrawal history, your next withdrawal will appear as the first transaction in the statement. You should note that clearing your withdrawal history may not always be a good idea. This is because disputes may arise regarding your withdrawals. Having a record of your transactions can help settle such issues. You should also keep these records to see how much money you are losing or winning.
---
Steps to Withdraw Money from Hollywoodbets
Withdrawing money from Hollywoodbets is very simple. You should start by confirming that your bank details are correct. You can then follow these steps to withdraw money from your account.
First, log into your Hollywoodbets account.
Then click the link labelled 'Account'.
After that, you can go to the 'Withdraw' section.
Then enter the amount you want to withdraw.
Finally, you should confirm the transaction.
Note that the casino will only allow you to withdraw money after completing KYC. In our case, this means uploading Hollywoodbets FICA documentation. Also, you have to wager deposits before withdrawing funds. These policies are meant to prevent money laundering.
---
FAQs
How often should I check my withdrawal history at Hollywoodbets?
You should make a point of reviewing your withdrawal history at least once a month. Checking the statement can help you determine how much you are losing or earning in the casino.
Is it safe to withdraw money from Hollywoodbets?
Yes, this SA casino was developed with SSL encryption. That means your payment details won't be accessible to hackers. The site is licensed by several bodies, so it has to process withdrawals safely.
Can I cancel a withdrawal at Hollywoodbets SA?
Yes, you can cancel withdrawals before they are processed by the casino. Typically, Hollywoodbets South Africa completes withdrawals within 24 hours. That means you will have around 24 hours to reverse withdrawals.
How long does it take to receive my withdrawal at Hollywoodbets?
Hollywoodbets casino will usually process withdrawals in 24 hours. However, you may not always get your funds within 24 hours. Some payment processors will take a few hours or days to complete the transfers.