Ad disclosure
SilentBet (SB) is proud to be the partner of numerous renowned casinos and bookmakers around the world. As such, we do use affiliate links to earn commissions (at NO cost to our readers whatsoever). These aff links help us stay a cut above our competitors, delivering top-notch content you can trust. Take a look at the
Ad Disclaimer
page for more information on our affiliate business practices.
When partnering with 1xBet affiliates, you can earn up to 25% commission (*lifetime). Recommend players to sign up at the bookmaker by marketing the brand. The more new users you refer, the higher the commission.
---
1xBet Affiliate Program Explained
Anyone can join 1xBet Partners, a popular affiliate program at the bookmaker.
When you join the program, you can earn some commission depending on the number of punters joining the platform from your referral link.
This article will explore the A to Z of 1xBet Affiliate, making you understand every detail. Let us get started now.
| | |
| --- | --- |
| Name of Program | 1XBET Partners |
| Affiliate App | Android Only |
| Number of Partners | 20 000+ |
| Daily Visitors | 700 000+ |
| Languages | 49 |
| Payments | 160 options |
| Join | 👉 here |
---
How to Become a 1xBet Affiliate?
To start enjoying the 1xBet affiliate program, you need to join the 1xBet Partners program. The next big question for any interested punter would be how to become an affiliate.
To become an affiliate, you only need to register an account. To simplify the registration process, we have broken it down into the below steps that you can easily follow: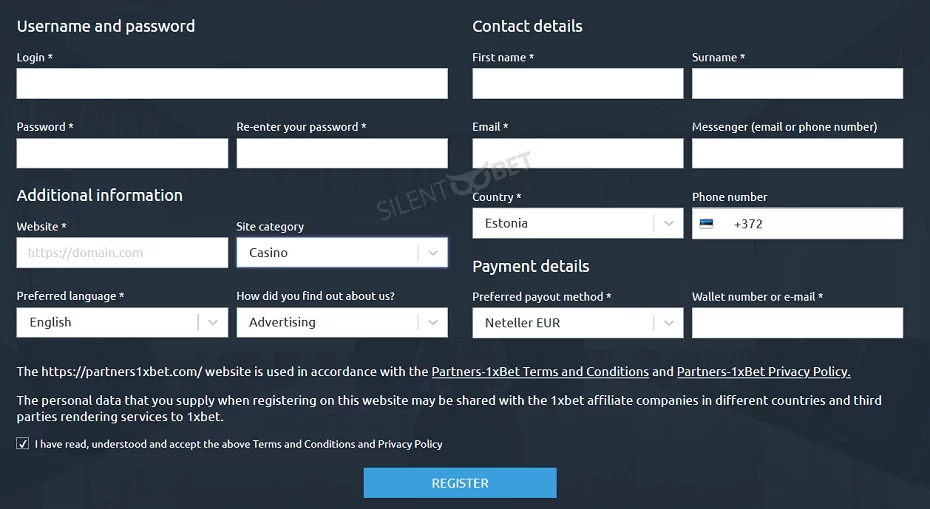 Load the official website of 1xBet and head straight to the footer where you should locate and hit the 'Affiliate Program' button.
The link will open up on the affiliate programme site, and here, hit the 'Registration' button in the right-hand corner.
On the details form that shows up, start by entering your username, password, email address, and phone number.
Proceed to enter the affiliate website, website category, preferred language and how you heard about the 1xBet Affiliate Program.
Move on to enter your country, phone number and payment methods
Read and agree with the programme terms and conditions and hit the 'Register' button to complete the application process.
Once you submit your application, it will be evaluated, and the 1xBet Affiliate Team will get back to you with the verdict. If successful, you will start your affiliate business at 1xBet Partners immediately. They will assign a personal manager and get your account going.
---
Who Can Benefit from the 1xBet Affiliate Partners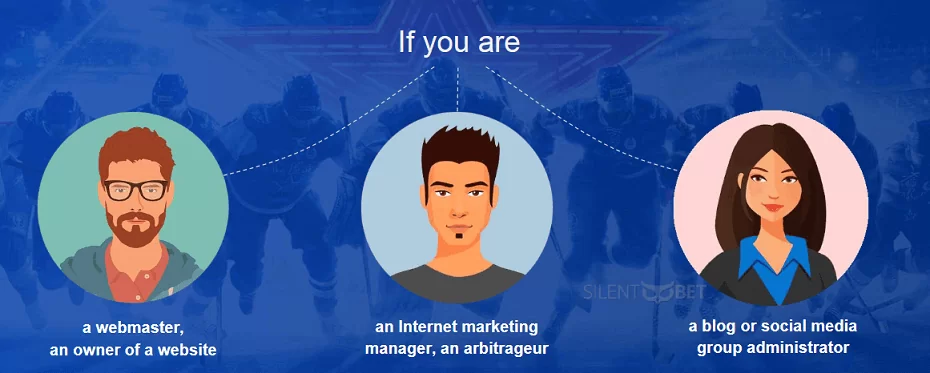 Essentially, anyone can benefit from the 1xBet Partners programme. Provided you know how to do your internet marketing correctly, you will get some traffic, which translates to some commission.
However, the beneficiaries of the 1xBet Partners programme can be categorized into the following:
Website Owner/Webmaster
Internet marketing managers
A blogger
Social media group administrators
Usual 1xBet bookmaker punter
In the above, all these parties can benefit from the 1xBet Affiliate programme provided they have access to a social media or blog account where they can display their unique conversion link. Besides, they can display the marketing materials given by 1xBet Partners affiliate programme.
---
How Does the 1xBet Partner Program Work?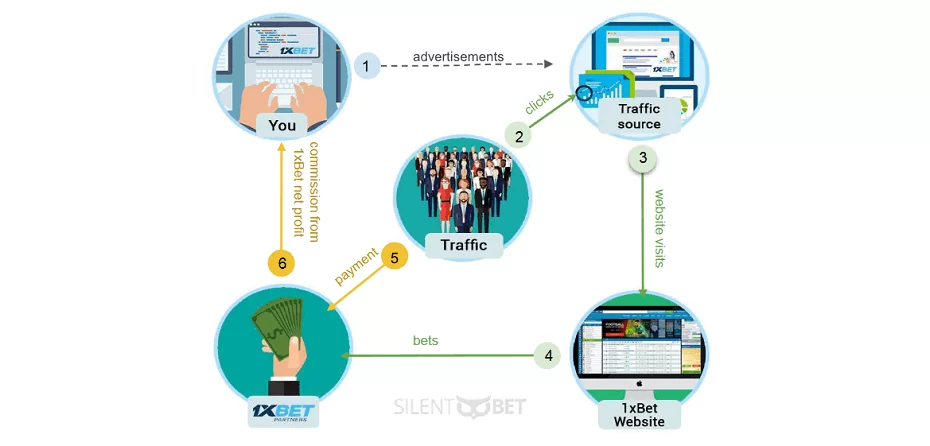 To benefit from the 1xBet Partners, you need to know how the programme works. Only then will you be able to take advantage of this opportunity.
To make the process straightforward for everyone, let us break down the process into simple steps as shown below.
Registration
First, you need to register with the 1xBet Partners. To do this, open the 1xBet website and on the menu at the left, click 'Affiliate Program', and you will be directed to the 1xBet Partners website.
Here, hit the 'Registration' button and provide your details, including name, email address, country, phone number, login details, phone number and your website, among others.
Afterwards, the evaluation will be done by the 1xBet Partners, and if you qualify, you will be given the go-ahead to continue with the program.
Mind you there is no native language requirement to promote 1xbet around the world in different jurisdictions.
Placing Advertising and Marketing Materials
After you are given the go-ahead at the registration part, you will start receiving advertisements and marketing materials from the 1 x Bet Affiliate program.
Some of these advertising materials include charts and banners, among others. If you want to come up with your materials, you can liaise with 1xBet partners to receive a go-ahead.
Refer Your Website Visitors
When you place your advertisements, people will start visiting your website. Here, they may join 1xBet using the link you provide.
Once they register and start depositing for a play, you will be paid some of their deposits as a commission by the 1xBet Partner deal.
Payments
When you do your work well, the 1xBet will chip in to pay you your commission. If punters join through your particular conversion link, be ready to receive some commission depending on the number of punters who join the bookmaker through your unique link.
---
How to Create a Campaign and Generate an Affiliate Code
When everything is set and ready to start marketing, you must create a campaign and generate an affiliate link. When a punter registers at 1xBet through this link, you will earn some commission depending on how much cash the punter deposits into their account.
But the question is, how do you create an ads campaign and generate the referral link for your player account. Relax as we have got your back in the following steps.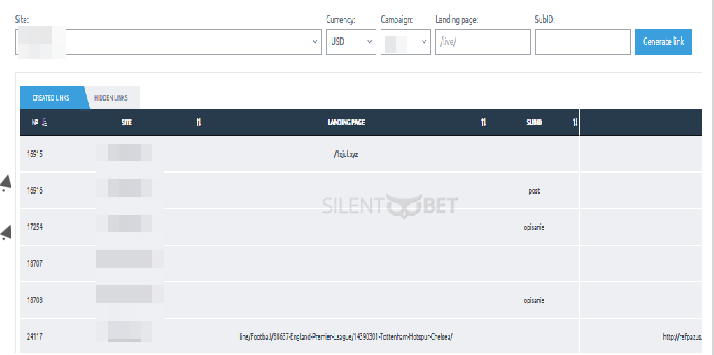 Log into your 1xBet Partners affiliate account and go to the dashboard
Click on 'Websites' and enter the URL of your website on the blank provided
Select your category; in this case, you can choose 'Sports predictions'.
Choose your language and click on the blue 'Add site'.
On the far left, locate and click 'Affiliate Links', and from the drop-down menu on top, select the website you wish to create the affiliate link for.
Choose the currency to use and proceed to select the OS or the country, and enter the website landing page that you wish the punters to access
Enter the name of the campaign and hit the 'Generate Link' button.
After this, your link will be displayed on the dashboard, and you can copy it and start your marketing exercise.
---
Where to Place your Advertisements As a 1xBet Partner
If you are accepted to become a 1xBet Partner, you could note the following potential places where you can place your advertisement as a punter.
Websites/landing pages
Blogs and social media
Banner advertising
Video advertising
Forums
Direct mailing services
Viral advertising
Teaser advertising
PTC and GPT websites
If you choose to promote 1xbet on your site, make sure the website experience is up to par. No bugs or lags will help you send in new users to the platform.
Even if you cannot advertise in each of the above, you can choose several advertising places and see how things turn out for you.
---
What Commission Rates Does 1xBet Pay?
When you join 1xBet Affiliates, you stand a chance to enjoy up to 25% high commission rates for all new players who join the bookmaker through your conversion link.
Therefore, you need to do as much as possible to ensure you bring new players on board, as the higher the number of punters you bring in, the higher the amount of commission you earn on the given percentage.
As per the official info on the 1 x bet partners site, the average affiliate starts off by earning $944 a month. This sum goes up with time. Also, the regular payouts are a perk that you should not overlook. Reviews by the widest audience online confirm some affiliates that are doing very well get paid every week.
---
Is There a Sub Affiliate Program?
When you sign up for the 1xBet Affiliate Partners and work under the program successfully and for a long time, 1xBet Partners allows you to have another affiliate who can work under you. This is called the Sub Affiliate Program.
In the sub-affiliate program, you will have a certain number of partners running their affiliates you refer. Therefore, you will be able to monitor their progress. You can quickly tell how much they earn as profit and eventually get a share of their profit as these are your affiliates.
When you are accepted as an affiliate at 1xBet Partners, you will have the chance to start a sub-affiliate program, provided you qualify.
---
The 1xBet Affiliate App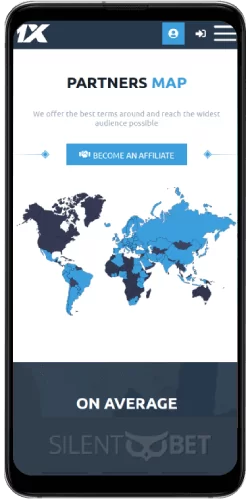 To create a unique experience and enable punters to make the best of it, 1xBet Partners have developed a dedicated mobile affiliate app for program.
This app simplifies your aff management
by putting the control of your marketing business in the palm of your hands.
To obtain this app, check the 1xBet Partners website in the upper right corner, and you will see an option to download the Android APK file.
The installation process is easy, and registration is also a walk in the park. If you already have an affiliate account, you only need to log into your account after the installation. Below are the pros of using the 1xBet Partners app for affiliate marketing.
Use the app to get better selection of promo materials and other bonus campaign banners quick and easy. Bear in mind that it may collect information while using it.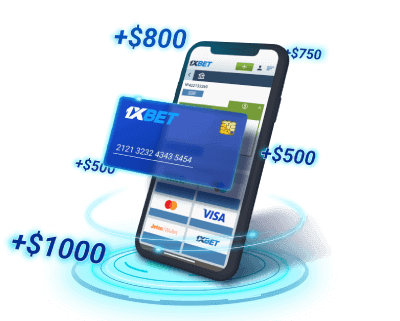 Easy to use due to its familiar interface
Extremely fast
Highly mobile for you
Safe and secure due to the applicable two-factor authentication
It helps you get push notifications that keep you updated on anything in your affiliate account
---
Why Join this Partner Affiliate Program?
There are several reasons why you should consider joining the 1xBet Aff Program. Some of these include:
Great support
1xBet gives its punters excellent support to ensure their marketing exercise is simple. The flexible program goes to the extent of designing marketing material for its clients.
Flexible Payments
When you join 1xBet partners, you will enjoy weekly payments. Moreover, you will have a lifetime commission. You are assured of exponential income growth, provided you continuously do your marketing.
No limit on referrals
1xBet Partners does not limit the number of customers you can have as an affiliate. You can accumulate players unlimitedly and increase your chances of getting commission. When you get to a point and stop landing new referrals, 1xBet Partners pays you a commission based on the people you sent to their site earlier.
---
Terms and Conditions to Consider
Of course, every online bookmaker is governed by a set of terms and conditions and the same case applies to the affiliate programs like 1xBet Partner.
Before you register your affiliate account, you will need to read and get to know its terms. Your signup will not be processed until you agree with the terms and conditions of the affiliate program. To learn about the terms, you need to check under the 1xBet Partner terms and conditions at the top part of the 1xBet Affiliate Programme website.
Mind you that the terms here will not very as all requirements in the best online casino affiliate programs in the sector are quite similar.
---
How to Contact My 1xBet Affiliate Manager
If you wish to contact 1xBet Partners for any reason, you can locate the 'Contacts' button on the upper menu. Upon a click, you will see the email address that you should use. Here is a full list of contacts with 1xbet partner if you need support from your affiliate manager.
---
Frequently Asked Questions
Is the 1xbet partner program free to everyone?
Yes. As long as you are of legal age, you can sign up for the 1xBet affiliate program and enjoy the perks of being your own boss.
How long will I earn the commissions from the players signing up through my links?
This will be a lifelong earning opportunity. You get to be your own boss and earn passive income from the players.
Do I have to refer new customers to 1xbet every month?
There is no minimum limit of referrals you need to meet.
---