Where to bet safely in Australia and which online bookmakers to join?
Take a look at the table we have provided for info on the TOP betting sites for Australian players. See what signup offer is available and take your pick. Alternatively, read on to get an insight into each bookmaker and the services it has to provide punters.
£40 Bonus for New Players
Features

Show all
Live Streaming
Live Betting
Cashout
Casino
E-Sports
Live Casino
Poker
Virtual Sports
Bet Builder
Request a Bet
Payments

Show all
Get up to 100% up to €122 for Signup
Features
Live Betting
Cashout
Casino
E-Sports
Live Casino
Payments

Show all
Features

Show all
Live Streaming
Live Betting
Cashout
Casino
E-Sports
Live Casino
Poker
Virtual Sports
Bet Builder
Request a Bet
Payments

Show all
Best Bookies in Australia Ranked
Australia's TOP bookmakers
Seeing that the government prohibits interactive gaming, the world top bookmakers enter the market with customized products. Some will offer sites with sports betting exclusively, without risking to include the online casino bit. For others, they opt to go all the way and offer a complete online gaming and betting catalogue. In this section, we will highlight the top bookmakers Australia has to offer. Even though for some of these best bookmakers are not based in Australia, they operate as reliable offshore betting sites.
Unibet
Our #1 pick is another new entrant in the online gaming industry that has been causing ripples. Unibet as a company has rapidly grown into new markets and currently serves a global clientele across various continents, including Australia. The vast variety of promotions surely deserves your attention.

In addition to the regular sports betting catalogue, Unibet has also thrown in a number of virtual sports which could come in handy your favourite team is not in action.
Pros
Has an option for mobile gaming
Supports plenty of payment methods
Supports live streaming
Offers 24/7 customer support including live chats   
Cons
Tends to be slower in processing withdrawals
he website appears a bit too cluttered
---
22bet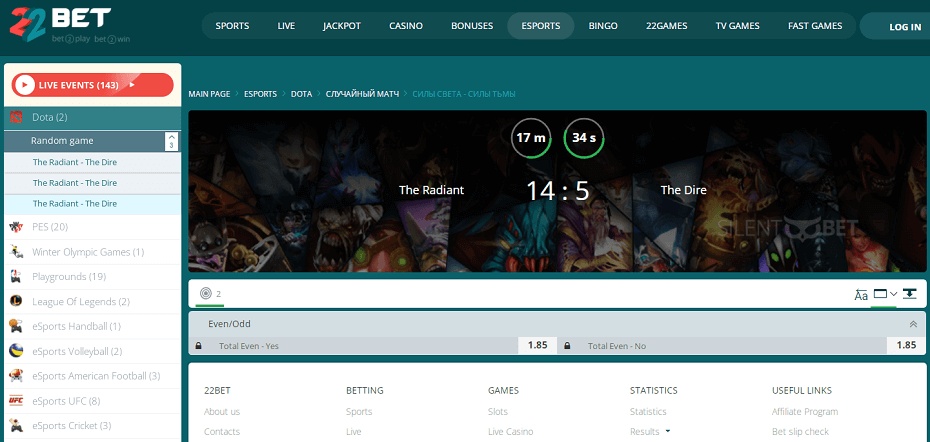 As you most probably know 22bet has become such an iconic brand in the global online betting and gambling industry.

The company has been heavily involved in sports and eSports, which explains why they have one of the most comprehensive sportsbooks you will find on the internet.

Australians can quickly join in the fun at 22bet since the site is open to the country.
Pros
Rich betting categories
Multiple payment methods
24/7 customer support
Has a great global reputation
Cons
Processing of withdrawals tend to take relatively longer
---
Betfair
The bookmaker Betfair joined the online betting scene in 2000. Despite having this newbie status, the company has been making moves that are shaking other longstanding players in the industry. The site delivers a solid online gaming and betting portal.

The sports betting section, in particular, is well laid out with categories covering quite a good number of sporting disciplines. In addition, Betfair has a mobile app that works on Android and iOS mobile devices, meaning players can easily place their bets on the go.
Pros
Plenty of sports betting markets to choose from
Supports mobile betting
A Simple user interface that is easy to navigate
Supports plenty of payment methods for deposits and withdrawals
Cons
Some delays in support response
---
Ladbrokes
It is without a doubt horse racing the favourite betting sport for Aussies. Be sure to check Ladbrokes out then. This bookie has outrights and special bets for local and international horse racing events. Their markets and specials are tailored to meet your every needs. Plus live streaming is also included for some events. You can wager on other favourite sports for Australians including rugby, Aussie rules, greyhounds and much more.
Pros
Great design
Specials and odds boosts
Australian sports included
Cons
Somewhat limited range of withdrawal options
What to consider when choosing a Betting Site in Australia?
Currently, players in the Australian market have quite a lot of options to choose from when it comes to sports betting. But even with all the government regulations, there are still a few unscrupulous operators who can sneak their way into the market. As such, players need to be extra careful when choosing which site to work with. It is for this reason that we have compiled a list of tips on how to pick the best betting sites Australia has to offer. This is just but a checklist of things to look out for when selecting the best bookmakers.
Is the bookie licensed to operate in Australia?

Having a license is very important as it assures you that the site is legit. In some cases, you can also choose a site that is licensed by an overseas authority. Get the details of such a licensing commission and ensure it is reputable.

---

What is the company's reputation based on reviews by other players?

Testimonials from other customers will paint a clear picture of how issues are handled by the site you are interested in.

---

How friendly is the bookie's cashier?

The cashier should be able to accept payments in multiple methods. Also, check if there are any transaction fees charged for deposits and withdrawals. Check how fast the operator is in processing withdrawals as well.

---

Does the bookie have a mobile betting option?

Since mobile betting is turning out to be more convenient than using a PC, you need to confirm that your site of interest can support mobile betting, preferably through a downloadable mobile app. This will be much easier to use than a browser-based mobile site version.

---

How easy is it to reach the customer support team?

The customer support team should be readily available 24/7 and, preferably, in multiple languages. This is the team that can get to sort out the challenges quickly you face when playing at a site.

---

How do the odds compare with other bookies?

You can make a quick comparison of how the odds on the site you are playing at compare with other operators in the market. It would be illogical to continue playing at a site that gives you less value in the odds while there is a competitor paying more for the same game.
Currency: Australian Dollar
Population: 24,600,000
Active Players: 13,000,000
Designated Authority: State regulatory commissions
Regulated Gambling Products: Land-based casinos and gaming halls, lotteries, betting shops, online sports betting, online casinos
Types of Operators: Locally licensed online bookies, offshore companies, land-based casino operators
Did you know that?
Unlike most countries, the older generation in Australia gambles more than the youth.
As of 2016, about 70% of all online betting activities were done from mobile phones and tablets
The most popular casino game in Australia is poker
There are no taxes charged for betting winnings in Australia
The legal age limit for gambling in Australia is 18 years
Offering in-play live bets is considered illegal in Australia
Gambling in Australia


Gambling has, for many years, been a favourite pastime for many Australians. The country has such a long history with gambling and betting that can be traced as far back as the 1800s. Initially, most of these gambling was done in the horse racetracks. With time, as the Australian society adopted more sports, they also developed various forms of sports betting to spice up things up as fans. Gradually, the idea of casinos and lotteries came by, and Australians embraced is it with open arms.
Gambling became so popular in Australia that at one point, it was estimated that nearly 80% of the country's adult population was engaging in some form of gambling. This is by most standards such a high public participation rate. The markets in which Australians bet the most will vary from one state to the other. Also, with time, the legal structures governing betting and gambling activities have been changed to have a more robust regulatory framework. This has, in effect, influenced the product demand patterns in the Australian gambling markets.
In as far as sports betting is concerned, Australia continues to provide fertile grounds for many bookies. There are also a good number of land-based casinos operating in all the major cities of the country. When you move online, however, things are a tad bit different from the picture on the ground. As we will be explaining in the next section, the laws in Australia have made it relatively harder to penetrate the online betting industry, in contrast to other major developed economies around the world.  
Is gambling in Australia legal?

To effectively answer this question, it would be necessary to first understand the background of the legal status of gambling in Australia. For quite a long time, gambling operated as an unregulated economic sector. This plus the promise of making some quick cash drove up to the numbers of active players in Australia, making the country feature prominently in the list of top gambling nations. The introduction of online betting remotely further drove up to the numbers of people engaged in the industry. This prompted the government to take some action, and in 2001, the Interactive Gambling Act was passed.

This piece of law was meant to curb the runaway growth of the online betting community. According to the Interactive Gambling Act of 2001, it became illegal to offer any forms of interactive online betting products for real money to any Australian resident. It also became illegal to advertise any forms of online betting and gambling services targeting the Australian populace. However, the wordings of this piece of law left a gap that was exploited by offshore betting firms since they could essentially still serve the Australian market. This also led to an exodus from the market by companies registered in Australia to other countries to avoid prosecution for serving Australians.

In 2016, the government came to realize its misses with the previous law and an amendment was introduced, which clearly stipulated that any forms of interactive online gambling were illegal. By introducing these terms, the law made not only online casino betting illegal but also in-play sports betting, which was also categorized as a form of interactive online gambling. Further, this amendment made it harder even for offshore betting companies to operate here since it gave the government the powers to report such companies to their home countries for prosecution. The local internet service providers were also mandated with the task of blocking access to such betting sites.

Therefore, based on Australian law, it is illegal for any company to provide interactive online gambling services such as online casino games, online poker, and even in-play live sports betting. But this does not shift the responsibility to you as a player. As such, you cannot be prosecuted for accessing such services and placing real money bets. On the flip side, pre-match sports betting has remained mostly untouched in the country. Operators have shifted their focus to offer exclusive online sportsbooks for Australian markets without including online casinos, which is the norm with other markets. 
Do Australian Players get restricted by some bookmakers? Why?

In most cases, offshore online betting sites will block access for Australian punters. The first reason for the season is the obvious hostile legal environment which could result in such a company getting reported to its home country where it's registered by the Australian government. Secondly, the ISPs in Australia form another blockade by redirecting any such traffic to the remote betting sites that are not licensed to operate in the country. As such, it would not make much business sense for many online betting companies to struggle to get into the Australia market. 

Sites that easily accessible to Australian players are those deemed to be meeting the government's requirements of limiting interactive online gambling products. Such sites are those that offer authorized sports betting services. Nonetheless, there still exist a few offshore sites that flout the rules and go all in, complete with the online casino services without the necessary authorizations from the government.
How much tax do you pay on gambling winnings in Australia?

Interestingly, the government does not impose any tax on gambling winnings. This is because money made from gambling is not officially categorized as income, nor is gambling itself considered a profession. Rather than taxing individual players, the government instead opts to target the betting companies themselves.

This taxation of betting companies is a task delegated to specific states. As such, you will find that each state has its form of taxation regime and rates. There are those that target the total turnover while others target the net profits. The rates will also vary depending on the type of betting product offered by the operator in the state. In some cases, the taxes can be as high as 50% of the targeted revenue from the casino or sportsbook operator.
About the gambling market
Australians love gambling and so this been quite some lucrative market for many years. Before all the regulations came into place, the rates of gambling among Australian adults were so high that it became alarming, this could result in serious addiction issues. Recent studies show that Australians spend almost $20 billion annually on gambling activities. Poker is by far the most popular form of gambling, with some reports showing that nearly 25% of all adults have tried out their luck at the over 200,000 poker machines spread out in the country.
Closely following poker in popularity are lotteries and scratch cards. However, in the recent past, there has been a steady rise in the number of people actively participating in sports betting and horse race betting. Market figures show that these two forms of betting are set to surpass all the rest very soon in terms of popularity. This rapid popularity in sports and race betting has been largely driven by the growth and spread of iGaming in Australia.
With one of the highest mobile penetration rates in the world, mobile phones and tablets are becoming the main form of placing bets in Australia. The government estimates that by 2013, there had been a 163% increase in the revenues made by operators from mobile betting alone. These numbers are set to rise, despite the government's persistent efforts to curb the market. 
The most popular betting features and options in Australia

The Australian gambling market has, in many ways, been keeping up with global trends on online betting. This means the players in the market will be looking for the same kind of features as those offered by the most advanced betting site. Having said that, it is important to remember that the laws of the country have played a major role in reshaping how Australians consume sports betting and gambling as a whole. The move to illegalize certain aspects of online gambling means that the market here does not operate the same as other leading countries.

For instance, in-play betting on live matches is one of the most sought after features globally. However, it is considered illegal to offer this feature to the Australian punters. Some other top trending betting features dominant in the Australian market include;
Live streaming
Players prefer playing in a site that has this feature since they will be getting the extra value of following the live-action without any extra streaming costs.
Build-a-Bet
This is an interesting feature that allows punters to customize their Acca bets by combining selections on various aspects of a game. As you select whichever aspect of the game to bet on, the site has an algorithm that automatically computes your odds.
Mobile Betting Apps
Based on the market number, the largest section of Australian punters places their bets via mobile phones. It is based on this reason that operators in Australia are jostling to launch their exclusive mobile betting apps.
---
The favourite sports of the Australian bettors

Normally, sports betting trends follow the popularity of specific sports in the country. The same case applies to Australia. As such, some of the most popular sports to bet on here include;
Aussie rules
Soccer
Cricket
Rugby
Tennis
Squash
Horse and dog racing
It is worth noting that the popularity of these sports and the number of bets each category receives will vary from one state to the other.
---
Are Online Casinos popular on the market?

Casino gaming has, for a long time, been a favourite pastime for many Australians. At one point, the number of people actively gambling in the nation was among the highest in the world. The introduction of the online casino Australia only served to heighten the interest since now players have the liberty to play from their homes, offices or schools remotely. The most popular casino game here is poker, closely followed by slots.

However, since the laws were changed regarding interactive online gambling, the number of people actively playing online casino games as drastically gone down. This is understandable since there is a virtual shortage of online casinos, with many major operators pulling out of the market. Even so, a few offshore companies still find a way of beating the system and reaching the Australian clientele. While it might not be a punishable offence for you as an individual player to player at such an illegal online casino, it is not recommended at all.
---
Currency and Preferred Payment Methods in Australia

With all the government regulations around online betting and gambling, they have opted not to touch the movement of cash into and out of the betting account, a move that the US government chose. This makes it relatively much easier for players in Australia to deposit and withdraw their betting funds since there is a good mix of e-wallets and online banking platforms. Some of the most common payment methods here include;
Skrill
Neteller
Paypal
Flexepin
Poli Internet Banking
Prepaid cards
Credit and Debit cards such as Visa, MasterCard
---
Bookies with mobile apps for Australian customers
Australian players are keen on getting the best betting apps since mobile betting is by far the most common form of online betting. If you are an operator with interest in the Australian market, then having a downloadable mobile app for both iOS and Android should be a priority. Some popular bookies such as 22bet, Ladbrokes and Unibet have both android and iOS apps that can be used by punters in Australia. A few other noteworthy brands with impressive mobile betting apps for Australia include Betstar, Betfair and Beteasy.
When making the selection of which mobile app to work with, you will want to check out for the extra features the app has to offer. For instance, does the app have an extra security layer with a pin or password? Does the app support live streaming? Can you activate or deactivate push notifications on the app? Is there a live chat option in the app? All these are features that will add value to your online betting through your phone or tablet.
---
FAQs
Why do most betting sites in Australia not have a live casino section?
This is because online casino gaming is illegal in Australian laws. Therefore, most operators will omit this section in order to avoid getting into trouble with the law.
Will I be charged if I win a jackpot in Australia?
No, there no taxes charged for money made from gambling activities in Australia.
Can I be prosecuted for playing in an online casino offered by an overseas operator?
The law does not have a provision for prosecuting individuals who play online casinos from overseas sites. This would be a crime on the operator's end for allowing the Australian players. However, it is worth noting that such would be risky since you can easily lose your money with the offshore betting sites, especially if you are using an unlicensed one.
Does Australia have a regulatory commission where I can remote an unscrupulous betting operator?
Online betting regulation in Australia is made at a state level. This means individual states are mandated with coming up rules of play and their respective commissions to handle the regulatory duties. You can check with the local authorities of the state you reside in for clarity on the gambling laws in that particular area. These include authorities such as;

Australian Communications and Media Authority (ACMA)
The Tasmanian Liquor and Gaming Commission
Northern Territory Racing Commission (NTRC)
Victorian Commission for Liquor and Gambling Regulation
Can I safely bet using my Visa or MasterCard in Australia?
There is quite a good number of reputable online bookies that accept payments via cards such as Visa and Mastercard. However, the safety of using such means depends on the specific bookie you are working with. Any good bookie should ensure their systems are encrypted for security. You can do a quick check on the bookie's cashier to verify how safe their payment systems are before submitting your card details.
---
Final comment
Based on the massive interest shown toward betting and gambling in the market, this is an interesting market to venture into for any operator. As long as you are cognizant of the laws regarding online betting, you can quickly draw in the numbers to establish a successful business.
For the players, on the other hand, the government's move to block all forms of interactive online gambling definitely dealt a blow to many. This basically left casino enthusiasts with land-based gaming halls as the only option. Sports betting remains a vibrant sector which has been largely untouched by the twists and turns of the Australian laws. This is definitely a market with great potential of growth that can easily attract more and more operators, to the benefit of the common Australian punters.