Where to bet safely in India and which online bookmakers to join?
The bookmakers listed below top the charts of the most trustworthy betting operators popular among Indian players. Pick one and join them today or continue reading to find out detailed info on each brand before making the decision where to sign up.
Best Bookies in India Ranked
---
India's top bookmakers
Many online bookmakers are willing to accept Indian players. However, thorough research is necessary before making your first deposit. Finding a trustworthy site, depositing and withdrawing terms are some of the hurdles you must clear before diving in.
10cric
Our #1 pick for India is 10cric, which is one of the best sites for betting for Indian punters. The reason being that it is a site exclusively for Indian players. Make sure to check out their cricket specials and bonuses. They are by far the go-to betting site for IPL events to wager on. Plus the site has a good reputation among punters which is a plus.
Pros
10cric is best for cricket betting
It offers competitive odds
IPL bonuses are in place
Cons
Somewhat slow support
Betway
This is a global betting company that does not necessarily cater to Indian players. Betway has various deposit options made available to local Indians such as Skrill and Neteller.

The betting company features a number of markets from cricket competitions all over the world such as the IPL. Other sports that are covered by Betway include basketball, horse racing, and tennis.
Pros
Accepts Indian Rupees and has a long list of banking options for players
There is a fantastic signup bonus of up to 100% bonus of 2500 Rupees
There are lots of betting options in sports and casino
Cons
The signup process at Betway takes a few minutes. However, this is important for verification purposes
The website is not available in Hindi
22bet
It is a fact that this bookie is among the top in India. Actually, 22Bet has a dedicated site to Indian players. Indian players are allowed to make deposits in Rupees and other excellent payment options.

The casino site is available in Hindi language and offers excellent sport options including the Indian Premier Football League. The odds are much higher when compared to other bookmakers.
Pros
There are over 50 available sports to play
Amazing deposit and withdrawal options
The casino site is accessible in both English and Hindi
Cons
The online casino in itself needs improvement
bet365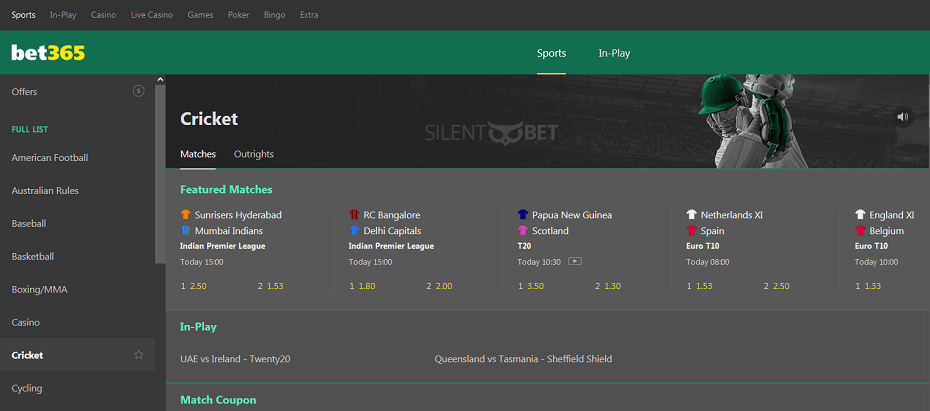 This is one of the largest betting sites in the world. In fact, bet365 is available in over 200 countries and offers its services to over two million people.

Bet365 was one of the first founders of in-running betting and offers several betting services on most cricket, tennis and football matches. The online casino provides live-in Play games to players in India.
Pros
Bet365 offers the best gambling experience in all areas such as sports and other online casino games
Bet365 is very reliable; it is a trustworthy betting site
They offer the best mobile betting experience and good betting bonuses
Cons
Bet365 does not accept deposits through the local Indian bank transfers like other betting sites
What to consider when choosing a betting site in India?
Is the online casino licensed?
Indian players should ensure that the online casino is licensed and regulated to ensure safety and fair gameplay. The laws governing the country where the casino is located should also allow Indian players to place bets at their casino.

---

The company's reputation
It is also essential that when you are choosing a betting site in India, you can bet on your favourite sport with the best options. Indian players should carry out a thorough research on the casino they intend to bet at. They should go through the review section to know what other players have to say about the online casino.

---

What are the supported payment methods?
The first thing that a player should consider when choosing a betting site in India is whether the betting site accepts Indian Rupees. Most online casinos do not allow Indians to make deposits using their credit cards so they should look for casinos with e-wallet methods of payment such as Neteller and Skrill.

---

Available bonuses
The other important things that you should consider are the promotions and bonuses eligible for both new and other continuing players. Look out for online casinos with impressive welcome packages
Currency: Indian Rupees
Population: 1,350,000,000
Active Players: Almost half of the population gambles at least once every year
Designated authority: Respective state authorities
Regulated Gambling Products: Skill games, casino gambling, lottery, sports betting, horse games, online gambling
Types of Operators: Casinos, Bookmakers, Lotteries
Did you know that?
Running gambling houses in India is illegal
Only three states in India allow casinos – Daman, Goa, and Sikkim
The Indian market is worth about $60 billion
Sikkim is the only state that has legalized online gambling casino games like roulette, baccarat and blackjack
Gambling in India


Apart from a few categories of gambling like horse racing and lotteries, gambling in India is under strict control. Gambling in India is a state subject, and the states are entitled to make and formulate laws that govern gambling activities within their jurisdiction. Running or operating public gaming houses is prohibited by The Public Gaming Act, 1867. Going against this law can cost one a fine of 200 rupees or risk imprisonment of up to 3 months. Prevalent gambling activities in India include: Skill Games, Casino Gambling, Horse racing, Lottery, Sports Betting, and Online Gambling.
In India, the legal position of gambling falls into two major parts – the games that involve skill and games that involve chance.
Is gambling in India legal?

In India, gambling is treated as a state subject, and only jurisdictions in India are allowed to make laws regarding gambling activities within their respective jurisdictions. There is a central law known as The Public Gambling Act of 1867 that prohibits the running or managing a public gambling house. There is a penalty of 200 Rupees or imprisonment of 3 months if one is found running a gambling house. The Public Gambling Act of 1867 also prohibits people from visiting gambling houses. There are only three states in India that allow casinos; they are Daman, Sikkim, and Goa. Only selected categories of games are allowed in India, including lotteries and horse racing.
Do Indian players get restricted by some bookmakers? Why?

There are so many online bookmakers in the world; however, most of these bookmakers are not available to Indian players. This is because of the country's restrictions, Betfair is one of those bookmakers that does not accept Indian players. Dafabet betting exchange is also restricted for Indians.

The reason online operators restricts Indian players is that they do not have a gambling license in the country and therefore not want to deal with Indian players illegally.
How much tax do you pay on gambling winnings in India?

According to Section 115BB of the Income Tax Act; in the financial year of 2013/2014, the total amount of Income Tax is 30% for poker winnings or winnings from card games, crossword puzzles, lottery and other races such as horse races. There is, however, the education and higher education payable on the taxable amount and thus making the total amount of tax payable by Indian players 30.90%.
About the gambling market
The gambling market in India has grown quite radically over the past decade. Around 80% of Indians are shown to engage in gambling activities at least once a year on gaming activities such as casino table games, sports, and slots. The Indian gambling market has been estimated to be worth US$60 billion per year through half of this amount is illegally bet on. The most popular forms of gambling in India is local horse racing and state lotteries. Bookmakers such as William Hill and Ladbrokes have taken an interest in offering Indian players their services. These two have taken an interest in winning gambling licenses that are provided by the state of Sikkim. Other bookmakers that are available to Indian players include the Betway and Royal Panda Bookmakers.
The most popular betting features and options in India
Live Betting in India is sponsored by the leading bookmakers that allow players to place bets on all lines in any betting market. India Bet offers all the top matches that have betting in play. In India, the most significant number of live bets or in-play bets are in cricket bets. Live betting is also available in other games such as tennis, rugby, and football.
The cash-out function allows players to close a bet before the match ends. For Indian players, the cash-out feature is available in various betting sites such as Bet365 and Betway. It is offered in games such as horse racing, cricket, and tennis.
---
Available bonuses for Indian players

The bonuses available to Indian players depend on the betting site you choose. Players playing at online casinos can enjoy a 100% welcome bonus of up to ₹25,000, or up to ₹30,000 in welcome bonus and many other promotions, depending on the betting site. Of course, there are bookmakers with smaller welcome bonuses of up to ₹7,000. It is crucial to consider rewards that are provided in Rupees as an Indian player since the needs of Indian players are taken into consideration. There are operators which give players welcome bonuses with playthrough requirements and a validity period of up to 90 days. There are also other incentives for regular players such as loyalty points, gifts, and access to VIP programs. Other promotions include access to free spins, extra weekly cash, cashback, and other tournaments.
---
The favourite sports of Indian players

India is home to several passions and obsessions, most of which include sports. Sports in India has been able to unite a large number of people. Which are the most liked sports by Indians then? Of course, cricket tops the list.
Cricket
Cricket matches are regularly telecasted and have been supported and promoted by premier sporting channels. Cricket is also popular in India because India has a reputation of breeding cricket giants such as Kapil Dev, Sachin Tendulkar among others. The Board of Control for Cricket in India tops the list when it comes to profits in the cricket world.
Football
 Football is also a common sport in India; the ISL has a massive following in India, but the broad audience of the European club tournaments forms the basis of the popularity of football in India. Although Football in India has not gone international; the Indian National Football Team is ranked 96th in FIFA.
Kabaddi
The third most common sport in India is Kabaddi, which is a traditional sport among Indian players. The Pro-Kabaddi League is held annually across various cities in India. This has made PKL the most popular league in India.
Badminton
 Badminton is the fourth commonest sport in India. Indian players have been able to take over the International stage, thus making a name for themselves. Badminton is managed by the Badminton Association of India
Field Hockey
This is a national sport among Indians in the Olympics. India tops the list when it comes to men's field hockey, and they have been able to win 8 gold, 1 silver, and 2 bronze medals when compared to any other hockey team in the world.
Tennis
This has for long been a popular sport among Indian players. Indians have done well in the doubles and mixed doubles category. Players like Rohan Bopanna and Sania Mirza have done a good job in tennis category.
Chess
This is a trendy sport in India with the chess Grandmaster and also former World Champion Viswanathan Anand taking the lead for the last two decades. Chess in India is governed by the All India Chess Federation.
MotorSport
In recent times, motorsport has been able to gain a lot of popularity. India also has one of the largest and best Grand Prix circuits known as the Buddh International Circuit found in Greater Noida.
Wrestling
Wrestling tops the most-watched sport in India with the young generation topping the list of followers. The Indian wrestling team has been able to win two gold medals and one bronze in the Asian Games.
---
Are Online Casinos popular in the market?

Gambling activities in all forms are quite popular in India. India's population exceeds one billion, and this forms part of the reason why there are so many gambling activities in the Indian Territory. There is a very high demand for gambling options though most of them are not legalized. Majority of the cities in India do not want to legalize gambling although people are pushing for the review of Indian gambling laws to make them at per with the fast-paced gambling world.

 

In the present day, there are no traditional Indian online casinos since no gambling license has been activated so far. In India, Sikkim is the only state that can offer its residents gambling options. Games such as Roulette, Poker, Blackjack and Baccarat have been legalized by the Sikkim Online Gambling Act. In India, players are allowed to play on games of skill rather than games of chance. There are available traditional games such as Chaucer though not much has been pointed on this game. Skill games that players can enjoy from India include poker and Blackjack while luck-based games include slots and roulette games.

Other game categories that Indians can enjoy, include Texas Hold' Em, Double Ball Roulette, Baccarat, Live Dealer Games, Dream Catcher, Craps, Red Dog, Caribbean Stud and Video Poker.
---
Currency and Preferred Payment Methods in India

The Foreign Exchange Management Act (FEMA) was introduced in 1999. This Act is related to the foreign currencies and also the deposit of Indian Rupees to bookmaker websites that accept Indian players. Indian players find it hard to place deposits using their credit cards, and e-wallet methods of payment are mostly preferred. They include Neteller and Skrill. There are other options available such as Bitcoin which is a popular cryptocurrency and paysafecard.
---
Bookies with mobile apps for Indian customers
Mobile gambling is part of the modern gambling world. Most secure online casinos available to Indian players have made a point of offering mobile casinos to their players. In India, the best casino sites are available for both Android and iOS apps which can be downloaded for free. Bet365 is one of the most recommended bookmakers offering mobile gaming for players. Others include Betway and 22Bet.
---
FAQs
Is online gambling legal in India?
Issues about online gambling in India are quite confusing. This is due to the fact that the laws that exist prohibit offline gambling, and the government believes that these laws cover matters of legality of online gambling in India.
What is the legal age for online gambling in India?
Is online gambling beneficial?
Online gambling gives players comfort and control. Players can walk in and out of the online casino whenever they want and from wherever they are.
Is online gambling safe?
Fully licensed and regulated online casinos ensure that their games are fair to build trust among their customers. They also ensure that they give their players their payments in due time without delay. Indian players are advised to do research on the online casino they intend to play at.
Does online gambling bring good or bad karma?
Players are advised to enjoy responsible gambling and play sensibly so that good karma will follow them.
---
Final comments
If you want to bet online in India, you should consider some things such as gambling sites with impressive bonuses, 24/7 customer care support system, and Rupee payments. Indian bookmakers offer the modern ways of enjoying casino games, whether the games are based on skill or luck. Look for the top betting sites that are allowed in India on your internet browser, and as an Indian player, you have to look past the flashy banners and go for online bookmakers and casinos that have the best interest of Indian players at heart.