OlyBet Review
OlyBet is an online bookmaker where you can try your luck and earn some cash. You can find everything you can think of, including a fully-fledged sports section, an In-Play (live) sports section, a very well-equipped Casino, a Live Casino, Poker, and even Virtual Sports. Of course, this is expected from a brand such as Olympic Casinos. After all, they've been in this market for over 26 years now.
Before you decide that this is your preferred betting place, it is essential to know that OlyBet is currently available in Finland, Latvia, Estonia, and Lithuania. Apart from the payment options and the different ToC, the other difference between each country are the bonuses.
Extended Sportsbook
Variety of Markets
Very attractive Welcome Bonuses
Splendid Casino
Live Betting
Casino
Poker
Cashout
Live Casino
E-Sports
Lottery
Virtual Sports
---
OlyBet Pros & Cons
Pros:
The company has been around for nearly 26 years.
There are many betting options to choose from.
User-friendly interface.
Fast registration process.
Good customer support
Instant deposits
Mobile services
Cons:
The odds could be better
It's only available in four countries
At first, it could be hard to navigate around
---
Available Sports
Even though OlyBet has a lot of betting options, it seems like its Sports section is the most popular one. As such, there are over 30 different sports to choose from. You can even bet on Politics, which is something that gets more popular by the day.
Nevertheless, their Football (Soccer) options are more advanced than the rest. You bet on pretty much every single major league in the world. Of course, let's also not forget the different international tournaments such as the Champions League, FA Cup, and more. We can safely say that this is one of the best places for every Football fan out there.
Apart from football, here are other popular sports that you can bet on:
Basketball
Baseball
Tennis
Ice Hockey
Handball
Snooker
American Football
Formula 1
Boxing
Rally
Golf
Table Tennis
MMA
eSports
The list goes on and on. Every single sport is composed of the most popular leagues and tournaments, which means you will find something that suits your needs. Be sure to check each of them because you might find some pretty good odds.
---
Betting coverage
We can't say that the odds in OlyBet are the best, but they are not that bad either. When you compare them to some of the biggest online bookies, they seem very reasonable. Usually, the bigger the bookie, the worse odds you are going to get because they are more secure. However, it looks like OlyBet can provide the best of both worlds.
Having said that, it depends on which sport you're most interested in. Sometimes, it might seem like a particular sport had better odds than others. That's why it's essential to check all of them out and decide for yourself.
---
Website Design, Structure, Layouts and User Experience
As we mentioned above, this website is a lot more user-friendly than some other bookies out there. However, it's still possible to feel a bit lost, especially when you enter it for the first time.
Once you overcome the initial chaos, you will find out that everything is very well-organized. The design is clean and slick, and you won't find any crazy colours popping out.
After you create your account (which you can do by clicking on the button Join Now), you will see all betting options just below you – Sports, In-Play, Casino, etc. Take your time and look through each one so you can get a better idea of what's going on.
Once you learn how to navigate around, you will have an enjoyable user experience.
---
How to make registration
Before you can experience the endless possibilities in OlyBet, you need to create an account. Unlike many other online bookies, this process is very easy and straightforward:
First, you need to click on the button Join Now, and you will be redirected to the registration page.
From there, just fill in the required information (email, password, etc.)
Once done, you will have to confirm your Phone Number, as well as your identity. This process is necessary if you want to experience OlyBet to its fullest.
After you're ready with everything mentioned above, you can now start exploring the website.
---
OlyBet sport welcome bonuses for new customers
Needless to say, a bookie that's as big as OlyBet will have exciting bonuses. In this case, the website has different bonuses for its customers based on the countries they are from. Let's take a look.
Welcome double up offer (for Finnish players) – 100 EUR = 200 EUR
Every Finnish new customer can take advantage of this bonus. Remember that the maximum bonus you can get from your deposit is €100. In other words, even if you deposit more than this, you will only get €100 as a bonus. Right now, your initial deposit (up to €100 will be doubled if you use the special promo code TUPLA100. The only thing you need to do is to create an account and use your Credit card or a bank transfer to make a deposit. Before you go, here are a couple of essential things to keep in mind:
Remember that you need to play with your bonus within the next 13 days after you get it.
If you want to withdraw your bonus, you need to wage it at least ten times. Also, the minimum odds for each market have to be at least 1.6 because otherwise, it will not count towards the requirements.
You can only bet up to €20 with your bonus cash. Also, you can't bet on any Libets using your bonus.
Do not deposit with Skrill because you won't benefit from the bonus.
Avoid betting on the 2-way market because it won't count towards your wagering requirement.
Sign-up first deposit bonus (for Latvian players) – €20/€50/€100

The next offer is aimed at everyone from Latvia. It's very similar to the one for Finland, but it's a bit more flexible. Depending on the deposit amount and the bonus code that they use, players can get up to €100 bonus on their deposit. However, unlike the previous offer, Latvian players have to add one of three bonus codes: SPORT20, SPORT50, or SPORT100. Of course, they are corresponding to the deposit (e.g., €20 means you need to use SPORT20)
Most terms and conditions are the same, so we will just highlight the ones that are different:
The bonus does not work for any system bets.
You can only use the bonus on the following sports: Football, Tennis, Ice Hockey, Basketball, American Football. Each of them has its specifics in terms of what bets can you make with your bonus.
If you want to be able to withdraw your bonus, you need to wage it at least ten times.
Welcome promotion (for Estonian players) – First deposit up to €100 + 20 Free Spin
Lastly, OlyBet also has something in store for its Estonian players. In fact, this is probably the best bonus you can get right now because apart from the deposit bonus, you will also get 20 free spins.
Here is what you need to do to take advantage of this exclusive deal:
Create an account, make a deposit, and add the bonus code

SPORT

.
If you want to make the most of your bonus, you need to deposit €100. Of course, you can always go over that number, but you won't get any additional money. In other words, even if you deposit €200, you will still receive €100 as a bonus.
The maximum bet you can when you receive your bonus is €50. Do NOT go over this number because you will lose your bonus.
You need to wage the total amount you receive at least ten times. Also, be sure that the odds are at least 1.6 or higher.
To receive the 20 free spins, you need to ve over the age of 21. Once you have them, you can use them in a game called Lights.
---
---
In-play sports betting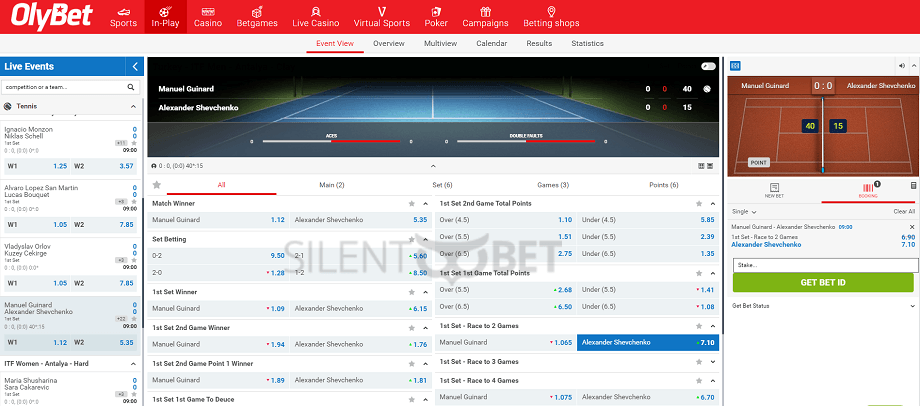 In-Play is the section where OlyBet allows you to place bets on every sport that's currently live. There are many options to choose from here, depending on what's currently live. Whether you're a die-hard football fan or an eSports fanatic, you will definitely find something interesting here to do.
The betting markets depend on what type of sport you're interested in. For example, you can choose between the classic 1X2, Handicaps, or Total Goal scored. Be sure to check out the sport you're interested in so that you can explore what it has to offer.
---
Sports betting products
Since OlyBet is one of the largest sports bookies in the world, it has a couple of exciting features. Even though you can find most of them on other websites as well, they just work better here.
Cash-out feature
The first significant speciality is called Cash-out, and it allows players to receive their money from the bet before the events are over. In other words, it can either save you time or money, depending on the situation.
Cashing out is as easy as it looks. The only thing you have to do is to click the button called "Cashout" if it's available. You can find this button once you go to "My Bets." Of course, the amount you can get via cash-out depends heavily on what's going on in the specific event.
OlyBet goes one step further with its cash-out by adding two new features – Partial and Auto cash-out. They both work exactly how they sound. For example, with the first one, you can just lower your stake and keep your bet with what's left. On the other hand, the Auto cash out allows you to set a certain amount that suits your needs. Once the bet reaches it, it will automatically cash it out, without you having to do anything.
Live streaming
Although it's clearly stated in OlyBet's website that this feature is available, it seems like they've given up on it. Previously, OlyBet provided HD streams in Football,Tennis, Basketball, and Ice Hockey.
Unfortunately, the punters now only have access to the In-Play section. Even though it can't really replace the Live Stream, it's still something.
---
Virtual sports
If you're bored from real sports or you just want to try out something new, this is for you. As one of the biggest online bookies, OlyBet offers a big selection of Virtual Sports. Unlike their real counterparts, you don't need to wait for a specific tournament of a match to start. You can bet on Virtual Sports whenever you feel like it, and there will always be something interesting. Currently, these are the Virtual Sports that OlyBet offers:
Football
Cycling
Trotting
Speedway
Motors
Horse Racing
Greyhounds
Each of them has tons of betting options, so definitely check them out.
---
OlyBet casino
What if you aren't into sports? What if you just want to relax and play something fun? Fear not, OlyBet has you covered!
Their casino section has a big selection of games that will satisfy even the pickiest customers. You can choose between titles from the most prominent providers such as Novomatic games, EGT games, NextGen games, and more.
You can find every single popular Casino game here, so take your time. Try to explore the entire section before you start playing so that you can get a good idea of what it has to offer. After all, the last thing you want is to miss out on something interesting.
---
OlyBet casino welcome bonuses for new players
Apart from sports bonuses, OlyBet also has some amazing casino bonuses for its new players. Here are the best ones right now.
100% casino bonus for the first deposit (for Finnish players)
OlyBet will give a 100% bonus to all its new Finnish customers for their first deposit! The only thing that you need to do is to use the code KAS200. Here is how it works:
Only users that are over 21 years old can get this bonus.
The maximum amount you can get as a bonus is €100.
This bonus has a 25x wagering requirement, should you want to withdraw it.
Be sure to use the bonus within two weeks of receiving it. Otherwise, it will be removed.
The bonus only works for slot games in the casino.
Lastly, the maximum bet you can make per spin is €6.
100 Risk-Free Spins or 100% Casino Bonus (for Latvian players)
The next bonus is aimed at OlyBet's Latvian players. However, unlike the one for Finland, this gives its customers the chance to choose between a 100% bonus in "Book of Ra Delux" or 100 free spins, depending on the bonus code they use. The terms and Conditions are the following:
If you want to take the "Book of Ra Delux" bonus, you need to use the code

BOOK100

. On the other hand, if you like to try out the free spins, the code

STAR100

is your friend.
The bonus is only valid for 30 days after you activate it, so be sure to make the most out of it.
Regardless of which bonus you choose, you need to start playing with your own money first.
200% casino bonus + 600 Spins (for Estonian players) – First deposit up to €100 + 20 Free Spins
Lastly, OlyBet also has something in store for its Estonian users:
Players will receive a triple deposit bonus (up to €100), and also the chance to win 600 free spins in the game "Berry Burst."
You can only participate once.
To receive the bonus, you have to use the code CAS200 while registering. Once done, just deposit your desired amount (up to €100), and you will receive a bonus on it. The maximum amount you can get is €200 if you make a €100 deposit.
If you want to withdraw your deposit, you need to wager it at least 25 times.
In terms of the free spins, you have to open the "Berry Burst" game and play on the Fortune Wheel. Your free spins amount will depend on what number you get from this Wheel. For example, if you hit 200, you will get 200 free spins.
You have 14 days to take advantage of your bonus.
---
Live casino
If you want to experience something different than your ordinary casino, the Live Casino is the place for you. You can find a lot of cool games with live dealers such as Baccara, Blackhack, different kinds of Roulette, Poker, and more.
The experienced live dealers will guarantee that you will have an excellent time while playing. We definitely advise you to check all of them out, especially if this is going to be your first time in this section. Once you find what you like, you will always come back.
---
Poker section
Although many online bookies have different Poker options, OlyBet takes it yet again another step forward. If you're a hardcore poker player and want to make some cash, why not trying OlyBet's game?
Yes, you've read that right now. If you click on the Poker section, you can now download their standalone Poker game that's available for PC and Mac. What's more, this game also offers a wide choice of bonuses.
If you're good enough, you can now qualify for OlyBet's monthly tournaments, play against Pro players, get instant cashback, and more. You can learn more about by reading the next paragraph.
---
OlyBet poker welcome bonuses for new customers – Up to 2000 EUR (for Finnish, Latvian & Estonian players

There are a couple of active bonuses for every new poker player that joins OlyBet. The cool thing is that they work for Finland, Latvia, and Estonia, so there are no differences here. Also, you don't need to use any bonus codes! Here is how you can get up to €2000:
Download the game on either a PC, Mac, or your phone
There is a so-called "qualification period" of 60 days for the €2000 bonus.
However, you will not receive them at once because they will be in "pieces" of €20.
There are no wagering requirements, which means you can use them for whatever you want.
What if you want €100 in tickets?
To get them, just play the Fish Party Sit & Go tournament within 60 days of your account creation.
You will receive a free ticket based on how much you've spent in the tournament. For example, if you get a €1 ticket, you will get five tickets for free. However, if you bet €10, €20, or €50, you will only receive one ticket for that amount.
There are five levels of this event (€1,5,10,20,50), and you need to play in all of them.
This bonus can only be used once.
30% instant Cashback:
For every €1 you spend, you will earn 35 Loyalty Points which you can exchange for cash,
Every 100 points will give you around €0.9. In fact, that's the minimum amount that's eligible for conversion.
Be sure to spend your Loyalty Points within 180 days because otherwise, they will expire.
---
Betgames section
The Betgames section is a unique hub where you can experience something different. This is the place to be if you're tired from the same old casino games or if your favourite team is continuously letting you down.
There are a couple of games to choose from here:
War of Bets
Baccarat
Wheel
Bet on Poker
Dice Duel
Lucky 7,6,5
Every game is unique, so definitely check them out before you place your bet. For example, all Lucky games are based on the lottery, which means you need to get specific numbers to win.
---
Mobile services
OlyBet offers its very own mobile services that work flawlessly. Unlike many other bookies out there, you won't lose any content or user experience if you play from your phone.
Regardless if you're using an Android or an iOS device, you will still be able to access OlyBet's mobile services via your browser. Everything is well organized and easy to reach, so you shouldn't worry about missing some of the features.
The only thing you really need to be aware of is your connection to the internet. As you know, the websites of the online bookies are very heavy and can eat through your mobile data.
---
Deposits and Withdrawals
OlyBet offers a lot of easy ways to add or withdraw your funds to and from your account.
Here is how you can make an INSTANT deposit with NO LIMITS:
| Paymenth Method | Deposit Minimum | Deposit Maximum | Time for Deposit | Minimum Withdrawal | Withdrawal Maximum | Time for Withdrawal |
| --- | --- | --- | --- | --- | --- | --- |
| Visa | €2 | - | Instant | | | |
| Bank Wire Transfer | €2 | - | 1-5 days | €5 | - | 1-5 days |
| Skrill | €2 | - | Instant | €5 | - | 24 hours |
| MasterCard | €2 | - | Instant | | | |
| PaySera | €2 | - | Instant | | | |
| Swedbank | €2 | - | Instant | | | |
| Luminor Nordea | €2 | - | Instant | | | |
| Coop Pank | €2 | - | Instant | | | |
| LHV | €2 | - | Instant | | | |
| SEB | €2 | - | Instant | | | |
| Instadebit | €2 | - | Instant | €5 | - | 1-5 days |
The only method that takes anywhere from one to five working days is a bank wire transfer.
Keep it in mind that the deposit options might vary depending on where you're from.
For withdraws, OlyBet only allows a bank wire transfer, Skrill, and Instadebit. The minimum amount you can withdraw is €5, and it usually takes around one day with Skrill and 1 to 5 days with the other two.
---
Security and Regulation
OlyBet is one of the biggest bookies in the world, and as such, they comply with the regulations in the countries that they operate in. There is no need to worry about your security when betting in OlyBet.
They have proven themselves as an excellent company that's capable of surviving the test of time. You can be safe that your phone number and identity won't be used for anything else but OlyBet itself.
---
Affiliate program
OlyBet has one of the most generous Affiliate programs nowadays. If you become a partner with them and generate enough traffic, you can earn yourself very decent monthly payments.
Apart from receiving money for each new customer, OlyBet also provides additional payment based on the revenue they earn from that specific customer. Their Affiliate program is easy to use and is backed up by their high-quality customer support.
---
FAQ's
Is OlyBet safe?
Yes, it one of the oldest bookmakers in the world.
Are there Sports bonuses?
Can I watch eSports live on OlyBet's website?
Sadly, no. You can only watch the sports we've mentioned above.
Can I play casino games on my phone?
Yes, you can. Check our Mobile services section for more info.
Is Basketball available in OlyBet's In-Play section?
Yes, you can bet on live Basketball games.
Is their Poker game available on Mac?
Yes, you can get it on PC and Mac.
Can I find their Mobile app in the App Store?
No, if you're an iOS user, you can just load their website in your browser.
---
Customer care
As you can expect from a company of this calibre, OlyBet has excellent customer support. Currently, there are a couple of ways in which you can get into contact with them:
Email – support@olybet.com
Online chat
Any of their Social media accounts such as Facebook for example
Visit their HQ, that's located in Tallinn, Estonia
We think that OlyBet has one of the best customer support on the market.
---
Contacts
The most efficient way of contacting OlyBet is via their Online Chat. You can do this every day from 08:00 to 00:00. Alternatively, you can also send them an email to support@olybet.com. They respond pretty fast, so there is nothing to worry about.
---
Overall rating
Our overall score for OlyBet is 9/10. This bookie has it all, ranging from a wide range of casino games and sports to some of the highest-quality customer support on the market. We would've given it a perfect score if it wasn't for the lack of withdrawing methods. Other than that, everything seems spot on.
Other reviews for OlyBet