Available Mobile Version and App for Android and iOS (iPhone/iPad)
The Pinnacle Sports mobile app for both the Android and the iOS version has been very successful since they came into the online betting services. Their betting services, functions and other characteristics are very identical thereby making them be an ideal companion for the best bookmakers.
Pinnacle Sports Mobile App on Android device
All Android users will be happy to know that Pinnacle has developed an app specifically for them. It is easy to download and install it by making sure you allow Unknow Sources to be installed on your device. You can find the Pinnacle APK on the official website of the bookmakers.
---
Pinnacle Sports Mobile App for iPhone and iPad
Those of you who have an iPhone or iPad can also bet using the Pinnacle iOS App. Look it up on the App Store or go directly to Pinnacle's homepage and download it from there. The iOS app will give you the freedom to bet any time of the day and whereever you are.
---
Mobile Layouts and Navigation
Pinnacle Sports mobile app and version has a different layout compared to other bookmakers. Most bookmakers are always known to have three column layouts. The three columns are navigation, odds and betting slip.
The Pinnacle Sports mobile site layout only displays the navigation, the odds and the betting slip each at a time. Each of the columns occupies the entire width of the page typically, and when one proceeds from one category to the next, you entirely turned onto a new page. That means that the top types of the various sports always displayed above the betting slip and the odds are to be able to facilitate much faster navigation.
The top area for the sports navigation bar consists typically of a page made up of two columns and has to drop down menus where you can select the various sporting leagues and their subcategories. The subcategories in Pinnacle Sports mobile app and version always displayed without having to reload. That saves valuable time. The different sports are still colour coded to be able to highlight the sports which are available to bet on and which you won't be able to bet.
The display of the odds is usually considered to be very basic. However, they are very functional and are always known to take up the whole width of the site. That is, however, completely different from the other types of the bookmakers where one clicks on the odds, and the selection is always added to the betting slip automatically.
Improved navigation
A cleaner layout. the use of icons and sliding menus makes is much quicker and easier to find your markets. and access services and account options.
One Click Live odds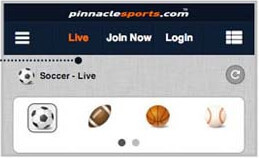 Live markets will always just be a click away. with a permanent menu item taking you straight to all available live markets.
Dedicated mobile sign-up
You can now open an account on your smart phone through our dedicated mobile sign-up. It is really easy and fast.
Bet ticket without login
You now have the convenience of building a bet ticket without being logged then seamlessly placing your bet.
Add funds to your account You can now add funds to your account via your smartphone, choosing from all our popular desktop payment methods, providing a complete betting service on the move.
With the Pinnacle Sports mobile site and app, one has to put in the wager amounts into the boxes which are similar to the selections you have made.
Pinnacle Sports mobile has different terms of betting compared to what you always used. However, it does not take anyone longer time to learn the different types of terminologies. After you have submitted your bets, you will direct to the betting slip where you will be in a position to review your wagers before you can provide them. The layout and navigation of the Pinnacle Sports mobile app make it look much more straightforward and effective.
---
Mobile App Features
Both Pinnacle Sport mobile site and application always has the best price for you. Any person who takes betting seriously especially on either tennis, football or any American Sport cannot afford to do without the Pinnacle Sports mobile app account. Any serious better is always aware of how getting some of the best prices. The fact that Pinnacle Sports not listed on Odds Checker still makes it one of the best sites offering the best prices for any match which can either be football or tennis match.
With Pinnacle Sports, you will never penalise for taking their odds especially when they are best priced compared to what other bookmakers always do. Pinnacle Sports is known to offer most of the markets with prices of between 1 and 1.25 per cent. That signifies how they are still confident with their prices and their ability to provide their clients with the best odds possible.
Pinnacle Sports mobile site also enables its customers especially those in Australia to bet on online live games. The interface for live betting is always similar to what used for the rest. However, you still need to refresh on the page so that you can see the current scores.
---
Pinnacle Mobile Application and Betting Covered
The mobile version of Pinnacle Sports is known to offer an extensive range of both European and US sports. Recently, it has included emerging darts. Unfortunately, they don't offer any bets on horse racing.
The Pinnacle Sports members can always access the XML feed for the various Pinnacle Sports odds. That is considered to be a very significant feature especially for the technically minded partners who are still interested in coming up with applications that monitor the latest odds.
---
Payment methods
The mobile app version has so far one of the best reputations in the betting industry. One is always able to conduct a live online betting since there is the API for the odds and the betting is always automated. The Pinnacle Sport mobile app/version has many methods in which one can always withdraw or deposit money. That can either be through the VISA, Bank Wire, Money Bookers or Master Card. There are no limitations when for the minimum withdrawals when using the Pinnacle Sport mobile app/version.
| Paymenth Method | Deposit Minimum | Deposit Maximum | Time for Deposit | Minimum Withdrawal | Withdrawal Maximum | Time for Withdrawal |
| --- | --- | --- | --- | --- | --- | --- |
| Visa | £25 | £3,500 p/transaction | Instant | - | - | - |
| MasterCard | £25 | £3,500 p/transaction | Instant | - | - | - |
| Bank Wire Transfer | £85 | No Maximum Limit | Instant | £1,000 | No Maximum Limit | Instant |
| Neteller | £10 | £37,500 p/transaction | Instant | £10 | £37,500 p/transaction | Instant |
| Skrill | £10 | Dictated by bank | Instant | £10 | £35,000 p/transaction | Instant |
| Trustly | £10 | £35,000 | 24 hours | £10 | £35,000 | 24 hours |
| Paysafe Card | £25 | £250 | Instant | £25 | Dictated by bank | Instant |
| EcoPayz | £10 | Dictated by bank | Instant | £10 | Dictated by bank | Instant |
| Entropay | £25 | £3,500 p/transaction | Instant | £10 | £2,000 p/transaction | Instant |
| Instant Bank Deposit | £50 | £7,500 | 24 hours | £50 | £5,000 | 24 hours |
---
About Pinnacle
Pinnacle Sports refers to an online sportsbook which founded back in 1998. This sportsbook is considered to be among some of the most successful bet sites in the world. The Pinnacle online sportsbook is known to have one of the best betting experiences. It offers the highest limits, the lowest margins and the fastest payouts.
Pinnacle Sports mobile site and version has been receiving a top rating in most of the major review portals. It is quite remarkable to learn that Pinnacle Sports mobile has managed to achieve all these by keeping its own private. The former members of the US betting syndicate known as the Computer Group are the owners of Pinnacle Sports.
UPDATE:
Pinnacle Sports has new owners. You can find more information
on this website
.
---
Pros & Cons of the Pinnacle Sports' Mobile App
Below you can read more about the benefits and downsides of the Pinnacle app.
Advantages of the Pinnacle Mobile App
Disadvantages of the Pinnacle Mobile App
Very basic interface
One cannot place any bets on the horse racing markets
It is not licensed in Australia
The betting election on each of the events is limited
One is not able to choose a user name since they are always assigned to the client ID
---
Conclusion and Mobile Rating
Pinnacle Sports mobile has been known to offer some of the best odds in the market. Australians are always able to perform online live betting. It is much more professional compared to the rest bookmarkers. You will get real value for your money and time at this bookmaker.
---
Useful links
Related Articles