Sportingwin. APK File for Android App
Sportingwin gambling interface is the latest and most advanced betting platform. It features quality products with more than 4,000 live matches for punters. However, like any other mobile site, the bookmaker has multiple drawbacks, such as the lack of an Android app. But then, how is this possible considering there's an official download link at the footer of the site? Well, the link is blank. You cannot use it to download apk on google play. All in all, you can still punt using your tablet or Android phone thanks to the availability of a mobile optimised interface. The website is comprehensive with multiple pages just like those found on the PC site.
---
Sportingwin iOS App for iPhone/iPad
Additionally, Sportingwin does not have an application for iPhones and iPads. With this in mind, individuals with iOS devices get instructed to use the available mobile website. After all, the platform is functional with useful betting products. Besides, you don't need to use your resources to download and maintain the instant-play interface. Your only task is to load the site using a compatible browser and begin punting on different sports. Similarly, there is an app iOS link at the bottom of the site, but it is blank just like the Android link. Hence, you cannot use it to avail an iOS application.
---
Is Sportingwin Mobile App Free?
You cannot pay for what is unavailable. Then again, if the app was existing, there's a high probability that punters would access it without paying a single cent. That's the same case with the mobile website; you don't need money to load and use it to place bets on different events. All you need is a smartphone that can access the internet. Due to the online gambling services dynamics, the operator should quickly develop a free app download link. If not, competing sites will replace it from its prime position.
---
Sportingwin Mobile Version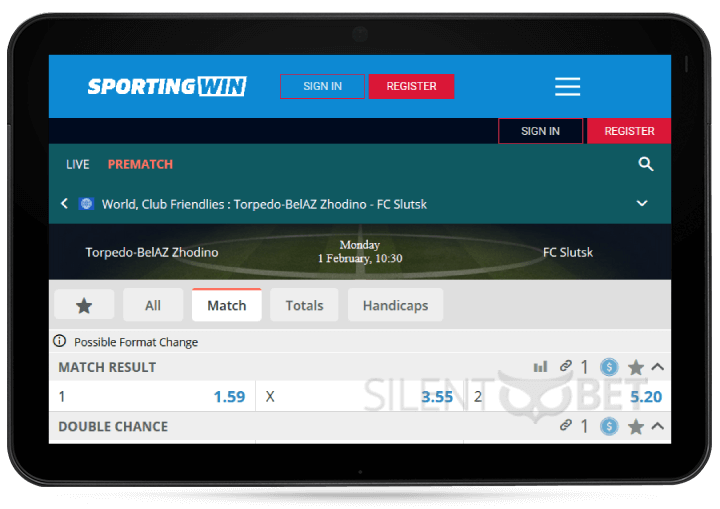 As mentioned earlier, Sportingwin has a mobile version which features green highlights, light blue theme and white background. The site comes with different sections accessible via the menu situated to the top right of the site. Also, it has a scrollable list of options which you can use to access different sports. The whole website comes minimised to fit on any compatible mobile without having extending borders and edges. Other than the outlook, Sportingwin mobile spots various controls, such as customised buttons and dropdown menus. That's without forgetting numerous clickable links at the footer. These components work harmoniously to deliver an outstanding user experience.
---
Benefits of Sportingwin Mobile
The drawback of that you cannot download apk on google play does not cancel the benefits of using your mobile to gamble. Bettors can still enjoy variable pros, for instance, placing bets on the go so long as there is a stable network in the region. Additionally, Sportingwin mobile allows quick access to the user account. After all, you don't have to load windows or MAC operating systems every time you want to gamble online. Lastly, the mobile website is easy to use and to maintain. That is as opposed to iOS and Android apps which would require regular updating to function correctly. These advantages are enough for you to create your mobile login details and begin betting using your phone.
---
App Features
Now that you get what Sportingwin mobile platform is all about and the benefits that make it suitable, you need to learn about its features. In short, what kind of betting products are available to help you perform gambling tricks? With this in mind, below is a list of different functionalities with info on whether they are available on the smartphone site.
---
List of Sportingwin Mobile Services
So what services does Sportingwin mobile site offer? That is one of the frequently asked questions by punters. Anyone registering for an account should know that Sportingwin provides multiple services, for instance:
Sports betting on Android or iOS
Customers can access different sports on the platform. After all, the site has more than 30 games with each containing thousands of events. So far, prominent sports include football, snooker, and tennis, among others. The operator categorises these games into live and pre-match. Therefore, it is up to you to decide which category best suits your needs.
Casino on iOS and Android
Additionally, the operator offers casino gaming services to punters. Hence, you can access different table games; for example, Casino Hold'em Poker and Neon Blackjack Single Deck. On the other hand, video slot fans can try their luck playing slot machines such as Wild West Gold and Disco Danny. These products are there to provide customers with different gambling alternatives. While at it, you should note that Sportingwin lacks live casinos and so if you're a fan, you may want to consider a different gaming platform.
eSports & V-sports on iPhone & Android
Lastly, on the list of Sportingwin, mobile services are eSports and V-sports. Fortunately, the mobile platform allows punters to bet on different eSports such as Dota 2, League of Legends (LOL), and Counter-Strike: GO (CS: GO). On the other hand, V-sports buffs can punt on virtual drag racing and virtual horse racing events. To learn more about V-sports, check the virtual sports betting rules on the general terms and conditions page.
---
Sportingwin Mobile Pros and Cons
Different punters have different feelings when it comes to Sportingwin mobile platform. Some gamblers feel the platform is more advantageous, whereas others think it has multiple disadvantages. To settle the score, here are pros and cons of Sportingwin mobile that will give you a clearer understanding of the bookmaker's mobile site.
Pros:
The site is fast.
It comes with a more straightforward layout.
You can cash-out on select events.
It allows live betting.
Punters don't need mobile space as in the case of Sportingwin apk.
Cons:
You cannot access live casinos.
It doesn't allow live streaming of events.
---
System Requirements and Compatibility
Despite Sportingwin applications' absence, bettors still need to observe some system requirements to load the mobile website on their smartphones effectively. But then, what are these compatibility conditions? For starters, Sportingwin smartphone users should use devices that can effortlessly connect to the internet. Also, mobile phones should come powered by operating systems that are up to date. For example, bettors should consider iOS 8 and above or Android 7 and beyond operating systems. Finally, the phone should hold reliable browsers like Mozilla Firefox, Opera, Chrome, or Safari. Compromising any of the above system requirements will lead to either poor connectivity or substandard display. The recommended smartphone brands that guarantee functionality include:
Samsung
LG
Apple
OPPO
Huawei
Sony
Motorola
Nokia
XIAOMI
Microsoft
---
Mobile Promotions
The biggest hope for smartphone users is getting showered with a mobile-specific promotion. But to their disappointment, Sportingwin operator does not have an app bonus or mobile offer in place. Instead, it provides smartphone users with universal rewards. Universal promotions are those that can also be accessed by desktop users. The good thing is the prizes are not only many but also suitable for increasing gamblers' winning chances.
---
Payment Methods via Mobile
Making payments using your smart device is among the services provided on the mobile interface. After all, it will be impossible for the operator to generate revenue without such an important aspect.
| Paymenth Method | Deposit Minimum | Deposit Maximum | Time for Deposit | Minimum Withdrawal | Withdrawal Maximum | Time for Withdrawal |
| --- | --- | --- | --- | --- | --- | --- |
| Neteller | €5 | €100,000 a month | Instant | €10 | €20,000 | Up to 24 Hours |
| Skrill | €5 | €100,000 a month | Instant | €10 | €20,000 | Up to 24 Hours |
| Paysafe Card | €5 | €100,000 a month | Instant | €10 | €20,000 | Up to 24 Hours |
| EcoPayz | €5 | €100,000 a month | Instant | €10 | €20,000 | Up to 24 Hours |
| Sofort | €5 | €100,000 a month | Instant | €10 | €20,000 | Up to 24 Hours |
| GiroPay | €5 | €100,000 a month | Instant | €10 | €20,000 | Up to 24 Hours |
| SafeCharge | €5 | €100,000 a month | Instant | €10 | €20,000 | Up to 24 Hours |
| Zimpler | €5 | €100,000 a month | Instant | €10 | €20,000 | Up to 24 Hours |
| MuchBetter | €5 | €100,000 a month | Instant | €10 | €20,000 | Up to 24 Hours |
---
FAQs
Why opt for Sportingwin mobile?
Sportingwin mobile is suitable for players who want to gamble on the go. Furthermore, it is simple for amateur gamblers.
Is the mobile site safe?
Similar to the desktop version, the mobile site is licensed. It is thus safe for use so long as you are within a non-restricted region. Also, it implies that the site provides safe products with fair games.
Can I change the odds format on my phone?
You cannot change the odds formats on your mobile phone. Hence, if you want to make any such changes, you will have to do it on your desktop site. Then again, that's only possible if you log into your platform.
Where do I get the latest Sportingwin APK file?
There's no place to download the Sportingwin apk file. After all, the site is yet to produce a mobile app. With this in mind, be aware of anyone claiming to have a Sportingwin mobile app.
Must I have a compatible phone to access the mobile site?
You must have a compatible phone to access the mobile website. In case you don't, you're bound to have a bad experience caused by either overlapping sections or incomplete pages. Additionally, incompatible phones may fail to load the site entirely.
Can I verify my Sportingwin gambling platform using my smartphone?
You can confirm your Sportingwin mobile platform using your smartphone device. Then again, that's only possible if you have relevant files on your phone. Otherwise, you will have nothing to upload.
---
Company information
Sportingwin started offering sports betting and casino gaming services to gamblers in 2020. The platform is one of the most interactive bookmakers, thanks to its beautiful outlook and fast loading capabilities. Besides having a PC interface, Sportingwin has a mobile platform operated by Vivaro Limited. The operating company is incorporated under the Malta jurisdiction, and that makes Sportingwin genuine. You should hence be sure of the sports and games you will find on the site. Despite being new, the mobile site has millions of users with potential clients signing up daily. That is an indication that bettors are getting exemplary services on the site.
---
Customer support and contacts
The same contact platforms available on the desktop version are on the mobile interface. All you need to do is click 'contact us' and decide which communication method best suits your needs. Some of the main contact details include:
---
Conclusion and Mobile Rating
Overall, the platform is attractive and thus ideal for skilled and unskilled punters. To clarify, the website is simple and the pages are fast loading. Moreover, the Sportingwin mobile interface comes with multiple useful sections, just like the desktop version. With this in mind, expect the live betting page and the payment section.
Despite the various pros of the mobile website, players should be ready for some disappointing news. First, the smartphone site lacks applications and second, there are no live casinos. Lastly, you cannot access the live chat feature.
Related Articles