Ad disclosure
SilentBet (SB) is proud to be the partner of numerous renowned casinos and bookmakers around the world. As such, we do use affiliate links to earn commissions (at NO cost to our readers whatsoever). These aff links help us stay a cut above our competitors, delivering top-notch content you can trust. Take a look at the
Ad Disclaimer
page for more information on our affiliate business practices.
Sometimes, you might find yourself wanting to take a step back from betting, or at least betting with one particular brand. Whatever your reason for not wishing to play at 10cric India, it is helpful to know how to close your account completely. Deactivating your profile is something players can do at 10 Cric, although it is not the most streamlined process. Thankfully though, we are here to help with this complete guide to how to delete your 10Cric account.
How Do I Close My 10cric Account – Steps
Unfortunately, customers do not have the ability to close their accounts themselves just by logging in and selecting some sort of delete button. Instead, you need to send an email to customer support. Here are the steps.
Step 1: Log into your 10CRIC account online.
Step 2: Look for the Contact Us page.
Step 3: Start Live Chat or directly draft your email.
Step 4: Send your Account Deactivation request to support@10cric.com.
Step 5: Wait for further instructions on how to close your 10cric account permanantly.
To help you do this, you can use the template we have written below to make things nice and easy.
---
Deactivate 10Cric Account via Email
To wave goodbye to your 10Cric account you need to write to support@10cric.com. They require you to give the reason why you wish to terminate your account, so be ensure to include this in your email to speed up the process. Providing you include all relevant information, the 10Cric support team should be able to deal with your request upon reading your email, with no follow up response required.
It is always recommended to send the deletion request from the same email account that your 10Cric account is linked to. If you would like to know how to write this email, feel free to use the template below. The only aspects that require changing are anything included within brackets.
Email Template Draft
To: support@10cric.com
Subject: Account Deletion
Hello,My full name is (enter full name here) and my registered email address is (enter the email address associated with your account here).I no longer wish to place any bets on your site because (enter reason here).I am requesting that you permanently delete my account as soon as possible. Please let me know when this is complete.Kind regards
,
(Your name)
(Registered address)
---
Ask How to Delete 10CRIC Account via Live Chat
If you wish to delete your account in a hurry the temptation would be to go to live chat which is available 24/7. It personally took us a little while to connect to an advisor but they confirmed to us that any request to delete an account must be made via email.
So, it is not possible for a live chat agent to process a termination request for you, even if you provide them with all relevant information.
Due to this, save yourself some time by avoiding Live Chat when trying to delete your 10Cric account.
Real-Life Chat Transcript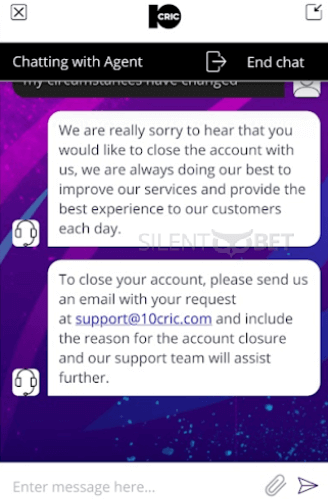 If you do try and request an account deletion via live chat, you are likely to come across the same message as we did, or something very similar. This is their standard response regardless of the reason you provide for wanting to close your account.
Me: Hi, I would like to close my 10cric account permanently. How do I delete my profile?
Agent: We are really sorry to hear that you would like to close the account with us, we are always doing our best to improve our services and provide the best experience to our customers each day.
Agent: To close your account, please send us an email with your request at support@10cric.com and include the reason for the account closure and our support team will assist further.
---
How Long Will the Process Take?
10Cric aim to respond to all emails with 24 hours, so in most cases you should find that your account is deleted later the same day, or the following day. It is possible they might write back requesting additional information beforehand but even this will only slow the process down a day.
If you have not heard back from 10Cric after 3 or 4 days, and your account is still active, we would recommend re-sending the email.
---
Why Should I Cancel My 10Cric Account
Because 10Cric does not have many Responsible Gambling options, such as deposit or time limits, cancelling is a smart option for anyone struggling with gambling addiction. This is not a website that allows you to limit your spending while betting, so if you have a problem setting limits for yourself, an account closure is a quick and fully effective fix.
If you are thinking about deleting your account simply because you do not play at 10Cric anymore, we would advise you think carefully about it. Once an account has been deleted, there is no way of bringing it back. If you do end up wanting to come back to 10Cric, perhaps because they are running a great promotion, life will be a lot easier if you have an open account to return to.
---
What Are the Alternatives to 10Cric Account Closure
The main alternative to deleting your account is to self-exclude yourself for a set period of time. This can be done by contacting customer support and choosing from one of the following self-exclusion periods: 1 week, 2 weeks, 1 month, 3 months, or 6 months.
By signing up to this, you will be blocked from accessing your account for the requested amount of time, without needing to delete your account with 10CRIC. The limitation with this method is, however, that you can revoke any self-exclusion just by sending an email, so it is not the most robust of account restrictions.
---
How Do I Re-Open My Deleted Account?
All account deletions are final, meaning it is never possible to re-open an account. You may be able to open a brand new one but speak to customer services about this being done. The reason: you may be unable to go through 10cric registration for a new account with the email you used for the old one you deactivated. It is possible 10cric will not allow duplicate accounts using the same email or IP if they have your information in their database.
---
FAQs
What happens if there is money in my 10cric account when it is deleted?
Normal process is that 10Cric will attempt to send any active balance back to the payment method that made the payment before deleting the account. It is most sensible though to empty your wallet yourself before asking for a deletion, as this will avoid any potential complications or delays.
Can I delete my 10cric account without contacting customer support?
No, players do not have the power to delete their accounts without speaking to customer support beforehand.
Should I close my account and make a new one if I get a new email address?
Even though players cannot update the email address linked to their 10Cric account themselves, it can be done by contacting customer support. So, in all instances this is the easiest and most recommended approach should you change email accounts.
---