Ad disclosure
SilentBet (SB) is proud to be the partner of numerous renowned casinos and bookmakers around the world. As such, we do use affiliate links to earn commissions (at NO cost to our readers whatsoever). These aff links help us stay a cut above our competitors, delivering top-notch content you can trust. Take a look at the
Ad Disclaimer
page for more information on our affiliate business practices.
As one of the leading bookmakers in India, 10Cric have a huge customer base and it only grows bigger by the day. As there are so many customer accounts being made, we thought it would be useful to create this 10cric login guide, which covers everything you need to know about accessing your account.
Steps for 10cric Login

10Cric make logging into your account simple – all you need to do is to follow the steps below.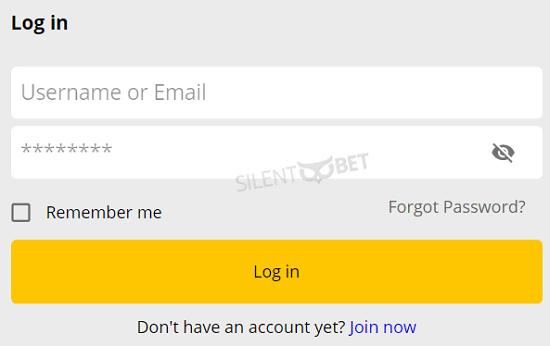 Head to the 10Cric official website (👉 10cric.com login link) and locate the Log in button in the top right hand corner of the page.
You will be asked to enter your email/username and password.
Enter your information into both boxes. If you think you have made a mistake typing your password, clicking the eye symbol will show what you have entered.
If you are using a personal device and planning on accessing your account regularly, you may wish to consider ticking the 'remember me' box before clicking 'Log in'.
---
10cric App Login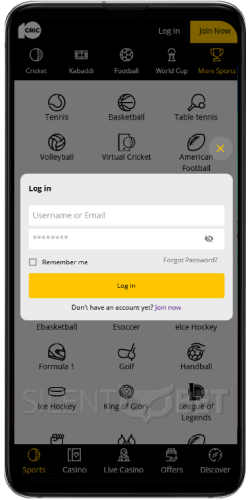 The 10cric login app process is almost identical to the process listed above for the desktop site. There are a couple of tiny differences, though. One is that passwords appear as standard on the mobile app when typing them, rather than being hidden. So, be careful to look over your shoulder before you start typing!
The other difference is that on the desktop, the login box will ask for your username or email address, whereas on the 10cric app it only states username. You do not need to worry about this though as it is still possible to login via email through the mobile app.
Launch the 10cric application
Click Log In to start
Enter email and password
Tap on Log in to enter your 10cric mobile account
---
10cric Login Issues
Most players will be able to log in to their 10cric account without issue but some may find themselves running into a problem or two. If you end up having a 10cric login issue, it is likely to be something from the below list.
I cannot access the 10cric website
If you are getting an 'Access denied' message this means you are trying to access 10Cric from a location they do not operate in. If you are simply getting a blank screen, check your internet connection.
I do not know my 10Cric username
Many 10Cric players do not have a username as this is not something they were asked to create during registration. This is not a problem as you should always be able to login using your email address.
I forgot my 10Cric password
If you cannot get further than the 10Cric login page because you have forgotten your password, do not worry. Simply select the 'forgot password?' link, enter your personal details and the verification code, and a reset link will be emailed to you.
---
From which Countries You Can Login
10Cric is purely designed to serve customers from India, although it is also possible to access the site in New Zealand too. If you reside anywhere else in the world you will not be able to register an account here or log into an account you previously made.
As the whole website caters to Indian players, you need an Indian phone number during registration and the only supported currency is rupees. This is why 10Cric login India is such a common search term.
---
Registration Steps
As a new player at this Indian bookie, here are the steps to follow to register on 10cric. To create an account, follow these instructions:
On the mobile app or desktop start by clicking/tapping 'Join Now' in the top right-hand corner.
This will load the registration form where you must enter your email address, an account password, your name, an Indian mobile number and your date of birth.
Before clicking the 'Join Now' button at the bottom of the page, you must tick that you accept the terms & conditions, privacy policy and betting rules
Once everything is entered you will be able to click the 'Join Now' button underneath. Before your application is processed though you may need to complete a quick CAPTCHA.
After your details have been processed, 10Cric may send an activation link to your email inbox. Click/tap this link to complete your account registration.
10cric Signup vs Login: Explained
Login 10Cric is for players that already have an account, even if they have not accessed it in a long time. Sign up at 10cric is for brand new players that have never played at the website before.
Sign Up → Activate New Account → Log In → Bet/Play → Log Out → Rest → Log In → Bet/Play → Log Out → Rest → Log In…
---
FAQs
Is 10cric login available outside of India?
No, you can only log in to 10cric account if you reside in India.
Is 10Cric login available if I am self-excluded?
No, if you have decided to exclude yourself from the website you will not be able to login to 10Cric unless you email customer services to remove the restriction.
If using my smartphone do I have to login via the 10cric mobile app?
If you have an issue with the 10cric app login, or you are simply not a fan of the app, then you do not have to use this. Instead, you can simply load the official 10Cric website in your mobile browser.
Do I need to create a separate account if I want to bet at the casino/live casino?
No, there is no separate 10cric casino login. One 10cric account unlocks the whole website and all the services they offer.
---