Why Should I Join 1xBet?

1xBet is one of the better sportsbooks that's on offer across Europe right now. The brand is continuing to grow and what we liked from our testing has been their analytical approach to betting.

That may seem an odd way to describe a betting site, but 1xBet driven towards offering a wide range of sports across a wide range of markets. We won't say it's "no-frills" as that would be unfair, but it's stripped back, and we like that!
Starting Bonus
They have a mirror link
Various payments
High odds
Live Betting
Casino
Poker
Live Streaming
Cashout
Live Casino
E-Sports
Lottery
Virtual Sports
---
How to Open a 1xBet Account?

One of the highlights of the bookmaker is that you're able to register an account via several different methods. We've outlined each of them below, and each works a little differently, so make sure that you read through each before deciding which is ultimately best for you.
One-Click Registration
Step 1: Click on the "Registration" button at the top of the page.
Step 2: Make sure you are on "One-click" which is selected by default.
Step 3: Enter your country, currency and your promo code "

SILENTBET

".
Step 4: Click "register", and a username and password will be assigned to you.
Step 5: Make a note of each and log in as usual.
---
1xBet Registration by Phone
Step 1: Click on the "Registration" button at the top of the page.
Step 2: Navigate to "By Phone" at the top of the menu.
Step 3: Enter your mobile number and click "Send SMS".
Step 4: Enter the code that has been sent to your phone.
Step 5: Include promo code "

SILENTBET

".
Step 6: Click "Register".
---
1xBet Sign-up by Email
Step 1: Click on the "Registration" button at the top of the page.
Step 2: Enter your country and city, as well as your email, phone number, name and password.
Step 3: Include promo code "

SILENTBET

".
Step 4: Click "Register".
---
Social Networks Registration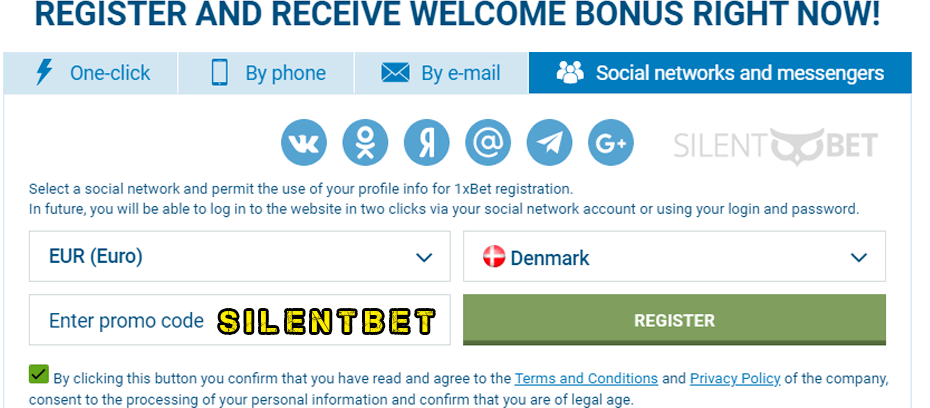 Step 1: Click on the "Registration" button at the top of the page.
Step 2: Choose the social network and the currency that you want to bank with.
Step 3: Click Register.
Step 4: Enter your login details for that social network.
---
What is the 1xbet registration bonus code I need to use?
The 1xBet bonus code is "SILENTBET". You need to enter this code to trigger an additional 30% on the original welcome offer up to €130.
---
Register at 1xBet via Mobile
If you would rather sign up via the betting app, then you can do so. You can download the app to both Android and iOS devices by simply visiting the site on your smartphone's browser and then following the popup to download.
If you want to register your account with them, then it's worth noting that you get all the options that you do with a desktop.
Click on the "Register" button at the top of the page.
Choose between one-click, by phone, by email or social network.
Enter the information for whichever process you choose. You can see details of each above.
Use bonus code "

SILENTBET

" where prompted to enter a bonus code.
Click register and your account will set up in a matter of minutes.
---
Do I Need a Mirror Link to Register at 1xBet?

If you are struggling for access on the site, then there are available mirror links. However, we found that one thing that 1xBet does will is direct you to the best link based on your location. It works exceptionally well when on Mobile and you are using the mobile site as opposed to either of the dedicated apps.
---
Signup Offers for New Customers at 1xBet
What we will say from the start is that if you enter promo code "SILENTBET" you will get access to an additional 30% bonus worth up to €130.
---

The welcome casino package is worth a massive €1500 when you decide to register a new account with 1xBet. It's broken down into your first four deposits, and each has slightly different terms. You also get up to 150 free spins across a range of slots within the casino.
Here is the breakdown for each of your first four deposits:
1st deposit – 100% up to €300 + 30 free spins
2nd deposit – 50% up to €350 + 35 free spins
3rd deposit – 25% up to €400 + 40 free spins
4th deposit – 25% up to €450 + 45 free spins
You need to wager through each of the bonuses 35 times before you can withdraw. You also get just seven days to clear each bonus from the time they are triggered.
---
1xBet Online Registration Terms & Conditions
As per most European gambling sites, players need to be aged 18 or over to register for an account. They also state that any players who linked with sports teams (coaches, players, staff etc.) are not permitted to sign up if gambling options for those teams are represented on-site at any time.
Accounts are limited to one per player. If you found with multiple accounts, then one or all of these may be closed.
---
Who Can Open an Account on 1xBet?

Several territories won't be able to create an account with 1xBet that we have listed below:
---
How Do I Verify my 1xBet account?

You will need to verify your account once you are signed up. It will depend on the method that you chose to register your account as to what you need to send in.

That will include things like National ID cards, driving license, passports, phone checks and email checks as well. By accessing the "Security" section via your account, you can see what needs to be uploaded to remove limitations on your account.
---
What Deposit Methods to Choose When Signing Up?

You have a good range of banking options on offer from 1xBet. The majority of them are Cryptocurrencies, and we won't list them all, but they have over 25 different options for this.

Below we have outlined the more mainstream banking options:
---
Can I Change my Login Details or Personal Information After Registration?

Yes, you can access the account section to change a considerable range of account options and preferences. 1xBet is one of the most customisable sportsbooks that we've come across for this.
---
What If I Forgot my Password?

Just click on the "forgot your password" button within the login section. You can reset this via the email address or the phone number that linked to your account.
---
Can I Use my 1xBet Account when Travelling Abroad?

You can use your account when you travel aboard, and you can access it within any country that they accept new players from. Don't forget that you can use Mirror Links if the original link is not working.
---
Is It Possible to Self-Exclude or Limit My Deposits at 1xBet?

You can both self-exclude and limit your deposit amounts. To do either of these, you need to contact customer support. In fact, for all forms of responsible gambling features that are on offer, you need to contact support directly.
---
What Should I Do to Prevent My 1xBet Account Getting Limited or Banned?

Make sure that you follow the terms and conditions that outlined online. To be honest, most are common sense like don't create multiple accounts, don't try and claim multiple welcome offers, make sure you aren't trying to launder money etc.
---
How Can I Close My 1xBet Account?

If you want to close your account need to be in touch with customer support so they can do this for you.
---
1xBet Registration FAQs
What is the 1xBet bonus code?
You need to enter the bonus code "SILENTBET" when you register your new account.
What does the bonus code get me?
The "SILENTBET" bonus code gets you a 30% bonus on the welcome offer worth up to €130.
Do I need to verify my account?
Yes, you will need to verify before you can unlock all the features on-site. Your account will highlight what you need to add and when within the "Security" page.
How long does it take to sign up with 1xBet?
If you choose one-click registration, then this will take less than 15 seconds to be signed up. Other methods that require a little more info can all completed within a minute or so.
Is there a 1xBet app?
Yes, they have an app for both Android and iOS devices.
How soon can I make my first deposit?
As soon as you are registered, you can make a deposit. Your account will need to be verified before you can withdraw.
Does 1xBet accept Bitcoin?
1xBet has over 25 different Bitcoin payment methods currently on site.
---
How to Contact the 1xBet Support Team?

You're able to contact the support team via several different methods. These include phone, email (several addresses based on which department you need), Twitter, WhatsApp, IMO and a dedicated online form that is accessible 24 hours a day.
---
What Comes Next?

Once your account has been set up, you can get straight into betting. The sportsbook includes a good range of sports and features. That makes it one of the more balanced betting options on the market right now.
Related Articles