Why Should I Join 22Bet?

22bet is one of a string of relatively new online sportsbooks that are starting to make real progress within the industry. The bookmaker covers a massive range of both sports and markets, allowing them to go head to head with pretty much all of the more established names.

We particularly enjoyed the clean layout, live betting section and their pricing, all of which are some of the better that we have tested. It's a sportsbook that has few niggles, and as a result, 22bet becomes a sportsbook that we are happy to recommend.
Good sports bonus
Many betting options on sports
High odds
eSports and Virtual Sports betting
Live Betting
Casino
Cashout
Live Casino
E-Sports
Lottery
---
How to Open a 22Bet Account?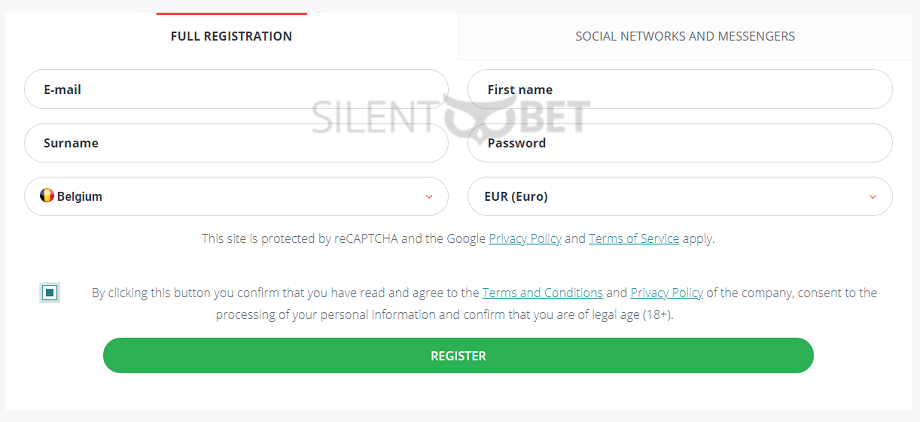 The process of opening your account will take just a minute or two. They use an SB Tech platform to power their site, and with this, you get a mainstream sign up process that lots of bookmakers now use.
Those of you familiar with the Bet2Play and Bet2Win brands will recognise much of what you see from the process offered by 22bet.
Step 1: Click on the Registration button at the top right of the screen.

What is the 22Bet registration bonus code I need to use?

After you log in to your newly created account, the first thing you need to do is to enter the cashier section. There you'll have the chance to enter our special promo code – 22_1542. It may unlock many exciting promotions for you.

---

---

Register at 22bet via Mobile

The mobile signup process is pretty much a carbon copy of the online process. You can access this via the app for both iOS and Android. Alternatively, you can just visit the 22bet site in your smartphone's browser, and you will be redirected to the mobile site.

Step 1: Click the Registration tab at the top of the page.
Step 2: Choose between a full registration or a social media registration.
Step 3: Fill in your name, email, location and currency.
Step 4: Make a note of your User ID.
Step 5: Choose your welcome offer and then make your first deposit.

As a final note regarding mobile, you can get a full range of banking and bonus options when you sign up via the app. The app and the online site are carbon copies of each other, pretty much, so all features that you see online, you get on your phone.

---

Signup Offers for New Customers at 22Bet

When you've completed your sign up process, you are going to be able to get a welcome bonus that is worth up to €122. The bonus is a 100% match on your opening deposit and specifically states you are allowed to claim just one per account.

Don't forget to use our 22bet promo code 22_1542, as it may make you eligible for many options, games and promotions.

The bonus will be triggered on all deposits of €1 or more. You need to wager through your bonus five times before you can withdraw. Only bets that include three or more selections and all at odds of 1.40 or higher will count towards clearing the bonus.

You must then clear the full amount within seven days before that bonus will expire.

---

22Bet Online Registration Terms & Conditions

As with all bookmakers, there are specific rules that you need to adhere by when you use 22bet. The most obvious and most commonly triggered is that all users need to be aged 18 or over to register an account.

Another thing that will prevent people from signing up is that no players who are directly involved with the events that they are betting on (sportspeople, coaches, referees, etc.) can wager with 22bet. This includes people who are contracted with other bookmakers.

If this takes place then 22bet reserve the right to not just close your account, but also cancel any bets and withhold any funds.

---

Who Can Open an Account on 22Bet?

22bet has a fairly confusing policy when it comes to countries that they allow players from. This is mainly down to the fact that some sections of the site will be restricted to some locations. For example, players from Portugal can sign up, but they will be restricted from any casinos games that are made by NetEnt.

However, there are several countries that 22Bet fully prohibits players from:

---

22bet SMS Registration

Wonder how to register at 22bet via SMS? This is only possible at 22bet.co.ke that allows betting via SMS but also opening your account by sending a text message. The process is quite simple, to say the least. All you have to do is:

Write an SMS with JOIN in the text.
Send the message to 29252.
Wait for 22bet to reply with a text containing your Username and Password.

With this, your 22bet registration via SMS in Kenya will be complete. You can proceed to login and filling out any needed new account information.

---

How Do I Verify my 22Bet Account?

Verification is something that takes place on an account by account basis. What we mean by this is that customer support will only reach out if they need more information from you.

Depending on how you have signed up, our advice would be to head to your account setting and then your personal profile and make sure there is as much data here as possible.

If they do require more info, then they will likely ask for proof of ID (passport/driver's license) and proof of address (utility bill/bank statement). They also state that they may set up a Skype call if they feel like the account warrants it.

If a player is unable to verify their account, then their account will be suspended until they can do so.

---

What Deposit Methods to Choose When Signing Up?

The banking section is vast at 22bet. Like a lot of Euro-facing bookmakers, they can cash in on a wide range of bitcoin banking options. In fact, there are 25 to choose from at the time of writing.

Outside of bitcoin, the selection is still very healthy with 23 banking methods. These include:

Deposit Methods
Withdrawal Methods

| Payment Method | Deposit Minimum | Deposit Maximum | Time for Deposit |
| --- | --- | --- | --- |
| Visa | €1 | no limit | Instant |
| EcoPayz | €1 | no limit | Instant |
| MasterCard | €1 | no limit | Instant |
| ePay.bg | €1 | no limit | Instant |
| Entropay | €1 | no limit | Instant |
| Sofort | €1 | no limit | Instant |
| Perfect Money | €1 | no limit | Instant |
| E-Vouchers | €1 | no limit | Instant |
| Jeton Wallet | €1 | no limit | Instant |
| Payeer | €1 | no limit | Instant |
| Sepa | – | – | – |
| Cryptocurrencies | €1 | no limit | Instant |
| Steam | €1 | no limit | Instant |
| Bank Wire Transfer | €1 | no limit | 1-3 days |

| Payment Method | Withdrawal Minimum | Withdrawal Maximum | Time for Withdrawal |
| --- | --- | --- | --- |
| Visa | €1 | no limit | 1 minute – 7 days |
| EcoPayz | €1 | no limit | 15 minutes |
| MasterCard | €1 | no limit | 1 minute – 7 days |
| ePay.bg | – | – | – |
| Entropay | €1 | no limit | 15 minutes |
| Sofort | – | – | – |
| Perfect Money | €1 | no limit | 15 minutes |
| E-Vouchers | - | - | - |
| Jeton Wallet | €1 | no limit | 15 minutes |
| Payeer | €1 | no limit | 15 minutes |
| Sepa | €1 | no limit | 15 minutes |
| Cryptocurrencies | €1 | no limit | 15 minutes |
| Steam | €1 | no limit | 15 minutes |
| Bank Wire Transfer | €1 | no limit | 1-5 days |

Deposits start from as little as €1 per transaction, which is as low as you can get. Withdrawal options are a little more limited than the deposit options but again start with small amounts of just €2 per transaction.

---

Can I Change my Login Details or Personal Information After Registration?

After you have registered your account, you need to head to your personal profile to make any changes. You can change pretty much everything apart from your account number, email address, name and country of residence.

If you no longer have access to your email address, then you need to contact customer support so they can change this for you.

---

What If I Forgot my Password?

If you forget your password, then you need to click on the forgotten password link. Once you have done this, you will need to enter your account number and your email address.

An email will be sent to you so you can then reset it.

---

Can I Use my 22bet Account when Travelling Abroad?

Your 22bet account can be used aboard. However, you need to be in a country that accepts players within that country. It's also worth noting that 22bet may have different sites for different countries. An example of this would be their .co.uk version which is different from their .com version that we are talking about within this article.

---

Is It Possible to Self-Exclude or Limit My Deposits at 22Bet?

You do have self-exclusion options however you need to contact them directly to do this. You can talk with someone who will highlight how long you can self-exclude for. They will also be able to set up any account deposit limits as well.

---

What Should I Do to Prevent My 22Bet Account Getting Limited or Banned?

Given that not all accounts will need to be verified, it can be quite easy to create multiple accounts with 22bet. This could purposely, or it could be by accident. If 22bet find you do have more than one account, they can suspend and close your accounts indefinitely.

If you have claimed the bonus on one or more accounts, they may ask you to repay the money you have claimed. This will be seen as bonus manipulation and is strictly prohibited.

---

How Can I Close My 22Bet Account?

To close your account fully you will need to contact customer support. They will advise you on the best method to do this.

It's worth noting that should you permanently close your account you will not get access to it again.

---

22bet Registration FAQs

Do I need a bonus code for 22bet?

Yes! You need to enter our promo code 22_1542 upon making your first deposit.

How much is the bonus worth?

The 22bet bonus is a 100% match on your opening deposit worth up to €122.

How long does it take to sign up?

It will take just a couple of minutes to complete your registration process. You can use the 22bet to do so if you wish.

Can I open an account from the UK?

You cannot open an account from the UK on 22bet.com, but you can on 22bet.co.uk.

Do I need to verify my account?

Customer support will contact you if you need to verify your account. You do not need to verify before you make a deposit.

What is needed for verification?

Proof of address and proof of ID. You may also be asked to carry out a Skype call as well. Processing times for this are up to 72 hours.

---

How to Contact the 22Bet Support Team?

To contact 22bet, you have a range of options. The easiest and quickest way is via their live chat function that is open all day. You also have an email form online that they state will take up to 24 hours to get a response with.

---

What Comes Next?

As soon as your account is set up and funded, you can start betting. You can choose at the start to take the welcome offer or not. If you do take the welcome offer, then you will begin to clear this from your first bet providing that it meets the minimum clearing rate for the offer.