Online gaming is as popular in Hong Kong as in any other country. Consequently, many online casinos have come up to respond to the needs of online punters in Hong Kong. Due to such a vast number, you need to know the top betting sites in the world, including 1xbet, 22bet, Marathonbet, Matchbook, and BetWinner. Joining any of these as a Hong Kong punter gives you great punting moments.
---
Which Top 6 Bookmakers are Recommended for Hong Kong?

The top 6 bookmakers recommended for Hong Kong include 1xbet, 22bet, Marathonbet, Melbet, Matchbook and BetWinner. In the section below, we focus on each of the above bookmakers in detail.
List of the Best Bookmakers for Hong Kong
---
Hong Kong's TOP 6 Bookies Reviewed

We present to you more detailed info on each of the best betting sites in Hong Kong for 2022.
22bet
There are several reasons that qualify 22bet to be one of the top betting platforms in Hong Kong. Most of these revolve around the services offered by the bookie, and the international reputation it has earned over time. 22bet was established in 2017, giving it one of the shortest operational moments so far. However, the moment has been characterized by significant growth and quality online gaming service.
So far, 22bet boasts of more than 1000+ live events daily, a high payout on most events, cash-out service, promotions and dedicated mobile application. The platform also gives its players unique features in cash out, quick bet, and edit my bet features, not forgetting excellent customer support and convenience.
More than 100 payment methods available for Hong Kong players
Multi-live streaming feature available
Great odds on all sports markets
Offer unique gaming features like the cash out, edit my bet and quick bet
Low odds-on Asian handicaps
Slow processing of withdrawals
---
1xbet
Our #2 pick is a popular betting company with over decades of online and offline working. The bookmaker 1xbet serves punters in Africa, Europe and Hong Kong. Its most remarkable services include live streaming, a multi-lingual support approach, a wide range of payment methods and excellent customer support.

Over the years, 1xbet has positioned itself as an unbeatable brand in offering more than 50 sports which build a total of 60,000+ events monthly, live streaming, great promotions, and special features like the bet constructor. Additionally, the platform offers its punters an Android and IOS app available for download on the respective app stores.
Wide range of betting markets for Hong Kong punters
Great bonuses and promotions for Hong Kong punters
Live streaming and bet constructor services offered
Notorious for account limitations for Hong Kong players
Has a tough Know Your Customer policy
---
Marathonbet
This is a household name associated with competitive gaming in the online arena. The platform was established in 1997 and has been operational since then. Marathonbet operates legally under a license from both Curacao and the UKGC. Moreover, it has several other local licenses in Spain and Italy.
Marathon is among the best scoring online bookmakers for several reasons. First, it has a great website that proves easy for every punter. It has selected the most popular sports, markets and these are accompanied by several special betting features, all meant for the punters from Hong Kong.
Offers different odd formats for its Hong Kong punters
Has a loyalty programme for its punters
Dedicated mobile apps available for punting convenience
Offer complete, auto and partial cash out options
No welcome bonus for Hong Kong sports punters
International bank withdrawals attract some fees
---
Melbet
This site was initially established in 2012 as an online casino. However, it launched its sportsbook as well, from where it offers an enthralling gaming moment to its punters in Hong Kong. Go to Melbet for a unique gambling experience and a safe environment. The platform's operations are governed by several licenses, including Curacao.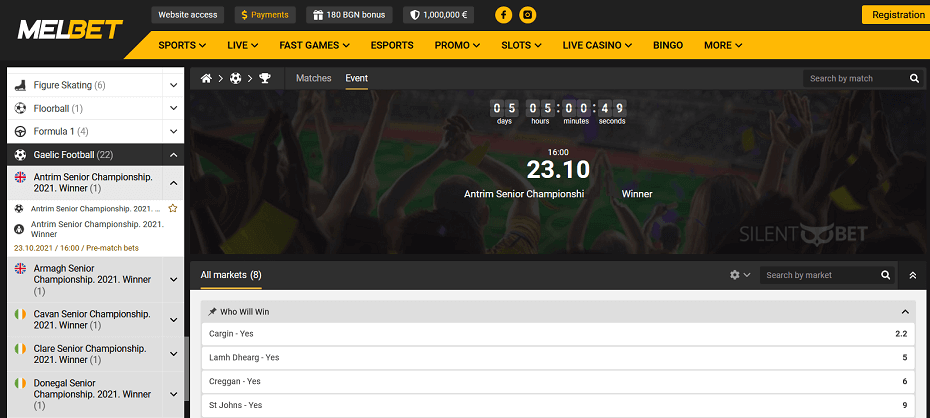 Melbet offers punters an excellent opportunity to bet in various sports and markets. All its sports are obtained from leagues with international repute from different parts of the world. The odds are above-the industry average, and they come in various forms.
Huge welcome bonus for punters from Hong Kong
Wide range of sports to bet in for punters
Live streaming services and live betting available for Hong Kong punters
Somewhat laggy mobile version
---
Matchbook
Our next enty is a product of betting experts who came together in 2004 to establish the best alternative to traditional bookmakers. The platform of Matchbook is a sportsbook and a home to a huge casino and a live casino that complements the sportsbook thrill.
Making it to the list of the best betting sites in Hong Kong is not a wonder as the bookmaker has invested lots of effort and energy in ensuring quality gaming moments. Basically, the platform boasts a wide range of sports, a wide selection of betting markets and an array of admirable betting features that every punter would like to try out.
Offer dedicated mobile betting apps for Hong Kong punters
Cover a wide range of sports
Highly admirable betting odds
Has an insights section where it covers essential stats and info about betting
Limited payment methods for Hong Kong punters
No live betting option for Hong Kongers
---
Betwinner
Finally, here is a relatively new entrant in the online gaming circles. Betwinner comes with a background from Eastern Europe, which justifies why it mainly operates in CIS countries. Despite that, it has encroached on the Indian, Portuguese and Italian markets, not forgetting Hong Kong. The bookmaker is well known for its sportsbook that supports high-level live betting options.
BetWinner has worked hard to intensify its market reach and attract potential punters. It has done so by offering a wide range of sports to bet in, a simple website, appealing markets selection and excellent customer service. On the same, we can't ignore the payment methods available for Hong Kongers, the bonuses and offers.
Multi-live betting option
Cash-out option available as bet slip sale
Dedicated apps for Hong Kong punters
Offers more than 30,000 pre-match events monthly
Live streaming is not available on all events
Slow customer service
---
Ranking Criteria for the Best Hong Kongese Bookmakers

Our ranking criteria for the best Hong Kongese bookmakers put the following aspects into account:
Markets: Since you want to find a variety of betting markets and options, we thoroughly check what markets are offered on each bookie. We go for the one with the friendliest markets to increase your winning chances.
Odds: The odds determine how much you enjoy if you get a correct prediction as you entertain yourself. We not only check the size of the odds but also the nature and type.
Bouses and Promotions: When selecting the best online bookies in Hong Kong, we ensure we give you the bookies with the best bonuses and promotions. These will maximize your thrill and offer you that extra punting coin you might need.
Website Usability: Many online bookmakers want to appear unique. In the race to uniqueness, bookmakers develop different sites, and some are difficult to navigate. All our suggestions have the best navigational capabilities.
Hong Kong Gambling Industry – Quick Facts

Knowing the gambling terrain in Hong Kong is one step of understanding and appreciating the industry in the country. Let's focus on these crucial facts:
Currency: Hong Kong dollar (HK$)
Population: 7.482 million
Active Players: No data
Designated Authority: Hong Kong Gambling Ordinance 1977 (Cap. 148)
Regulated Gambling Products: poker, bingo, sports betting, fantasy betting, football betting, horse racing, casino gaming
Types of Operators: Offshore bookmakers, land based casinos and bingo halls
Did you know that?
The gambling landscape of Hong Kong has 13 different forms of gambling, but the most popular include Mark Six Lottery, Horse Racing and Social Gambling.
The Hong Gambling Industry produces the most significant turnover in horse racing globally.
About 80% of all illegal gamblers in Hong Kong are males
The Hong Kong Jockey Club, responsible for football betting, lotteries and horse racing, is the most significant taxpayer to the Hong Kong government.
Step-By-Step Guide to Punting in Hong Kong
Although bookmaker gambling remains illegal in Hong Kong, offshore bookmakers have encroached the country, and players can play online. In this case, playing on any bookmaker is a simple process that won't take time. In the section below, we highlight the steps to follow to gamble online in Hong Kong:
Select one of the bookmakers on the list above
Register for a new punter account by entering all the required information
Fund your account to get enough stake to bet
Check the markets, events and the most profitable bets likely to give you wins.
Place the bet and patiently wait for the outcome as you enjoy quality live streaming of the event.
Online Betting in Hong Kong in 2022


Punting in Hong Kong requires you to have a clear picture of how the industry operates. You need to understand the types of gambling available and those legal, the taxation on gambling wins and the status of gambling in the country. In the below part, we try to answer some crucial questions that give us reliable insights into the Hong Kong gambling industry.
Are Hong Kong betting sites legal?

From the initial regulation of gambling in Hong Kong that dates back to 1977 when the Gambling Ordinance was established, betting sites in Hong Kong remain illegal. However, there are several regulated gambling outlets that are licensed by the government. These offer limited betting products that mostly include horse racing betting and lotteries.
Are Hong Kongers restricted by bookmakers?

Online gambling in Hong Kong remains illegal. Therefore, Hong Kongers can only bet online on the HKJC. However, they have actively ignored this restriction and bet on offshore bookmakers.

While some offshore bookmakers restrict players from Hong Kong, some do not. Consequently, quite several Hong Kongers play online without restrictions.
---
Are winnings from gambling taxed?

Winnings from gambling in Hong Kong are subject to different rates of taxation. The Hong Kong Jockey Club remains one of the critical taxpayers to the Government of Hong Kong out of its highly profitable gambling in football, horse racing and social gambling.

The tax rate on individual winnings depends on the type of gamble, and the amount won. Resultantly, some punters pay more tax than others.
---
What are the Top Betting Bonuses & Offers at Hong Kong Bookmakers?

There are many top betting bonuses offered at Hong Kong betting sites, and some include welcome bonuses, cashback, reload and free spins. Some of these offers are as described below:
Welcome bonus
This is mainly offered as a percentage of the initial deposit you make at a casino. This is offered to welcome new players to a casino.
Cashback Bonuses
The cashback is a bonus meant to refund some of your losses. Again, the promotion is given as a percentage of the total amount lost daily, weekly or monthly.
Reload Bonuses
A reload bonus is offered as an addition to the amount you deposit. It's mainly meant to encourage you to deposit as much as possible.
Free spins & Free bets
Free spins are primarily available at the casinos, while free bets are offered at sportsbooks. The two offers can be offered as a welcome bonus at the best betting sites in Hong Kong.
---
What are the Favourite Sports for Hong Kongese Punters?

The most favourite sports for Hong Kong punters include the following as we found them on top bookmakers in Hong Kong:
Football
Esports
Cricket
Rugby
Tennis
Cycling
Basketball
Badminton
Swimming
Horse Racing
As you enjoy these popular sports in Hong Kong, you will also have the opportunity to enjoy various features. These include live betting, live streaming and cash out, among others meant to make your gaming moment memorable.
---
Are Online Casinos Legal?

At the moment, online casinos in Hong Kong are illegal. The only legalized form of online betting is through the Hong Kong Jockey Club.

However, this doesn't mean that punters don't enjoy the thrill that comes with online casino gambling. The punters mainly result in using the offshore bookmakers that are many. Alternatively, punters use the VPN services to comfortably play at online casinos based in different geographical locations.

There are different types of casino games on the offshore bookies available here. These include but are not limited to table games and online slots machines.
---
Deposit Methods & Currency

The best betting sites in Hong Kong understand that there is a need to ensure players get convenient transactions methods. Consequently, the platforms have settled for different payment methods that have been derived from different payment systems.

Therefore, you can choose to pay using the credit cards like Visa, MasterCard and Maestro or the e-wallets like Skrill, Neteller and PayPal. Other payment systems include secure cryptocurrencies and bank transfer methods.
---
Mobile Apps for Betting

With the increased mobile penetration rates, many online casinos are devising mobile applications and optimized mobile betting sites. These two simplify the betting experiences of punters as they can bet at their comfort any time.

Most of the top bookmakers in Hong Kong offer mobile applications at the Google Play Store and the App Store. Some of the leading apps for Hong Kong bookmakers include Marathonbet, BetWinner and 22bet.
---
Best Betting Site in Hong Kong for 2022?

Following an analysis of the best Hong Kongese bookmakers, Silentbet has settled on 22bet as its best choice.

22bet scores excellently in several aspects, thus meeting the expectations of Silentbet. The bookmaker offers the best bonuses and promotions to its Hong Kong punters and presents them with a wide range of sports and casino games to bet in. Moreover, it has live streaming and live betting as the unique features that every punter looks for before joining the best sites for betting in Hong Kong.
Good sports bonus
Many betting options on sports
High odds
eSports and Virtual Sports betting
Live Betting
Casino
Cashout
Live Casino
E-Sports
Lottery
---
Overall Verdict

Despite online betting being illegal in Hong Kong, many offshore bookmakers operate there. Therefore, selecting the best Hong Kongese bookmakers to play at requires careful evaluation, which we have done for you. Thus, you can pick one of our top recommendations on the above list and have fun.
---
FAQ
Which are the best sites for betting in Hong Kong?
The best online bookies in Hong Kong include Melbet, BetWinner, 22bet, Matchbook, Marathonbet and 1xbet.
What bonuses will I enjoy when betting on top bookmakers in Hong Kong?
Some of the bonuses to enjoy when punting at top bookmakers in Hong Kong include a welcome offer, reload and cashback bonuses.
Is online casino gaming legal in Hong Kong?
No, online casino gambling is not legal in Hong Kong. However, many offshore bookmakers serve punters from the country, offering online casino gaming services.
Are winnings from gambling taxed in Hong Kong?
Yes, there is taxing of gambling winnings from legal punting in Hong Kong. However, the offshore punting winnings go unnoticed and thus, untaxed.
---