The Kingdom of Thailand is one of the countries in Southeast Asia with a rich history. Thailand is popular for having the second-largest economy in the region and is a member state for ASEAN or the Association of Southeast Asian Nations. Gambling in Thailand is unregulated, and the main gambling activity in the country is lottery and horse racing betting. However, Thailand does not allow online betting. Even so, the country harbours multiple bookies by country, most of which will be described in this review. Keep reading to learn more about gambling in Thailand.
---
Which Are the BEST 5 Betting Sites in Thailand?

Silentbet has analysed all offshore and local bookmakers operating in Thailand. Here is a list of the top 5 Thai betting sites for 2023:
Best Betting Sites in Thailand Ranked
---
Thailand's TOP 5 Bookies Reviewed

Here is a detailed analysis of Thailand's top 5 betting sites that every punter in the country should know.
1xbit
Any punter interested in betting using cryptocurrency in Thailand should consider 1xbit. The bookie offers Thais access to various cryptocurrency payment methods like BTC, ETH, and LTC. That aside, 1xbit is the best bookie for punting on different sports. 1xbit offers gamblers football, rugby union, air hockey, and table tennis events. You are free to place pre-match bets or live bets depending on your preference. However, you should know that live markets tend to be fewer than fixed markets.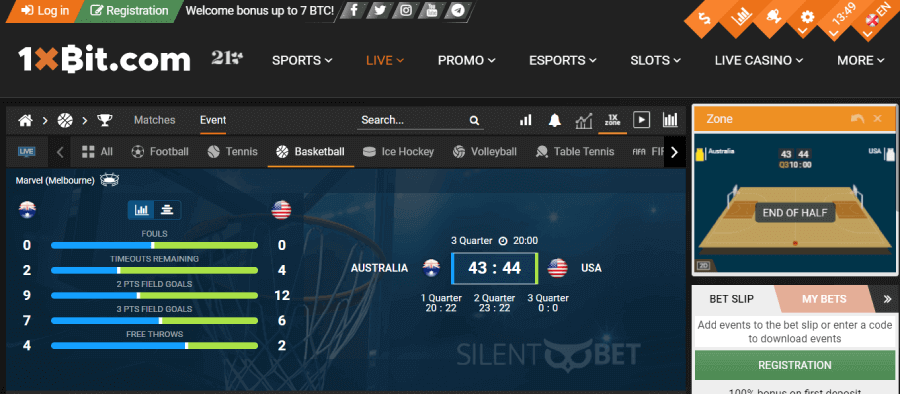 If gamblers check the matches, they will notice that each event has a graph symbol that provides access to statistics. The purpose of the information is to help with sports betting. To complement the function, the 1xbit operator included live scores. Note that punters can gamble either on their computers or using the 1xbit mobile website. Both options have everything Thais require to enjoy sports betting.
Allows cash-out
Offers the best odds sizes
Has a full range of markets
Offers live chat services
---
1xbet
It is impossible to find a list of top bookmakers in Thailand that lacks 1xbet. The bookie is one of the most interactive betting sites with a simple interface that is easy to operate. But what is more alluring about 1xbet is that it offers different betting sections. Punters have access to eSports, actual sports, and most importantly, virtual sports betting pages. Regardless of the section you choose, the operator will offer you many events.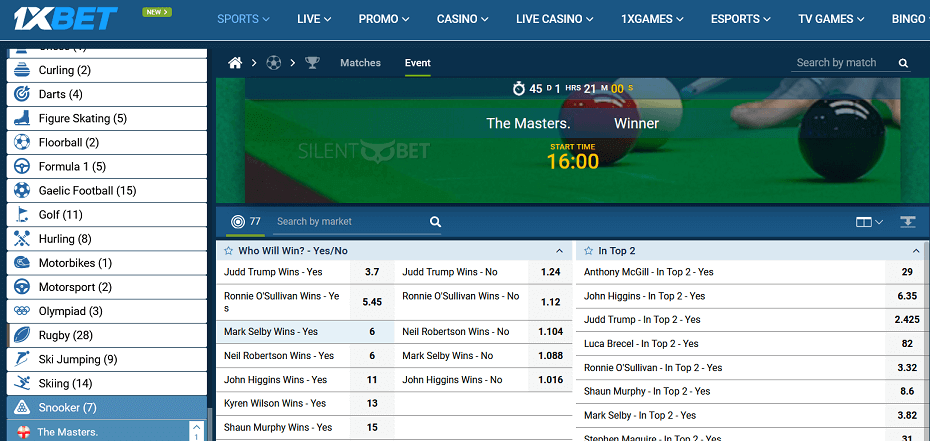 You will also be thrilled to learn that 1xbet offers live betting services. The in-play section allows you to access football, tennis, and table tennis live events. Moreover, you can punt on NBA live matches. Each event on the bookie has many betting markets, with some containing more than 1450 betting options. With such markets, Thais are guaranteed an easy time placing bets on the bookmaker. But first, Thais have to register for a 1xbet account to access the betting options.
Offers live streaming services
Some events have a cash-out function
Has live chat
Offers a bet builder
Does not have the best live odds
---
Wazamba
Living in Thailand? Want to experience more betting opportunities? You should opt for Wazamba and its range of bonuses. New Thai players get an awesome welcome pack with many rewards and free spins.
Great site design
Lots of Thai betting options
Awesome promotions
Amazing casino games range
---
Betwinner
Our next pick is an established sportsbook in Thailand with nearly everything Thais need to enjoy gambling. That is why Betwinner is on the list of best sites for betting in Thailand. Betwinner provides punters access to football and horse racing events. It is also the most recommended site for providing gamblers with badminton and bandy games. Each of the matches comes with a good number of betting options.

Some of the markets to look forward to include, Double Chance, Totals, and Match Winner. To view more betting options, click the event you wish to gamble on and scroll through the markets provided. Additionally, the bookmaker comes with responsive contact methods that work round the clock. For example, the site has emails, telephone, and social media accounts. However, if Thais want to have the best experience, they should consider live chat, only available to registered punters.
Offers Bitcoin
Has the best website design
It is multilingual
Offers competitive odds
Does not offer adequate e-wallets
---
BetAndYou
This is a bookie operating in Thailand known for offering punters high odds and round-the-clock customer services. Before going through the bookie's strengths, Thais should know BetAndYou comes with different odds formats. Punters can change their odds to Hong Kong, UK, US, and Decimal. On the other hand, customer support includes live chat, email, and a message form. Gamblers can use any communication options whether they have a registered account or not.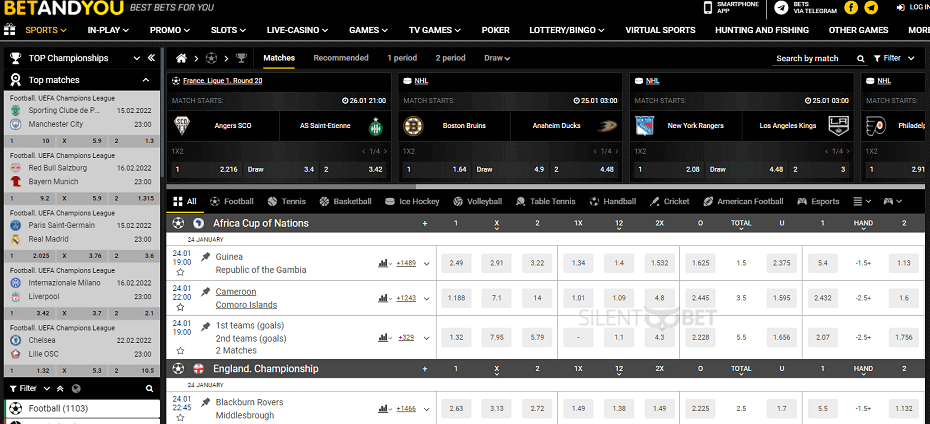 Upon further sportsbook analysis, punters will notice that Betandyou has a wide range of sports. In total, Thais can access more than 28 sports, most of which are available for live betting. Another merit of Betandyou is that it has a mobile website and mobile apps. As a result, gamblers can gamble on the go. Besides, they can use their mobile apps to sign up and verify their information. These are among the main reasons Thais should opt for Betandyou and not the other bookies.
Offers cryptocurrency methods
Has mobile apps
Guarantees live streaming of some events
Allows virtual sports betting
---
Rabona *Bonus Brand
Not every casino and bookie in Thailand is worth it, but Rabona casino is one of the best sites out there. So we give you this option as a bonus. Check it out!
Great sbook
Lots of games
Bonuses for Thai players
How Do You Choose the Best Betting Sites in Thailand?

When picking the best betting sites in Thailand, punters must consider the functions described below.
Bonuses – Punters should consider bookies that have a compelling welcome bonus. The bookmaker should also contain multiple bonuses for current clients to be considered one of Thailand's best online bookies.
Odds – The only way to be sure of significant payouts is if a bookie has high odds. Make sure both fixed odds and live odds are substantial.
Cash-out – Look for the cash-out feature to know which of the available betting sites is among the best Thai bookmakers. The function is important in stopping a bet whenever you want.
Live Streaming – Lastly, make sure the Thai bookie you choose allows you to live stream multiple live events. Watching events increases your chance of placing likely bets. It also makes a sportsbook entertaining.
Markets – A bookie with more than enough markets is crucial. Thais should opt for a bookie whose markets range between 500 to 1500 or more.
Live Betting – Thais should only sign up on a bookie that has an in-play section. A bookmaker with the page allows gamblers to place bets even after the event begins.
Most Important Gambling Aspects to Know About Thailand

Here are details that will help you understand gambling in Thailand at a glance. That is whether you are from the country or not.
Currency: Thai baht – THB
Population: 69.7 million
Active Players: 9.9 million
Designated Authority: none
Regulated Gambling Products: lottery and horse racing betting
Types of Operators: online and physical operator
Did you know that?
Most punters in Thai use VPNs to bet online.
Any punter found gambling illegally faces imprisonment or a hefty fine.
No sportsbook in Thailand holds a local gambling licence.
How Can You Place Online Bets in Thailand?
You can place bets in Thailand by following the steps listed below. Make sure you don't skip a process.
Choose the bookie you wish to use from the list in this article.
Register for an account.
Deposit some cash in your sportsbook.
Go through the sports and markets.
Compare the odds.
Make the likely prediction and stake.
Submit the bet slip.
After placing the bet, wait for the event to conclude to see whether you made the correct prediction or not.
Online Betting in Thailand


Here are the main online betting facts you should consider to understand gambling in Thailand.
Is Online Gambling Legal?

Practically, online gambling is not legal in Thailand. The only legal form of gambling is lottery and horse racing. That explains why some Thais use VPNs when accessing international sportsbooks.
Is There Any Restriction of Thais by Some Bookmakers?

Due to the gambling laws in Thailand, some bookies restrict punters from Thailand. However, the bookies that restrict punters from Thailand are few.
---
Does the Thailand Government Tax Gambling Winnings?

The government of Thailand does not tax winnings earned from gambling. However, the government taxes individual betting companies. If you are lucky to win some cash, don't bother remitting tax.
---
Are There Any Specials and Bonuses for Thais?

Most, if not all, best Thai bookmakers offer punters bonuses and specials. A significant number of offshore bookies in Thailand provide punters with welcome offers. They also come with numerous bonuses for current clients. The offers can be in the form of free bets, cashback, or reload bonuses.
---
Which Sports Are More Popular in Thai Bookmakers?

Thais don't just gamble on any sport. They often consider specific sports. Operators understand this, making sure these sports have live events for live betting. Some of the matches also have a bet builder and cash-out function. The main aim of the features is to ensure punters enjoy gambling on the games. With that said, some of the most popular sports among Thais include:
Horse racing
Football
Golf
Handball
Basketball
Boxing
Table tennis
---
Does Thailand have Any Online Casino Sites?

Thailand does not just house the best betting sites. It is also home to first-class online casinos. The gambling websites offer players access to the best slot machines, baccarat, live poker, and live roulette games. Thais only need to sign up for an account and decide which game they want to play.
---
Which Are the Most Common Deposit and Withdrawal Methods in Thailand?

The most common deposit and withdrawal methods in Thailand are e-wallets. Using card payment solutions is discouraged to avoid tracking by the government. The good news is that most international bookies offer local payment methods like Help2Pay, TrueMoney, and Paytrust88.
---
Are There Any Thai Bookies with Android and iOS App?

A good number of bookies offer betting apps. For example, in Thailand, some of the top bookmakers with apps include 1xbit, 1xbet, and Betandyou. These bookies also offer mobile sites. This is just in case your smartphone cannot accommodate an app. Using the apps, you can place live and pre-match bets. You can also punt on actual and eSports events where applicable.
---
Which Is the Top Rated Bookie in Thailand?

The number one sportsbook in Thailand, according to Silentbet, is 1xbit. The bookie comes with the best sports coverage and many markets per event. Additionally, it has compelling fixed odds and numerous bonuses for punters. All these merits added to the available betting features make 1xbit the best Thai bookmaker.
High odds bookie
Crypto betting
Awesome bonuses
Live Betting
Casino
Live Streaming
Cashout
Live Casino
E-Sports
---
Conclusion

Thailand is a strict country when it comes to gambling. But as indicated above, that does not mean it lacks bookies that you can use to place bets. In fact, from the detailed list above, the number of top bookies in Thailand is huge. This read also provides Thais with online sports betting steps that they can use to place bets. Finally, it has exhaustive information about Thailand's gambling scene, which punters in Thailand will find helpful.
---
FAQs
What happens if you are caught placing illegal bets?
If you are caught placing bets illegally in Thailand, you will be required to pay a fine or serve a prison term. In some instances, you may be required to do both.
Is there an offshore bookie that offers Thai baht currency?
None of the bookies operating in Thailand offers THB currency option. However, the bookies offer other suitable currency options like USD and EUR.
What should you do if you lose your login information for any sportsbook in Thailand?
If you lose your login information, you should use the reset password link to change the information. In case that does not work, contact customer support for help.
Why should you avoid depositing or withdrawing money using card payment methods?
You should avoid transacting using card payments like VISA and MasterCard to avoid tracking. Instead, use e-wallets or, if possible, cryptocurrency options.
---