Ad disclosure
SilentBet (SB) is proud to be the partner of numerous renowned casinos and bookmakers around the world. As such, we do use affiliate links to earn commissions (at NO cost to our readers whatsoever). These aff links help us stay a cut above our competitors, delivering top-notch content you can trust. Take a look at the
Ad Disclaimer
page for more information on our affiliate business practices.
BetWinner esports is a growing segment of betting that many punters are discovering offers a uniquely interesting betting opportunity. With the demand increasing and BetWinner's decision to cater to fans of e-Sports e-gambling segment, our BetWinner eSports Guide with Tips will explore this unique category in depth. From markets to odds, live streaming, how to get eSports bonuses to Bet Winner eSports Calendar, this guide covers it all.
---
How to Bet on eSports in Betwinner
Anyone who has previously bet on sports will find how to bet on eSports in BetWinner a familiar process. However, if you've never bet on eSports in the past, the steps below will explain the steps you need to take before you can bet on eSports at BetWinner.
Navigate to the BetWinner homepage.
Click the yellow "Registration" button and select your preferred registration method (Phone, One-Click, Email, Social networks)
Fill in the relevant information (phone number, email, name etc)
Enter promo code

130EURO

Copy

and click "Register".
Navigate to the cashier, and fund your account.
Click eSports, select your preferred electronic sport, review the betting options and place your bet.
---
What e-Sports are Available?
As you might anticipate, diversity is the name of the game at BetWinner, and that is evident by the twelve eSports categories you can bet on. If you are a fan of Esports, the BetWinner esports categories are sure to impress as they include esports, sports simulators, sports games, fighting games, card games, shooters, RPGs, adventure, strategy, combat and puzzles. As for a sample of the esports at BetWinner, they include:
CS:GO
DOTA 2
League of Legends
Valorant
StarCraft II
Mortal Combat
Street Fighter
Counter-Strike
King of Fighters
Injustice
Tekken
Killer Instinct
Blade and Soul
Seikiro
e-Football
e-basketball
---
eSports Betting on Betwinner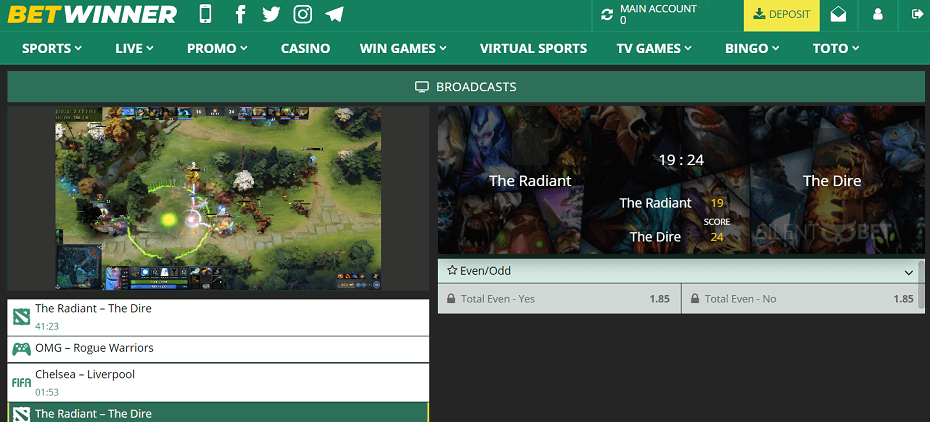 With BetWinner dedicating such a large amount of its resources to eSports betting, this segment has become a significant focus for many bettors. The big difference for bettors is eSports betting has become an on-demand favourite, and that allows bettors an increased number of options. Whether wanting to bet on on-demand eSports, leagues or scheduled events, the odds are above-average, and the markets rival those seen when betting on sports.
eSports Markets
As eSports markets rival those seen when punting on sports, bettors will find the options they can avail are familiar. While this includes the usual markets, like Winner, 1×2 and Handicap, punters will also find unique markets for Shooter and RPG games. As for the type of markets offered for eSports at BetWinner, here is an example:
1×2
Total
Winner
Handicap
Exact Number
Over/Under
Next Goal
Correct Score
Round Duration
Double Chance
Win in Round
eSports Odds
The positive news for eSports bettors at Betwinner is that the majority of eSports have higher than average odds, with some going as high as 98%. Unfortunately, bettors will find the odds for niche sports to be average, but that is not a bad thing as they remain competitive. However, it would be nice to see BetWinner adjust their odds for niche sports and those less followed, considering they cater to those that many sportsbooks do not.
Live Streaming
One of the great aspects of betting on eSports at BetWinner is the fact that every event offers live streaming. Whether betting on sports simulators like Hockey or Football, shooter games like Counter-Strike, or RPGs like Dota 2 or StarCraft II, the quality is superb. Moreover, every live streamed event offers various viewing capabilities, a list of markets, odds and access to other information, such as stars and other matches.
Chat Options
Depending on the eSport, punters have the option to chat with fellow bettors. However, this feature is mainly available in eSports like CS:GO, StarCraft II and other multi-player games. Unfortunately, if betting on non-multi-player eSports, or fighting games, chat options are not an option.
---
How to Get eSports Bonuses on Betwinner?
First and foremost, BetWinner has wisely chosen to allow bettors to use the first deposit bonus on eSports. The only condition is that the bonus must be wagered on accumulators with three or events. To claim the first deposit bonus, newly registered members will need to have verified their account and then:
Use Betwinner bonus code

130EURO

Copy

.
Confirm via the "My Account" section they want to receive a €130 bonus.
Make a deposit of €1 or more using an approved payment method.
Only stake bets on events with odds of 1.40 or more.
Wager the bonus and deposit five times.
eSports Calendar
Along with the welcome bonus for sports and eSports, bettors have the luxury of previewing an eSports Calendar. The eSports calendar is dedicated to eSports promotions and bonuses, and along with daily cashback bonuses for selected eSports, the calendar is a great tool for punters as it lists various eSports bonuses for the upcoming week.
eSports Free Bets
Similar to the promotional offers that are available for sports bettors, BetWinner frequently offers eSports bettors the opportunity to score free bets. Depending on the terms and conditions, qualifying for an eSport free bet will vary, as will their frequency, but needless to say, they add value. The good news is, if a free bet offer is being offered, the process for claiming or activating is identical to free bet for sports.
---
Live Betting on Betwinner e-Sports
When it comes to live betting on BetWinner esports, it is hard not to be impressed with the sheer number of choices one can avail. And, like BetWinner's other live betting options, the range of markets is excellent, as are the odds. Moreover, odds are competitive and updated in real time, and BetWinner includes a variety of charts and tools that can be used when punting on live events or when watching live streams.
---
eSports on Mobile via the App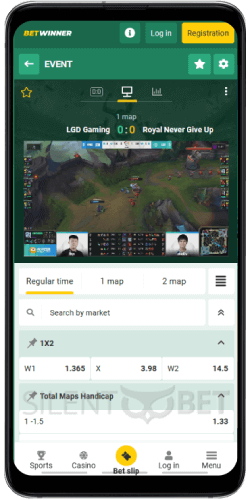 Mobile bettors will undoubtably be pleased with the option to download a Betwinner app to their iOS or Android devices. Optimised for performance and ideal for mobile esports betting, the app comes well-equipped with all the features Bet Winner offers via its online platform. Alternatively, bettors can opt to use a mobile version that is similarly equipped and tailored to suit individual preferences.
All in all, the quality and variety of e-sports markets on the app and desktop version is identical.
---
Best Betwinner eSports Strategies & Tips
Like sports betting, strategies and tips can be helpful in gaining long-term profits. While a different style of betting, the strategies used by sports punters are just as relevant for esports. Therefore, here are a few strategies you can apply when punting on eSports.
#1 Know the eSports You are Betting On
Knowing the eSports, you are betting on is a fundamental betting strategy that every punter should follow. If you bet blind, the odds are your ability to be successful will rapidly diminish, and this will impact your profitability. Therefore, before punting on any eSport, do your research, compare the odds and know which markets offer the best potential.
#2 Do Not Overthink your Bets
Overthinking your bets is a mistake many punters have made at some point in their eSports betting career. If you have done your research and know the odds and the esport you are betting on, you shouldn't have any need to overthink your bets.
#3 Practise Bankroll Management
Another fundamental strategy for betting on eSports is to practise bankroll management. Let's face it, it is easy to get caught up in the hype after a big win, but letting it get to your head and betting more than you typically would is a sure fire way to bankroll depletion. Therefore, always manage your bankroll responsibly and always set aside some of your profits.
---
Pros & Cons
With so many eSports to bet on, you are bound to find more pros than cons when punting on BetWinner esports. And while the pros and cons may seem obvious, we explore these a little further to give you a fresh perspective.
Hits
Excellent selection of eSports
Competitive eSports odds
Trusted name in eSports betting
Nice selection of payment methods
Misses
Some countries restricted from play
---
FAQs
Does BetWinner eSports offer competitive odds?
Yes, the odds at BetWinner eSports are highly competitive and often higher than other bookies.
Can I bet on eSports for free?
No, you can only place real money bets on eSports at BetWinner.
What is the minimum stake for eSports at BetWinner?
The minimum stake for eSports at BetWinner is €0.10.
Can I bet on Dota at Betwinner?
Yes, DOTA 2 is among the esports available here.
---