Why Should I Join Bovada?

As the US betting scene continues to thrive, Bovada is widely thought of as being one of the biggest and the best in that sector right now. In terms of sports, the brand has been able to offer not just a wide range of sports to bet on, but also a huge range of markets to complement each of those.

On top of that, Bovada is also regarded as one of the most competitive when it comes to pricing. Overall, we found that they offered some of the lowest betting margins across the board, but particularly excelled at US-based sports, such as American football, basketball and baseball.
Good Variety of sports
Superb Poker section
User-friendly design
Live Betting
Casino
Poker
Cashout
Live Casino
E-Sports
---
How to Open a Bovada Account?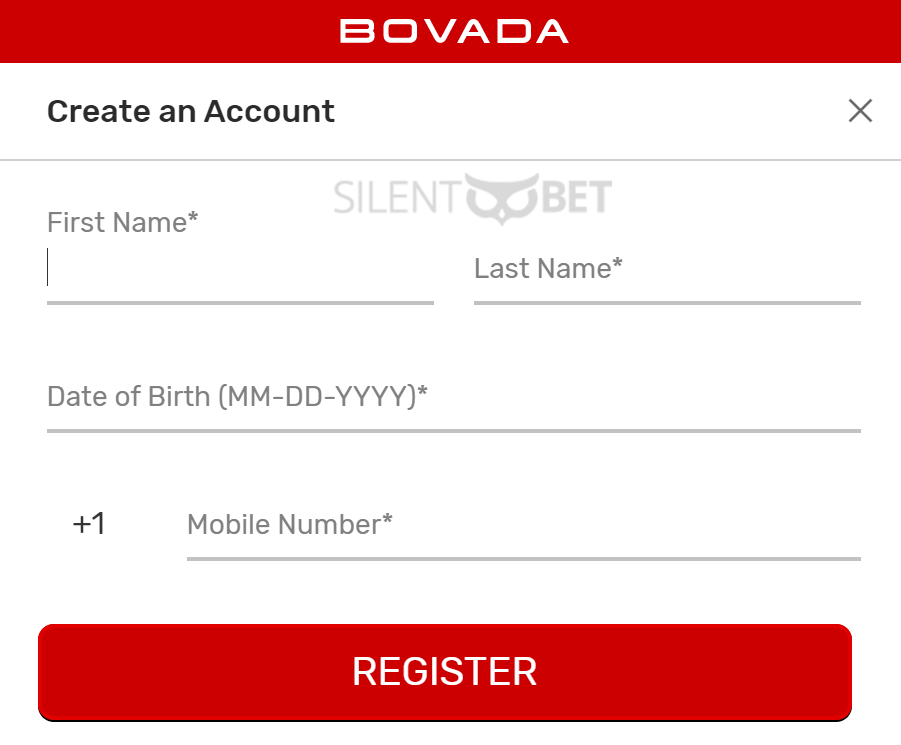 Opening an account with Bovada is a process that takes just a few minutes. It can be done on both desktop and mobile devices, as we talk more about in the next section.
Click the "Join" button at the top of the page.
In the popup window add your name, date of birth, mobile number, email, password and then your zip code.
Once you have entered your details, a verification code will be sent to your mobile.
Click the code and your account will be set up and ready to go.
Register at Bovada via Mobile

The mobile process is one that is just as fast and takes only a couple on minutes to completes. There are several ways to access Bovada from your phone.

You can either download the app from both Android and iOS devices, or you can simply visit the site via your smartphone browser.
Open the site and then click on the "Join" button at the top of the page.
Enter your personal information, such as name, address, mobile number and email.
Make sure that the mobile number you use you have access to as they will now send you a verification code to this number.
Enter your code that you are prompted for.
Your account will now be set up to use.
---
Signup Offers for New Customers at Bovada
Once your account has been set up then you're going to be able to get stuck into the welcome offer. This is one of the better promotions that we've tested to date and comes in the form of 50% of your opening deposit worth up to $250 in bonus money.
The bonus will be applied to your account within 30 minutes of making your deposit. You will then need to wager through this bonus 5 times on sportsbook and horses, and 30 times on the casino.
If you make a withdrawal before the full bonus has been cleared, then your bonus money along with money earned from the bonus will be forfeited.
---
Bovada Online Registration Terms & Conditions

Bovada states that you need to be aged 18 or over to register an account with them. However, it's worth bearing in mind that gambling laws in the US suggest that players need to be aged 21 or over. You will need to adhere to the countries gambling laws regarding age.

Accounts at Bovada are based purely on a single-account basis. This means that only one account can be used per person. If an account is found to be shared or if multiple accounts are used by a single person, then these accounts will be closed.
---
Who Can Open an Account on Bovada?

Given that we are looking at the Bovada site for US players, it means that there are states that are limited on signing up for an account. As it stands, the following states are not eligible to open an account with Bovada:

List of restricted states:
Delaware (DE)
Maryland (MD)
New Jersey (NJ)
Nevada (NV)
New York (NY)
We will add that as gambling in the US continues to open up across the country, we expect that these bans will be lifted over time.
---
How Do I Verify my Bovada Account?

Depending on what information you give when you sign up, will depend on what information you need to give to verify your account.

The process of verification is different from most sites that are Euro-based. Verification is something that is undertaken by the sportsbook at their own discretion. They may contact you to ask for additional documents to validate your age and your address.

It's worth noting that the first part of this starts by verification through your mobile number. As you sign up, a pin will be sent to you that you need to enter. Common verification documents include passports, ID cards and even Social Security Numbers (usually last 4 digits).
---
What Deposit Methods to Choose When Signing Up?

Once you are signed up, deposit options are actually pretty limited. They include:
Deposit Methods
Withdrawal Methods
| Paymenth Method | Deposit Minimum | Deposit Maximum | Time for Deposit |
| --- | --- | --- | --- |
| Visa | $20 | $1500 | Instantly |
| MasterCard | $20 | $1500 | Instantly |
| Bitcoin | $10 | $5000 | Instantly |
| BitcoinCash | $10 | $5000 | Instantly |
| Voucher | $10 | $3000 | Instantly |
| Paymenth Method | Withdrawal Minimum | Withdrawal Maximum | Time for Withdrawal |
| --- | --- | --- | --- |
| Visa | | | |
| MasterCard | | | |
| Bitcoin | $10 | $9500 | 15 minutes |
| BitcoinCash | $10 | $9500 | 15 minutes |
| Voucher | $10 | $3000 | up to 2-3 days |
Bitcoin, Visa, MasterCard, Voucher, BitcoinCash
Bitcoin, BitcoinCash, Voucher, Check by Courier
Deposits on-site start from $20 and will max out at $1,500 for cards, and $5,000 for Cryptocurrencies. It's worth noting that both Visa and Mastercard will incur a 5.9% transaction fee and American Express a 9.9% transaction fee. There are no fees for Cryptocurrencies.
Withdrawals can only be made via check or Cryptocurrencies. A check will need to be $100 or more and Bitcoin will be $10 or more.
---
Can I Change my Login Details or Personal Information After Registration?

Once your account has been created there are certain things that you can change. You can head to your account settings and change things like your address and your email address attached to your account.

If you need to change things like your name or a Social Security Number that is attached to your account, then you will need to contact customer support.
---
What If I Forgot my Password?

If you click the "Login" button at the top of the page, within that popup will be a text link that says "Forgot Password?". Click this link and you will be asked to confirm your email address linked to your account and your date of birth.

Following this, an email will be sent with a password reset link.
---
Can I Use my Bovada Account when Travelling Abroad?

You can access your Bovada account from anywhere in the world. You can log in and you're able to deposit/withdraw funds. However, only in eligible le states within the US will you be able to place a bet.
---
Is It Possible to Self-Exclude or Limit My Deposits at Bovada?

If you want to self-exclude from Bovada then you can do this by contact customer support. They will then advise you on the options that you have and the timeframe you can choose from for your exclusion. There are currently no deposit limit options at Bovada, which is disappointing.
---
What Should I Do to Prevent My Bovada Account Getting Limited or Banned?

Placing bets from outside of the US is one of the most common reasons why accounts get banned at Bovada. People often get caught out using proxy services and as a result, are not located within accepted state borders.

Another reason is the age of the player. Bovada state that they accept players from 18+, but most states ban players who are under 21 years of age. Just because they accept 18+ does not mean you are legally able to gamble on the site.

It's a confusing situation but check your state laws over Bovada laws here.
---
How Can I Close My Bovada Account?

If you want to close your account, then you need to contact customer support. It's worth noting that you will not be able to reopen your account once closed and you may not be able to another account, based on your reasoning for closing.
---
BovadaRegistration FAQs
Is Bovada legal in the USA?
How does Bovada sign up bonus work?
How old do I need to be for a Bovada account?
Does Bovada accept Bitcoin as payment?
Why does Bovada use a ".lv" extension?
How do I reset my 4-digit pin?
How do I verify my account?
---
How to Contact the Bovada Support Team

The support team can be found from within the "Help Center". Here you get to choose from email, live chat, community or you can use the extensive FAQ section that is on the site as well.
---
What Comes Next?

After you have registered your account you are ready to start betting. We recommend that you take advantage of that massive welcome offer and then take on their huge range of betting markets within the sport of your choice.
---
Related Articles