Your betting Sport and Casino profile allows you to use Bwin's services and platform, but we understand if you want to close it permanently.
There are two way how to delete bwin account. Firstly, you can do so yourself from My Profile tab. Another alternative to close a Bwin profile is to contact support through email or live chat to get the ball rolling. The support team will talk you through the options available, which we also explain further in the article.
---
Steps for Closing My Bwin Account
If you're wondering, "How to delete my Bwin account?" you've come to the right place. Below, we look at exactly how you can delete your Bwin profile with a step-by-step guide and relevant information it's essential to know.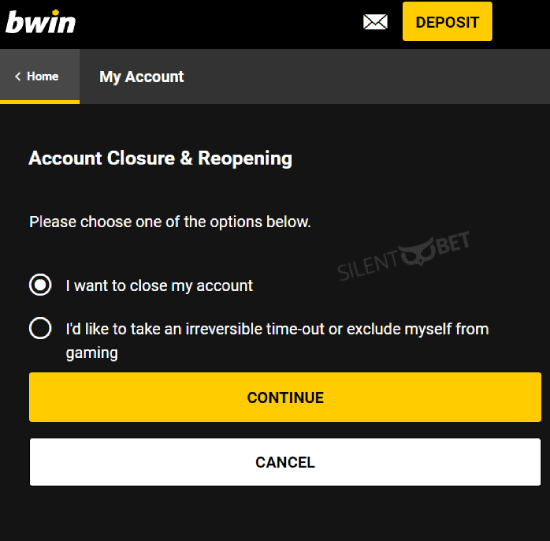 Go through bwin login and access your betting account.
From the drop-down menu of My Profile you will see the option Gambling Controls towards the bottom (*right under Player Protection).
Clicking on the Gambling Controls will open up a page with two options. One is to see deposit limits. The other is Account Closure & Reopening. Click on the latter. Select Choose as the button become active.
A new page will load asking you to choose between Time-Out (*cooling off period) or Permanent Closure.
Select the option I Want to close my account and click Continue to submit your choice.
After clicking Continue your real-money betting account will be queue for deactivation.

While we did our test, we noticed something important. If you have an account but never deposited money in it, you will not be able to close it the way we explained above. A warning message from bwin will tell you that deleting your account is a functionality that is at the moment only available for real-money users. In a scenario where you register to Bwin but never played on the platform, you will need an alternative method for account deactivation. Here is what we suggest you do:
Choose whether you want to contact support via email or live chat.
Communicate to the support agent that you want to delete your profile permanently.
Give a reason and valid details on why you want to close your profile.
Be patient until support accepts your request.
---
Deactivate Account Via Email
One of the ways you can delete your Bwin Profile is through email. You can access the email contact form through the "Help and Contact" page, with the link in the website's footer. Clicking "Yes" to the question "Do you need any more help?" will give you the email options.
Click on the email button to start your email to the operator on closing your account. If you're unsure how to word your email, we've included a basic template below to give you an idea of what you should write.
Email Template Draft
Below is a draft of the message you can use to delete your Bwin profile using the email contact form.
To: Bwin Support / support@bwin.com
Subject: Permanent Deletion of Bwin Account
Dear Bwin Team,I would like to please permanently delete my Bwin account since I'm no longer using any of the Bwin services. I've decided to cut down on my online betting and would appreciate your assistance in this matter.Username: XXX
Email: XXXKind regards,
,
(State your username or email)
---
Close Account via Live Chat
Another answer to "how to delete my Bwin account?" is to contact the site's support through live chat. This is often the fastest way.
You'll find the live chat under the same Help and Contact section as the email contact form. Ensure you clearly state that you want to permanently delete your profile and give a reason why you want to delete it.
Example of Chat Transcript
Find below an example of what you can expect when contacting the support team via live chat.
Bwin Support: Welcome to Bwin Support! My name is XXX. I hope you're doing well.
You: Hello, I'm doing well, thanks. I would please like assistance to permanently delete my account.

Bwin Support: I am sorry to hear that you've taken the decision to close your account. Would you mind telling me the reason why?
You: I've decided I need to limit my online betting activity.

Bwin Support: I see your point. Satisfying you is particularly important to us. We'll assist you with closing your account as requested.
*Real-life transcript of a live chat we had with a bwin support agent on the 20th of September, 2022. This scenario may not repeat.
---
How Long Will Closing My Profile Take?
If you contacted a support agent to close your profile, you might wonder how long it takes to close it. The actual time to close a profile is fast. You can even close your account indefinitely yourself through the Account Closure button under your Gambling Control section, but this option won't permanently delete the account.
| Method | Average Time to Close Account |
| --- | --- |
| Email | Up to 24 hours |
| Live Chat | Instant |
| Account Closure Button | Instant |
---
Why Delete Bwin Account?
There are many reasons for permanently closing your profile. We've looked at the most common reasons you could have for closing your account.
You're experiencing troubles when depositing or withdrawing
You're no longer using the platform or services
The services of the platform aren't what you expected
Your profile is limited or restricted in some way
You don't have access to the payment method you prefer
You're limiting your online gambling activity
---
Responsible Gambling Alternatives
If you're uncertain whether permanently deleting your profile is the correct option, then there are other routes you can take. Your profile can set personal limits under the Gambling Control section. Simply click the Deposit Limits button to set daily, weekly and monthly deposit limits.
If you want to freeze your Bwin profile temporarily, click on the Closure and Reopening button for a cool-off period or self-exclusion. Whether for a week, month or three months, you'll be able to freeze your Bwin profile, and it'll automatically reopen after the time has passed.
You can also use this button if you want to block your account indefinitely, but not permanently delete it. This means it'll remain frozen for at least six months and you can only reopen it by contacting support for assistance.
All this gambling controls are in place as bwin is part of Entain Group. The whole company takes responsible gambling procedures very seriously, which gives them credit.
Cool-off period
Self exclusion
Deposit limits
---
FAQs
Is it safe to delete my Bwin Account?
Yes, it's completely safe, as the operator will ensure that any data you've provided while playing on the platform is kept safely away from unauthorised third parties.
How to delete my Bwin account?
You can delete your account by contacting support using the email contact form or live chat.
Why is my Bwin account blocked?
One of the most common reasons is consecutive failed login attempts or if your account has become restricted. A restricted account is generally due to non-compliance with the operator's regulations.
---