Ad disclosure
SilentBet (SB) is proud to be the partner of numerous renowned casinos and bookmakers around the world. As such, we do use affiliate links to earn commissions (at NO cost to our readers whatsoever). These aff links help us stay a cut above our competitors, delivering top-notch content you can trust. Take a look at the
Ad Disclaimer
page for more information on our affiliate business practices.
The cash out is a feature offered for sports betting that registered players at Campobet can use at their discretion. The purpose of the Campobet cash out is to put players in control of their bets and allow them the flexibility to settle bets in advance. As an option, its availability is determined by the event, match conditions and odds and is frequently used as a strategic money management tool.
Unfortunately, not all bettors understand how to use this feature or its pros and cons. This article will explain how to use the cash out a bet feature at Campobet, provide some examples of cancelled bet via the cash out, and explain why bettors should use the Campobet cash out.
---
How to Cash Out a Bet at Campobet?
Using the cash out bet at Campobet is relatively easy and only requires you complete a few simple steps. Resultantly, to cash out a bet at Campobet will require you: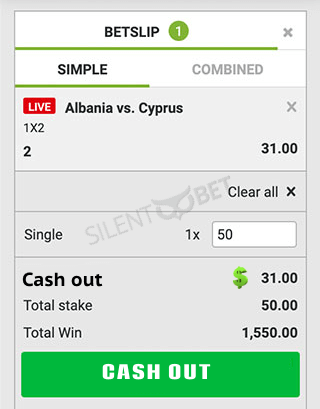 Step 1: Log into your Campobet account.
Step 2: Navigate your personal profile.
Step 3: Locate your bet under your profile.
Step 4: Select "Cash out a bet".
---
What is Campobet Cashout Feature?
The Campobet cash out feature is a tool offered by the bookmaker that allows bettors to settle their bets early. Typically, the cash out option is available for select pre-match events until such time as the event comes to its natural conclusion, and for live events, the cash out option can be exercised as the event plays out.
In essence, it lets bettors walk away when conditions suggest the likelihood of your bet ending as you predicted is minimal. This can include opting for a partial cash out of your bet or a full cash out. If at any point, a bettor exercises the cash out option, the settlement amount will be based according to the current odds and not the original odds.
You can use it both on Campobet mobile and while using the desktop version of the site.
Partial Cash Out
A partial cash out of your bet means you are cashing out a portion of your bet in return for a partial settlement of your bet.
Full Cash Out
A full cash out means you are settling your bet in its entirety, and in return, you will forfeit part of your bet and retain the difference.
Examples of Canceled Bets via Cash-out
While we have explained how a cash out bet works, it is beneficial to provide an example to help you understand it a little better. Let's say you decided to bet on a match between Chelsea and Leicester City. Based on the odds, you chose to bet €20 on Chelsea to win as the odds were 2.5 in favour of Chelsea winning. After the start of the match, you have the option to use the cash out if Chelsea is not winning, but if you take this option, the amount you will receive to cancel your bet will be less than if Chelsea was winning.
However, if Chelsea was winning, and you still elected to use the cashout bet option, you would still see a reduction in the settlement amount, but it would be more than the amount paid if they were losing. Of course, if Chelsea is winning, you could opt to let the match run its due course and collect the full potential of your bet.
---
Why Use Campobet Cash Out?
To answer this question, you first need to understand the risk vs loss of your bet and how the Campobet cash out option can negate some of that risk vs loss. Essentially, this comes down to the type of bet you have made, the applicable odds and the current match conditions.
Ultimately, the reasons why you should use the Campobet cash out are pretty logical, as this is an option that can reduce losses when times aren't as predicted. While one could argue conditions change, and they do, a smart bettor will use that information to their advantage, and in those times, this is an option that makes sense.
Pros & Cons
Similar to any betting feature, the cash out option has pros that favour using it strategically and cons that negate its use. Here are several to contemplate.
Pros
Used by pros to minimise the risk
Can use cash out for future bets
Can be used for strategic live betting
Cons
Settlement will be less than original bet
Bookie may disable for certain events
---
Can I Cash Out With a Bonus?
No, when wagering with an active bonus, the terms and conditions of most bookies disallow the use of this feature until the wagering terms have been fulfilled. Once your Campobet bonus wagering is met, you will be able to use the cash out feature at your discretion. However, each bookie is different, and so too are their terms, meaning you should refer to the terms for verification if this is a feature you use frequently.
---
When is Campobet Cashout Unavailable?
While the CampoBet cashout is usually available for most sporting events, at times, the bookie may disable this option. Generally, the cashout will be disabled for a specific sporting event or if a match is about to end. Likewise, the bookie may disable the cashout for certain markets or even for some players who may have account limitations in place.
Settled bets cannot be cashed out
Dynamic odds, changed market price or closed markets affect cash out
Campobet has server or technical issues
---
FAQ
Can I use the Campobet Cash Out feature with my mobile?
Yes, you can use the Campobet Cash Out feature with your mobile via the mobile website or betting apps.
Does Campobet have other betting features other than the Cash Out?
No, Campobet does not feature any other betting features, but they do offer live mobile betting and various data tools.
Can I use the cash out for live bets?
Yes, the cash out feature is available for live bets and all other bet types at Campobet.