How to delete your DraftKings account is a common question online bettors ask. The answer is pretty simple because you have three options at your disposal:
Sending an email
Making a phone call
Using the contact form/live chat
Although you can use a couple of options, sending an email gives you an advantage because you have a timestamp and the date of your request.
---
Five Steps to Close Your DraftKings Account by Email

Before we focus on the steps for deactivating your Draft Kings account, let's look at the alternatives. You have two viable options: self-exclusion and self-limitation. However, punters who want to terminate their profile can do so immediately. If you're wondering how does the delete DraftKings account process works using an email, follow these steps:
Open your email provider.
Choose a Subject line that clearly indicates you want to delete your account at DraftKings.
In the email itself, provide your DraftKings sportsbook login details.
You could state a reason why you're deleting your account, but it is not obligatory.
Send the email to support@draftkings.com.
Email Draft Example
Sending an email is easy, but since some users may run into problems, we've provided an example.
To: support@draftkings.com
Topic: Can you delete my DraftKings account (Profile closure)
Dear DraftKings,After skimming through your site, I found the contact DraftKings options and found this email. I would like to ask you if it is possible to close my account because I have no intention of using your services in the future.Username*
:
Email*
:
Kind regards
,
(Use your username or real name)
Despite deleting your DraftKings account, the operator will keep your personal information. By doing this, the company guarantees itself that it won't give you a new customer bonus if you decide to open an account later on.
How to change email on DraftKings?
To change email on DraftKings, you have to do the following:
Contact the operator's customer support team
After that, you will have to provide the required personal identifying information.
Following this process, your new email will be added to your account.
You should receive an email stating that you successfully changed your DraftKing Email address.
Keep in mind that creating multiple accounts is not allowed. So, contact the customer support department if you've forgotten your DraftKings login details.
---
Deleting Your Draft Kings Account by Phone
If you want to delete your DraftKings account using your phone, use these steps:
Go to this operator's website.
Use the DraftKings customers service option by selecting the button in the bottom right corner of your screen.
Use the chat to ask for a callback or the company's phone number.
Although some users follow the steps above, others prefer to send a voicemail. If you want to do the same, use the following number: 1 (855) 357-2377.
---
Step-by-Step Guide to Close Your DraftKings Account Through the Contact Page
If none of the options mentioned above work, but you want to know how to delete Draft Kings account, you can use the contact page. To do that, follow the steps shown below.
Go to DraftKing's website.
Select the "Contact Support" option, which should be in your top-right corner.
After the contact form shows up, you have to enter your email, followed by a subject and the description.
Follow the email example mentioned above if you are unsure what to do after opening this DraftKings support option. You just have to state that you want the operator to delete your account.
---
Reasons for Deleting your DraftKings Account
Gamblers have different reasons why they want to close their accounts. Some people decide to take this drastic step because they fail to keep track of their bank and how much money they spend. By completing the DraftKings account closure process, they avoid spending more than they can afford.
If you have the same problem, you can always visit 1800gambler.net and share more information about your issues with gambling. Alternatively, online bettors in the US can go to ncpgambling.org, where they will find additional information related to gambling problems for each state.
Aside from gambling problems, people delete their Draft Kings account because they want to use something new. Although the operator offers attractive options, some gamblers prefer to test a new bookie.
Lastly, the third reason why some people close their accounts at DraftKings is because of legal issues. The gambling legislation is dynamic, so some bettors do not want to get in trouble. Consequently, they prefer to delete their account.
---
How to Withdraw Funds from my DraftKings Account Before Closure?
To withdraw funds before deleting your DraftKings Account, you must do the following: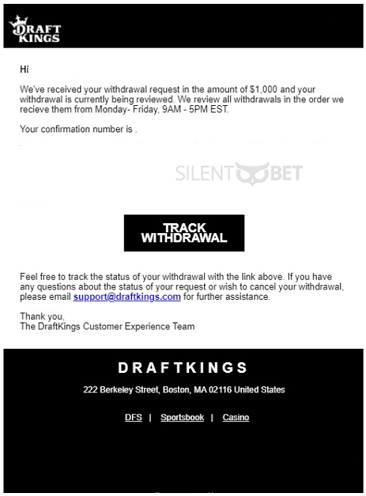 Go to the company's site.
Use your DraftKing login information to access your account.
Check your account's settings and look for the withdrawal option.
Pick one of the preferred payment options and enter the amount you wish to pull out.
In some cases, players will need to withdraw their funds before closing their accounts. Usually, the processing time takes up to 5 days. As for the Draft Kings payout options, the company works with various deposit solutions.
---
About DraftKings
DraftKings is a gambling company founded by Matt Kalish, Paul Liberman, and Jason Robins. The operator focuses on providing daily fantasy sports and became the first legal mobile sportsbook in New Jersey.
Like most top-rated online bookies, the DraftKings Sportsbook offers loads of options. There are multiple markets and things, such as goods boosts, future bets, and more.
---
What Are Some DraftKings Alternatives?
Some of the alternatives to DraftKings are listed below, and all of them are top-rated gambling operators.
bet365
Our #1 pick is Bet365 is widely considered one of the best in the online betting industry. The company has solid experience and offers its services in numerous countries. It is mostly famous for its sportsbook, but it also features a casino and several other options.
Unibet
Next on our list as a suitable Draft Kings alternative is Unibet as one of the most diverse iGaming operators in the industry. Home to almost any betting section in the world, the company has a solid reputation among online bettors. Unibet is also known for its detailed guides aimed at inexperienced online bettors.
Stake.com
Prefer crypto bookmakers like use? Then look no further. Since Stake is the leading cryptocurrency betting website, it is a gathering hub for thousands of players. This company is one of the leaders in Canada because it provides its users with world-class products.
---
FAQs
Can I delete my Bet on DraftKings?
No, you can't delete your bet on DraftKings after you've placed it.
How Can I Change my DraftKings Address?
To change your DraftKings address, contact the customer support team using some of the options.
Which One is Better – DraftKings or FanDuel?
DraftKings is better because this is one of the biggest names in this industry.
Can I Open a Second DraftKings Account?
No, you can't open a second Draft Kings account because it is against the T&C.
Why Has Draft Kings Restricted My Account?
DraftKings may have restricted your account because someone has tried to sign in from a different IP address.
Is DraftKings safe to use?
Yes, DraftKings is safe to use because it is among the reputable iGaming companies.
---