Ad disclosure
SilentBet (SB) is proud to be the partner of numerous renowned casinos and bookmakers around the world. As such, we do use affiliate links to earn commissions (at NO cost to our readers whatsoever). These aff links help us stay a cut above our competitors, delivering top-notch content you can trust. Take a look at the
Ad Disclaimer
page for more information on our affiliate business practices.
A bitcoin casino that opened in 2014, FortuneJack affiliates was established as the marketing program for FortuneJack Casino. Offering sports, casino and live casino gaming options, Fortunejack Partners offers a up to 70% commission-based referral system with supportive marketing tools and a variety of other sub affiliation, CPA and hybrid commission structures.
As Fortunejack affiliate program welcome anyone with a social media following, website or subscriber platform are welcome to join Fortunejack affiliates, this article will provide a summary of the program and explain it in greater detail. Promote this bitcoin casino brand hassle-free with our review.
---
Summary of the FortuneJack Affiliate Program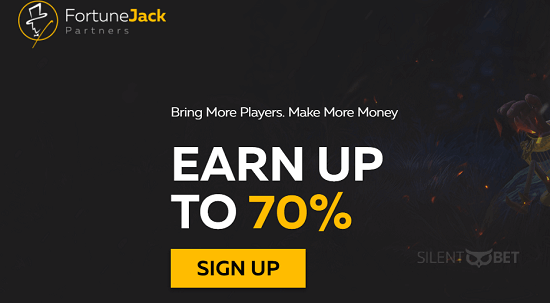 Before joining the Fortunejack casino affiliates programs, it is important to know whether it offers an effective platform that supports affiliates' interests and provides them with the tools they need to succeed. Subsequently, FJ partners have created a marketing platform that offers a flexible revenue share model, sub-affiliation opportunities and effective marketing tools.
| | |
| --- | --- |
| 💻 Official Website | www.fortunejackpartners.com |
| ⚙️ Software Needed | Post Affiliate Pro Software |
| 📈 Commission Type | Revshare |
| 🎯 CPA | Yes |
| ⌛ CPL | No |
| 🏆 Hybrid | Yes |
| 🚀 Sub affiliates | Yes (2%) |
| ⌚ Cookie sessions | 30 days |
| 🚨 Negative carryover | NO negative carryover |
| 💰 Standard Revenue Deals | up to 70% |
| 💵 Currencies | Bitcoin (BTC) / US Dollar (USD) |
| 💸 Due Payments | 15th of every month |
| 💳 Payment Methods | Bitcoin/Dogecoin/Litecoin/Dash/ Monero/Tron/Ethereum, Bitcoin Cash |
| 📍 Minimum Payment | 0.02 BTC |
| 💎 Maximum Payment | None |
---
How To Join the Affiliates Program
Joining the FortuneJack affiliate program (operated by nexus group enterprises) is easy and follows a timeless series of steps that begin with visiting navigating to the FJ partners' website. Thereafter, here is how to join fortunejack affiliates.
Click the "Sign Up" button found on the Fortunejack affiliate website 👉 FortuneJackPartners.com.
Create a username, password and enter your website URL.
Enter your email contact address and select a country from the drop-down menu.
Fill in the captcha text and agree to the T&Cs of this casino brand.
Click "Sign Up" to submit your account for approval and get a registration number.
Finally, bear in mind that there are NO joining fees for new members. If you require more info, find it on the official site. FAQs and several options for contacts are available for new players who want to partner.
---
Who Can Become a FortuneJack Partner
FortuneJack Partner recognizes that an open door policy is a good start if it wishes to appeal to a large audience and build its business. Therefore, anyone with a website, social media or subscriber audience, or referral-based platform are welcome to register and become a FortuneJack affiliate partner.
Promote their Bitcoin casino and promotions by using an affiliate link.
Main Terms & Conditions
Similar to its casino have terms and conditions its customer must not breach, FortuneJack affiliates must agree to and adhere to the affiliate terms and conditions. While they include general provisions and obligations of the affiliate and company, the main terms and conditions include:
Affiliates must agree to affiliate terms and conditions at stated in section 1.1.
Affiliates must comply with applicable laws, rules and regulations in conjunction with the FortuneJack website.
FortuneJack Partners retains the rights to modify, amend, change and update the terms and conditions,
Each affiliate is responsible for marketing costs on their website and distribution of online casino content.
Affiliates agree NOT to market FortuneJack casino affiliate program to underage persons, send spam emails or market services in jurisdictions where gambling is illegal.
---
Pros and Cons of the Affiliate Program
Also similar to the FortuneJack Casino and sportsbook having its pros and cons, the affiliate program has pros that favour it over other programs and some cons that may be less favourable. Firstly, the aff program caters to no other brands – so there are no FortuneJack sister sites you can promote as well. However, this BTC casino is so good that you simply do not need any other alternatives. Here are some of those we feel are relevant.
Pros
No negative carryover
Superior marketing materials
Low min withdrawal
Fast affiliate payments with no withdrawal fees
Cons
Charges admin fees
Payments in crypto only
30-day cookie duration
---
Commission Structures Offered by FortuneJack Affiliates
The nature of the FortuneJack Partner program is designed to motivate its affiliates to promote their services. Which will be easy considering this is one of the most popular bitcoin casinos. Based on this, monthly commissions (starting at 0.1 btc) are calculated on the total net revenue generated by referrals and sub-affiliate referrals minus any associated costs, such as chargebacks, payment fees, loyalty rewards, and bonuses. As for the commission structure, it is based on the following net revenue model (the amount of players bet):
Affiliates Rates
0 to 0.1 BTC – 25%
0.1 and 0.5 BTC – 30%
0.5 to 2 BTC – 40%
2 to 5 BTC – 50%
5 BTC or more – 60%
Go to the official website for more info. For the best commission bonus plan, your affiliate earnings will go up to 70% in revenue with NO negative carryover. The more players you refer the higher the rates.
Revenue Share Model
The rev share model means you get a percentage of the total net revenue accumulated during the previous month by players you have sent to FortuneJack. This model is a win-win situation because FJ shares their revenue (from the stakes of players on their website) with you, their partner. As stated earlier, the share is percentage based and can reach 70% if you send in players regularly.
Cost-per-action (CPA)
Some affiliate programs offer either a CPA deal or a revenue share. At FortuneJack affiliates, you do not need to choose between the two. They are integrated as one – the cost is based on several actions. FortuneJack will track if you refer players who register and verify their accounts. They also track if they are active on the platform or not.
Sub-affiliation
A bonus for the Fortune Jack Affiliate program is the sub aff deal. You can refer players but also new affiliates. Send in new members to become partners. As a reward, you will earn 2% commission out of the generated revenue of your sub-affiliates. There is no limit as to the number of new aff members and bitcoin enthusiasts you send to FJ.
Hybrid
This partnership is considered a hybrid (RS + CPA) because you can combine commissions from referring players with the rates for sending in sub affiliates. This is what makes FortuneJack a hybrid deal based on revenue and cost-per-action rates. Both come with affiliate managers helping you be more successful and boosting your revenue share.
---
Tracking Referrals and Calculating Commissions
To better track the traffic affiliates send to FortuneJack, the partnership program makes use of several tracking tools. All data is then presented in stats. You can follow the real-time statistic as they are updated constantly to show you accurate up-to-date figures.
See exactly how many referrals you make on a daily basis. From then on you can calculate your expected commission rates. Here is how to do it:
Monthly commission = Your % deal x Net Revenue of referred players + 2% of Net Revenue of Sub-affiliates
Example: So if your plan earns you a 50% commission, and you have a sub affiliate deal, your earning will be 50% of the Net Rev of all players you have referred up to 5 BTC (let's take that as the maximum) and 2% extra. This means you can get 6 BTC or even more every month from commissions.
---
Payment Options Available for Affiliates
As FortuneJack is a crypto betting site, its primary currency for all payments is Bitcoins. However, they also accept and process withdrawals using Bitcoin, Dogecoin, Litecoin, Dash, Monero, Tron, Ethereum, and Bitcoin Cash.
The same payment details apply to affiliate commissions, with affiliates being able to withdraw their commissions using the same cryptocurrencies. However, affiliates will only be paid when commissions meet the minimum payment threshold of 0.02 BTC.
---
What is the Needed Software?
FJ Partners has made the proactive decision to power its affiliate program with software that is compatible with almost all website operational software. Resultantly, the Post Affiliate Pro Software allows affiliates to market FortuneJack without any need to download, install or use specific software on their website. This is typical for most online casinos.
---
What are the Restricted Countries?
While this program does not have restricted country provisions in its terms and conditions, players registering with FortuneJack face country-related restrictions from contributing software developers restrictions. Resultantly, we have compiled a list of some of the countries that may face some access restrictions depending on the laws regarding the iGaming industry.
Albania
Australia
Afghanistan
Barbados
Bahamas
Botswana
Cambodia
Cuba
Egypt
Denmark
Guadeloupe
Iran
France
Israel
Hong Kong
Iraq
Jamaica
Malaysia
Morocco
Nicaragua
North Korea
Panama
Saudi Arabia
Singapore
Taiwan
the UK
US
Zimbabwe
---
What are the Available Games at FortuneJack?
Affiliates interested in joining the program will find online casino affiliate program features across marketing content for all its chosen gaming platforms. As such, the available games at FortuneJack that affiliates can market include sports betting games, casino games and live games. Below is a quick summary of each:
Sports Betting: 25+sports such as soccer, baseball, tennis, cricket, darts, handball, rugby, water polo and snooker.
Casino Games: 2780+ games from 25+ providers, such as bonus buy, bonus wagering, free spins, megaways, gamble and jackpot slots.
Live Casino: 20+ live dealer games from three top providers, such as blackjack, dragon tiger, roulette, baccarat, and tv game shows.
---
How to Contact FortuneJack Partners
You can contact FJ Partners anytime via email, or alternatively, you can get in touch via their On-site message form. Of course, you can feel free to forward an email directly to their affiliate manager George Khmelevski.
While writing our fortunejack affiliates review, we came to use the support here. They were very helpful and answered all our questions. We discussed payment details, live casino games, and all other aspects regarding affiliate programs. We got professional answers and support.
---
FAQs
What Languages are Available at FotuneJack Affiliates?
At the moment, FortuneJack Affiliates is only available in English.
What Licence and Jurisdiction does FortuneJack Fall Under?
FortuneJack.com is a registered company under the laws of Curacao, operated by Nexus Group Enterprises N.V and duly licensed by the government of Curacao. It has nearly 20 years experience in the iGaming industry.
What Currencies Are Accepted at FortuneJack?
Currently, the currencies accepted at FortuneJack include Bitcoin, Tron, USD Coin, Doge, Litecoin, DASH, Tether, Ethereum, and Zcash. There are no other conventional currencies.
Can I apply for affiliate even if I don't have a website?
Yes, you do not need a site to apply for a FortuneJack affiliate – blog, TikTok account, email list, anything goes. All binary options trading ideas can be implemented in this model.
What Affiliate Marketing Resources FortuneJack Provides?
In an effort to assist their marketing partners and see them succeed, Fortune Partners offers an abundance of marketing materials. Along with the assistance of a dedicated support team and affiliate manager, FortuneJack provides affiliates with multiple tools such as banners, links, mailers, and detailed information for their performance.
How Does RevShare Work in the FortuneJack Affiliate Program?
As mentioned, the FortuneJack Aff Program operates on a revshare commission model. The way revshare works is that affiliates are paid a commission based on the total net revenue their referrals generated for FortuneJack. However, any costs associated with their referrals will be ducted from the net revenue. This includes a deduction for VIP rewards, fees, bonuses and chargebacks.