Cashing out is a helpful feature in any online sportsbook. It is, however, beneficial only to those punters who know how to use it. Here is a tried and tested strategy that works for closing a bet on one of the best bookies out there. Let's dive in!
Cash Out on Betway – STEPS
Applying cash out at Betway is simple as long as you understand how to go about the entire process. For the best outcome on how to cash out on Betway, consider the following steps: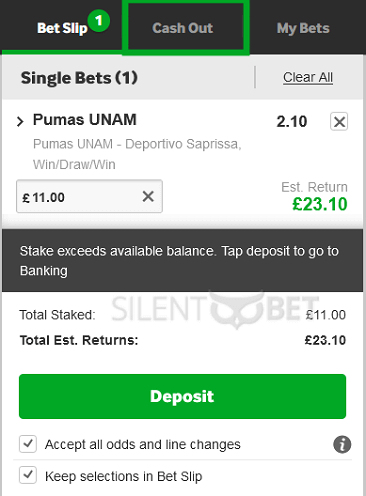 Sign up or sign in to your Betway account.
Place a bet with the cash out option.
Open your bet slip.
Click the active bet.
Initiate cash out by single-clicking the cash out tab.
State whether you want to cash out partially or fully.
Complete the process by submitting your cash out request.
---
Introduction to Cashing Out in Betway
This internationally recognized betting brand is one of the leading bookmakers in the UK and is regulated by the Great Britain Gaming Commission. No surprise there as Betway offers a wide range of sports betting, including e-sports and live games. You can find a variety of odds across all categories, plus a bunch of promotions too.
One of the best things about Betway is that they are independent of an online casino. That means that your bets will not be affected by another manager. Casino games are still an option, but they're not the main focus.
Betway has introduced a Cash Out system too. This is a tool that gives players greater control over their ongoing wagers. While it's not the first of its kind, Betway's Cash Out adopts a progressive attitude.
Using Cash Out correctly can give you a considerable head start in your sports betting journey. It won't make you super-rich, but you'll like the way your bankroll looks. Keep reading to find out how you can use it to your advantage.
---
What is Cash Out and How Does It Work?
Cash Out first came to the industry in 2013 as a flavour product by Betfair. Its initial design was to mitigate potential losses for the bookie and players. Over the years, expert punters have developed special systems to profit from it.
The way it works is simple. Similarly to its competitors – other bookmakers with cash out that allow punters to close their bets early, Betway has a full-fledged betting feature. When your team gains an early advantage during a game, you have the option of getting paid before the game concludes. This payout will be a percentage of your actual winning, had you let the game play out and won.
Conversely, if the other team gets the lead, Cash Out allows you to take a partial loss before the game ends.
Putting It in Perspective
For example, say you bet £/€/$50 on the Houston Texans against the Kansas City Chiefs. Let's say the odds for Houston winning is 4.5, meaning that you stand to win £/€/$225. Pretty good deal, right?
Within the first half, the Texans have scored one touchdown and a field goal on KC. You're looking real good. Now, as you have the upper hand, Betway wants to give you a Cash Out offer of £/€/$195. If you accept, you will win £/€/$195 regardless of what happens in the second half.
In essence, it's an opportunity for you to "walk away with the money." It entices players with the fact you're always going to close a bet with some cash.
Risks Involved
The biggest problem with this, though, is that you don't know what the actual outcome is going to be. If you take the cash out offer while you're ahead, and your team ends up still winning, you've just reduced your profit. Worse, when you're on the losing side, and you will start wondering how to stop your losses in betting after having chosen to accept a partial loss. If the game ends in a tie, or your team comes back and wins, you'd feel pretty bitter.
So, why would anyone do this? Most players will tell you it's because it's easy money. Anything can happen in the second half. Instead of hoping your team would either stay ahead or come back, you can get paid and move on to the next game.
---
When and How should I Use Cash Out?
The good thing about Cash Out is that it's super straightforward and easy to master. Not to undermine the experts, but most of it involves basic math and common sense. Three factors that you need to consider when offered a cash-out are: the odds, the teams playing and the worst-case scenario.
Check Your Odds
You'll often want to accept the cash-out when the odds are high.
In the Houston-Kansas game above, you're getting 4.5 to 1 – that's excellent odds. Only the teams with a low chance of winning get those kinds of numbers. That said, in a real-life scenario, you'd unlikely receive an offer as generous as £/€/$195. Considering the gap in ability, you're probably looking at something like £/€/$90.
Consider the Teams
To determine if £/€/$90 is a good deal, let's look at the next factor: the teams who are playing.
As you already know, KC is the most recent Super Bowl champion. If Houston somehow managed to score 10 points in the first half, then you know it's not going to be the same in the final quarter. Coaches usually bench their star quarterbacks in the preseason and preliminary games to make it more interesting. If Mahomes comes in for the second half, you might have to consider that £/€/$90 deal.
What Else Can Go Wrong?
So, what would be the worst-case scenario for this game? The Chiefs come back and win by 13? If you didn't take the cash-out offer, then you'd be feeling pretty bad at this point. A good way to evaluate your potential worst results is to look at other betting lines. Bookmakers have good reasons to set them up that can often give you a good idea of how they predict the outcome.
Let's say the spread is (-10) Chiefs. This means that KC has to win by at least 11 for this line to win. Considering in their last matchup they won by 20 after trailing by 24, coming back from 10 points shouldn't be a problem. Taking all that into account, if the Texans get ahead at any point in the first half and you get an offer, it's a good idea to take it.
Let's switch sides. You bet £/€/$50 on KC and are behind by 10 points before the second half. Betway then offers you a cash-out of £/€/$15. You now have the option of taking the loss and keeping 15, instead of risking to lose the entire 50.
Again, we consider all of the above factors when deciding if this is a good deal. As it turns out, it's terrible. If KC can afford a -10 spread, you can afford £/€/$35. Cash Out doesn't always give the best offer, but it allows you to evaluate your situation. Use what the house is willing to win/lose to your advantage.
---
FAQs
How does Betway calculate my expected earnings after cash out?
Betway operator calculates your expected earnings after cash out by multiplying your wager by the latest odds.
Can I apply cash out when using the Betway app?
Betway app offers cash out. You can apply the feature when using the Betway mobile application.
Can I cash out bets placed by bonuses?
No, you cannot cash out your wager from bets placed using bonuses.
---
Cash Out Works If You Can Work It
There are no perfect systems, only perfect decisions. Cash Out doesn't guarantee a profit, but it can work in your favour. Everyone can use it as a betting strategy to steady their bankroll, especially risk-averse players.
A lot of people dismiss the Cash Out option saying it makes them appear weak. As in, you don't believe in your decision-making ability. While that's true on an emotional level, the reality is that sports betting is all about winning. Letting go of a bet to stay in your streak represents practicality, no doubt.