Ad disclosure
SilentBet (SB) is proud to be the partner of numerous renowned casinos and bookmakers around the world. As such, we do use affiliate links to earn commissions (at NO cost to our readers whatsoever). These aff links help us stay a cut above our competitors, delivering top-notch content you can trust. Take a look at the
Ad Disclaimer
page for more information on our affiliate business practices.
As an internationally licensed betting site, LeoVegas requires all members to verify their accounts. Due to the verification process being a mandatory requirement, this article will explain how to verify a LeoVegas account and what documents are required for account verification & KYC.
---
How Do I Verify My LeoVegas Account?
As mentioned, LeoVegas registration requires all members to verify their accounts. This is a two-step process that requires you to:
Log in using your registered email address.
Launch My Profile and click on Verify Account tab
In Verification, select the document and Upload it.
Add Proof of Address doc as well. Mind the format and size needed.
---
What Documents are Needed to Verify LeoVegas Account?
The LeoVegas verify account process is a multi-step procedure that requires you to provide documents that prove your identity and your address. Depending on the jurisdiction you reside, this may be required before being granted full access to your account, or it may be requested when submitting your first withdrawal.
Identity Check Docs
As LeoVegas is obligated to confirm who you claim to be, they require you to submit legible identity documents that verify the information you entered when registering your account. This will require you to provide one of the following forms of identification:
National I.D Card
Driver's license
Passport
Address Confirmation Docs
Similar to the identity check docs, LeoVegas is obligated to verify the address of each member. This falls under their licensing and Know your Customer (KYC) responsibilities and is taken to ensure members reside in a jurisdiction where gambling is legal. As such, they will request the following address confirmation docs:
A utility bill with your name and address
A bank statement with your name and address
---
How Long Does Verifying the Documents Take?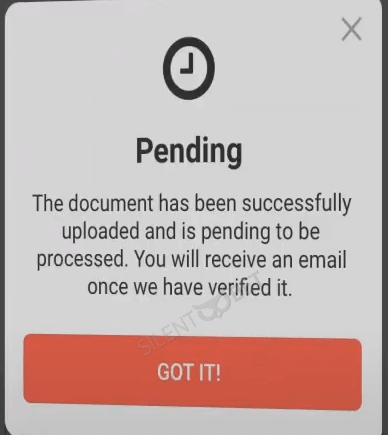 There are a number of factors that determine how long it takes for the LeoVegas verify account process to be completed. Typically, LeoVegas will need 1 to 2 days to verify documents once they have been uploaded.
However, this does not include weekends, and delays may occur for any of the following reasons:
Scanned documents are sent in a PDF file.
Your documentation is not up to date or not legible.
The name and address do not match the information submitted during registration.
---
Why Must I Pass KYC Verification at LeoVegas
KYC Verification at LeoVegas is a mandatory requirement by the Malta Gaming Authority & UKGC. The purpose of this process is to verify where you reside and to ensure that terrorism financing and money laundering do not take at LeoVegas. In addition, the KYC process is in place to safeguard against underage gambling and to protect members from any fraudulent activities.
---
LeoVegas Verification Problems
Most online complaints about Leo Vegas are with regard to pending, delayed, or turned-down verification. To process withdrawals, LeoVegas will need to confirm your ID first. To do so, the verification issues must be cleared before requesting cash out.
The most common LeoVegas verification issues have to do with the wrong documents being sent. Some cases show that players send a bank statement or utility bill that is too old. These address proof docs need to be issued within the previous 6 months. Another verification problem will arise if your ID details do not match the information you provided during the online registration process.
Too old proof of address docs
Mismatch between signup details and ID
Invalid ID / driver's license
Suspicion of bonus breach
---
FAQs
What happens if I do not verify my account at LeoVegas?
Unfortunately, your account will be restricted until such time as you submit verification documents.
Can I make a deposit before verifying my account?
Yes, you will be able to make a deposit once you have entered the four-digit code sent via email or SMS messaging.
Can I make a withdrawal before Leo Vegas verifies my account?
No, withdrawals will not be processed until you have verified your identity and submitted address confirmation documents.
---