Ad disclosure
SilentBet (SB) is proud to be the partner of numerous renowned casinos and bookmakers around the world. As such, we do use affiliate links to earn commissions (at NO cost to our readers whatsoever). These aff links help us stay a cut above our competitors, delivering top-notch content you can trust. Take a look at the
Ad Disclaimer
page for more information on our affiliate business practices.
Looking to enter Parimatch affiliate program? In this article, we'll show you how to become new Parimatch partners and get paid. From the program benefits to the payouts, read our review and learn what you need to do to sign up.
Summary of the Parimatch Affiliate Program
As one of the best betting exchanges in the business, Parimatch affiliates get a nice real money portion of clicks. The Parimatch affiliates is growing at a fast pace.
| | |
| --- | --- |
| 💻 Official Website | pmaffiliates.com |
| 🛡 License | Curacao |
| ⚙️ Affiliate software | Income Access |
| ✅ Year of establishment | 1994 |
| 💶 Base commission | 25% |
| 📈 Commission Type | RevShare, CPA, Hybrid |
| 🎯 CPA | Yes |
| 🏆 Hybrid | Yes |
| 💳 Payment Methods | Bank transfer, Skrill, WebMoney |
| 💸 Payments frequency | Once a month |
| 📍 Minimum Payment | $100 |
| 💎 Withdrawal limit | No |
| 💵 Currencies | USD, EUR, UAH |
| ⌚ Cookie sessions | 30 days |
| 🚨 Negative carryover | Yes |
| 🚀 Subaffiliates | Yes |
Parimatch is a brand with nearly 3 decades of experience in the online betting industry. It has over 1 million registered users and is available in 15 countries worldwide. The Parimatch aff program is built on three verticals:
Online sports betting
Online casino gambling
Esports offers
As per the usual, the program allows Parimatch partners to make money by attracting traffic. Compared to the rest of the industry, the program has some of the best conditions. As a major player in the online betting industry, Parimatch attracts new sponsorships and brands all the time. Famous athletes and top-tier football clubs are among its clients. With unique working conditions for webmasters in the mix, becoming a Parimatch affiliate is a no-brainer.
Its main advantage is that the sportsbook works closely with all intermediaries. Esports is a particular market Parimatch is trying to explore. Affiliates can drive traffic to all verticals or individually. With a growing Esports market, that's where most partners will thrive.
As a partner, you'll get payments via RevShare, CPA, or via the Hybrid models. As Parimatch is trying to aggressively improve its online presence in foreign markets, its partnerships could help you grow your audience as well.
Let's now get into more details and see how the Parimatch affiliate program works.
---
What are the Commissions at Parimatch Affiliates?
The CPA, RevShare, and Hybrid affiliate models all allow flexible commissions and compensation structure. The proposals are custom-tailored to meet your needs. A portion of the net revenue made via online sports betting is used to calculate ratess. Newly depositing customers make a 5% fee, but as the number grows, so does your commission.
Here's an overview:
| NDC | Commission Rate |
| --- | --- |
| 0-5 | 5% |
| 6-10 | 10% |
| 11-20 | 15% |
| 21-35 | 20% |
| 36-80 | 25% |
| 81-150 | 30% |
| 150-500 | 35% |
| 500 and beyond | 40% |
With a dedicated affiliate team, it is easy to reach your desired target. An affiliate manager will be with you every step of the way.
All in all, compared to other online casino affiliate program reviews, this program is in a class of its own when it comes to revshare.
---
Who Can Become a Parimatch Partner?
Everyone can become part of pm affiliate program, although not from all locations around the world. There are some geo-restrictions you should be aware about. Currently, the affiliate program only works in AZ, BR, CA, KZ, TJ, KG, IN, UA, NG, TZ, AU, MY, and UZ. Of course, the program is constantly expanding, so new countries are expected to appear on the list soon.
Of course, your website should have traffic from online betting and gambling bases.
Main Terms & Conditions
The commission can be collected via RevShare, CPA, and Hybrid models;
You get monthly payments according to the structure;
The minimum payment is $100, with up to 40% revenue share;
You have a plethora of tools available for your customers, including texts and articles, banners, GIFs, and an XML field;
Different methods of withdrawing money including Skrill, WebMoney, bank transfers, and cards;
There's no withdrawal limit – you'll get your fair share of commission;
Custom-tailored promotions and bonuses available for all Parimatch partners;
There is a sub affiliates deal in place;
The base commission is 5% while the maximum is 40%.
---
Partnership Types
There are three affiliate deals for partners Parimatch to look for. The commission agreement is different for each partner and depends on the expectations they are able to meet.
The three partnership types in pmaffiliates affiliate program are:
CPA
According to the CPA terms of the program, you receive a fixed rate for every new referral you introduce to the affiliate program. Parimatch has competitive CPA prices, so if you're interested in this model, you should get in touch with the program's affiliate manager. The bottom line: new clients you refer will mean more revenue for you.
RS (Revenue Share)
The RevShare business model splits a pre-determined percentage of earnings between advertisers. Affiliates typically receive up to 30% of the revenue generated by their referrals, but it can be higher depending on the traffic.
Hybrid
This model is fully customized and combines the best elements of the CPA and RS models. With it, affiliates can receive payouts up front without sacrificing long-term revenue.
Those are the partners Parimatch looks for. The commission agreement is different for each partner and depends on the expectations they are able to meet. An affiliate team will help you balance the two.
---
Sub-Affiliation
Sub-affiliate networks share support and services to brands and affiliates. Parimatch affiliate's sub affiliation plan allows you to earn extra commission if you bring your friends in. In short, but referring others to this pm affiliate program, you can earn more money via Parimatch.
---
Pros and Cons of the Affiliate Program
Pros
Exclusive commission plan starting at 5%
Sub-affiliate plans included
Several withdrawal options
Lots of advertising materials
Low payment threshold
No fees for promoting parimatch
Cons
Negative carryover is a problem
Rarely any changes in the terms and no experiments in prices and plans
---
What are the Payment Details?
The list of payment methods for the Parimatch affiliate program varies from time to time. At the moment, the program accepts:
Bank wire
Webmoney
Skrill
Bitcoin
The minimum threshold is only $100 which can be easily made with a strong website partner. There's no maximum amount for withdrawal and payments are issued once per month.
---
What is the Needed Software?
The program uses software powered by Income Access. This is an affiliate marketing multi-channel that has clear layout, great promo initiatives and long track record in the iGaming industry.
No specific software is required to join the Parimatch partners group. As long as your user base is focused on online gambling and betting and you're running a legit business, you can join the program.
---
What are the Restricted Countries?
The only available countries for the Parimatch affiliate programs right now are AZ, KZ, UA, AU, TJ, KG, BR, IN, TZ, CA, NG, UZ, and MY. All other countries are restricted, but that can change in the future.
Here is a list of restricted countries as seen in the Parimatch Affiliates T&Cs on the official website.
---
What are the Target Markets?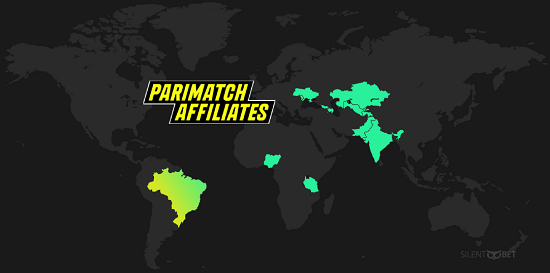 The most targeted GEO for the aff program is Eastern and Central Europe & Asia. The program also targets India, and plans to expand in many other markets. We're sure that there will be new markets added soon, and your country may be next on the list.
Here is a list of targeted countries that require no admin fee:
Australia
Azerbaijan
Brazil
Canada
India
Kazakhstan
Kyrgyzstan
Malaysia
Nigeria
Ukraine
Uzbekistan
Tajikistan
Tanzania
Since the bookie is quite popular in the UK, the localized affiliate program gets a lot of attention. Parimatch already has major UK brands behind its name, including the likes of PL clubs Chelsea. This is a particularly attractive market for the affiliate program, offering the same resources, products, and services to interested parties in the UK. The program for the UK, though, falls under the BetVictor brand.
---
How to Join the Parimatch Affiliates Program?
Anyone can become a Parimatch affiliate. You can register at their website and stay in touch with the customer support team if you plan on becoming an affiliate. Your website will be thoroughly reviewed before you're approved, so please allow Parimatch's team some time.
Here's a step-by-step guide on the registration procedure:
Visit the website using this 👉 link and open the affiliate program.
Click on Register and fill out the form with proper information. Tap Submit it in the end.
The manager will now review your submission
You might be asked to provide details on campaign stats, traffic volume, and other specifics.
Contact Parimatch affiliate's customer support if you need help with anything or to get special offers.
---
What Affiliate Marketing Resources Will Parimatch Provide?
PM's affiliate managers are responsible for handling all the advertising material. They will provide you with all the necessary tools to succeed, including banners, XML fields, referrals, and more.
Other resources include:
Banners, logos, links, words, website coefficients – these marketing tools are provided by Parimatch, and the bookie reserves the right to modify or substitute these elements
Demo accounts – fully functional demo account of the program so you can check it out and see how it works before signing up
Apps – useful native apps that can help optimize your website and improve traffic volume
Personal manager – essentially a prioritized customer support agent that can help you with anything you need
---
Available Game Types
Parimatch's game types include everything you see in modern online casinos. Among them are:
Online slots
Jackpots
Table games
Card games
Live casino games
Sports betting markets
Live betting
Esports betting
Combar sports
These are the verticals Parimatch operates in, offering a wide range of games that will appeal to all of its partners.
---
How to Contact Parimatch Partners
Register for the Parimatch affiliates program via the website, and you can contact the 24/7 customer support team via email and live chat. As a new affiliate, you'll get priority customer support so all your questions are answered professionally and in a timely manner.
---
What is the Reputation of the Affiliate Program?
Parimatch is one of the most respected sportsbooks in the industry. Its affiliate program has been reviewed many times, with thousands of successful affiliates. The program is held in the highest possible regard thanks to the great commission structure and the reputable partners.
If our Parimatch affiliate review does not cover all your questions, visit the official website for more info. If this is your first time on Silentbet, do not hesitate to leave a comment with your questions.
---
FAQs
What Kind of Traffic is Accepted by Parimatch?
The Parimatch affiliates program accepts traffic from websites that have a userbase that partakes in sports betting and casino gambling. The program has done extensive review of its target audience, and focuses solely on that kind of website partners which can help grow the brand further.
What Are the Requirements to Join the Program?
There are no special requirements for the program except for the audience. As long as you have a website with such a userbase, you're free to join the program. That can be done by filling out the special form at the website. Once that's completed, you can talk to the customer support team and start earning.
Do New Parimatch Partners Receive Bonuses?
Yes, they do. New Parimatch partners get all kinds of tools at their disposal as well as custom-tailored bonuses and promotions that will take their experience further. It's a program you can trust and one that can bring you a lot of money and more partners.
What Is the Target Persona of Parimatch affiliate?
The Parimatch affiliates program targets casual gamblers between the ages 25 and 40. The sportsbooks' team has done extensive research on the matter and knows perfectly well what kind of audience it seeks.
Can I send other affiliates via the Parimatch Partners program?
Yes, there is sub affiliates in place here.
How to reach phenomenal growth within the PM affiliates?
You will need to focus on new users for this one brand. If you send hundreds of thousands referred new players your rates will skyrocket.