Ad disclosure
SilentBet (SB) is proud to be the partner of numerous renowned casinos and bookmakers around the world. As such, we do use affiliate links to earn commissions (at NO cost to our readers whatsoever). These aff links help us stay a cut above our competitors, delivering top-notch content you can trust. Take a look at the
Ad Disclaimer
page for more information on our affiliate business practices.
As a large bookmaker, Parimatch generally accepts a wide range of payment methods including cards, digital wallets, cryptocurrency, bank transfers and more for payments and withdrawals. The exact list of methods available to you will change depending on your geographical location. Parimatch operates in many different countries spanning four continents and due to local restrictions/method popularity, options will vary accordingly.
---
All Parimatch Deposit Methods
| Payment Method | Deposit Minimum | Deposit Maximum | Time for Deposit |
| --- | --- | --- | --- |
| Visa | €10 | €5000 | Instant |
| MasterCard | €10 | €5000 | Instant |
| Entropay | €10 | €5000 | Instant |
| Neteller | €35 | no limit | Instant |
| WebMoney | €1 | no limit | Instant |
| Qiwi | €1 | €330 | Instant |
| Perfect Money | €1 | no limit | Instant |
| AdvCash | €1 | no limit | Instant |
Included below are payment methods that feature most commonly across Parimatch locations. Although you will not have access to all, Parimatch often supports localised payment methods not listed here. In Cyprus, for example, customers can use OKTO, while in India players can use UPI. Customers playing at Parimatch.co.uk can only use the first two payment methods listed.
What is the Minimum Deposit at Parimatch?
The Parimatch minimum deposit amount is rarely very high, for some methods it is €10 while for others it is just €1. Very occasionally some methods may require a higher limit but this only applies to a small minority of payment options. For customers in the UK, the minimum deposit is £5 (debit card) or £10 (PayPal).
How to Deposit? – Steps
To place bets at Parimatch, you will need some money in your account. To find out how to deposit to Parimatch, just follow the following the steps below. If you are not yet registered with Parimatch, you will first need to set up an account.
When logged in, click the deposit button in the top right corner of the screen, or access via the menu if it does not appear there
Select your desired payment method from the available options
Enter the amount you wish to deposit and enter the payment details when prompted
Click the submit/confirm button
How Long Do Parimatch Deposits Take?
Typically, Parimatch deposits are instant, meaning your funds will appear straight away once the payment is complete. Delays of up to 30 minutes are not unheard of though so do not panic if your funds do not show immediately.
It is possible for cryptocurrency payments to require a little time as funds will not be credited to an account until a certain amount of blocks are approved in a chain. Bank transfer payments are always the slowest method of getting money into your account with this regularly taking several days.
Are There Any Fees for Cashing In?
No, as standard Parimatch does not charge customers for paying money into their account meaning all the money you pay in will be available to play with. Just note that if paying with a currency different than the one listed on your account, the funds will be converted at the current interbank rates so there can be some fluctuation with this.
---
All Parimatch Payout Methods
| Payment Method | Withdrawal Minimum | Withdrawal Maximum | Time for Withdrawal |
| --- | --- | --- | --- |
| Visa | €20 | no limit | 12 hours - 3 days |
| MasterCard | €20 | no limit | 12 hours - 3 days |
| Entropay | €20 | no limit | 15 min - 12 hours |
| Neteller | €10 | €1875 | 15 min - 12 hours |
| WebMoney | no limit | no limit | 15 min - 12 hours |
| Qiwi | €10 | €330 | 15 min - 12 hours |
| Perfect Money | €3 | no limit | 15 min - 12 hours |
| AdvCash | €3 | no limit | 15 min - 12 hours |
In most cases, customers will be able to use the same payment method used for the deposit when looking to make a Parimatch withdrawal. Where this is not possible, customers will still be able to withdraw funds another way. As with deposits, withdrawal methods vary significantly by region with the UK having the shortest selection of them, partly due to tighter regulations.
How to Withdraw at Parimatch – Steps
Whenever you wish to take money out of your Parimatch account, the process is usually quite straightforward.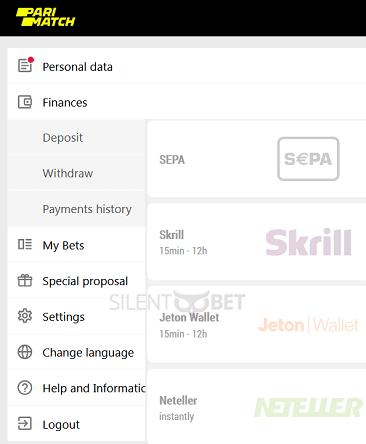 Start by logging in to your account
Head to the finance page and select the 'Withdraw' option
Select the payment system you want to use from the available list
Enter the amount you wish to withdraw and confirm the payment request
The withdrawal request will be sent to Parimatch's finance team for approval.
Some regions require players to wager at least 70% of the deposit amount before a withdrawal is possible. Very low-odds bets and those cashed out do not count towards this wagering requirement.
You may be required to provide verification documents before making a withdrawal so ensure you are in a position to prove your identity and address if requested.
What is the Minimum Withdrawal at Parimatch?
Parimatch minimum withdrawal limits are very reasonable with €10 or €20 the standard amount although some methods have an even lower €3 minimum. The only real exception is bank transfers which tend to have a much higher minimum due to the increased costs involved.
How Long Do Parimatch Cashouts Take?
Parimatch aim to process all withdrawals within 24 hours so they are quick when it comes to green-lighting payments. As for how long the transaction takes, this is out of their control and is down to the payment methods selected. Some methods can take days, others less than a day and there are even some rapid payments such as FastFunds (supported by VISA) which sees UK customers get their money within 30 minutes.
What Are the Parimatch Withdrawal Fees?
Withdrawal fees have been an increasingly uncommon sight in the world of online gambling so we are glad to see Parimatch rarely charge players for taking money out of their account. Should a fee be applied to a specific payment method though, this will be indicated before making the payment so it will not come as a surprise.
---
Parimatch Withdrawal Issues & Delays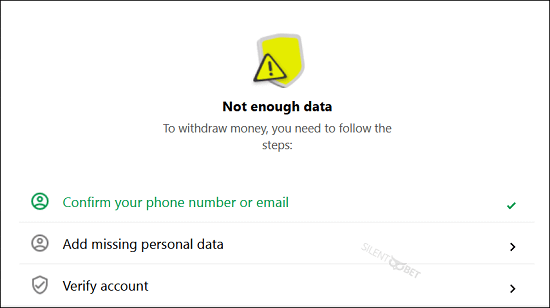 The vast majority of withdrawal requests at Parimatch are approved without issue but occasionally some are delayed or outright rejected. The most common reasons for this are listed below.
There is an issue with your verification documentation
Players must pass the necessary KYC (know your customer) checks before being able to make a withdrawal. If you are missing a document, or have not supplied one with the correct information displayed, you will need to do so.
You have requested to withdraw too much money
Daily limits apply to how much money you can withdraw in one go. A fairly common limit is €15,000 per day and if you request more than this, Parimatch reserve the right to split the payment into instalments.
The payment information you have provided is wrong or has expired
Always take time to ensure the details you have entered during a withdrawal are correct and/or you are not requesting the funds to be sent to an old card/account.
The payment has not been approved even though 24 hours has passed
Parimatch payments are added to a queue and dealt with in the same order they came in. If there has been a delay, it is likely there was a sudden rush of requests that has created a backlog.
---
FAQ
When withdrawing do I need to use the same payment method that I used for the deposit?
In many regions, customers will need to use the same payment method when withdrawing, where possible. The same currency must also be used so you cannot pay in Euros and request a payout in dollars.
What currencies does Parimatch accept?
This depends on your region, in the UK for example you can only pay and play using GBP. Elsewhere though Parimatch accepts UAH, USD, EUR, PLN, AZN, KGS and TMT.
How to deposit in Parimatch on mobile?
Depositing on mobile is really no different and all the same payment methods will be available as on the desktop site.
---