Ad disclosure
SilentBet (SB) is proud to be the partner of numerous renowned casinos and bookmakers around the world. As such, we do use affiliate links to earn commissions (at NO cost to our readers whatsoever). These aff links help us stay a cut above our competitors, delivering top-notch content you can trust. Take a look at the
Ad Disclaimer
page for more information on our affiliate business practices.
| | |
| --- | --- |
| 🎡 Crazy Time on Roobet | Live game show |
| 💎 Provider | Evolution Gaming |
| ♻ Demo Mode | No |
| 🎯 How to play | Log in to start |
Crazy Time was unveiled in 2020 and massively outperformed previous Evolution Gaming titles. It offers exciting bonus games and very high potential winnings. Find the game in the LIVE section of Roobet online casino. This guide will cover the rules of the show game, as well as some strategies you can use on Roobet.
---
Steps to Play Crazy Time on Roobet
A major appeal of Crazy Time is its straightforward playing rules. You only need to follow these steps: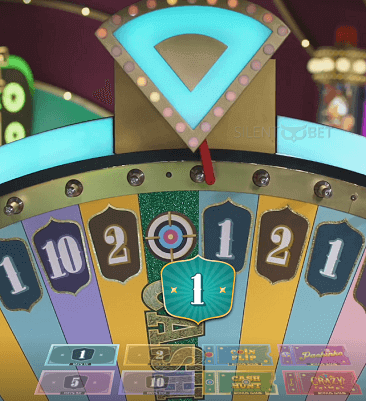 Start by choosing a chip size.
Then you can place a bet on any of the 8 available spaces.
The top slot will then be spun to reveal a multiplier.
Next, the wheel will be spun to indicate your winnings. If it stops on a number, the payout will be calculated based on the multiplier. If it lands on a bonus game, you will proceed to play a new game.
---
How Does Roobet Crazy Time Work?
Roobet Crazy Time is played on a wheel with 8 sections. Your goal in the game is to predict the section where the wheel will stop at. If you're aiming at winning large cash prizes, you should consider betting on the bonus features. With a real human dealer, Crazy Time is an interactive game that is guaranteed to keep you excited for hours.
Bonus Features
The most thrilling features of this game are the five bonus games. These are the Coin Flip, Cash Hunt, Pachinko, Multipliers, and Crazy Time.
Coin Flip
This bonus game is quite easy to land, so it is naturally very popular. Before the coin can be flipped, multipliers will be generated for each of the two possible outcomes. Note that this coin has a blue side and a red side. While Coin Flips are very easy to land, they are the least rewarding bonuses.
Cash Hunt
Cash Hunt is a bonus game that is designed like a shooting gallery. It is played on a large screen with 108 multipliers, all of which are generated randomly. Each multiplier is covered by a symbol, and they will be shuffled before you position your aim.
When the game starts counting down, you will have to choose the symbol which you think has the highest multiplier. When the time runs out, the cannon will shoot, and your multiplier will be revealed.
Pachinko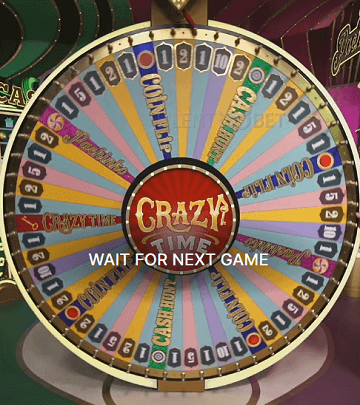 On every spin, you will have two chances of landing the Pachinko bonus. This feature is designed with a Plinko board and has multiple physical pegs. The presenter will simply drop a puck, and you will win the multiplier where the puck lands.
The puck may also land on 'Double'. With this option, you will double the multiplier at the bottom of the board. The puck can be dropped a number of times, but the maximum multiplier you can get is 10,000X.
Multipliers
Multipliers are probably the most exciting features of Roobet Crazy Time. Before the games start, the multiplier reel will be spun, and you can get winnings of up to 50X. Note that you don't always have to land a number; sometimes, you won't get a multiplier at all.
Crazy Time
Crazy Time offers the most significant payouts in the game. You should note that this bonus feature occurs only once. Before the feature starts, you will have to pick a colour. This could be blue, green, or yellow. The presenter will then push the red button and wait for the wheel to come to a stop. At this point, the flapper will be pointing to a multiplier, and this will determine the size of your winnings.
If the flapper stops at 'Double' or 'Triple', the multipliers will be doubled or tripled. The wheel will then be spun again. You should note that players have to bet on the 'Double' or 'Triple' option to participate in the new round. The maximum multiplier you can get in the Crazy Time bonus game is 20,000X.
---
Payouts and Odds of Crazy Time Game
Before you start playing Crazy Time, you have to understand the payouts and odds of the game. In this section, we'll look at the payouts you can expect from standard bets. For these examples, we will use a $10 bet.
| Bet | Multiplier | Winnings on a $10 bet |
| --- | --- | --- |
| Number 1 | 1X | $10 |
| Number 2 | 2X | $20 |
| Number 5 | 5X | $50 |
| Number 10 | 10X | $100 |
While these payouts can be very high, the real money is reserved for players who bet on bonuses. The highest multiplier you will get in the bonus games is 20,000X.
In total, the game has 54 segments, and each bet type has a different hit frequency. The number distribution is as follows:
21 number 1 segments
13 number 2 segments
7 number 5 segments
4 number 10 segments
4 Coin Flip segments
2 Cash Hunt segments
2 Pachinko segments
1 Crazy Time segment
---
Strategies and Tips for Roobet Crazy Time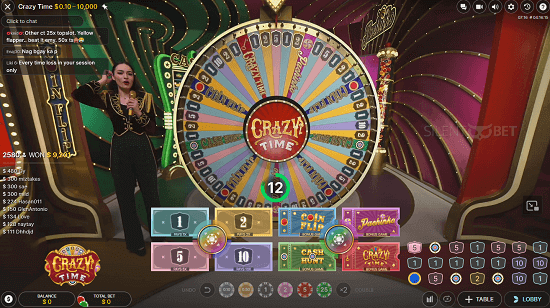 Roobet Crazy Time is a luck-based game, so you don't need to apply complex strategies. This section will cover some things you should consider when picking bets in this game.
Check the RTPs
RTPs simply show you how much of your money you can expect to get when playing a game over a long period of time. As a bettor, you should generally go for betting options that have higher RTPs. These are the return-to-player rates of different Crazy Time bets:
| Betting option | RTP |
| --- | --- |
| Number 1 | 96.08% |
| Number 2 | 95.95% |
| Number 5 | 95.78% |
| Number 10 | 95.73% |
| Pachinko | 94.33% |
| Cash Hunt | 95.27% |
| Coin Flip | 95.70% |
| Crazy Time | 94.41% |
One strategy you can follow is to only bet on the numbers. This will ensure that you win more frequently since the numbers cover more of the wheel.
Bet Only on Bonus Games
Some people find it worthwhile to bet on the bonus games, even though they have low RTPs. This is because bonus games can give you very high winnings. With this strategy, you can adjust the size of the bets based on the RTPs.
Martingale Strategy
The Martingale strategy has been used to play roulette for decades, and you can apply it to Crazy Time. This strategy is quite simple. You have to consider your bankroll and set an initial bet. If you lose, you can double the bet. You will have to double the bets until you win money in the game. When this happens, you can go back to the initial bet. You should note that the Martingale system is quite risky and can result in major losses.
---
FAQ
Can I play Crazy Time on Roobet on mobile devices?
Yes, you can access this casino game on mobile devices. Note that you can only play these games for real money. To make sure the games run smoothly, you should make sure your device is connected to high-speed internet.
Are there any minimum and maximum bet limits for Crazy Time?
At Roobet, players can place bets of between $0.10 and $5,000 on Crazy Time. This wide range of betting limits makes the game suitable for both beginners and high rollers.
How do I get help if I encounter issues while playing Crazy Time on Roobet?
You can contact the support team of Roobet to get solutions to such problems. The support team is available 24/7 and is accessible via email and live chat.
Can I play Crazy Time on Roobet for free?
No, live dealer games at Roobet casino can't be played for free. You have to sign up at the casino and make a deposit. You can then place a bet of at least $0.10 on this live casino game.
Is Crazy Time Live show one of the best games on Roobet?
It might not be in the top 10 best Roobet games on the site, but it is definitely one popular option to try.